LAST UPDATED ON September 21, 2023
Nextiva vs. Grasshopper Faceoff: Which Wins? (2023)
Not long ago we had a serious problem at JustReachOut:  Our demo attendance rate was 30%. So out of everyone who booked a demo to check out our software only 30% would actually show up!
The reason was not that our website copy sucked or that we had a crappy product.
The problem was that we did sales manually without any software, just our own cell phones and it was very messy. We knew we needed a VoIP solution. 
David Hauser, who is the founder of Grasshopper, had signed up for JustReachOut to do PR so we were using his product. But we wanted more functionality. 
I had also heard about Nextiva business phone system, so we decided to give them a try as well to compare with Grasshopper. 
We took 2 months to try out both of the services. In this buyers guide I'll break down my findings as I tested Nextiva vs. Grasshopper side by side.
If you're inpatient and don't want to read the entire review here is how the two solutions compare:
| | Nextiva | Grasshopper |
| --- | --- | --- |
| Pricing | Starts at $21.95 per month | Starts at $28 per month |
| G2 Customer Ratings (Sept 2023) | 4.4 out of 5 starts from 2560+ reviews | 4.0 out of 5 stars from 140+ reviews |
| Capterra Customer Ratings (Sept 2023) | 4.3 out of 5 stars from 350+ reviews | 4.3 out of 5 stars from 337+ reviews |
| TrustRadius Customer Ratings (Sept 2023) | 9.0 out of 10 from 76 reviews | 7.3 out of 10 from 89 reviews |
| CRM | Yes (not on essential plan) | No |
| Free trial | 7-day free trial | 7-day free trial |
| Money Back Gurantee | 30 day money back if certain conditions met | No money back guarantee |
| 24/7 Customer Support | Yes | Yes |
| Unlimited Calls in US and Canada | Yes | Yes |
| Third Party Integrations | Yes, limited on essential plan, no limits on other plans | Yes, but extremely limited |
| Automation Features | Yes | No |
| Pros | Swiss army of business communication with phone calls, video conferencing, team messaging, analytics and CRM all rolled into one. | Excellent VOIP features at a budget price |
| Cons | Not cheap, but you get what you pay for. | Extremely basic VOIP offering. Customer service slow to respond. Lacks solid CRM and internal collaboration tools. |
| | Try Nextiva | Try Grasshopper |
I found Nextiva to be one of the best solutions on the market for VoIP, with a unified communication solution and a CRM, chat, SMS, and other capabilities. 
Grasshopper is not far behind when it comes to VoIP; however, it does not have a robust CRM system, and integration with other CRMs is buggy and cumbersome. 
My Final Verdict: 
Nextiva is great for people who want a more comprehensive VoIP tool. With it, you get a robust CRM to track customer interactions and improve your sales/customer service. You also get excellent internal collaboration tools to communicate with your colleagues.  
Grasshopper is great for those who want a simple VoIP tool without the extras for a fraction of the cost. If you already have a CRM and processes for entering customer data and you wanna keep costs low, Grasshopper is a no-brainer.
Now let's get into testing and analysis of the the features, bells and whistles of Nextiva vs. Grasshopper.
Ready? Let's roll…
SECTION 1
Nextiva vs. Grasshopper at a Glance
When I started to compare Nextiva and Grasshopper, before singing up, I pulled together the following information to help me understand the main vitals of the the two solutions side by side: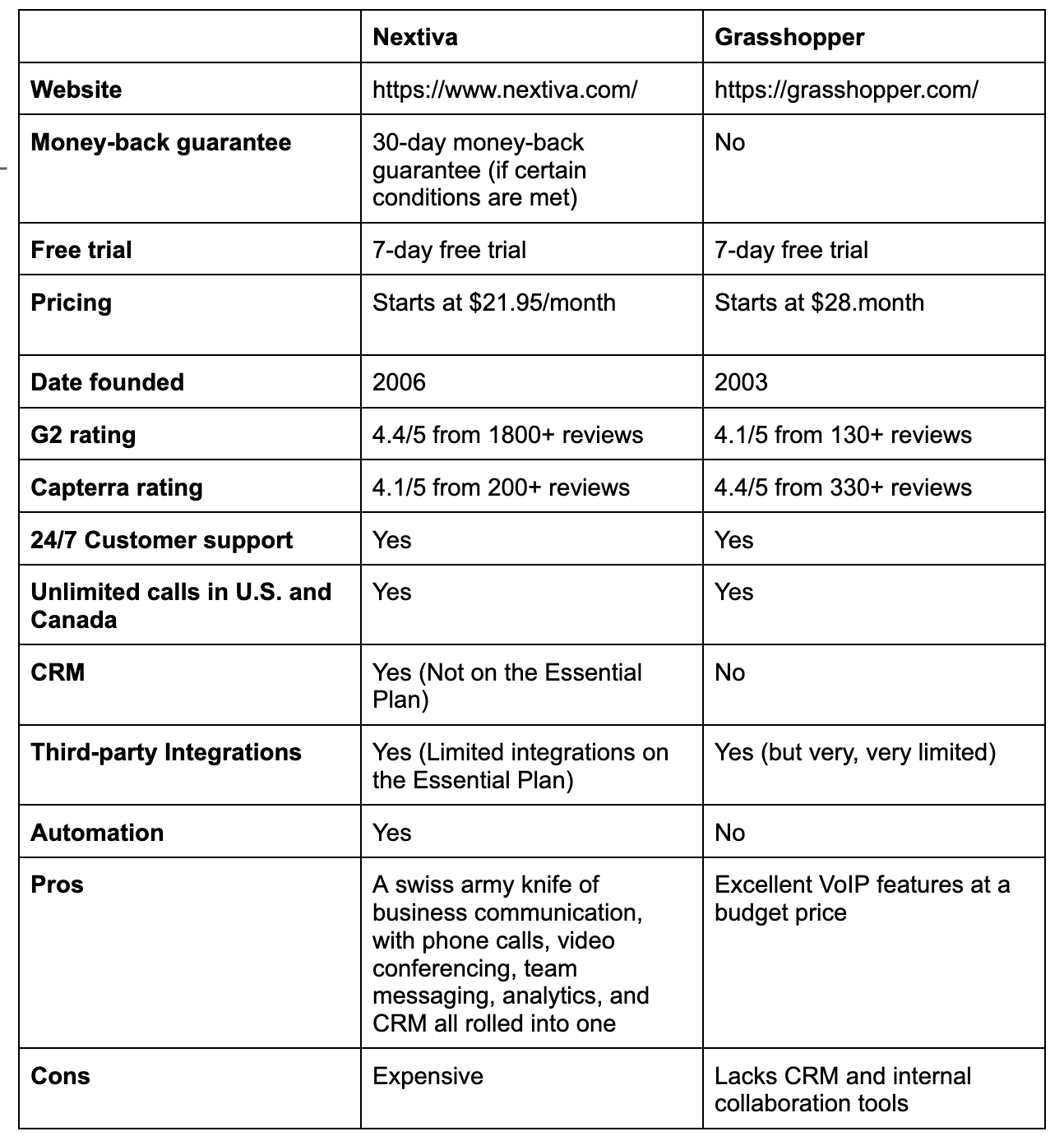 SECTION 2
Nextiva Quick Overview
Nextiva is a mix of a couple of things. 
It's a cloud-based business phone service, a customer relationship management tool (CRM), and an internal team collaboration tool (much like Slack and Microsoft Teams) – all rolled into one solution. 
Here's a brief summary of Nextiva's major features:
The

cloud-based VOIP virtual phone service

aspect of Nextiva allows you to choose a new business phone number (one per user) and then make/receive calls and text your customers. 

The

CRM

aspect allows you to track these phone calls, manage customer accounts, keep track of sales/customer service conversations, manage tickets, get customer insights, and more.

The internal team collaboration tool (the NextivaOne app, available for both desktop and mobile) allows you to video call, text message, and conduct group calls/chats with coworkers anytime and anywhere. Plus, it allows you to screen share with others during meetings or presentations.
Here is a quick screenshot of how the VOIP system looks like: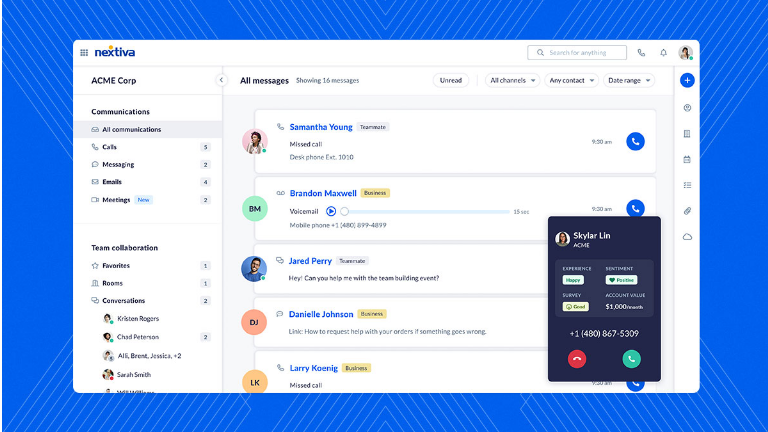 Here is what NextivaOne team collaboration looks like:
SECTION 3
Grasshopper Quick Overview
Grasshopper is a basic and lightweight VoIP tool. It's great for businesses with a small team that need a basic phone system with call features. Here are the main features I found once I signed up:  
The option to get your own business number/numbers.

An Interactive Voice Response (IVR) system for handling incoming calls.

Simultaneous call handling, to manage multiple incoming calls at once. 
Small businesses that need an efficient VoIP service for managing calls, but don't require extra CRM/internal communication features, might like Grasshopper.
Here is how the platform looks like: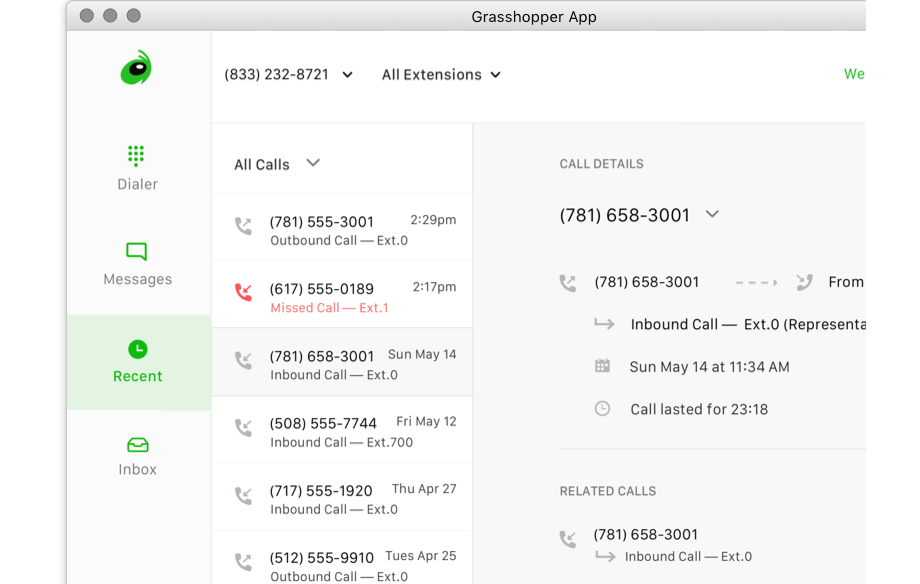 SECTION 4
How To Choose One: Nextiva or Grasshopper
I realize that it might be difficult for you to actually choose a solution as you read this article.
Here are the features and things I checked for when choosing a solution for our team supporting our JustReachOut platform and PR coaching.
I use these factors to select one solution over the other:
Price: See if the service falls within your budget and has all the features you need for your business. Most services have different pricing plans, with the more expensive plans having the most features.
Call quality and uptime: Look for providers that offer a 99.99% uptime guarantee. Downtime can lead to dropped calls, poor call quality, and inability to make and receive calls, resulting in customer frustration and potentially lost business.
Customer support: If you run into any problems while using the VoIP service, it can lead to loss in sales and poor customer service. Having fast, responsive, and knowledgeable customer service that resolves your issue quickly can help your business function smoothly without drastic hiccups.
CRM: CRMs can help you better manage your customer service and sales operations.
Analytics: A good analytics tool can help your business:
Identify trends and patterns in customer behavior.
Monitor sales performance and service metrics.
Help you identify areas of improvement for your teams, so they can work smarter and focus their efforts on high-value activities that improve productivity and increase revenue.
Integrations: The ability of the VoIP service to integrate with different software can improve your customer support and boost your sales team's productivity.
Nextiva might be ideal for you if:
You want a CRM and a collaboration tool, both of which are missing from Grasshopper. With Nextiva, you don't spend on extra tools like Slack, Microsoft Teams, or a separate CRM. 

You want a detailed analytics feature to monitor your team's performance. 

You want to integrate software like Salesforce, HubSpot, and ZenDesk. or more.
Grasshopper might be ideal for you if:
You have a small business and are looking for an affordable service. Nextiva can get significantly expensive the more users you purchase a license for (read the pricing section to learn more). 

You want a service with great call management – without all the extra (and expensive) bells and whistles that Nextiva has. 

You want a prompt and reliable customer service that can resolve issues quickly.
Read on to find out how I found how Nextiva compared to Grasshopper in key features.
SECTION 5
Pricing Comparison
Great function comes at a great price, which is why Nextiva is more expensive than Grasshopper (or other alternatives such as RingCentral). With Nextiva, you pay per user, so the more users you add to your plan, the more expensive it gets.  
Grasshopper, on the other hand, gives unlimited users access to its service with each plan. 
Here's a rundown of what you get with each Nextiva plan: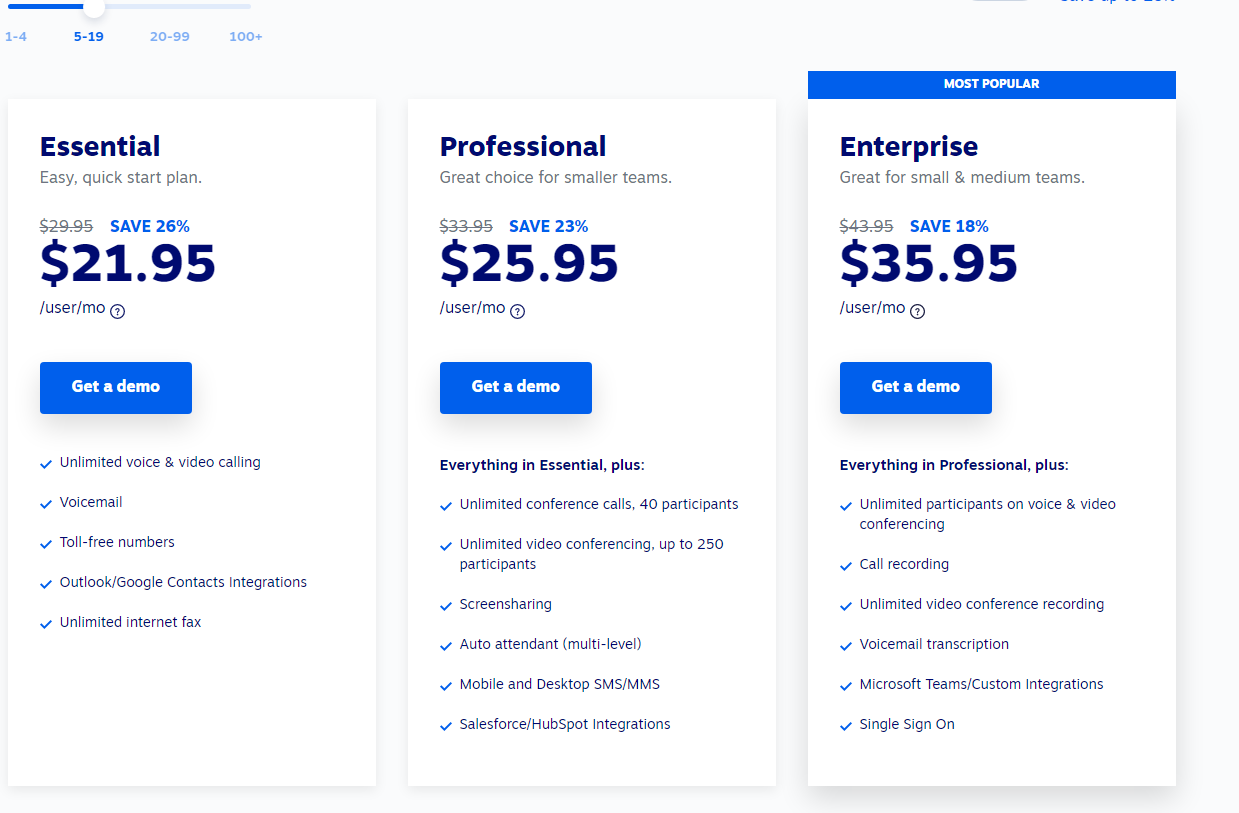 The Essential Plan (lowest tier) lacks:
Mobile SMS/MMS

Salesforce/Hubspot and other integrations

Call recording

Nextiva CRM

Voicemail transcriptions
The Professional Plan (mid-tier) lacks
Call recording

Unlimited participants on conference calls(restricted to 40 only)

Voicemail transcriptions

Certain custom integrations 
The Enterprise Plan (highest-tier), well, lacks nothing and has everything.
Here's how much each plan costs based on the number of users. 
Nextiva Monthly cost when you pay for the whole year

Nextiva Monthly cost when you pay by month

Grasshopper Monthly cost when you pay by month
In contrast to Nextiva, Grasshopper's pricing plan is much simpler. It has 3 plans:
Solo

: Offers 1 Phone number, 3 extensions, and unlimited users.

Partner

: 3 phone numbers, 6 extensions, and unlimited users.

Small business

: 5 phone numbers, unlimited extensions, and unlimited users.
As you can see, Grasshopper is more cost-effective than Nextiva. The more users you have with Nextiva, the more you have to pay. On the other hand, the max you pay with Grasshopper is $80/month.
Both Nextiva and Grasshopper have a 7-day free trial. However, only Nextiva has a 30-day money-back guarantee. There are some stipulations, though; for instance, you should not use more than 500 minutes on your plan. 
Nevertheless, Nextiva has so many other features (like the ones I've mentioned above), so there's a reason for its high price. But if you just want a simple business phone management system, then Grasshopper gets the job done.
SECTION 6
Call Features Comparison
When choosing a VoIP phone service, it's important to consider key features. Here's a comparison of Nextiva and Grasshopper regarding these features as I jotted them down when testing: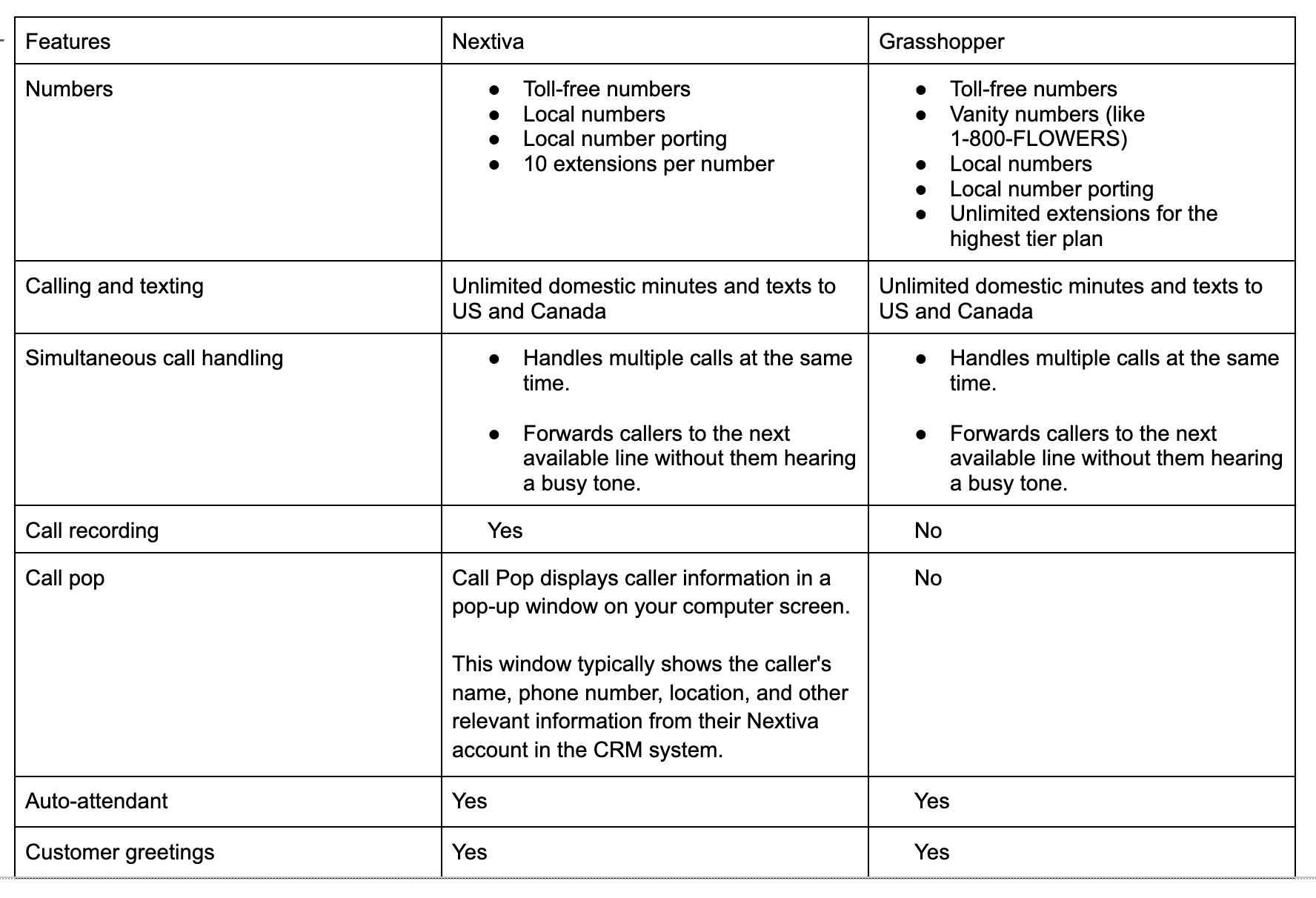 SECTION 7
Customer Support Compared
Nextiva has a faster and more responsive customer support than Grasshopper.
To test out customer service, I tried to get in touch with both services and see how helpful they were.they were. 
With Grasshopper, you can reach out to them 24/7/365 days through phone and email, or you can access their extensive knowledge base if you have any questions.
Its customer service representatives were prompt in responding to my queries and were quick to refer us to another expert if they didn't have the answer. I found that my experience was similar to that of other Grasshopper customers.
Nextiva has 24/7/365 days phone support. Its live chat is open Monday to Friday, 5 am – 6 pm MST, and Saturday to Sunday, 5 am – 4 pm MST. It also has a knowledge base and a ticket system. 
While I personally found Nextiva's customer service to be responsive and helpful, I've heard of some customers having difficulty contacting support and getting slow responses. 
However, there are others who have had great customer service interactions as well, so your experience may vary. 
SECTION 8
Customer Management Tools Compared
Nextiva has excellent customer management tools, whereas Grasshopper lacks any features in this department.
If you manage a large number of clients and calls, having a system that keeps track of customer info and their communications with your employees is helpful. 
Collecting this data can help you inform your marketing strategies and identify areas for improvement. Previous customer data can also help the employee make better calls. 
I found that Nextiva has excellent customer management tools, making it the ideal solution for businesses like mine that want to provide exceptional customer service or improve their sales processes. On the other hand, Grasshopper falls short in this area, lacking any such feature whatsoever. 
Using Nextiva's CRM, you can create and manage customer accounts, map a customer's journey with your company, and create custom reporting dashboards. 
Its sales management tools have a lot of automated features, like the ability to automatically send personalized messages depending on where on the sales cycle the customer is at.
In the example below, you can see how Nextiva automatically sends a proposal email when the lead goes from 'Qualified' to 'Proposal made' in the sales cycle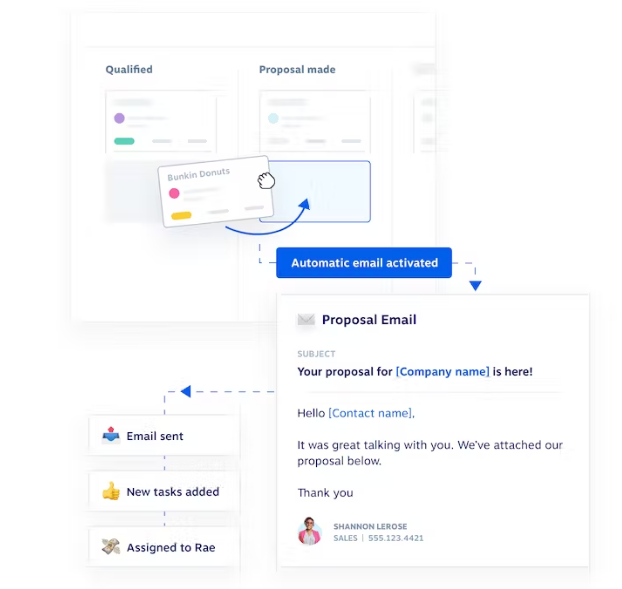 Nexitva also uses AI to calculate customer satisfaction by gathering positive and negative keywords from customer interactions. This measures how happy customers are with any interaction.
Customers with low satisfaction are then highlighted as a priority by the software, which helps you and your teammates take better action with clients that have grievances. 
This and many, many more features put Nextiva leagues ahead of Grasshopper in the customer management department. 
SECTION 9
Analytics Tools Compared
Overall, I found Nextiva to have better analytic features than Grasshopper. Its functions help you improve your team's performance and track customer engagement.
If you want to see how your customer relationship or sales teams are performing, analytics come in handy. 
It can help you keep track of missed calls, call durations, the number of incoming and outgoing calls, and other related data.
When you analyze call data, you can get valuable insights into a team's performance, identify areas for improvement, and make data-driven decisions to optimize the sales process.
That's why analytics are necessary, and both Nextiva and Grasshopper have this feature. 
With Grasshopper, you can get detailed numbers of call activities. You can see if employers are answering calls and having conversations. And you can see if there are any missed calls or hang-ups that need to be answered. 
Nextiva's analytics feature also allows you to see the total talk time, number of inbound and outbound leads, and missed calls. 
However, it also has a neat feature that shows call activities in different states in the US.
For instance, you can see from which state most of the inbound calls come from. This helps you decide where to focus your marketing efforts. 
Another neat feature is a gamification element that can help incentivize employees to perform at their best.
SECTION 10
Integrations Compared
Nextiva has an incredible number of integration options, whereas Grasshopper does not.
Nextiva allows for a bunch of integrations, depending on the plan you choose. Major integrations include Salesforce, MS Outlook and Teams, HubSpot, Workbooks, NetSuite, Zendesk, and more. 
Grasshopper doesn't integrate with a lot of apps, except for Google Voice and Skype. And unfortunately, you don't really need some of these integrations. 
For instance, there's no benefit of Google Voice over Grasshopper – the latter has better features, including customer greetings, toll-free numbers, great customer support, and more. 
However, you can utilize its Skype integration, as it can save money on outbound calls, especially international ones. 
SECTION 11
Nextiva: An all-in-one VoIP solution
Grasshopper's biggest weakness is the lack of complete system with a CRM to manage customer information. But that's exactly the domain where Nextiva steps up with its state-of-the-art CRM features. 
Having a good business phone system is great, but without a CRM, dealing with hundreds and thousands of customers becomes challenging. 
When I was building my first company, I first used Grasshopper and a separate CRM to enter customer data. But I found the process of manually entering customer info time-consuming. 
On the other hand, Nextiva has a CRM, where all calls are automatically logged in, and every communication made – whether text or call – is recorded. It can also integrate with Salesforce.
It even has automation tools like email automation that can send messages depending on certain triggers. For example, the system can send personalized birthday messages to clients on their birthdays. Similarly, it can send automated messages in different parts of the sales cycle, like follow-ups and notifications.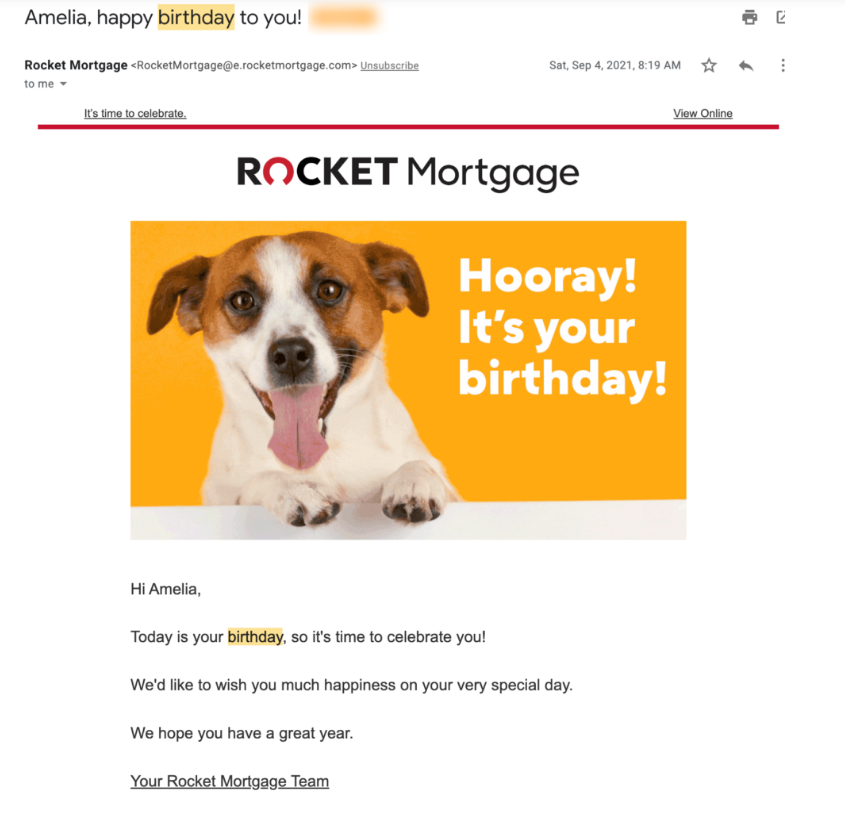 Here are some of Nextiva CRM's best features:
Visually track the customer journey and see all customer interactions so far. This helps you make intelligent choices on how to interact with the customer in the future. 

Manage deadlines, progress, and tasks with automation to move leads and nurture customers, which can help reduce a lot of the manual work. 

Create detailed reports based on customer data.

Kanban view that displays Leads and Opps as tiles on a board for better task management. 

Create customized and personalizable surveys and then analyze the results by building custom reports.
And much, much more. 
Besides the CRM, the software also has internal collaboration tools with features like. 
Video and audio call, conference, and chat options for both individuals and groups

Mobile app, to keep in touch with teammates on the go.

Screensharing, where you can share your screen with teammates. 
SECTION 12
Nextiva vs. Grasshopper
Both Nextiva and Grasshopper are the best VoIP business phone management tools in the business. 
If you're on a budget and don't have many employees, Grasshopper may be the better solution – it has excellent call management features that make it easier to make and receive calls from customers.
But if you want a more sophisticated tool, which mixes call management software with a CRM and an internal communication tool, then there's no better option on the market than Nextiva. Once you get Nextiva, you won't need to purchase extra software or tools, as it has all you'll need to make calls and manage and track customer interactions.