I Tested These 20 Campaign Management Tools (2023 Update)
There was a time, not too long ago, when managing a marketing campaign involved a lot of guesswork. Hard data about customers and target audiences was hard to come by, A/B testing might involve sinking thousands of dollars into postage for a direct mail campaign, and–worst of all–the effectiveness of a campaign could only be evaluated in hindsight.
Luckily, those days are long gone. Campaign management in 2023 is a bit like flying a plane on autopilot: Yes, you still need to know what you're doing, but there are advanced systems in place to help you stay on track. Marketing automation is how most a marketer gets things done these days. Modern campaign managers can enlist the help of powerful tools that automate and streamline their processes.
The purpose of this article (which was just updated for 2023) is to provide a comprehensive guide to campaign management tools for marketing and help you run a successful campaign, even if it's your first one. Let's get started.
SECTION 1
Top Campaign Management Tools for 2021
We're about to get into a deep dive covering all things campaign management, but before we do, here's a quick rundown of the top marketing tools in the key areas of campaign management system: 
Project Management Campaign Tools 
Email & Social Media Campaign Management Tools
Analytics Campaign Management Tools
Other Campaign Management Tools
SECTION 2
What Is Campaign Management?
Campaign management is a catch-all term for the work that goes into planning and executing a marketing campaign. This includes coordinating the following: inbound and outbound marketing, lead management, customer segmentation, relationship management, email marketing, campaign creation, campaign performance, campaign execution, content creation strategy, market analysis, and the project management required to organize all these efforts. Campaign management also includes analyzing and measuring the effectiveness of these activities once the campaign is over.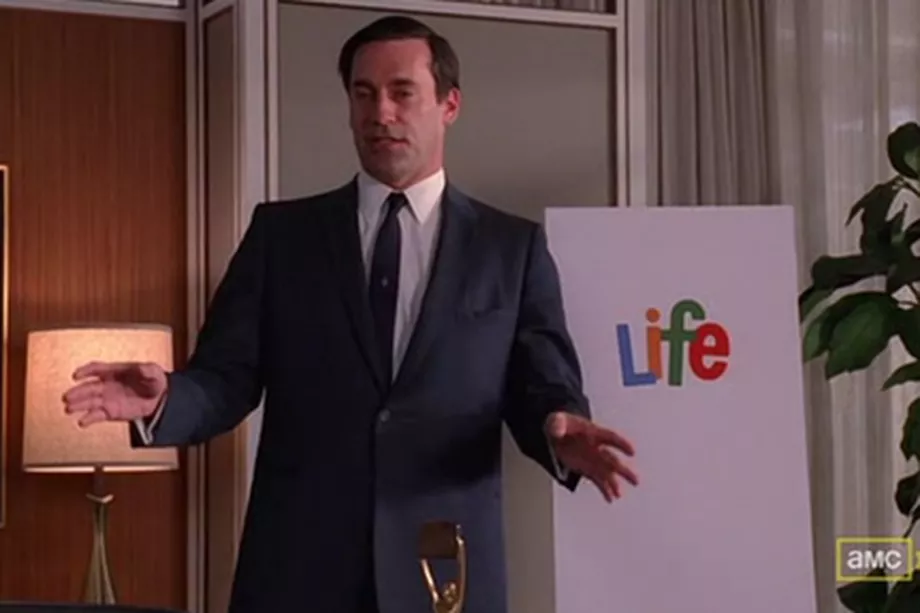 Image: AMC/ Eater.
Before you start picking a campaign management tool make sure to answer the following questions:
who is your target audience? what is their customer journey look like?
do you have a campaign manager dedicated solely to running successful marketing campaigns?
do you have an existing marketing team already executing a marketing effort? how can this software help them be more efficient?
what is your campaign budget?
do you have a marketing calendar detailing specific campaigns you want to run ?
do you have an existing marketing channel and marketing software you are using currently? How will it work with the new software you purchase?
is your main marketing channel ad campaigns, bing ads, maybe a google ad with different ad groups? If this is your primary user acquisition channel make sure to find software which improves it and makes it better. Do not go after other acquisition channels just because the software allows you to do so
SECTION 3
What Are Campaign Management Tools?
Technically, anything can be a campaign management tool if it helps you manage a campaign. To avoid getting into an endless list, let's focus on the tools a marketer will find most useful.
CRM platforms are the first place most people turn to for campaign management solutions. Other kinds of campaign management tools we'll explore in this article are:
social media management tools to run targeted marketing campaigns and segment subscribers

project management tools to keep your team on the same page

analytics tools to evaluate your campaign's success
We'll also look at how to choose your campaign management software and which features are must-haves.
Customer Relationship Management (CRM) tools offer a one-stop solution for most, if not all, of your marketing campaign management needs. Over the past few years, CRM software has become the nerve center of marketing in the digital age. Even though your toolkit will likely include other dedicated solutions for things like project management and search engine analytics, your CRM will be where you bring it all together and connect your behind-the-scenes work with client-facing marketing activities.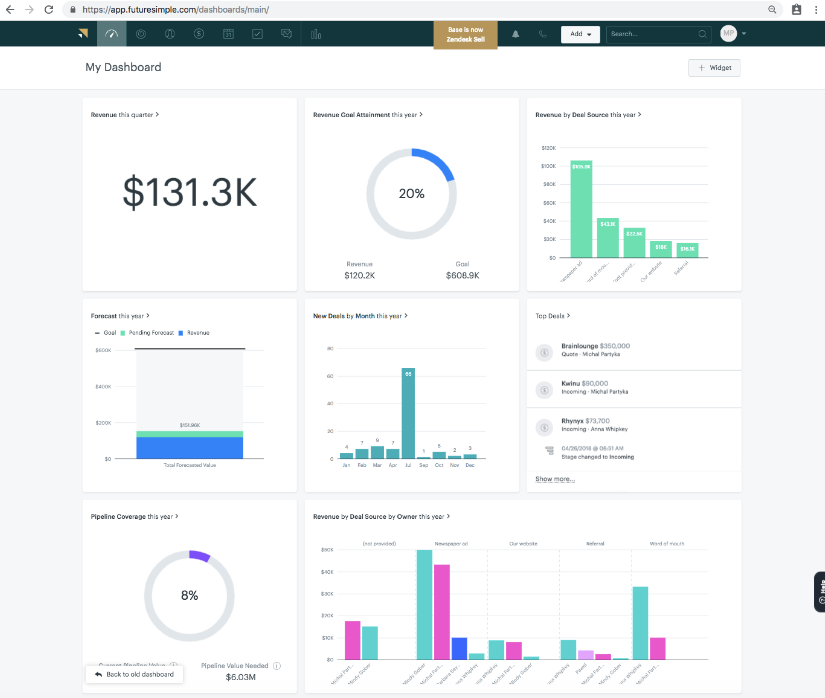 A CRM solution designed for small and mid-size enterprises (SMEs), HubSpot is highly customizable, and so is the price. 
Price: Free to get started. Add-ons are expensive.
Pros:
The free version is pretty great. 
Built for inbound marketer

by the folks who put inbound on the map.

 
Add-ons add up. You may end up paying a lot to unlock the features you want. 
Zoho's omnichannel support is a major selling point. 
Price: $12-45 per user/month.
Pros:
Well-thought-out mobile integrations.

Good analytics. 

PC Mag's

top pick

for CRM platforms.
You have to pay a premium to access workflows. 
Salesforce
Salesforce is the expensive, tons-of-features option which may be a bit much for those who are just getting started. That said, when a cloud-based CRM has its name on a skyscraper, you can't exactly leave them off the list. 
Price: Plans start at $25/mo with most popular being $75/mo  and more premium being $300/mo-$1500/mo. Best to ask a sales rep.
Pros:
Salesforce built a name for itself with outstanding workflows and best-in-class integrations.
Expensive

More features than the average small business would ever need.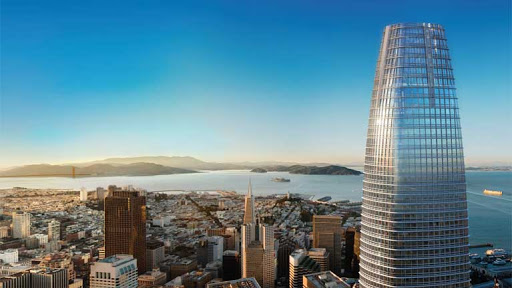 Image: salesforcetower.com
A CRM in the ZenDesk family of products with an emphasis on the sales funnel. 
Price: Free trial. $19-199 per seat/month
Pros:
Plenty of integrations. 

A good choice for ZenDesk users. 

The mobile app gets good reviews.

 
Feature-heavy for most SME users. 
A cloud-based CRM platform that competes on value and offers discounts to users coming over from the competition. 
Price: $14.99 – 79.99 per user/ Month 
Pros:
Affordable compared to leading competitors.

A good fit for very small businesses, freelancers, and solopreneurs. 
Lacks some of the customer support and tutorial features other CRMs have. 
A clear winner in the naming department, this CRM was built in response to some of the hype surrounding its competitors. A good option for small businesses looking for a few key features without a lot of fuss.
Price: Starts at $10 per user/ month
Pros:
Affordable.

Mobile-friendly
Cons:
Reporting features are nothing special.
The human element is one of the pillars of campaign execution and campaign management. With the future of work going remote, keeping your team organized and in-sync – no matter where they are – is more important than ever. Project management tools are the perfect way to coordinate your people and processes. 
Hive is an online project management hub that's well organized so you can be too.
Price: Free trial. Starts at $12 per user/month. 
Pros:
Offers an array of organizational tools, including Gantt charts and Kanban boards.

Plenty of integrations.

Gets generally good reviews.
Cons:
Some users report issues with reporting features and complain about a lack of customization. 
A simple, purpose-built project management app built by a fully remote company.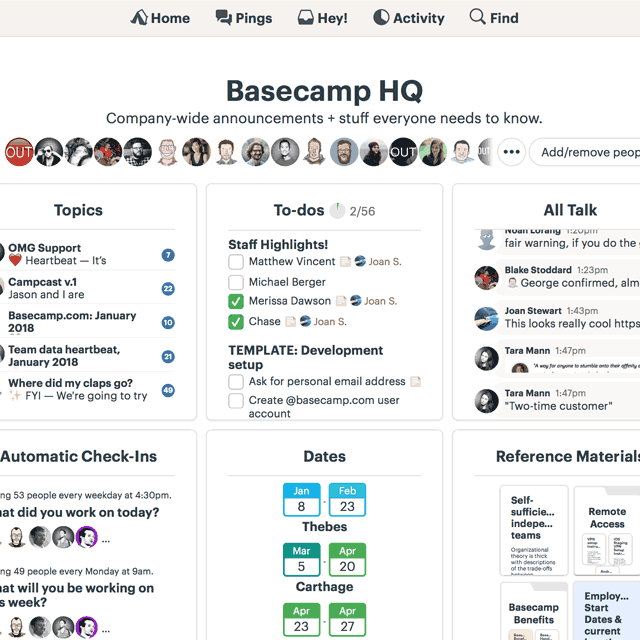 Price: $99/Month
Pros:
One price for teams big and small (this could be a con if you have just a couple of users).

Focuses on features you actually need. Helps you digitally declutter.
Lacks tracking features and integration with tracking software. Basecamp refuses to help companies spy on their employees (which could be a pro if you feel the same way).
An easy-to-use project management hub with features that allow you to set deadlines and sales targets. 
Price: Free – $24.99 per user/month.
Pros:
 

The Free version is excellent.
Has a lot of features you probably don't need and is lacking a big one: you can't assign a task to more than one person. 
Trello uses Kanban boards as the basis for a straightforward platform with a user experience that's hard to beat. 
Price: Free for small teams. $9.99 per user/month for businesses. 
Pros:
Easy to use and to learn. 

Well designed.

 
Cons:
SECTION 6
Email & Social Media Campaign Management Tools
CRM and project management tools help you plan and organize your campaign. Email and social media tools are all about execution and getting your marketing content out in the world where it can have an impact. While you do not need to have a campaign management tool to be on Twitter, Facebook, LinkedIn, Clubhouse or any other social media network they do help you get the most out of it. (Quick tip: Clubhouse does not yet have a third part management tool for the app, you can read about how to use Clubhouse for business and top clubs to follow on our blog). 
A social media management platform that helps you schedule posts, organize hashtags, and learn from analytics. 
Price: $29-599/ month.
Pros:
Hashtag insights help you curate rather than just schedule your content. 

Big time savings over posting things manually.
Buffer has much better timing features.
Buffer does one thing really well: it allows users to schedule a queue of posts in advance. Analytics features help you post at the best times for your audience. Browser integrations make it possible to add a page directly to your queue when you find something you want to share.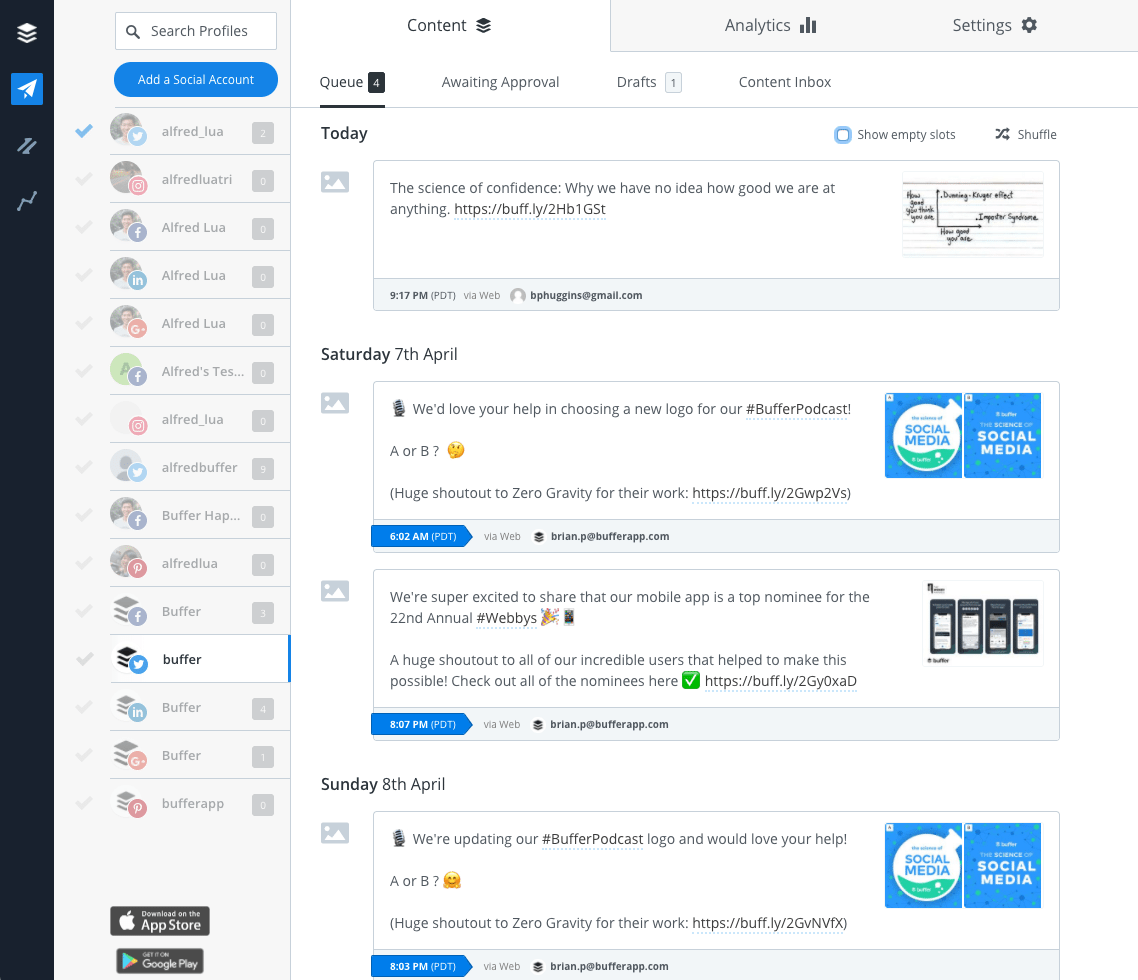 Price: $15-99/month
Pros:
Affordable. 

Easy to use. 

Best post scheduler on the market. Period.
Cons:
Poor customer service ratings.
SocialPilot 
SocialPilot is a reasonably-priced social media management tool dashboard that's worth checking out if collaboration is a priority and you're on a budget. 
Price: Starts at $25/ month
Pros:
Look no further if you're in the market for a social media management platform with advanced social listening features and tools like influencer identification. 
Price: $99-249 per user/month
Pros:
CRM functionality.

Great analytics and integrations.
High per-user cost. 

The basic tier is pretty basic compared to what you can get at the advanced price point.
Email automation tool purpose-built for a marketer. Drip includes exceptional reporting and analytics. 
Price: $49 / month. 
Pros:
Features like lead scoring and categorized funnels you won't find in more basic email automation tools.
Cons:
Instagram growth tool which uses automated "liking" method to target specific potential customer accounts to organically grow your Instagram following.
Price: $49 / month. 
Pros:
Quick and easy setup.

You start gaining followers on Instagram right away

Target by hashtag, account, or location
Cons:
They don't offer a free trial, but they do have a 14-day money back guarantee 

The dashboard shows the number of people that followed you, but it does not provide the usernames.



SECTION 7
Analytics Campaign Management Tools 
Most of the tools we've already discussed in the CRM and social media marketing categories have advanced analytics. But there are times when you might need a dedicated analytics solution, especially when you're focusing on SEO. Here are a few more stand-alone analytics tools you should know about.
Google Analytics
Google Analytics is a free tracking tool that gives you comprehensive insights into your website's traffic. Find out who's visiting your website, how they're finding you, what they're clicking on, and more.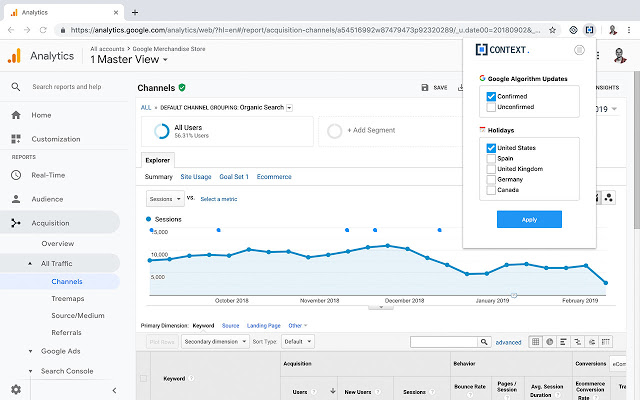 Image: Google
Price: Free! Unless you have a large enterprise, then it's expensive. The basic (free) version will do the trick for most small to medium enterprises.
Pros:
Designed as part of the G-suite (that you're probably already using anyway). Google Analytics offers integration with Adwords. 
Cons:
Google Search Console 
Google Search Console is an inbound marketing must. It helps you discover what search terms people are using to find you. You can use these insights to build your content marketing and SEO strategies.
Price: Free!
Pros:
 

Native to the most popular search engine on the planet. Find out how people are finding you directly from the source. 
Again, not a stand-alone tool.
When you're ready to step into the SEO big leagues, take a look at Moz Pro. Moz delivers insights into search rankings for you and your competitors. 
Price: $99-599/month
Pros:
Feature-rich. 

Suitable for SEO and marketing professionals as well as less experienced users. 
If you're interested in playing offense with your SEO and outranking your competitors, SEMrush might be the way to go. 
Pros:
Great for competitive SEO analysis. 

Reveals hidden and missed SEO opportunities. 
Cons:
Advanced features might be wasted on less experienced users. 
$99-399/month
KissMetrics is a SAAS product for anyone serious about growth and conversion. Kiss focuses on customer insights and behavior tracking to give you the information you need to optimize for engagement. 
Pros:
A good way to pinpoint exactly what causes visitors to convert and what causes them to bounce. 
Cons:
If you're not getting much traffic, understanding your visitors' behavior is less important than generating traffic. (If that's the issue you face, consider focusing on SEO with help from free tools like Google Search Console).
Price:
$299-499/month
SECTION 8
Other Campaign Management Tools 
You don't see advanced spell-checking software on too many lists of marketing tools, but ask anyone who's confused "their" and "there" in client-facing copy whether they think spelling and grammar are marketing skills. Here are a few other tools you might want to have in your marketing workflow to keep your content engaging and error-free. 
Grammarly is an advanced spelling and grammar checker with lots of integrations, allowing you to check your spelling and grammar everywhere you write.
Price: Grammarly for Business starts at $25/ month.
Pros:
 

Integrates with web browsers and mobile keyboards.
The AI behind this app is good but not perfect. It's no substitute for human proofreading. 
Named for the Nobel Prize-winning master of short sentences, the Hemingway app is a unique text editor that tells you when your writing is too wordy and hard to read. 
Price: The Online version is free. The desktop app is a one-time purchase at $19.99.
Pros:
Helps you avoid jargony business-speak in your web copy and communications. 
Cons:
Literally, an app to help you come up with ideas. Enter up to five topics (any noun will do), and the idea generator will give you post ideas. You get 5 "weak ideas" for free and have to sign up for a year's worth of ideas on your topic. 
Pros: 
Great for brainstorming and getting unstuck.

Free-ish.
Cons:
More of a gimmick than a serious tool.  

No substitute for real content strategy. 
Price:
SECTION 9
How to Choose Campaign Management Tools
As you can see, there's no shortage of tools out there. The challenge isn't finding campaign management tools but finding the right campaign management tools for your business. If you want to know the right tools when you see them, it helps to have a system for evaluating your needs and goals. Here are a few things to keep in mind. 
Keep it simple
It's possible to execute a robust campaign management strategy while using a bare-bones set of tools. Extra features can get pricey and often leave you using software that's difficult to adopt. Avoid the temptation to invest in bells and whistles you don't need. When assessing the pros and cons of CRM software and other tools, pay attention to any mention of business size. A platform that's amazing for a large, mature organization might be overkill for a three-person startup. 
Campaign management must-haves
Ease of use 
This should be non-negotiable. If you have to go back to school to learn how to use a piece of software, it probably isn't worth your time. Consider how easily a given solution can integrate with tools you already have. Exceptions might include advanced analytics and SEO tools.
Content marketing integration
Content marketing is where the rubber meets the road. Everything you do in relation to project management and customer relationship management eventually touches content marketing. Therefore, your campaign management tools must include content marketing integrations. 
Multi-channel capabilities
If you're going to be running your marketing campaign across multiple channels (Facebook, Twitter, email, etc.), you'll want to make sure your campaign management software allows users to work across multiple channels and tailor their content accordingly. Without multi-channel features, you risk posts that seem out of tune (e.g. a Facebook post that contains someone's Twitter handle).
Automation
Your campaign tools should make it possible to automate virtually everything you do. Look for features that enable event-triggered actions so certain marketing assets, like email offers, are deployed automatically based on visitor and customer behavior. 
Advanced analytics
All else being equal, base your software decision on analytics capabilities. Look for software that either has outstanding analytics built-in or is designed to integrate with leading analytics software like Google Analytics. 
SECTION 10
Best Practices for Campaign Management 
Sorting out all these tools can feel overwhelming. The many facets of marketing campaign management are way more than any manager or any team can keep track of independently. Digital marketing in 2021 requires advanced marketing tools and management systems and a mix of creative marketing, content strategy, and cold analytics. 
Measure what you manage 
Collect data every step of the way. Keep your customer databases up-to-date and accurate. Good campaign management relies on good data and good metrics. These tools give you the ability to measure almost everything, so it may help to narrow down and focus on a few key metrics that will indicate whether your strategy is working. OptimoRoute recently wrote a nice article diving deep into which specific small business metrics are essential for small businesses to pay attention to.
Assemble your toolkit
Figure out what tools you need based on what you need to do with them. The time to get familiar with your marketing tools is before you're relying on them to run a major marketing campaign. Take them for a test drive, and address any snags so that everything works smoothly when it's time to go live.  
Measure your results 
Whether you're trying to figure out what went well or what went wrong, various metrics will give you different pieces of the puzzle. For example, a low email open rate could mean you're getting flagged as spam or your subject line needs work. A low click-through-rate means you might need to work on your copy or your call to action. 
Rinse/Repeat
Once you've planned a marketing campaign, run it, and learned from how it went, your next task is to do another campaign. Use your tools to make any needed adjustments, and swap out tools if need be. Keep integrating and improving.
SECTION 11
Conclusion – Bringing it All Together
There is no single marketing campaign management tool, just like there's no "cabinet making tool." Like carpentry, campaign management relies on a number of separate, purpose-built tools for different pieces of the project. Successful campaign managers select the right tool combination and that can vary each project. We hope this guide will help you understand what to look for as you navigate the range of options on the market.