LAST UPDATED ON June 20, 2023
Notion vs. Monday Head to Head: Which Wins in 2023?
Did you know that Google Workspace is the second most popular project management solution, behind Microsoft Teams?
But if you've ever actually tried to use Google Docs for managing projects, you likely know the pitfalls that come with it.
We've been working on a complex email sequence over at TopicRanker that has a lot of moving parts. Trying to outline that and get feedback from designers, engineers, and marketers in Google Docs just wasn't working. Nothing was organized, notes were getting lost, and nobody was on the same page.
We found that Google Docs is great for sharing and commenting on documents, but for keeping track of a project with a lot of moving pieces? It falls flat.
The solution? A dedicated project management solution, like Notion and Monday.
I tested both of these project management solutions to try to come up with a better system to solve our issue at TopicRanker. Both tools have drawbacks and areas where they really shine, but after some time using each, I've found that Notion makes it really easy to collate feedback and keep track of where things are. Notion is a fully-customizable tool with one place to capture thoughts, manage projects, or even run your whole company.  Monday is more of a true comprehensive project management solution
In this guide, we'll discuss the pros, cons, and features of both tools so you can get an idea of which would work best for you.
Let's dive in!
SECTION 1
Notion vs. Monday at a glance
At a glance, Notion and Monday are similar tools at around the same price point. The main differences lie in their available features and specific use cases for each.
Notion is an all-in-one tool for task management, note-taking, writing SOPs, creating databases, and more. It's perfect if you're looking for a fully customizable solution. It'll likely take some time to get everything set up the way you want it, but you'll have complete freedom to build your workspace in a way that works for you.
Monday is a great option for people who are looking for advanced project management features and want a tool that has some structure to it. You'll be able to jump straight into managing your projects with minimal setup time, though you'll sacrifice some flexibility. But if you don't have the time or desire to build your workspace from scratch, Monday is probably a better fit for you.
To help you better understand the differences, take a look at this feature comparison of Notion vs. Monday below:
| | Notion | Monday | Winner |
| --- | --- | --- | --- |
| Project Management | Not specifically built for PM so does not have some advanced PM features. | Includes advanced PM features such as milestones, dependency tracking and built in reporting. | Monday |
| Project Views | Table, Board, Gallery, List, Calendar, Timeline | Table, Gantt, Timeline, Cards, Calendar, Kanban | Monday |
| Note Taking | Yes | No | Notion |
| Templates | Yes, better selection | Yes | Notion |
| Databases | Yes | No | Notion |
| Collaboration Features | Yes | Yes | Tie |
| Ease-of-Use | Hard | Medium | Monday |
| Customization | Customizable from ground up | Limited customization structured interface | Notion |
| Integrations | 40+ | 40+ | Tie |
| Pricing | Free plan. Paid plans start $8/mo. | Free plan. Paid plans start $8/mo. | Tie |
| | Try Notion Free | Try Monday Free | |
SECTION 2
Notion pros, cons, & pricing
Notion is an all-in-one digital productivity workspace that's grown to over 20 million+ users. Think project management, note-taking, bookmarking, and a knowledge base all in a single software.
The cool thing about Notion is that it's incredibly versatile. You can create just about any type of page layout you want. I've used it for budgeting, content planning, SOP docs, and even a personal reading tracker. It's that flexible.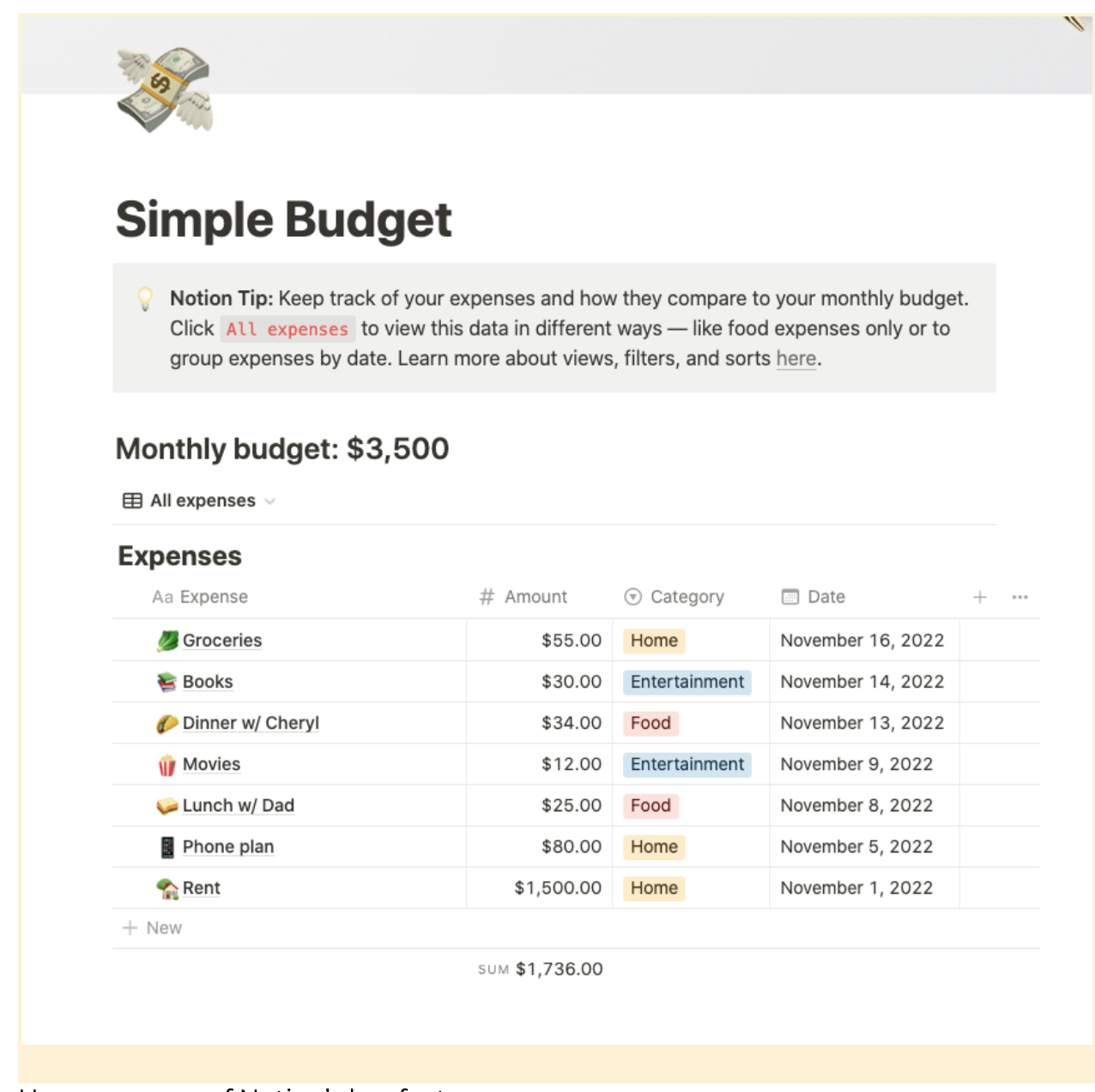 Here are some of Notion's key features:
Databases
Project templates
Timeline views
Kanban boards
Wikis
Formulas
Collaboration and guest access
Page history and analytics
Integrations with Slack, Zapier, and more
Offline access
Etc.
Pros of Notion
All-in-one solution with a variety of possible use cases: Notion is more than your basic run-of-the-mill project management tool. It's a Kanban board, calendar, note-taking app, knowledge base, and more. Case in point: I used Notion to draft this blog post!
Ability to link pages and data together:

Notion makes it super easy to interconnect pages together via backlinks and subdocuments.

Personalization with logos and emojis:

Each Notion page gets its own icon, which can be either an emoji or a custom image you upload. For example, I use logos as icons for each of the different online projects I manage within Notion. This keeps them separate in my mind and makes it easier to find what I need when I need it.

Built-in AI:

AI has been exploding recently, and Notion allows you to make use of it right in the platform. You can use AI to write documents, summarize information, or search for action items on a page.
Cons of Notion
Can be overwhelming and confusing to set up:

Because Notion is so customizable, there's a bit of a learning curve to it. It's easy to spend lots of time working on the "perfect" system rather than actually getting work done.

Blocks can be buggy/difficult:

Notion's entire system is based on using blocks for every element (think Legos). It works well mostly, but there are times when the blocks can be frustrating to deal with.

Lacks key project management features: For example, Notion doesn't offer a way to track project milestones straight out of the box. There's also no built-in reporting or task automation (unless you build it yourself with formulas and code, which can be complex).
Typing a forward slash brings up a command:

It's a small thing, but annoying nonetheless — typing a forward slash brings up Notion's block command box every single time.
Notion pricing
Notion currently offers four different pricing tiers:
Free:

Unlimited blocks for individuals, limited block trial for teams

Plus:

$8/user per month billed annually ($10 billed monthly)

Business:

$15/user per month billed annually ($18 billed monthly)

Enterprise:

Advanced support for large companies (contact the sales team for pricing information)
A limited version of Notion's AI integration is available to try for free with any plan, but if you want more advanced AI features, you can choose to purchase an optional add-on. For paid plans, this add-on costs $8/user per month billed annually. If you're using the Free plan or want to be billed monthly, it's $10 per month.
SECTION 3
Monday pros, cons, & pricing
Monday is a full-fledged project management tool with a ton of features for managing and simplifying your workflows. Since its focus is PM, it offers advanced features and eliminates the need for additional software (like a time tracker or team messaging platform).
Let's just be real here: Monday isn't very versatile, but it's really great at what it does. I've personally used it for my content planning and production workflow and it worked really well for me.
But aside from managing projects, I haven't really discovered any compelling use cases for this tool. Trying to use it for anything else kind of feels like trying to fit a square peg in a round hole.
That said, here are some of Monday's key features:
Activity dashboard

Billing and invoicing

Budgeting and forecasting

Gantt views

Reporting

Time-tracking

Automations

Task dependencies

Collaboration and guest access

Integrations with Outlook, Teams, and more

Etc.
Pros of Monday
Offers advanced project management features:

Since Monday was built as a standalone project management solution, it offers advanced PM features like time tracking, task dependencies, and project dashboards.

Intuitive, user-friendly interface:

Monday's interface is essentially made up of four elements: boards, columns, views, and dashboards. It's relatively easy to get the hang of.

Built-in reporting:

Monday offers a robust report feature for performance-tracking. You can use high-level reports to track project progress/milestones and low-level reports to track on a per-user basis.

Built-in automations:

All you have to do is choose a trigger, select a condition, then set an action. Monday also provides some pre-built automation templates to make things even easier.
Cons of Monday
Only has a handful of customization options:

Because Monday's interface has a pre-defined structure with boards, there's not very much room for customization outside of colors and how you choose to set up your boards.

Recurrent tasks are annoying to set up:

Unlike many other project management tools, Monday requires you to use their automations feature to set up recurring to-dos, which can be complicated and tedious to set up.

Lacks useful team management features:

Monday is primarily a project management solution, so it's lacking in other areas that are useful for managing a team. For example, you can't create documents or build a wiki using Monday, which was a major downfall for me personally.

No offline mode for the desktop app:

While Monday's mobile app version does allow you to work offline, the desktop app doesn't have this functionality for some reason. This can quickly get annoying if you're someone who frequently works without a wifi connection.
Monday pricing
Monday currently offers five different pricing tiers:
Individual:

Free, up to 2 users

Basic:

$8/user per month billed annually ($10 billed monthly)

Standard:

$10/user per month billed annually ($12 billed monthly)

Pro:

$16/user per month billed annually ($20 billed monthly)

Enterprise:

Enterprise-grade features for large companies (contact the sales team for pricing information)
SECTION 4
Notion vs. Monday compared
Now that we've taken a high-level look at Notion and Monday's pros and cons, let's more closely examine the features each product offers. Below is a detailed analysis of each feature and just as a reminder here is the table from earlier in the article summing up all the features and which solution wins: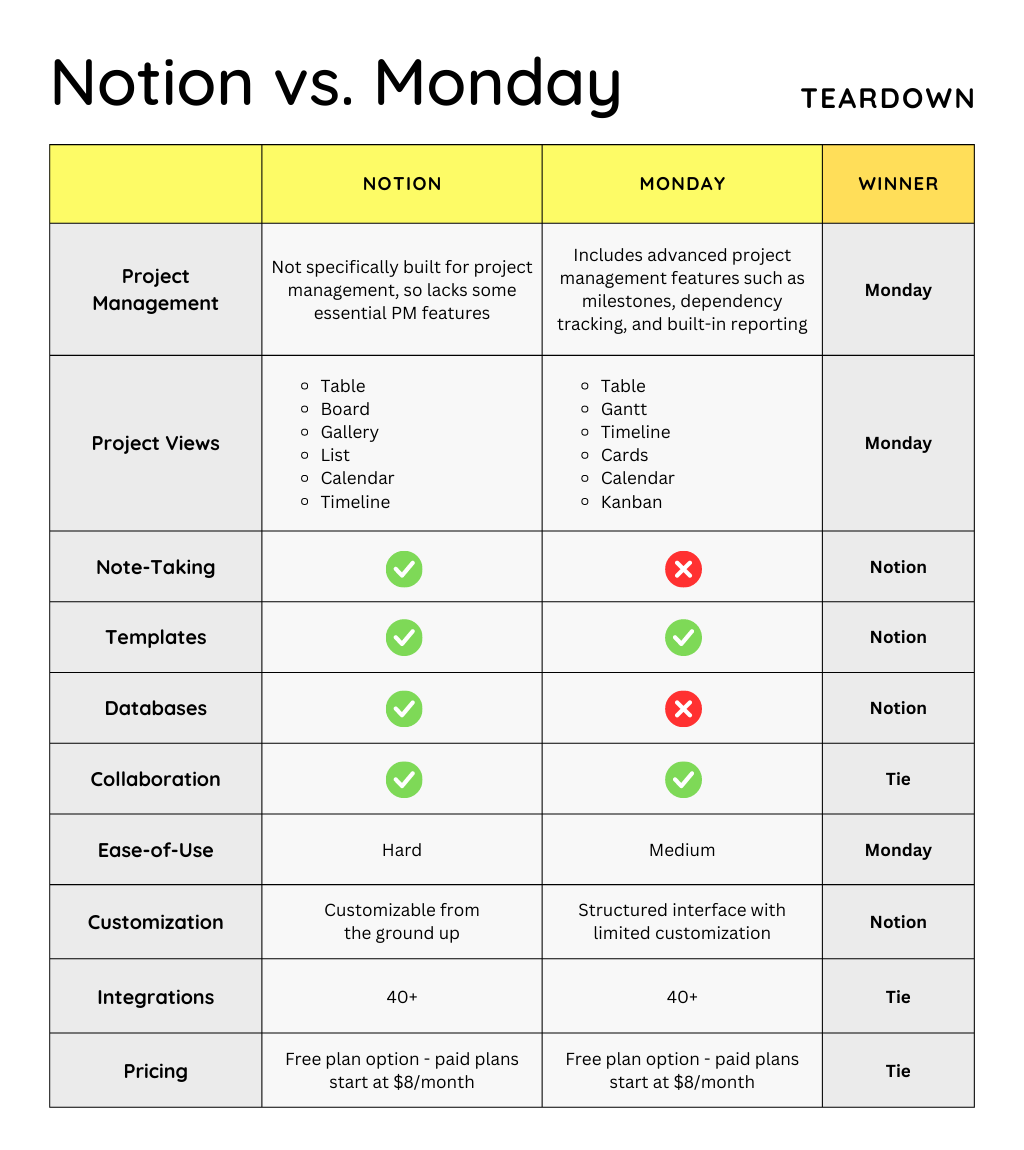 SECTION 5
Project management
People often refer to Notion as a project management tool, but that's not really the case. It can be used for project management, but it's really more of an all-in-one productivity tool. That said, Notion wasn't built with project management front-of-mind, and that shows. It lacks advanced project management features like milestones, time tracking, and dependency tracking, to name a few.
In comparison to Notion, Monday is a full-fledged project management solution with all the necessary workflow features you need. You won't need as many integrations with Monday because most features are built-in and ready to use from the jump.
✅ Winner: Monday
Both apps can technically be used for project management, but Monday really shines in this area while Notion's PM features are kind of lackluster.
As far as different project views, Notion offers: Table, Board, Gallery, List, Calendar, and Timeline. It doesn't offer a Gantt view.
It's important to note that while Notion offers six "out of the box" database views for projects, you can actually customize pages beyond that. So, if you wanted, you could combine multiple views or add other blocks to fully customize your view.
Monday also offers six different project views: Table, Gantt, Timeline, Cards, Calendar, and Kanban. Monday's Card view is similar to Notion's Gallery view.
✅ Winner: Monday
Notion and Monday both support multiple types of project views, but Monday wins because it offers Gantt charts.
Aside from managing workflows, a productivity tool can be useful for taking notes and storing documents that pertain to your processes.
You can create documents and take notes directly in Notion, then link them all under a singular wiki to create a helpful knowledge base for your team. I've seen companies use Notion as their primary hub for SOPs, and it works really well for keeping everything contained in one place in one singular format.
I used Notion to write the draft of this article you're reading right now, here is how it looks like in Notion: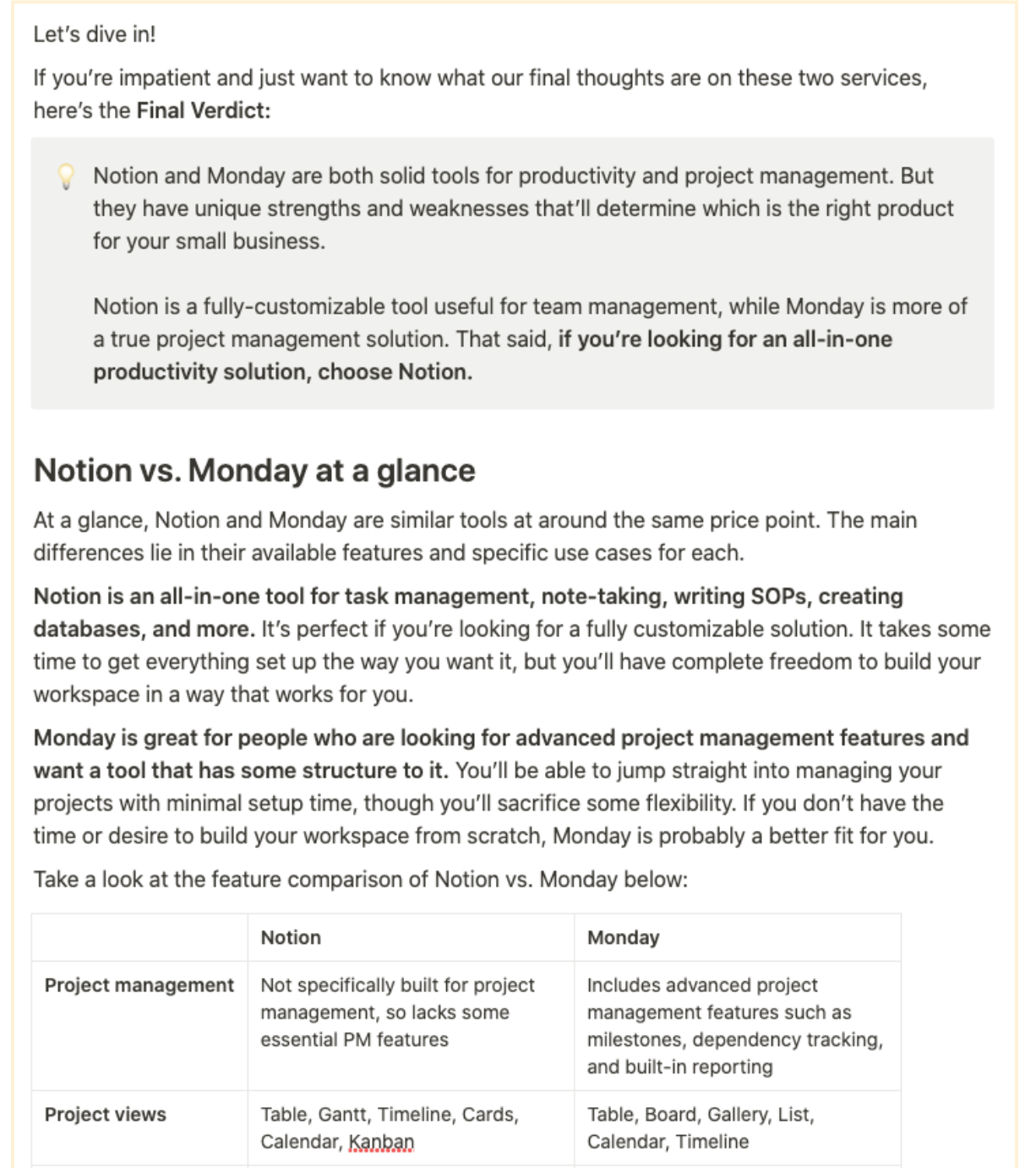 Monday doesn't allow you to create documents like this. A workaround would be to create docs externally and then link or attach them to your boards, but this requires an extra step that you might not want to take. There are some integrations available that make note-taking a bit easier, but it's still nowhere near the level of Notion's note-taking capabilities.
✅ Winner: Notion
With Notion, it's easy to take notes and create documents directly in the app. Monday doesn't have this functionality built-in, though a workaround could be to attach or link external documents.
No matter how intuitive, using any new productivity tool can feel kind of overwhelming. Luckily, both Notion and Monday provide pre-made templates that you can use as a jumping point when you're first getting started.
Both tools offer templates for a range of industries and departments, so you're bound to find something that works for you. That said, Notion's template options are just a bit more vast with options for both your business and personal life.
Some examples of templates you can start with with Notion (that I've used myself in the past): a reading tracker, blog editorial calendar, recruitment tracker, and a simple budget.
✅ Winner: Notion
Both Monday and Notion offer pre-made templates to get you started, but because Notion is a more versatile app with many use cases, it has a wider variety of templates to choose from.
SECTION 9
Databases and wikis
Notion allows you to create database pages or add a database block (using the slash command) to an existing page. Each item you add to the database is its own page, meaning you can add notes, to-dos, or even another database nested inside it. Then, you can add "Properties" like text fields, dates, numbers, status, tags, etc.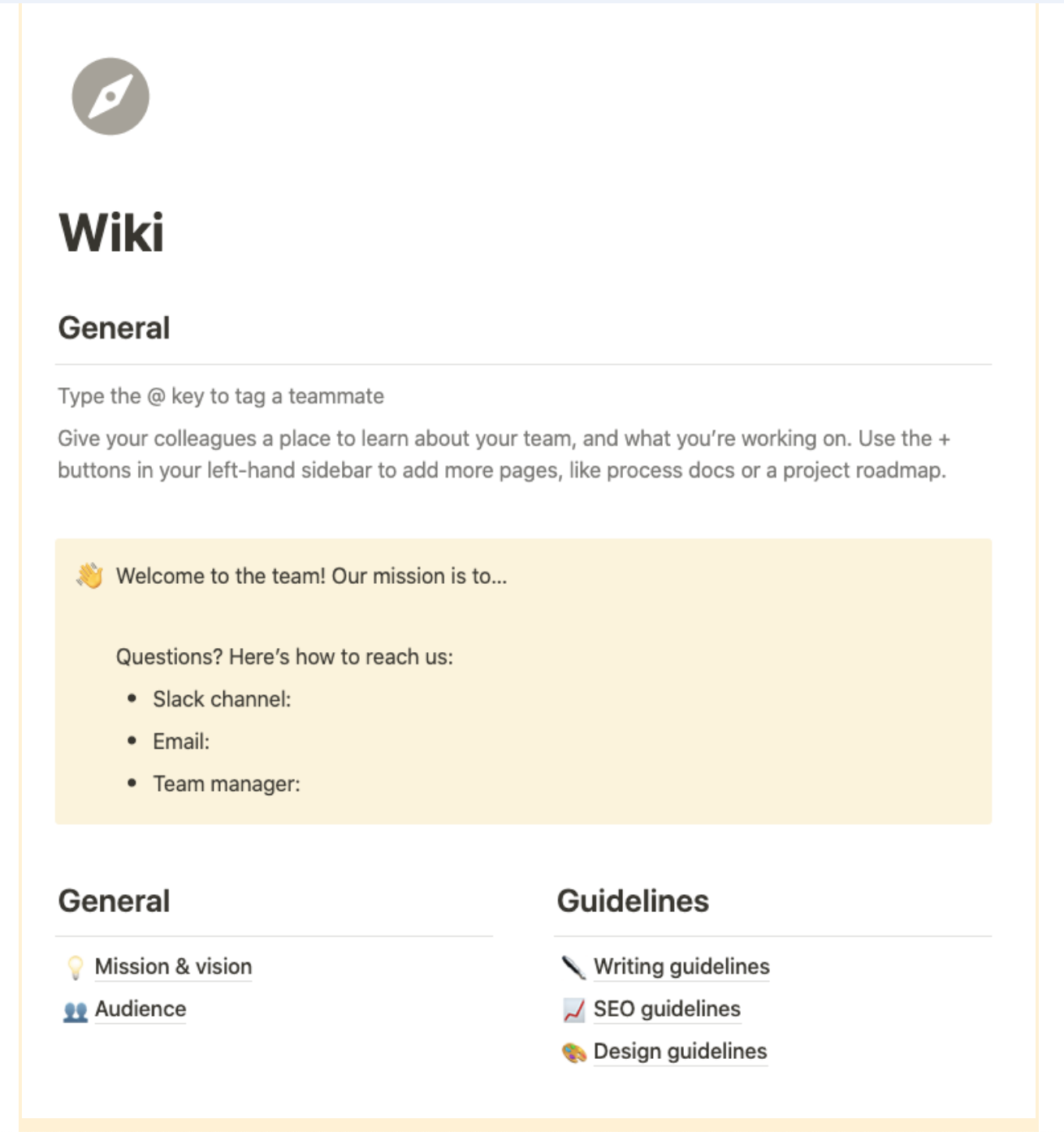 Notion also has a wiki functionality. Wikis can be organized by owner, tags, verification, and more. They're especially helpful for organizing essential information about a project or department all in one place. And, what's even more helpful is that any Notion page can be transformed into a wiki even after the fact.
Monday lacks both of these features, so you'll need a separate tool if databases are something you want to use.
✅ Winner: Notion
Monday doesn't allow you to create databases or wikis, so Notion is the clear winner if you're looking for a product with those features.
To really get the most out of a productivity tool, the people you work with need to be able to access it. Fortunately, both Notion and Monday allow for easy collaboration.
You can invite team members to your workspace, or you can even invite people outside of your company. They'll get limited "guest" access to your workspace. Inside your workspace, you can @mention other team members and communicate via comments. 
Since Notion and Monday both use a per-user pricing model, your subscription price will depend on how many users you've added to your account.
✅ Winner: Tie
Both tools allow for easy collaboration with a similar per-user pricing model. And, both allow you to invite guests to your workspace (though they'll have limited access).
A project management tool only works if you and your team can actually use it. Fortunately, both Notion and Monday both have mobile and desktop apps for iOS and Android. Alternatively, you can work straight in your browser and any changes you make will sync across devices. This is true for both services.
When it comes to user-friendliness, Monday is a clear winner here. While Notion is marketed as an all-in-one solution, many of its features are frankly unintuitive (formulas, for example). Monday's interface, on the other hand, is clean, intuitive, and easy to use.
✅ Winner: Monday
While both tools are pretty user-friendly, Monday is a better option if you're looking for something that can be set up quickly without a steep learning curve.
Sometimes the ability to customize is what really sets a tool apart. Notion is practically limitless in customization options, which is what first drew me to the tool. You can create pretty much anything if you're willing to put in the time to build it. And, you can upload your company logo to use as page icons. I use this functionality to differentiate between different projects I'm working on.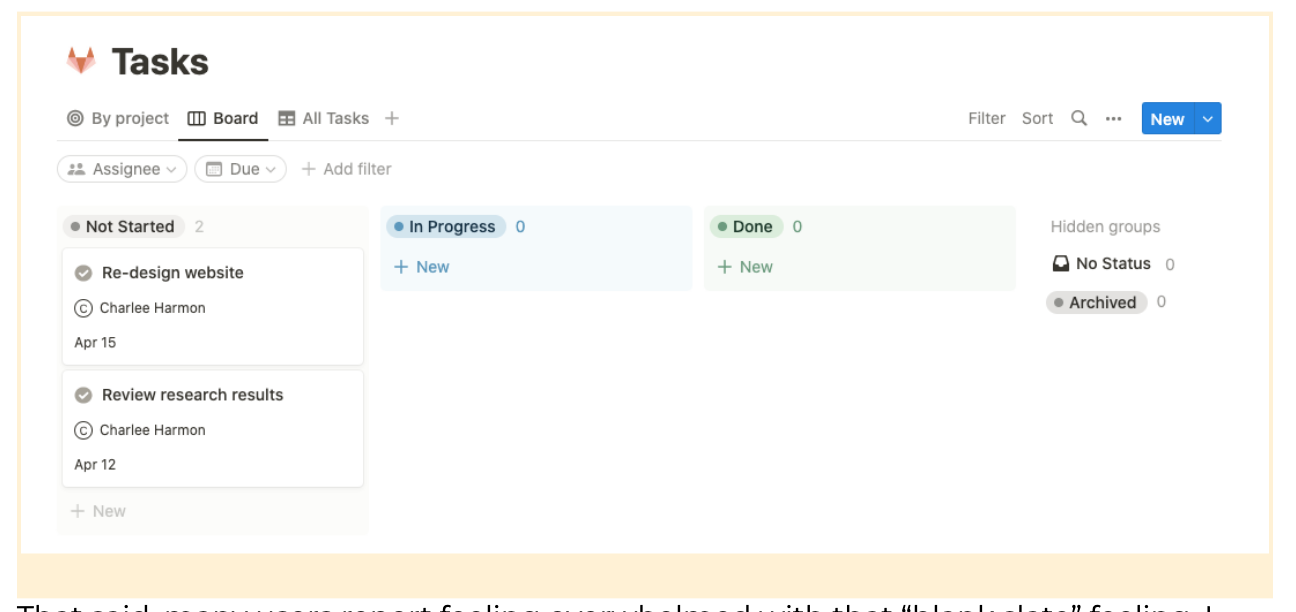 That said, many users report feeling overwhelmed with that "blank slate" feeling. I struggled with analysis paralysis when I first began using Notion because there were just SO many options. I spent so much time fiddling with it that my productivity actually went down for a while.
Still, though, the flexibility that Notion provides is a real plus. Monday has a more structured interface. You can still customize with different colors and board setup, but there's a limit to how creative you can get with it.
✅ Winner: Notion
With Notion, the possibilities are endless. You can use one of Notion's pre-made templates or start with a blank page and build exactly what you want from the ground up.
Adding a new tool that doesn't integrate with the tools you're already using to run your business is more hassle than it's worth. Ideally, the project management tool you choose should integrate seamlessly with the applications you're already using.
Notion offers dozens of integrations, including Slack, Google Drive, Dropbox, Zoom, and more. For a full list of compatible apps, visit Notion's integrations page.
Monday integrates with over 40 different tools, such as Outlook, Microsoft Teams, Zapier, LinkedIn, and more. Visit Monday's integrations page for a full list of compatible apps.
✅ Winner: Tie
Both tools offer a host of third-party integrations, so it really just comes down to the specific needs of your business.
SECTION 14
Notion vs. Monday: you decide
Notion and Monday are both good productivity tools, but they each shine in specific areas. At the end of the day, the one you should choose is going to come down to your own specific needs.
Personally, I've moved entirely to Notion and retired my Monday account. I've found that Notion does a decent job at a LOT of different things, which has allowed me to get rid of a bunch of tools I was using. That said, Monday is really good at what it does, just not much else.
If you're willing to spend some time getting set up, and you want one tool to act as a central hub for your business, then Notion is a good choice.
But if you want something simple and feature-rich for managing projects and don't care about the extra frills that Notion offers, Monday is a great alternative.