LAST UPDATED ON September 18, 2023
The 11 Best LinkedIn Automation Tools You Can't Live Without for 2022
LinkedIn automation tools are becoming ubiquitous in the sales world. They make sales prospecting more manageable, allow teams to reach leads directly, and improve targeting for your LinkedIn ads campaigns. When your sales team is just starting to grow, it may seem doable to reach out directly to every single prospect by hand to schedule your meetings.
That said, if you have a large sales team that you need to feed with leads, it's time-consuming to do it manually. LinkedIn prospecting tools let you quickly build your network and brand awareness faster than you would be able to manually.
Unfortunately, though, many LinkedIn automation tools go against LinkedIn's User Agreement. In their docs, LinkedIn explicitly bans "bots or other automated methods to access the Services, add or download contacts, send or redirect messages." This is to ensure a good user experience for LinkedIn members and to prevent spam or fraudulent activity.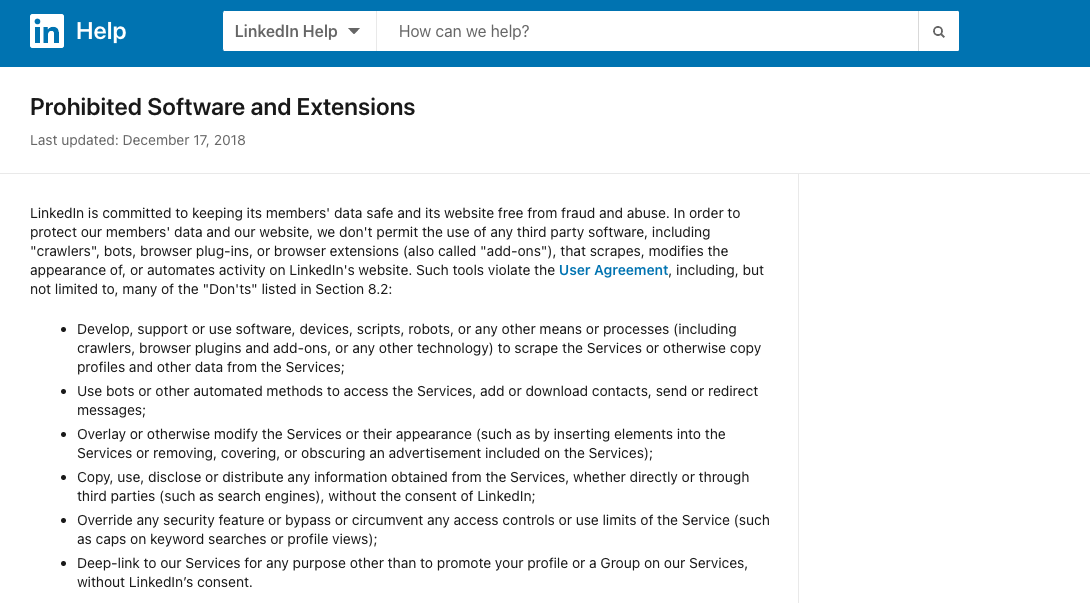 However, there are still a few LinkedIn automation tools that are approved and won't get you temporarily banned or thrown in LinkedIn jail for using them, if used properly. When considering using automation tools, it's still important to follow the basic rules of good sales:
Don't send out bulk messages, or at least plan your outreach campaign with specific precautions in place.
Limit the number of requests you send in a single day; otherwise, you'll be flagged within LinkedIn's internal systems.
Avoid spamming individuals multiple times. Leave time between reach outs, and stop messaging someone if they ask you to.
All that said, LinkedIn prospecting tools can be a powerful addition to your sales resources. 
Give your team time back to spend building relationships and doing human activities, like having phone conversations or driving value for your prospects. Let LinkedIn automation tools manage the menial machine-doable tasks.
What are the best LinkedIn Automation Tools?
Now that we've covered both the pros and cons of using LinkedIn for sales prospecting, we'll break down a few of the best options.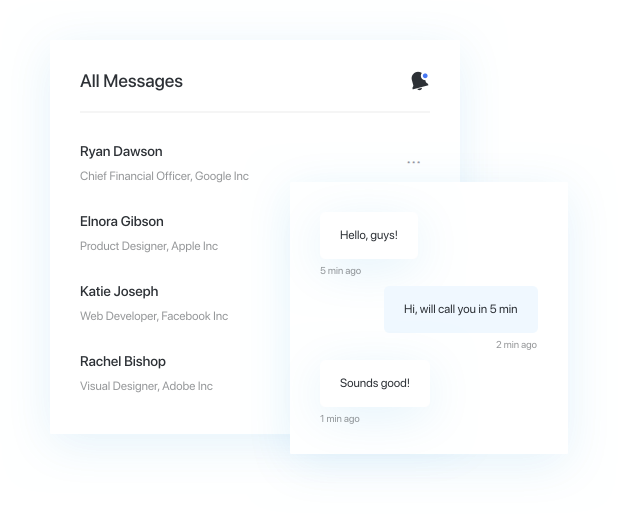 We-Connect bills itself as the "safest LinkedIn automation tool." It enables companies to build prospect lists with built-in tools like detection protection, follow-up automation, and drip email campaigns. It is top-rated amongst LinkedIn automation tools and offers excellent reporting and playbook functionality as well. Each sales rep can get a bird's eye view of everything happening within your collective InMail boxes with ease.
This LinkedIn tool also offers Agency, Affiliate, and Enterprise partnerships that make it even easier to take advantage of their benefits.
Features
Entirely cloud-based, no downloads required.

Various campaign libraries for endorsements, follow-ups, and other reach outs let companies pick what works best for their needs.

API and Zapier integrations for integrated data connectivity.

Reply detection and automation.

Message and activity scheduling.
Pros
Actionable metrics on what's happening across company LinkedIn accounts.

Easy-to-use UI.

Cloud-based activity means less risk of detection than other software.
Cons
Pricing
We-Connect offers a 14-day free trial, and after that, provides a monthly or annual plan. Monthly plans cost $49/user, and yearly plans cost $490/user/year and grant two free months of service.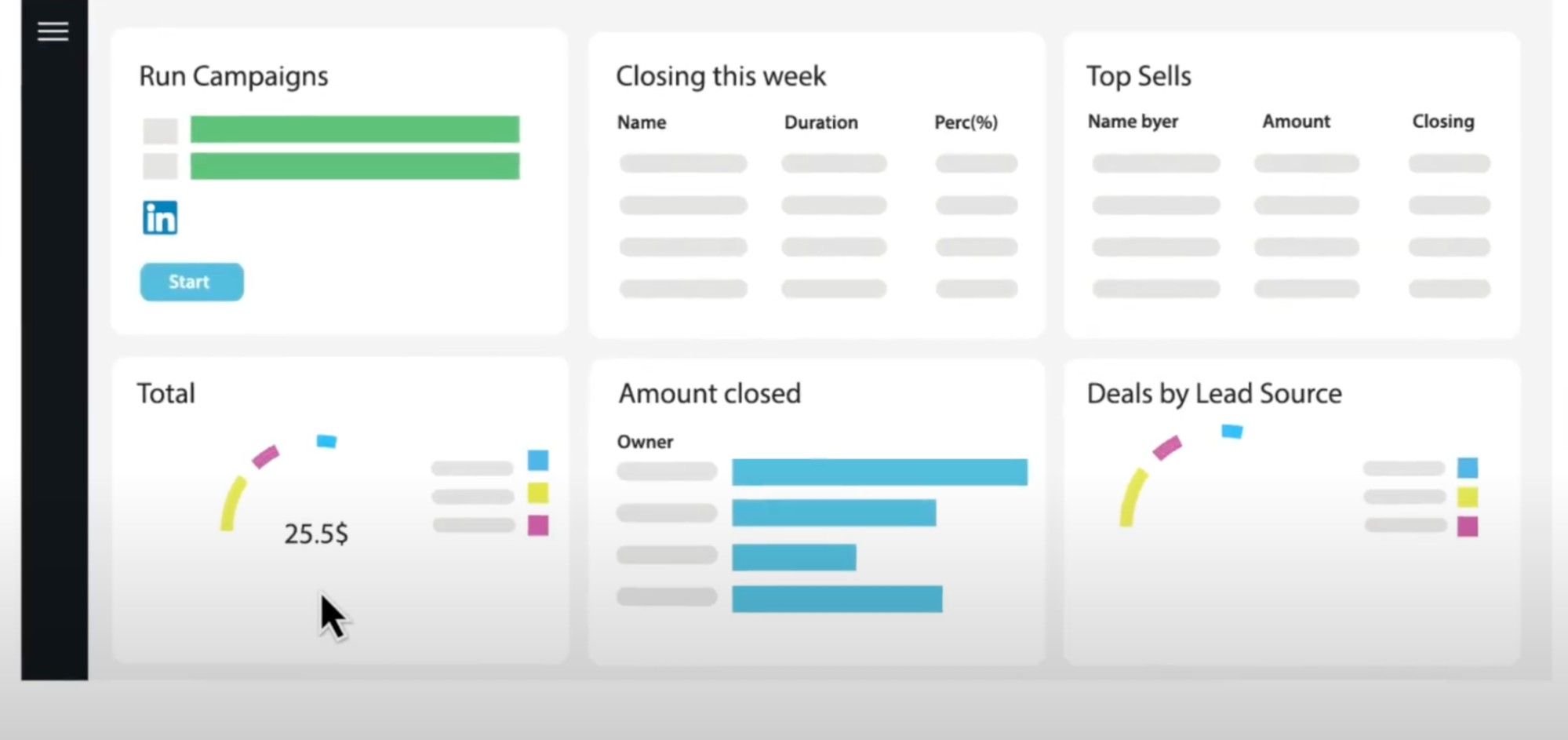 Dux-Soup markets itself as growth hacking software that can take all of your team's LinkedIn activities and automate them to maximize potential. Rather than needing a human to train their software, Dux-Soup's functionality automates prospect profile views, skill endorsements, follows, and it even can automatically engage leads on your behalf. 
Then, Dux-Soup generates a prospect list of your company's most engaged leads and empowers your sales team to reach potential customers and have meaningful conversations each step of the way.
Features
Automated triggered conversations with prospects.

Lead scoring based on responsiveness.

Follow-up settings based on connection level.

Endorsements of qualified leads.

CRM functionality that makes it easy to keep track of your prospects and leads.
Pros
Use CSV uploads to designate who Dux-Soup should and shouldn't engage.

Automated drip campaigns stop upon a response from a prospect.

Export any data generated within the platform.
Cons
Only available for Chrome users as a Chrome Extension.

Less access to LinkedIn's systems than some alternatives.
Pricing
Dux-Soup offers a one-week free trial of its Turbo plan. If your company wants to purchase the Turbo plan after the trial, it will cost $55/user/month. Beyond that, it offers a basic plan which is free for life and a Professional plan for $14.99/user/month. Dux-Soup provides a 25% discount if you purchase annually.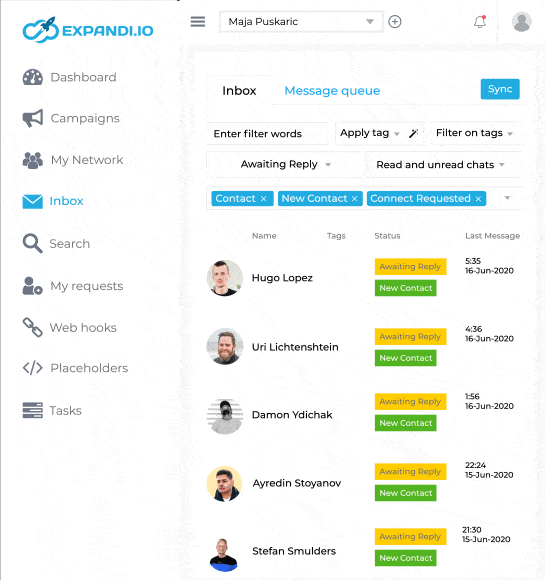 Expandi markets itself as an incredibly safe LinkedIn prospecting tool. It is much less likely to be detected and get business accounts suspended than some other options because it is a Cloud-based option. Most customers choose to use Expandi for sales prospecting and automating the menial tasks that take up salespeople's time—for instance, engaging potential customers through LinkedIn messaging, getting meetings scheduled, and figuring out the best times for cold calling.
Expandi has stringently set defaults that dissuade users from practices that may get them banned—like sending too many cold calling invitations, endorsements, or messages in a single day. They've set these benchmarks to keep their users safe using historical data aggregated through customer usage.
Features
Dedicated country-based IP addresses for all users.

Randomized delay between actions to mimic human behavior.

Cloud-based software.

Auto-warm-up feature—your automated activities will increase gradually through the day, also to mimic human behavior.

Message automation and playbooks.
Pros
Designed to mimic human behavior to prevent temporary bans.

Template library makes it easy to design and reuse successful messaging.

GDPR compliant.
Cons
Pricing
Expandi offers a seven-day free trial. After that, a seat costs $99/user/month.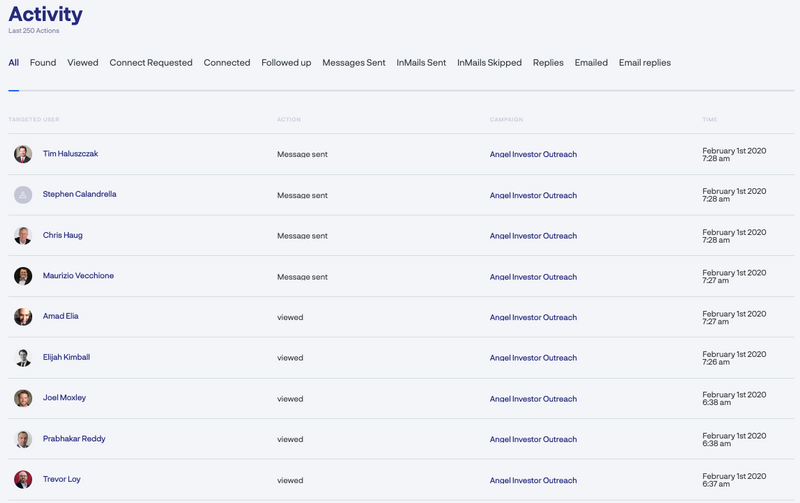 MeetAlfred is a LinkedIn automation tool that also offers automation across other social media, like Twitter and Facebook for effective social selling. Unlike other tools, MeetAlfred offers multi-account support. If your sales team, recruitment team, or customer success teams have multiple members, you can have cross-account functionality all in one portal.
MeetAlfred is known as a thought leader in the space of automation and social media outreach. Check out their thought leadership posts about the LinkedIn Sales Navigator and the differences between email and LinkedIn outreach. MeetAlfred is often compared with Sprout Social or Buffer for its social media scheduling and automation functionality, so it's very well-rounded in the space of LinkedIn automation tools.
Features
Campaign manager that works across multiple social media accounts at once.

Messaging automation on LinkedIn, Facebook, and Twitter.

Built-in CRM for understanding customer context and history.

Inherent safe usage limits.

In-depth analytics and dashboards help your company know how you're performing.
Pros
Interface is simple and incredibly easy to use.

Tons of options for outreach and a robust template library.

All-in-one marketing platform.
Cons
Requires a desktop software download.

LinkedIn syncing is reported as buggy by some users.
Pricing
Free, no credit card required, 14-day trial. After that, companies can purchase a Personal plan for $59/user/month or a Business plan for $119/user/month. If purchasing annually, users receive a 33% discount.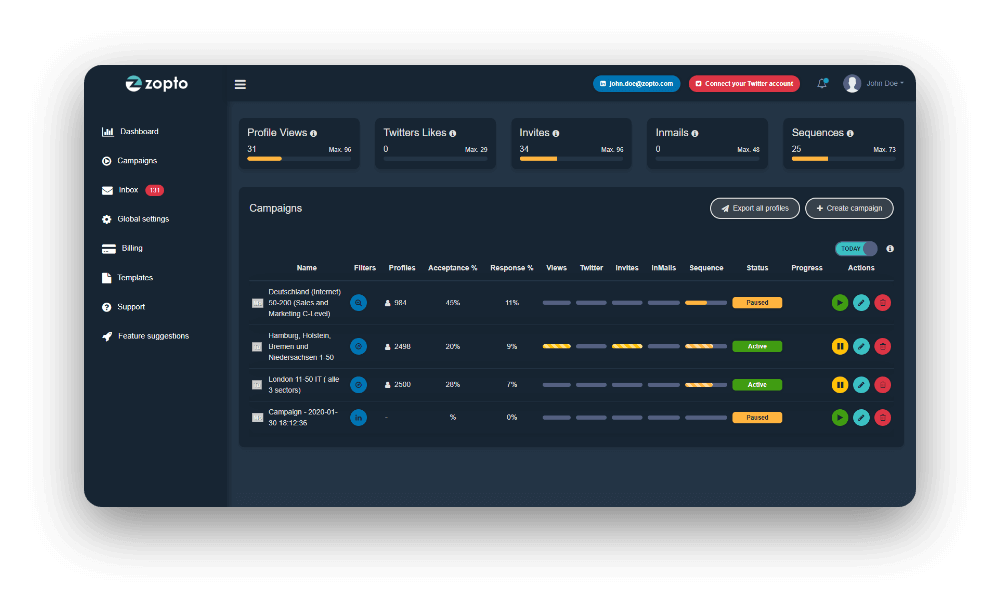 Zopto markets itself as "the #1 LinkedIn automation software." It is a reliable, cloud-based LinkedIn automation tool that works by connecting with a user's LinkedIn account and then taking actions on their behalf. These actions could be anything from messaging a prospect and endorsing a new connection to continued ongoing reach after initial contact.
Not only does Zopto work for prospects, but some companies use it to reach out to potential business partners and affiliates. If sales professionals wants to take out all the tedious work required to get more meetings with their team scheduled, Zopto is an excellent option.
Features
Prospect-scoring based on algorithms and company-stated preferences.

Automated campaigns and messaging for initial reach out and follow-ups.

Dashboard and metrics to understand how your company's automation is working and what could improve.

Randomized behavior is challenging for LinkedIn to detect and ban.

Integrations with most popular sales, marketing, and CRM tools.
Pros
Dedicated customer success manager on paid plans.

Easily customizable messaging and templates.

A/B testing for campaigns.
Cons
Scheduling only allows for a single start-stop option rather than multiple throughout the campaign.

Limited custom variables per message, depending on pricing tier.
Pricing
Zopto does not offer a free trial but does offer demos with its sales team. Pricing for Zopto starts at $215/month for the Personal plan and then continues up to $895/month for its Agency plan. In addition, users can purchase quarterly at a 20% discount.
Crystal is a unique sales prospecting tool in that it uses traditional DiSC personality typing to provide sales teams with more information about their LinkedIn prospects. 
Crystal analyzes the data of a LinkedIn profile and then provides insights about how the person prefers to be engaged and what type of language they resonate with, much like a buyer persona. Using that information, your sales rep and sales teams can create campaigns for specific personality types with a higher chance of converting.
Features
Generate analysis based on each personality type and how they best engage with your product.

Create playbooks that can be segmented across personality types.

Empower users with in-line data about communication preferences to deepen their connections.

Understand your team better to know which team members to bring in for specific deals.

Integration with popular CRMs and sales software.
Pros
In-line hints about how to write successful messages to prospects.

Informative data about individual team member's strengths to emphasize.

Meeting builder templates make it easy to compose notes on the fly.
Cons
Questionable security and validity of data.

No integration just yet with video conferencing software to prompt while on calls.
Pricing
Crystal does offer a free version of their sales tool for individual use. However, if looking to purchase Crystal's sales product, pricing starts at $29/month.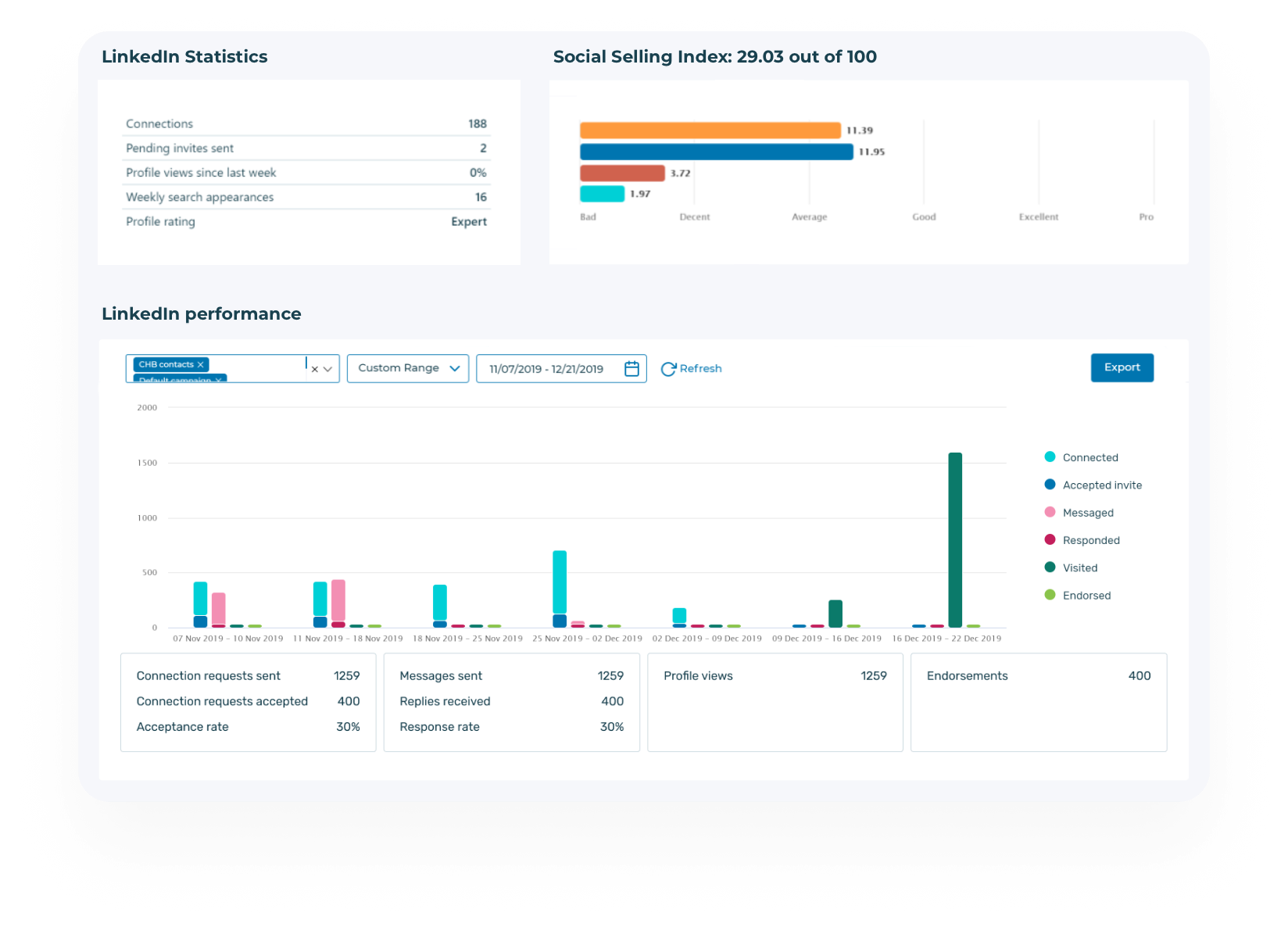 Octopus CRM allows companies to take the traditional work of warming up a lead—prospecting, reaching out, having a conversation, scheduling a call—and do it in bulk. For example, rather than emailing a single prospect every day, each sales team member could reach out to one hundred or more.
Not only that, but Octopus CRM lets companies create and action their sales funnel from directly within the LinkedIn user interface. Sales teams won't have to spend time clicking back and forth between platforms anymore—they can get all of the information they need right where they are already doing work.
Features
Automatic LinkedIn connection invitations for prospects that are a good fit for your sales team.

List-based automatic bulk-messaging.

Activity control to create human-appearing behavior.

Funnel-building functionality to plan your team's sales strategy.

Import and export functionality to or from other sales and marketing software.
Pros
Personal account manager for paid plans.

Option to connect with Premium LinkedIn users only.

Customers report higher-quality monitoring than some other LinkedIn automation tool options.
Cons
Limit on the number of users companies can add to a single list.

No ability to filter lists once they have been imported into Octopus CRM.
Pricing
Octopus CRM offers a 7-day no-card required trial. After that, it has a variety of plans for every different type of customer. Pricing starts at $9.99/month and goes up to $39.99/month. Purchasing an annual plan saves users 35%.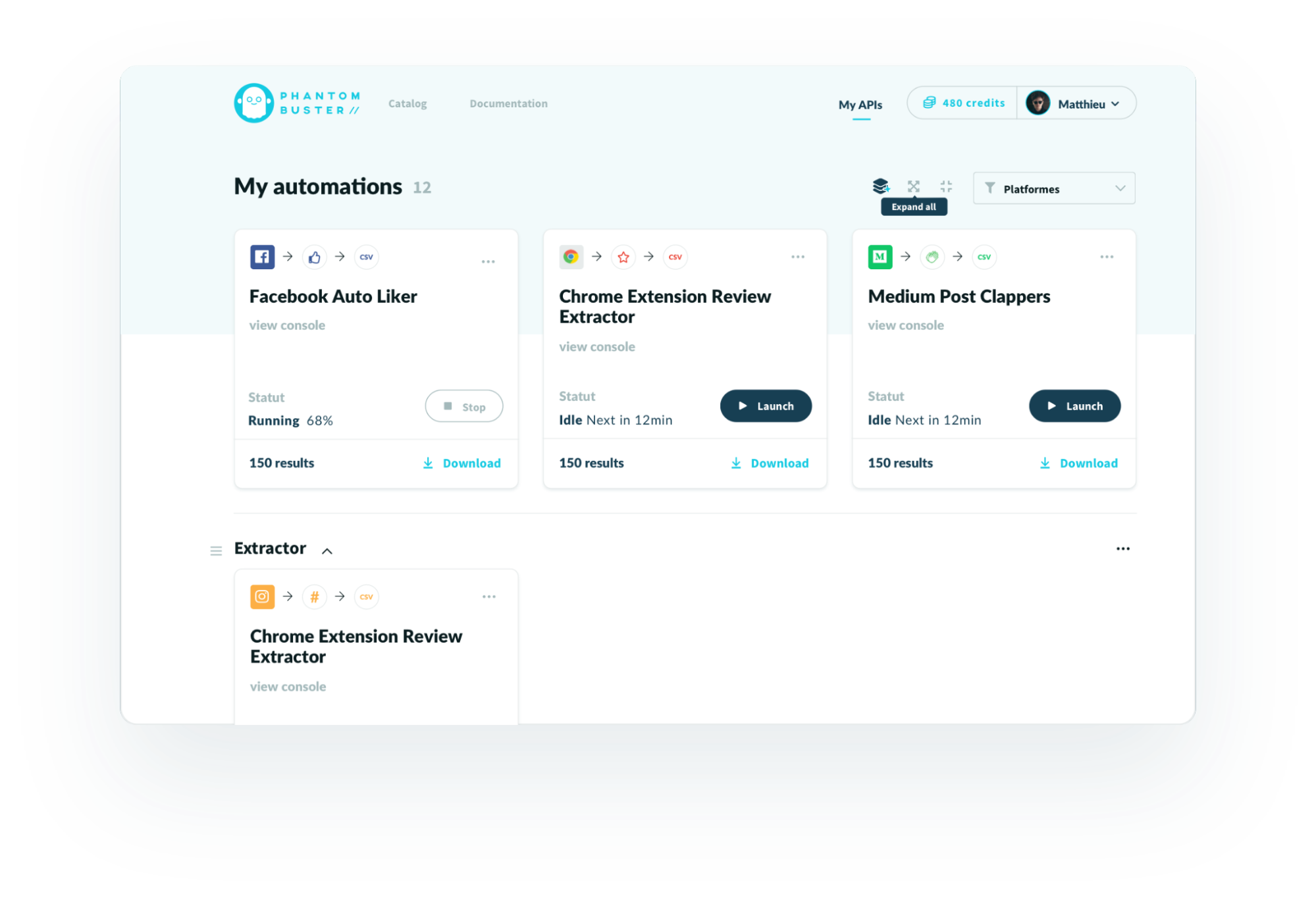 Phantombuster is an excellent tool in that it isn't solely dedicated to LinkedIn. Companies can use Phantombuster to build code-free automation across multiple platforms like Instagram, Google, Twitter, Quora, Medium, and more. Unlike some of the other LinkedIn automation tools, Phantombuster breaks down each action into "phantoms" and has tons of phantoms built for every platform it functions on. For LinkedIn, there are 37.
Phantombuster allows companies to operationalize their marketing automation in a single place. It's unnecessary to have a separate platform for Twitter, Facebook, and other social media because, with Phantombuster, teams can manage all of their social selling in one UI.
Features
Automated LinkedIn connection requests.

Profile scraping functionality for generating email lists.

Lead generation and scoring directly within LinkedIn.

Bulk personalized message sender.

Activities extraction to get a list of all profile activities for a single LinkedIn user.
Pros
Tons of unique, one-off connections that teams can select piecemeal to build their own workflow.

Teams can manage all social media platforms in a single place.

Straight-forward UI keeps connection truly code-free.
Cons
Custom functionality requires companies to build their own bots using the API, which can be challenging.
Pricing
Phantombuster offers a 14-day, no card required, free trial. After that, companies can use a limited free plan or upgrade to the Growth Hacker, Business, Enterprise, or Premium plans. The Growth Hacker plan is $30/month, and the Premium plan costs $900/month. If users wish to purchase annually, they receive an 8% discount.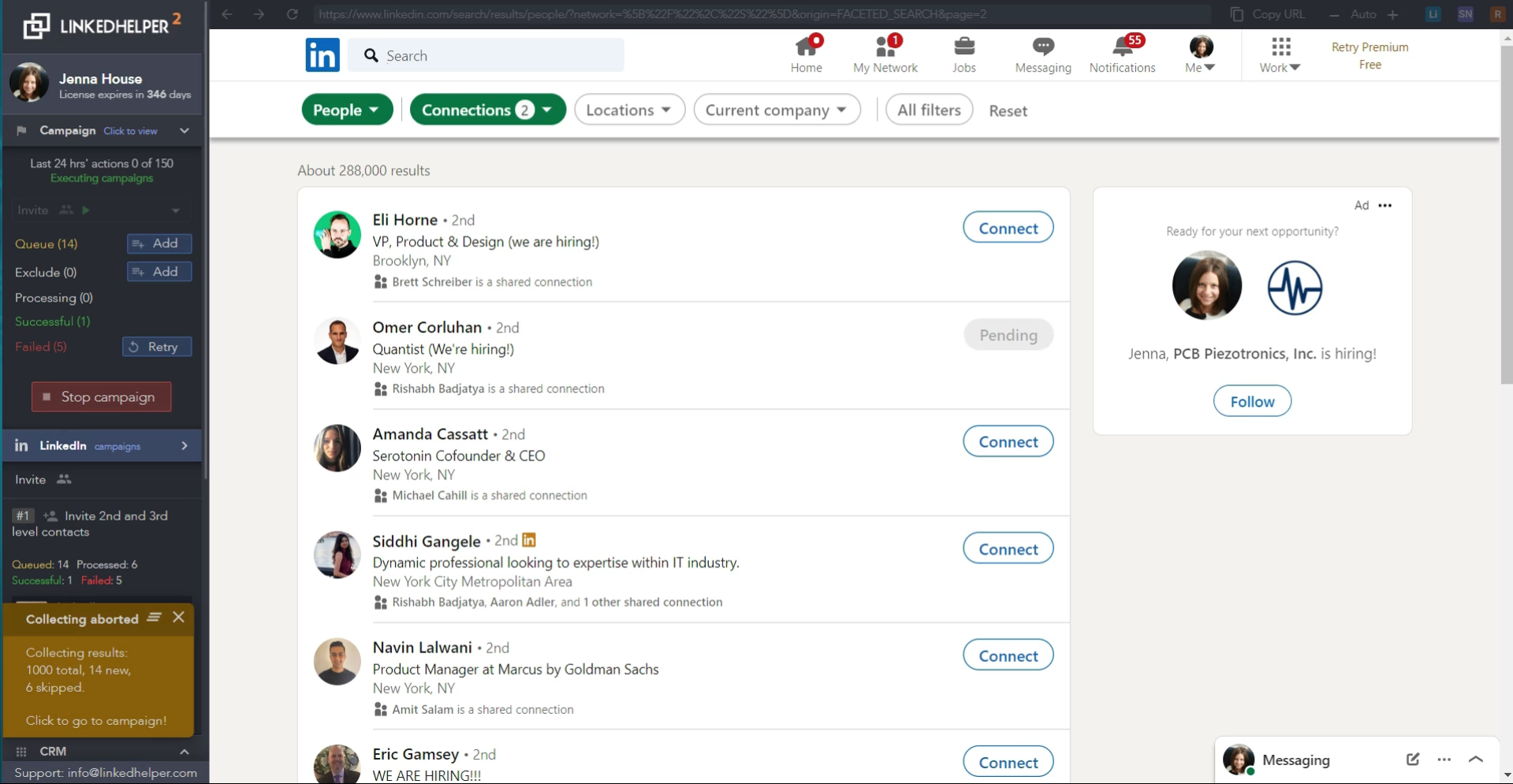 LinkedHelper (also known as LinkedIn Helper) markets itself as "the safest and most powerful LinkedIn automation software and CRM." As a cloud-based software rather than a Chrome extension, LinkedHelper has the instant benefit of being more secure than many other LinkedIn automation tools. The lead generation tool also just released a new version of LinkedHelper, which boasts 31 different new features, and many updates to improve the security and detectability of the original LinkedHelper software.
Features
Fully customizable drip-campaign functionality.

Smart action limits are designed to keep your bots looking human.

Invite first connections to join a LinkedIn group or take other action.

Unlimited custom variables in the template editor.

Collect contacts from myriad integrated sources and find them on LinkedIn.
Pros
Customers rank LinkedHelper's support as outstanding.

Cloud platform, rather than solely a Chrome extension.

Regular generation of new lead reports sent directly to email.
Cons
Regularly auto-updates, which can cause pauses in automation.

Cannot sync data directly to a drive rather than maintaining it in cookies.
Pricing
Companies can try LinkedHelper for free or purchase in a 1, 3, 6, or 12-month increment. Cost decreases as time increases. For instance, it is $15 for a single month but $99 for 12 months which breaks down to $8.25 a month.
Other sales automation & CRM tools to consider
Companies often choose to use dedicated CRM tools alongside their LinkedIn automation tools. This can help your sales team build additional automated lead nurturing workflows and provide a more reliable, easily accessible place to store customer information and data. Here are two tools you may want to consider in addition to your LinkedIn automation software.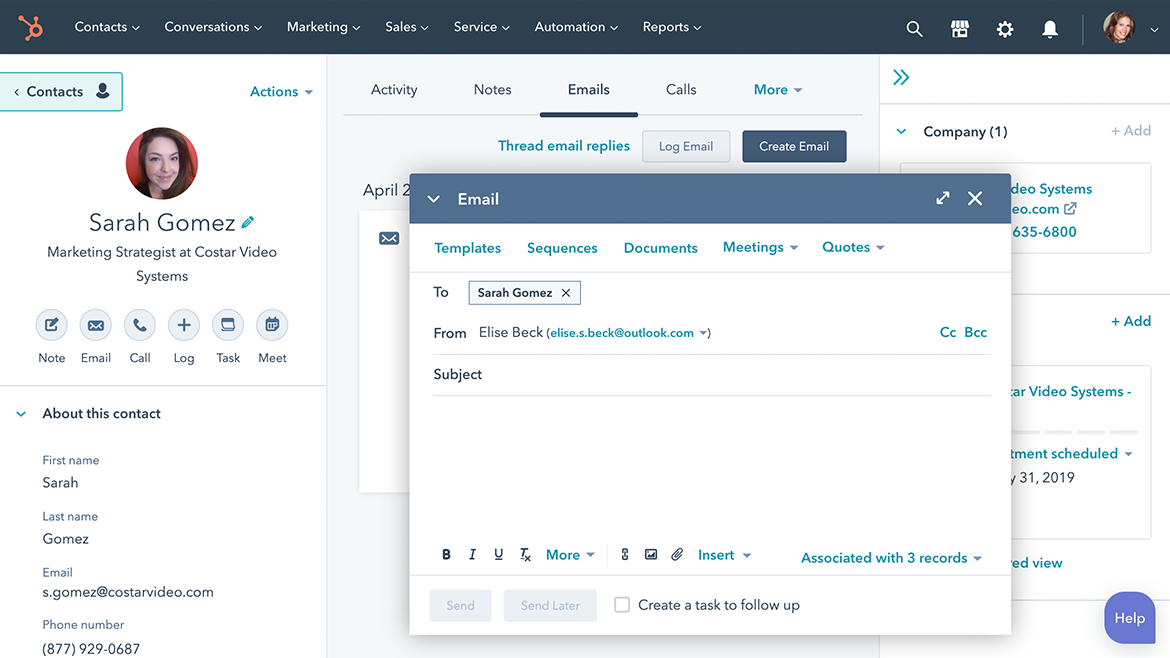 HubSpot Sales empowers sales teams to make the most out of their time by bringing everything you need together on one powerful platform. HubSpot is built around a central CRM, so every department has the context they need to provide a personalized experience, at scale. So whether you're closing the deal, or supporting an existing customer, you'll be able to see all of the customers' past interactions, including those on LinkedIn.
Features
Conversation intelligence

and analytics that help you get better at selling.

Call tracking,

recording

, and scheduling, directly from within HubSpot.

Free meeting scheduling

tool to reduce back-and-forth emails when booking time with prospects. 

Email functionality to design, automate and track emails.

Prospecting software to boost sales productivity.

Ability to leverage HubSpot CRM.
Pricing
You can get started with HubSpot Sales for free, which includes up to 1 million contacts and unlimited users. Additional features, including  available in Premium editions
SECTION 11
LinkedIn Sales Navigator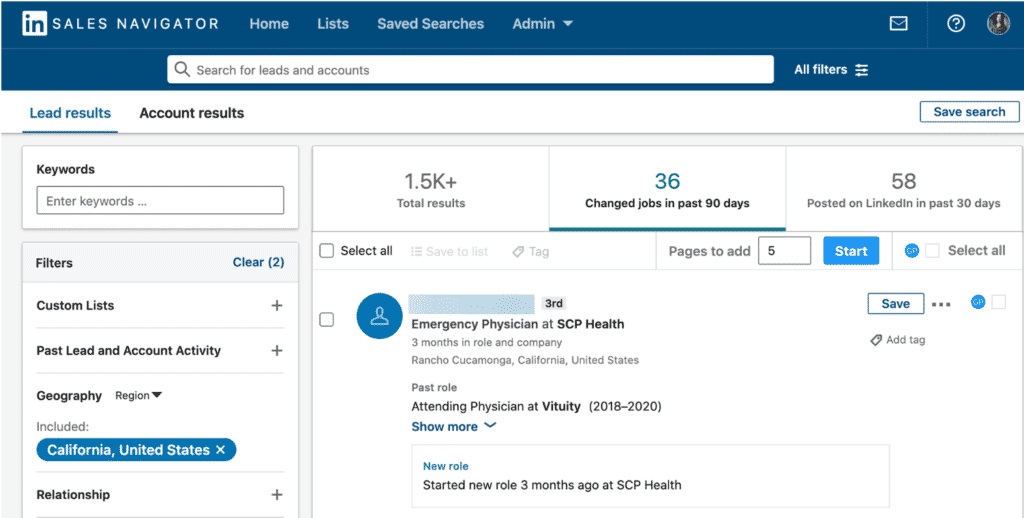 LinkedIn has started offering additional functionality to individuals and businesses looking to get more out of their LinkedIn experience with a tool called Sales Navigator (also known as sales nav). It is different from LinkedIn's Premium Business feature as it's designed specifically for prospecting and selling on LinkedIn. If curious, companies can get more information about the comparison across LinkedIn's premium features here. 
Because it's built by LinkedIn, Sales Navigator provides companies and individual users with the information that other third-party LinkedIn automation tools may not have full access to. 
Features
Extended network access to understand who has been looking at your company's LinkedIn profiles and when.

Advanced LinkedIn search and placements within search results for prospects or candidates.

Lead-scoring and prospect list generation

Engagement tracking for LinkedIn outreach.

Enterprise tools like SSO and data integration.
Pricing
LinkedIn Sales Navigator starts at $79.99/user/month but also offers Enterprise plans. For Enterprise pricing, companies will have to reach out to LinkedIn's sales team. Annual discounts can cost up to 25% less and also have a "cancel anytime" policy.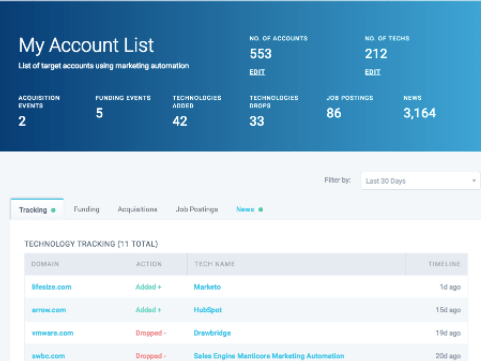 Datanyze is a simple Google Chrome Extension which gives sales reps access to B2B company contact information for their sales outreach. Information it displays includes email address, direct dial phone numbers and other company details from LinkedIn. 
Because it's an extension it automatically displays information about each company you're browsing at any given time in your browser as well as inline in search results in LinkedIn as well. All the information it displays comes directly from LinkedIn. The software has other capabilities such list export and management. 
Features
Accurate B2B contact information
Export profiles directly from Google Chrome
Bulk reveal list of contacts from LinkedIn search results
Pricing
A credit is one contact lookup. Users can purchase 80 credits per month for $29 or 160 credits per month fro $55 when billed monthly. Billed Annually users save 30% and receive 960 for $21/month or 1920 credits for $39/mo.
SECTION 12
Let a lead generation tool save your team some time
While it can be scary to think about leaving your precious prospects and leads in the hands of marketing automation, it frees up your sales team to spend more time selling. Let the humans on your team focus on building real, meaningful human connections, and let LinkedIn automation tools generate the leads and send the cold emails for them. Your sales team will be much more effective when they can spend their energy on the things that feel productive.