LAST UPDATED ON December 7, 2023 ‐ 3 Comments
26 Small Business Marketing Software & Tools You Need
When I founded TopicRanker.com, I had no time or budget to buy fancy software. I had to get SEO and lead gen marketing going fast to build up my MRR so I could pay the API costs.
What I found is that using the right tool appropriately allowed me to level the playing field and compete with the heavyweights in my industry. In other words, the right marketing tools put my business' growth on steroids.
To find the best option within each category of marketing tools, I tested 10 different softwares and narrowed them down to the top 4-5.
In this guide, I am going to share with you the best-rated marketing tools which I found:
bring instant value for small businesses
are easy to set up
are cheap or inexpensive
have amazing customer service
Top Small Business Marketing Tools for 2024
Top Small Business Marketing Software Overviews
Below is the list of top-rated 26 marketing tools to check out in 2024, including a breakdown of features, pricing info, and the pros and cons of each.
As you read through this guide, remember that it focuses on marketing tools specifically for small businesses. What might be a "pro" for a multinational corporation is actually an expensive "con" for a small business.
SECTION 1
Search Engine Optimization (SEO) Tools
SEO tools help you rank high on Google's organic search results. We tested 17 different SEO tools for every type of task: from keyword research to content optimization. Here are the top ones for each task:
Semrush
When it comes to checking any statistics or SEO data about any website on the web Semrush is the platform you want to be using. Their offering allows you to find any data on any public facing website be it: number of backlinks, their overall traffic over time, top performing pages, which keywords they rank for, which backlinks they recently acquired or lost.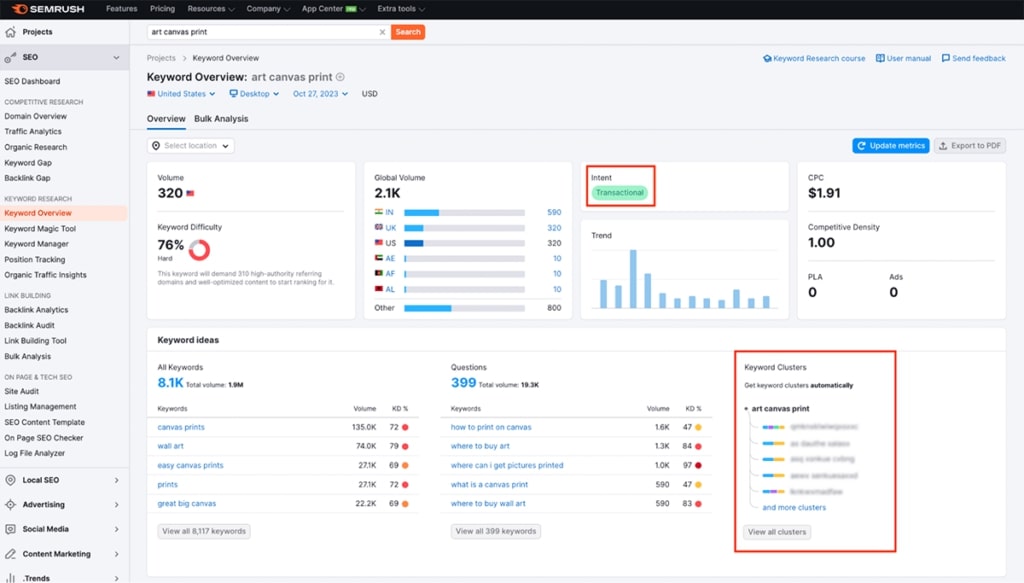 Price: $108.33/month, paid annually
Pros:
Ideal for small-medium businesses.
Cons:
UX quirks, like list management, take some getting used to.
TopicRanker
TopicRanker shows you keywords you can rank for based on problems & weaknesses in the search results. Brian Dean founder of Backlinko described TopicRanker as "the future of keyword research" after he signed up and gave it a spin.
Instead of focusing on "keyword search volume" or "keyword difficulty" TopicRanker focuses on specific problems and weaknesses in search results.
For example, TopicRanker robots identified a keyword to write a new article for on falconriver.co – the term it's recommending to create new content for is: 'empire flippers alternative'.
Topic Ranker's algorithm believes this is the best opportunity keyword for Falcon River, due to these specific SERP issues (each icon below refers to a specific SERP weakness):
❓—> missing keywords in the meta title
🔢—> low word count for primary result
🟰—> poor readability
⏳—> page loads very slowly
🕜—> page is outdated

And here is the full report of the complete Google search result for this term with those weaknesses highlighted so you can create something much better which addresses these weaknesses.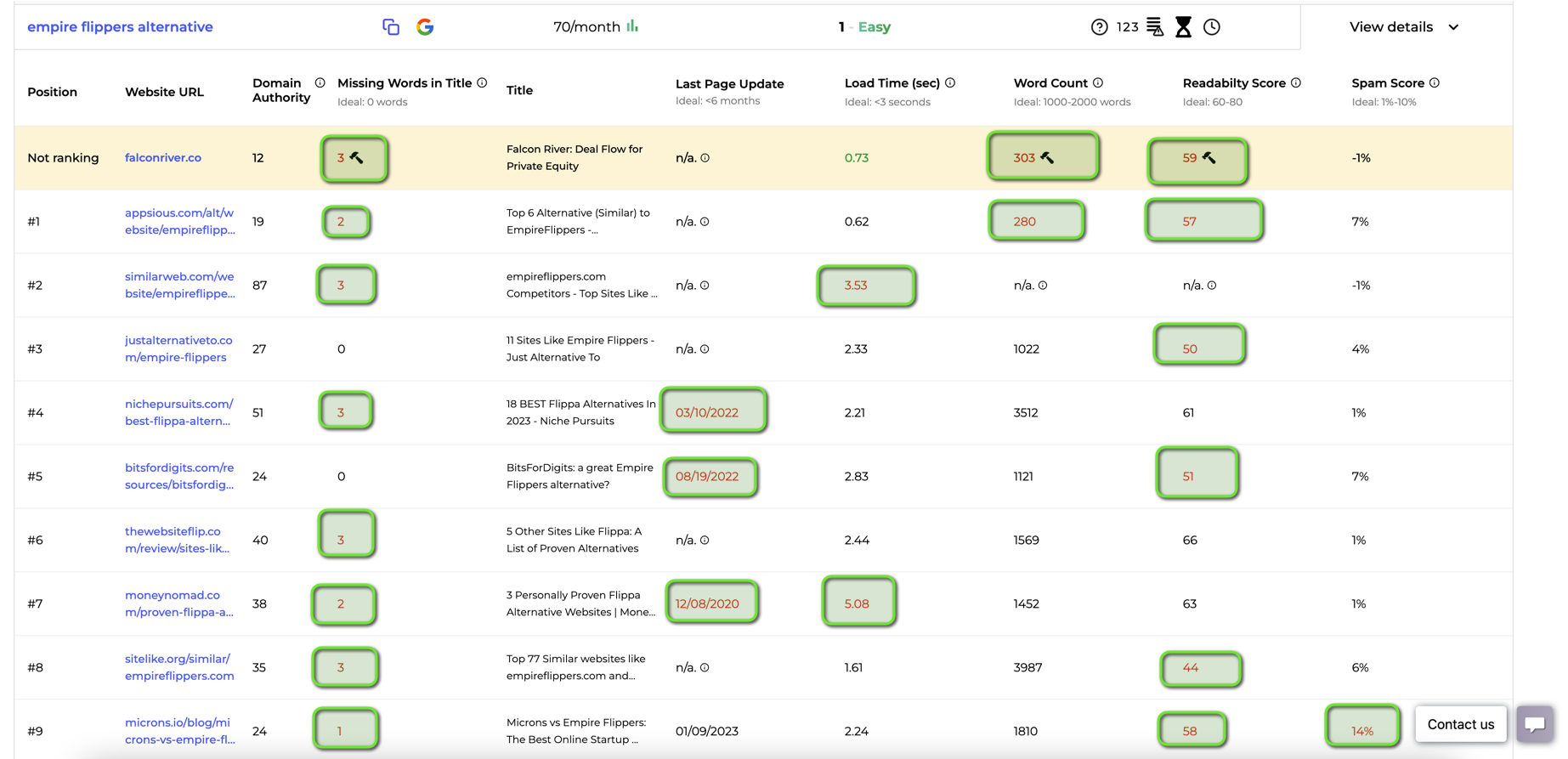 Price: Starts at $7.50/month, paid annually
Pros:
Contrary to most keyword tools out there, focuses on problems on Google Search Results to recommend keywords you should target
Identifies which keywords you already rank for on Google and what to do to improve them
Suggests keywords you should create new content for in near term and rank easily
Customer support very responsive
Cons:
New company, has only been around a year
Need to have a content person or a writer to implement the suggestions from the software
ContentHarmony
Content Harmony is "da bomb" when it comes to creating content briefs on the fly! It's a simple tool which uses data and AI to create amazing looking content briefs for your writers to use for article writing.
After you setup your account and create a project you simply enter a keyword and the AI generates a keyword report for you to review to make sure this is the topics and subtopics you want to cover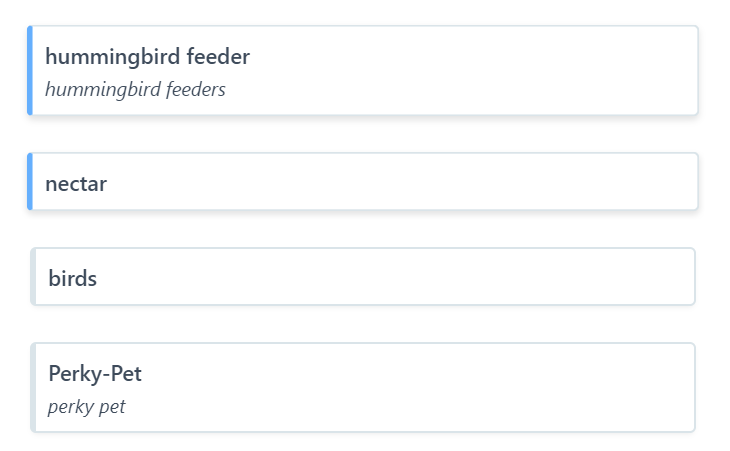 Image Source: ContentHarmony Quick Start Guide
Once you approve the keyword report the tool creates the content brief in seconds: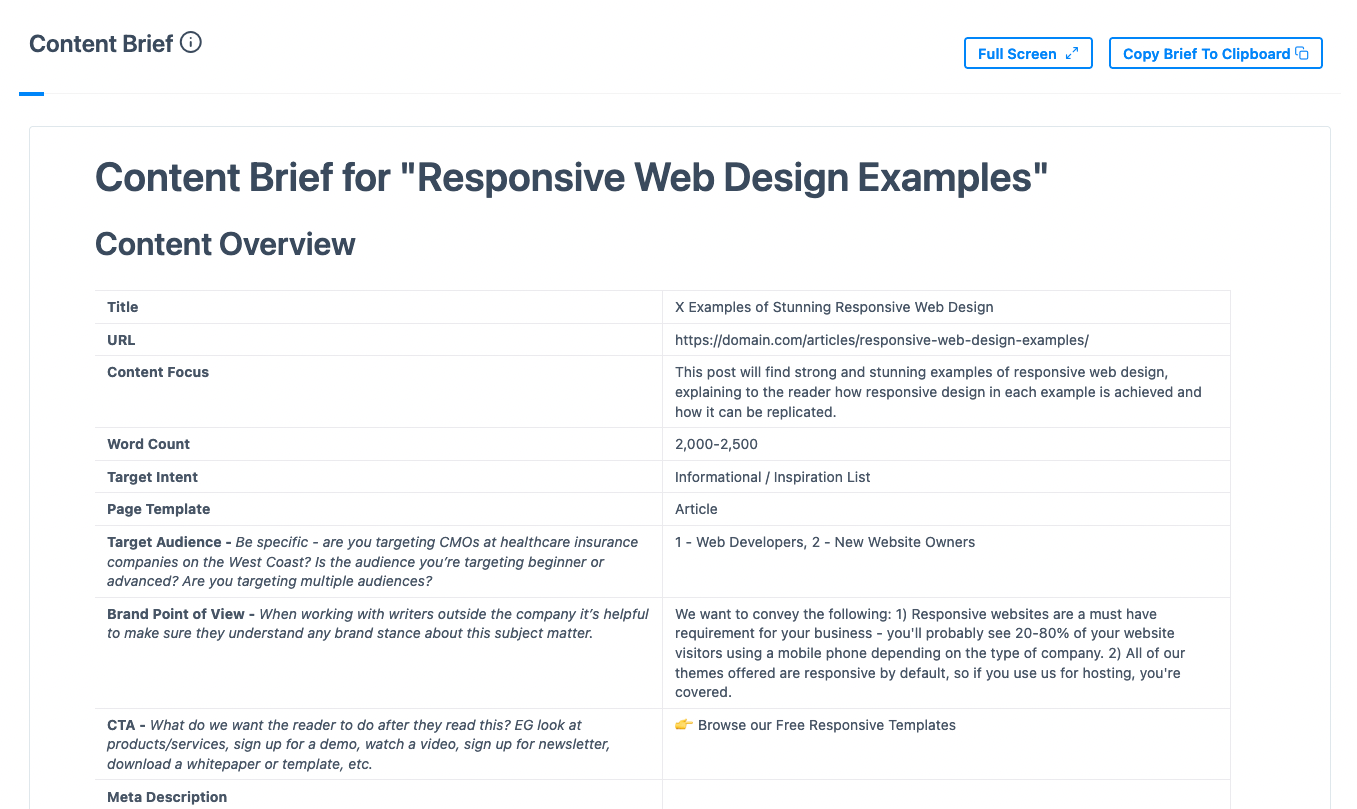 The writer can use this content brief to write the article.
The tool also helps the writer grade their articles after they're done writing it, here is what that looks like: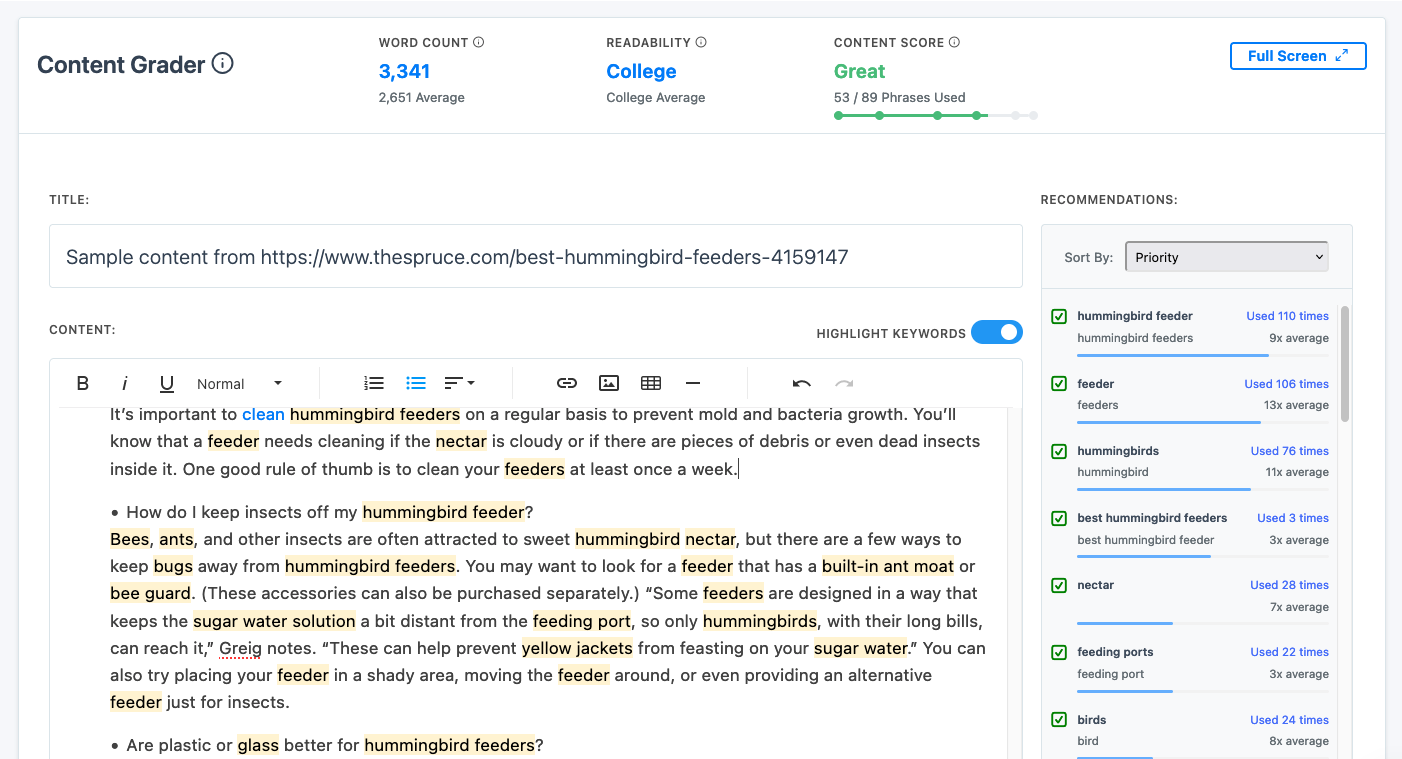 Price: Trial starts at $10 for 10 content workflow credits, then it's $42 per month for 5 content workflow credits when paid annually
Pros:
Very easy to setup, take less then a minute
Customer service is incredible
Cons:
Limited integrations and no API
MarketMuse
MarketMuse is a content optimization tool which uses AI and machine learning to help you optimize and improve your content so that you can outrank your competition on Google.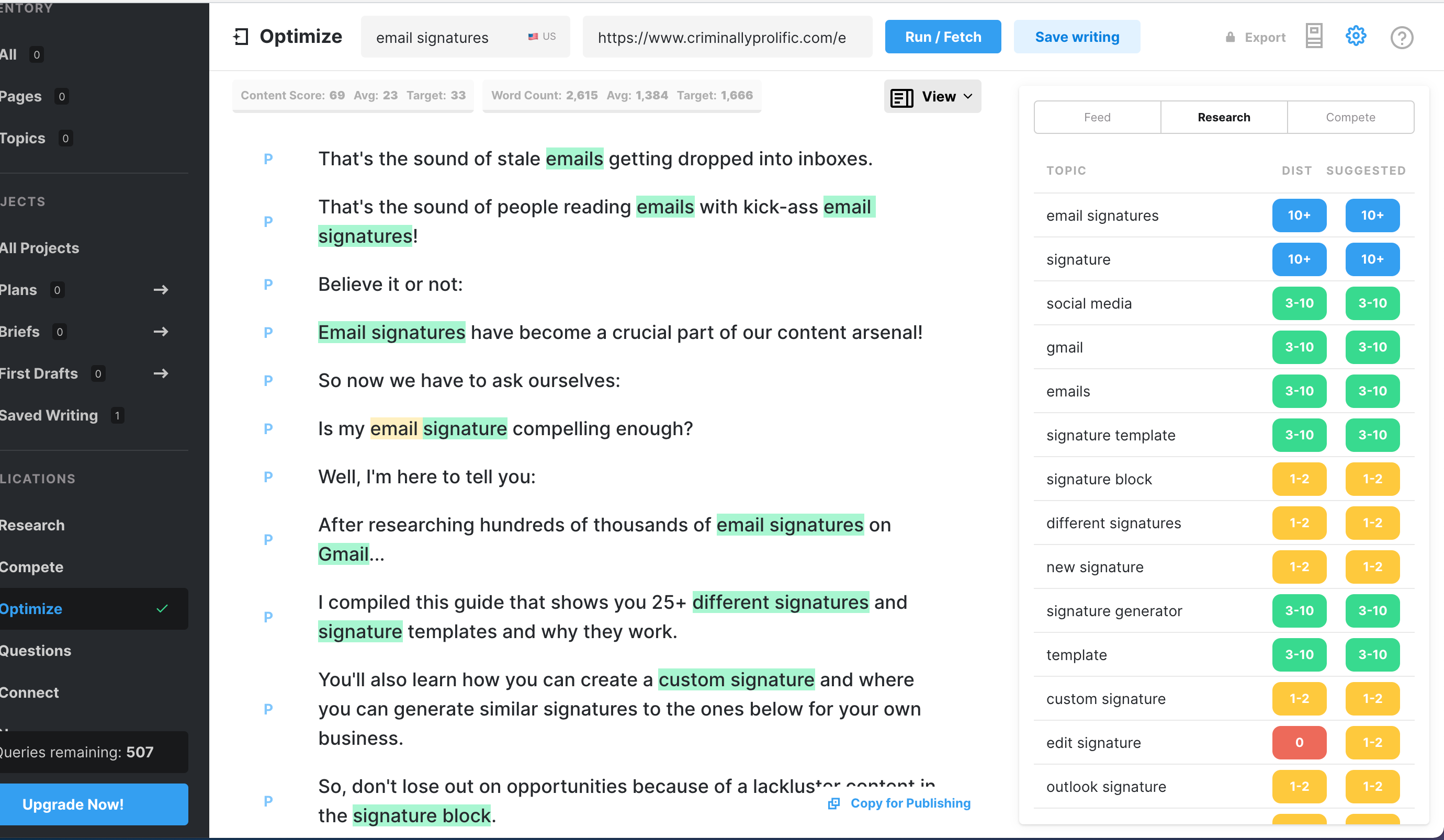 Price: Standard plan starts at $149/month, with a free plan available
Pros:
Simple to use – you input your article URL and the keyword you are targeting for ranking – the tool will tell you:
which topics your competition has in their articles
how you score on topical depth for your keyword
which topics you need to add to your article to outrank your competition
If you do not have an article written yet the tool will just ask you for a keyword and generate a content brief with questions you should answer and topics to address when writing the brand new piece of content
Cons:
Takes some time to get used to when you first start using it.
SECTION 2
Email Marketing Automation Tools
Mailchimp
Mailchimp is a great platform for getting started with email marketing for small business, whether you need a simple digital marketing tool or advanced solution.
Price: Based on the size of your email list(s). The Essentials plan starts at $13/month for 500 contacts or fewer. The more contacts you have and the more sends you require per month, the more your plan will be. A limited free plan is available if you have under 500 contacts.
Pros:
Easy to use.
Great email templates
The Freemium version is excellent.
Cons:
Limited marketing automation features.
Campaign Monitor
As the name suggests, Campaign Monitor is more than an email marketing platform.
It's an email marketing campaign management hub.
Price: $9-149/month. Advanced features and unlimited sends become available at the "Unlimited" $29/month price point.
Pros:
Advanced integrations and campaign management features.
Cons:
Convertkit
Convertkit is an email marketing software designed for professional bloggers and content creators.
Price: $25/month, paid annually, for 1,000 subscribers.
Pros:
Includes a landing page editor.
Cons:
Expensive, especially if you're starting out. It can take a long time to reach 1,000 subscribers.
Limited design and templates.
ActiveCampaign
ActiveCampaign integrates lead management and marketing automation tools to enhance the customer experience.
Price: The Lite plan starts at $29/month
Pros:
Robust toolset with wide-spread functionality.
Cons:
Complex automation features can be difficult for beginners.
Constant Contact
Constant Contact's streamlined marketing solution focuses on simplicity and efficiency in email and SMS marketing.
Price: Starts at $12/month based on the number of contacts
Pros:
User-friendly interface.
Real-time metrics.
Cons:
Limited marketing automation tools.
Honorable Mention: Saleshandy 
Saleshandy is a powerful cold email outreach software that helps organizations automate and optimize their cold email outreach. With features like mail merge, email tracking, templates, and automation, it streamlines the sales process and helps you book more meetings, on an automated process.
Honorable Mention: MailTracker
MailTracker is a nifty little tool to track exactly when your emails are opened. You'll receive an alerts when someone is reading your emails or viewed a preview of an email.
SECTION 3
CRM Tools For SMBs
Hubspot
HubSpot built their brand around inbound marketing and lead generation software (e.g. attracting potential customers by creating valuable content and experiences tailored to them), which is probably the most effective digital marketing strategy for small businesses.
Price: Varies. See HubSpot's plans. The "Starter" plan is $18/month when paid annually.
Pros:
Outstanding integrations.
Includes resources to help you learn how to use a CRM/marketing hub.
Cons:
Add-ons add up. Full functionality is expensive.
Zoho
Zoho's marketing automation platform delivers vital features and integrations at a competitive price. It was PC Mag's top pick for CRM software in 2021.
Price: $14-52 per user/month when billed annually.
Pros:
Cons:
Features are limited at the lower price levels.
Less Annoying CRM
Less Annoying CRM lives up to its name by focusing on the main features that matter to small businesses.
Price: $15 per user per month, plus tax. No annoying pricing tiers.
Pros:
Cons:
Reporting features are basic at best.
OnePageCRM
OnePageCRM is a unique combination of a productivity tool and a contact management system. It is used by SMBs in almost 80 countries around the world.
Price: $9.95-19.95 per user per month, billed annually.
Pros:
Action Stream and other unique features
Simplicity (ideal for small and medium-sized businesses)
Straightforward and affordable pricing (incl. a 21-day free trial)
Cons:
SECTION 4
Project Management Tools
Slack is a simple chat platform is all the project management software most small businesses need. Slack delivers that better than anyone.
Price: Smaller businesses can utilize the $7.25 per user per month plan, billed annually, or even the free plan that's available. $12.50 per person/month for larger enterprises looking for advanced tools.
Pros:
Simple and easy to use.
Widely adopted thanks to the work-from-home revolution.
Cons:
Constant notifications can be distracting but turning them off completely defeats the purpose of instant messaging. You may need to experiment to find the best way to use Slack for your team.
Trello
Trello is a brainstorming and project management platform built around kanban boards. This is a helpful tool for increasing team productivity and staying aligned and on track with your digital marketing plan.
Price: Free for small teams, or $5-10 per user per month for larger teams. Enterprise plans are also available.
Pros:
Enables remote brainstorming.
A good choice for visual thinkers.
Cons:
Lacks important integrations, like billing.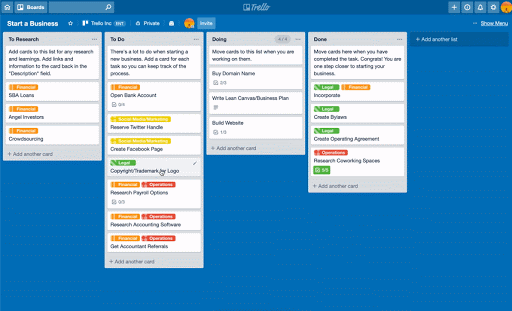 Asana
Asana is a well-designed platform for keeping your team on track.
Price: Free – $24.99 per user/month, billed annually.
Pros:
The free version is enough for many small businesses.
Cons:
You probably don't need most of Asana's features.
SECTION 5
Social Media Tools
CoSchedule
CoSchedule is a simple social media platform with social media post scheduling as the main feature and WordPress integration. A lot of nifty advanced features are available as well for SM pros.
Price: Free to $15/month for Social Calendars. Content Calendars and Social Suites available as well at custom pricing.
Pros:
Perfect for bloggers who want to schedule content across social channels.
Cons:
Most small businesses don't need advanced content calendars.
Hootsuite
Hootsuite is a one-and-done social media online marketing tool with a post-scheduling tool and analytics and monitoring features.
Price: Annual billing rates are 1 User for $99/month, 3 Users for $249/month.
Pros:
Informs scheduling with insights and analytics.
Cons:
Hootsuite is good at a few things but not great at any one thing. You may still opt for the simplicity of Buffer even though Hootsuite has a scheduling feature.
Pricey.
Buffer
Want to Tweet 24/7 from your social media account without having to be on Twitter at all times? Buffer is a great social media marketing tool for that, it makes that possible across all your social channels via scheduled posts.
Price: Free for one user/3 channels. The Essentials plan starts at $5 per connected account, with more expensive Team and Agency plans available as well.
Pros:
Browser integrations make it easy to share content you find online.
Cons:
High per-user cost.
Analytics are just okay.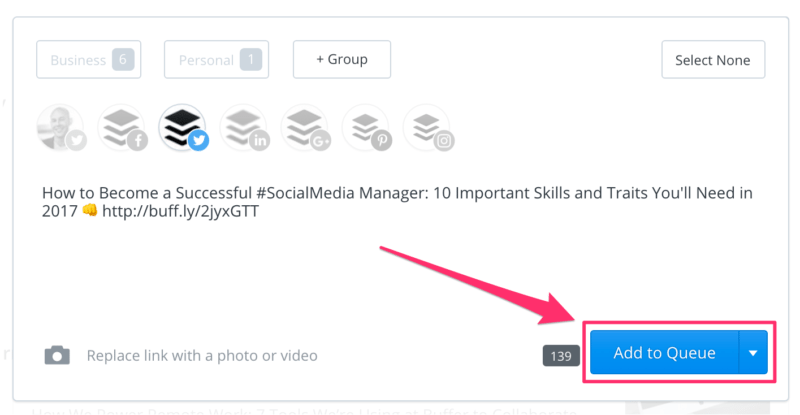 Honorable Mention: Sprout Social
SproutSocial is a pricey (but worth it) social media management tool, purpose-built for businesses.
SECTION 6
Analytics Tools
Google Analytics
Google Analytics is the best analytics tool out there, and it also happens to be free. With GA, you can do just about everything, like identify user behavior and engagement, view traffic sources, track your keyword rankings, and so much more. This is a must-have in every marketer's toolkit.
Price: Free.
Pros:
Free.
The best tool of its kind. Period.
Cons:
Your data is only as good as your ability to interpret it. In other words, this is not a tool for analytics noobs.
BuzzSumo
As mentioned above, the secret to getting the most out of data is interpreting it. BuzzSumo lets you run a search to quickly discover content ideas, uncover data insights, and identify passionate influencers on social media.
This digital marketing tool adds insights to raw numbers to help you unlock content opportunities and generate ideas.
Price: $159-999+/month, paid annually
Pros:
Includes competitive insights (to help you spy on the competition).
Helps you identify influencers in your space.
Cons:
Expensive for small businesses.
Kissmetrics
Kissmetrics helps you analyze the customer journey from the time a visitor arrives on your page to the time they convert. Instead of using old school link tracking software to track your link building efforts this tool enables you to identify prospects and nurture leads—a powerful marketing tool in the right hands.
Price: $25.99/month for 10,000 events with a subscription plan, or $0.0025/event with no subscription.
Pros:
Designed to give you insights that will help you get the most out of all your marketing tools.
Goes beyond just a regular click tracking software, allows you to group your audience to buckets according which actions they have taken and where they are in the conversion funnel
Example: If you are running an ad campaign in facebook or a ppc ad you can create a funnel and view:

everyone who clicked on the ad into first bucket
of those in first bucket everyone who visited your landing page into second bucket
of those in second bucket everyone who bought into third bucket
Cons:
Not very useful if you're starting out and don't have a lot of leads yet.
If you already know who your customers are (like if you run a small-town bakery), a lot of browsing data is meaningless to you.
It's a tracking tool so you do need to install an additional tracking pixel on your website
Price.
SECTION 7
Content Marketing Tools
WordPress
WordPress is a blank canvass for building any kind of site you want. If you're looking to write a search engine optimized blog, WordPress is the way to go. Fun fact: 40% of websites on the internet are built with WordPress.
Price: Varies depending on domain availability and whether or not you build your own site.
Read this to learn more about the costs of building a WordPress site.
Pros:
Better for SEO than other platforms like Squarespace.
Cons:
Not easy for novice users.
Shopify is better for ecommerce shops.
Note: WordPress.org and wordpress.com are two different things. For building your own site, you'll want to go with wordpress.org.
Brafton Content Marketing Platform
Brafton Content Marketing Platform makes it easy to plan, publish, produce and measure content marketing performance. Features include content calendars, end-to-end project management, in-app messaging, simple campaign setup, reporting and analytics, and a searchable content library.
Price: Plans vary, and you'll need to contact Brafton for details.
Pros:
Content marketing workflows ready on day
Intuitive functionality.
Simple, and centralized, collaboration.
Cons:
It's niche, meaning it won't provide much value for workflows unrelated to content marketing and digital marketing. Project management is one of the strongest features of the platform.
Google Docs
Google Docs provides a free and easy way to collaborate LIVE on written content (like the first draft that became the article you're reading now).
Price: Free
Pros:
Google integrations.
Compatible with other word processing software and file formats.
Cons:Offline functionality is limited.
Canva
Canva is a drag-and-drop design studio for folks who can't afford professional graphic design.
Price: Free plan available, or $119.99 annually for Canva Pro.
Pros:
Easy for beginners with no design background.
Cons:
Finished designs can feel generic (because they are).
Main Types of Marketing Tools & What They Do
Now that we've covered the top digital marketing tools in several important categories, let's take a closer look at what these categories mean and what you can do with each type of marketing tool.
SECTION 8
Type 1: Email Marketing Tools for SMB
Email tools help you design and send targeted marketing emails and follow-ups, and then monitor the results of your campaigns so you can improve open and conversion rates over time.
Why is email marketing such a big deal?
Did you know that email has an ROI of $42 for every $1 you spend?! This makes it by far the best use of digital marketing dollars for most businesses.
It's also the easiest way to reach customers online:
99% of consumers check their email daily.
73% of millennials say email is their preferred way to interact with brands.
(source)
The most exciting thing about email is also the most obvious:
It allows you to address customers directly at scale.
And as if that isn't cool enough, email is basically a self-publishing platform that you own. You can use emails to build relationships with your customers, market something to them or ask for business in an email.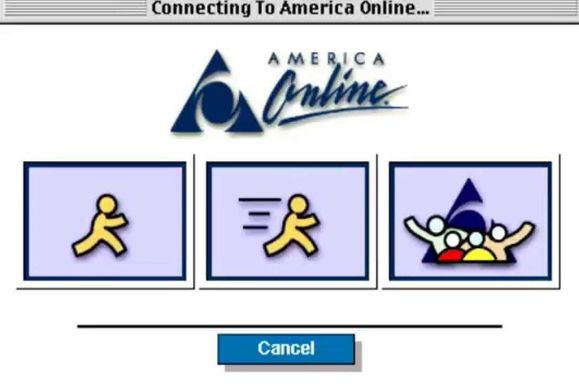 Image: AOL… only 90s kids will remember.
SECTION 9
Type 2: CRM Marketing Tools for SMBs
CRM stands for "customer relationship management." A CRM platform is a bundle of tools that helps you and your marketing/sales teams perform a range of tasks, from lead generation to lead scoring; to lead-nurturing to email drip campaigns.
A good CRM will integrate with your other marketing tools and act as a nerve center for all things marketing.
For more on CRM, check out "Top 20 Campaign Management Tools for Every Use Case in 2023."
SECTION 10
Type 3: Project Management & Communication Tools
All businesses, big and small, need some form of project management software. This is where a marketing team can collaborate remotely and put ideas into action.
Luckily for small business entrepreneurs and solopreneurs, a team of two or three can get by with the free version of most project management tools.
SECTION 11
Type 4: Social Media Marketing Tools
Social media tools make it possible to post constantly and organize your social media presence. They're especially helpful for scheduling posts in advance so you've got a steady stream of content ready to go in your queue.
You don't need any special tools to be on Facebook, Twitter , LinkedIn or Clubhouse. But it's hard to get the most out of these platforms without social media management tools. (Quick note: Clubhouse does not yet have a third party management tool , you can read more about Clubhouse clubs to follow and how to use it for business on our blog).
Social Media Management Tools help you:
Schedule and automate social media posts.
Grow your following.
Organize leads from social channels.
Share content.
Coordinate your social and content marketing.
Use A/B testing to determine what's working.
SECTION 12
Type 5: Content Marketing Tools for SMBs
Content marketing is a broad term that covers everything from SEO copywriting and blogging to podcasting and user-generated videos.
What kind of content you put out depends on your business, your target audience, which marketing channels you're using, and what you're good at or can afford to hire people for.
Content marketing tools help you develop and publish content. That includes all sorts of tools, from Photoshop to grammar-checking software. In this article, the content marketing tools we mentioned focused on building a website and designing basic graphics since those are two content marketing fundamentals every business needs. Once you have a website and a blog, you can build out your content from there.
SECTION 13
Type 6: Analytics Marketing Tools
Analytics tools are where digital marketing meets data science. Numbers and insights from analytics software will tell you if your marketing is working. You can also use this info to target new customer segments, fine-tune your messaging, and drive more traffic to your website.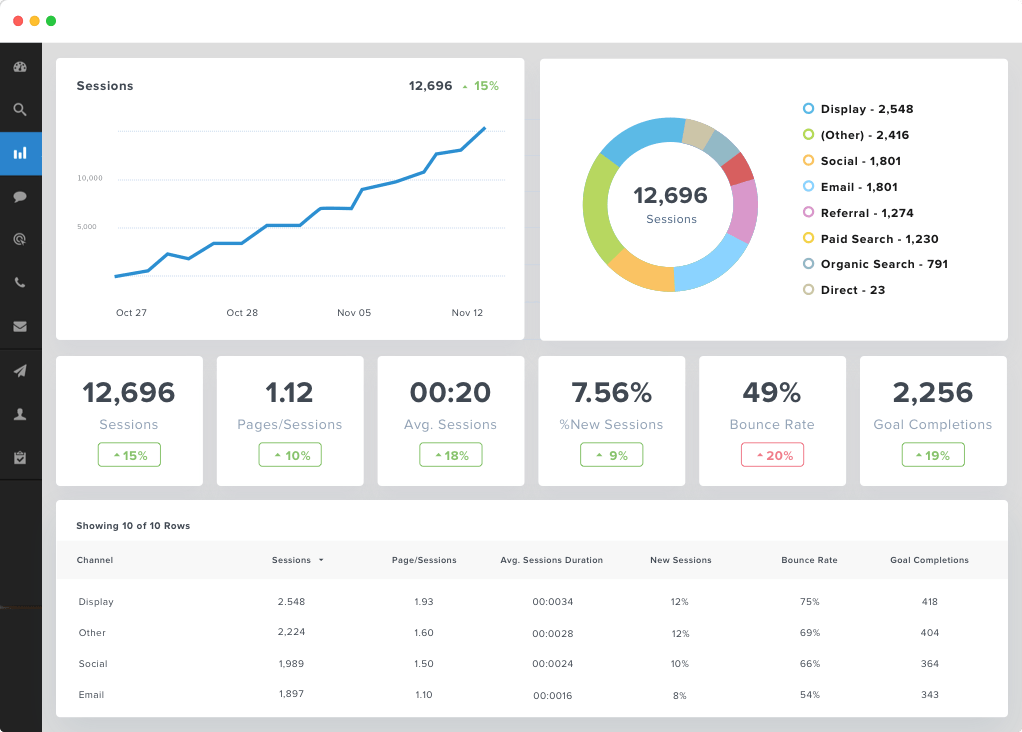 Image: Google
SECTION 14
Type 7: Search Engine Optimization (SEO) tools
When was the last time you found what you were looking for on the 8th page of Google? The truth is, if your business is on page 8 or even page 2, people will have difficulty finding you. SEO is the art and science of improving your position in Google's search results. Without SEO tools, it's hard to know where your site ranks in relation to your competition and which keywords to target to improve that ranking.
With the right SEO strategy, the smallest business can be more visible than their big competitors.
SEO research tools help you:
Discover which low search volume keywords to include in your blog posts and web copy.
Identify opportunities to improve your search ranking.
Analyze what's helping and what's hurting your ranking.
Compare your SEO to competitors in your field.
We have some resources for learning SEO in the "learn more about digital marketing" section at the end of this article.
SECTION 15
How Do I Know Which Marketing Tools I Need?
When you were reading this list, did some tools jump out at you as "must-haves"? Did some make you scratch your head and think, "This sounds good, but do I really need it?" We can't tell you exactly which tools are worth the money for your business, but we can give you a few key things to keep in mind while you're tool shopping.
Scale
A two-person business working side-by-side in the same room probably doesn't need advanced cloud-based project management tools.
If you don't run a B2B SAAS company, you probably don't need all the features of a CRM platform. That's why there are so many alternatives to SalesForce geared toward a small business.
When you're selecting tools, find the ones that work for a business of your size but still give you room to grow. This is where tiered pricing comes in handy. For example, MailChimp is free if you have fewer than 2,000 subscribers. By the time you're ready to upgrade to a paid plan, your newsletter might be paying for itself.
Marketing Skills
Some tools are idiot-proof. You don't need to have a digital marketing background to schedule posts in a buffer queue.
Other tools are powerful in the hands of an expert but useless to a newbie. For example, SEO insights don't mean anything to someone who doesn't know how to write SEO copy.
Your marketing skills will determine which tools are right for you.
Here are three potential use cases where different marketing skills call for different tools:
Use Case 1: A one or two-person ecommerce store without marketing experience or the budget to hire freelancers.
These guys should focus on social media and networking while they learn digital marketing skills on the job and gradually branch out into more advanced content marketing.
Tools: TikTok, or social media management tools like Buffer and Hootsuite.
Use Case 2: A successful online business hiring a copywriter to write blog posts and email campaigns.
This business has the resources to hire a copywriter to build out their content. But they're still going to be responsible for generating content briefs, an editorial calendar, and an overall strategy. These folks should also take free inbound marketing SEO classes like the ones offered by Semrush Academy.
Tools: CRM tools to organize content. SEO and analytics tools to inform content strategy.
Use Case 3: A small business or startup with a dedicated marketing person or team.
This business will get the most out of advanced tools. They should invest in the best tools they can afford (see the next section on budget & funding). That said, talent will still trump tools every time. This company should invest in fancy tools only after they've hired or trained for pro-level SEO and content marketing.
Tools: If you're in this category, you already know what you need. Focus on leveraging a combination of the tools mentioned in this post to maximize your marketing ROI.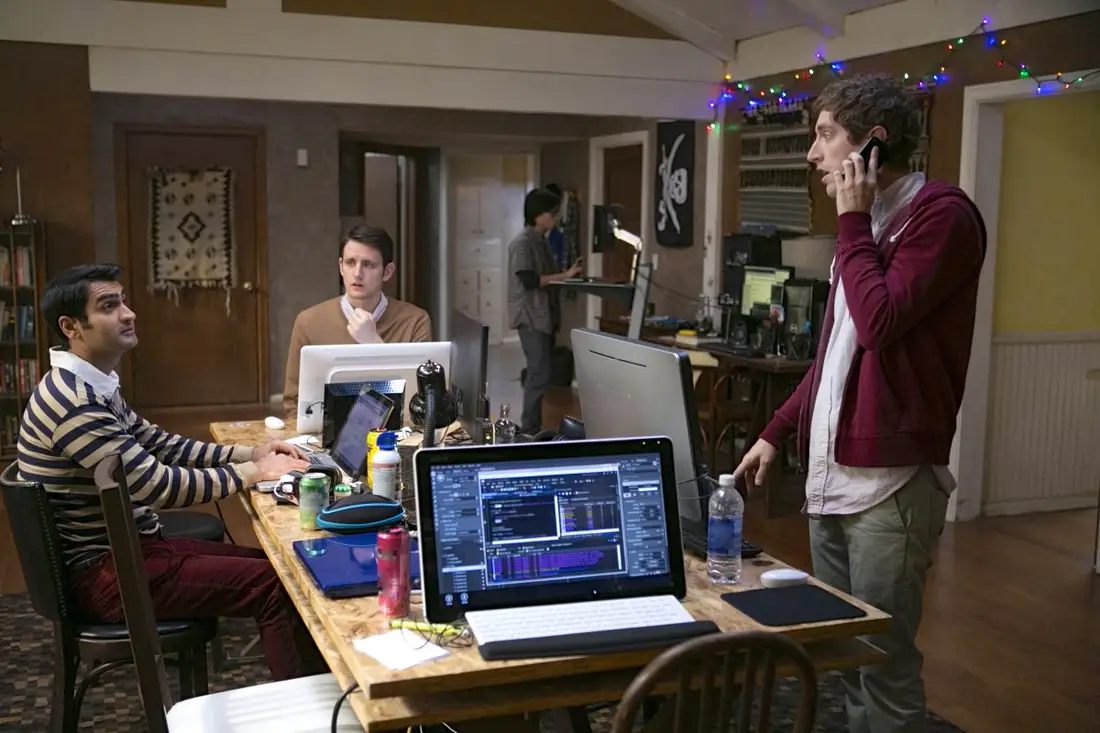 Image: HBO/Silicon Valley, Jaimie Trueblood
Budget & Funding
The cool thing about a lot of the software mentioned in this article is you can try it out for free.
When you're pricing tools, invest in your "must-haves" and try to find freemium workarounds for your "nice-to-haves."
But if you're, say, a well-funded startup, and money is no object for you (must be nice), remember that tools have costs besides subscription fees. Overspending on tools you don't need will cost you time and energy. A solid rule no matter what your budget is: don't pay for tools you don't really need.
Existing Tools and Overlap
It's worth pointing out that many of these tools do the same things and you don't always need a dedicated tool for each marketing function. For example, your project management platform might cover your content scheduling needs.
So when should I invest in a standalone tool?
The answer: it depends.
If your content marketing strategy relies heavily on an email newsletter and you want the best templates, invest in email tools.
If you run a small business and manage to stay organized using one Slack channel, maybe you don't need a project management tool.
When in doubt, free trials are the perfect way to decide if a tool is worth investing in. If that tool starts to feel more like an obstacle than a lubricant, you can always leave it behind.
SECTION 16
What Do I Need to Know About Marketing?
The most important feature of any marketing tool is the person using it. A skilled marketer with basic tools will always out-market someone with advanced tools who doesn't know what they're doing. If you want to get the most out of your marketing tools, you need to work on your marketing skills and become a student of marketing.
Here are some tips to get you started.
How do I market my business with no money?
The broadest definition of marketing is telling your brand's story in a way that clearly shows customers how you can meet their needs. There are plenty of ways to tell your story without spending a dime.
Here are a few marketing plays that are free or really cheap:
Blogging
Email newsletters
Networking on social media
Sharing user-generated content
Reaching out to influencers and other businesses for collaboration and co-marketing opportunities
How do I get good at content marketing?
Maybe you've heard the expression "content is king." (FYI that phrase originates from a 1996 essay by Bill Gates, which remains an extremely accurate assessment of the role of content in the digital economy to this day.) That phrase may be overused, but it also happens to be true. Content should be at the heart of all your digital marketing activities and content creation is the number one marketing skill to focus on improving.
Here are a few tips to step up your content marketing game.
Nail your copy
Copywriting is an essential marketing skill. Without it, you can't do SEO or email marketing and things like your Twitter content will fall flat. There's no way around it: either learn to write well (we've got some links for you coming up) or hire someone who can.
Take great images and video
There's no excuse to have crappy images on your site and social channels. Smartphone cameras are so good now that you don't even need professional equipment.
Shopify has a phenomenal guide to product photography.
Source user-generated content
Studies have shown that people are 137% more likely to buy a product if they see customer photos of it. According to some experts, content that's obviously homemade often outperforms professionally produced content. The best way to get user-generated content is to ask your customers for it!
SECTION 17
Where Do I Learn More About Marketing?
Marketing is a craft that can't be taught in the conclusion of a blog post. But here are a few tips and links to help you get started on the journey to becoming a marketing master.
Make a swipe file. When you see content you like, bookmark it for inspiration. Keep an email folder of promotional emails that made you click or made you purchase. Marketing professionals call this library of inspiration a "swipe file."
Learn online
And, as always, you can learn more about small business tools and how to use them here at Smallbiz.tools.