LAST UPDATED ON June 27, 2023
9 BEST Calendly Alternatives: Which One Wins In 2023?
If you are reading this you are probably not satisfied with Calendly and are looking for an alternative.
I was in the same shoes as you a two months ago, I looked around and found a TON of other blog posts with crappy lists of Calendly competitors but no real data on Pros and Cons of each, it was evident the people who wrote these lists did not test the products.
So I decided to spend three months actually signing up and testing 57 different calendar scheduling software platforms to find the best alternatives to Calendly.
My goal was to find Calendly alternatives most people switch to.
If do not have much time to go through the nine providers we tested below, the best Calendly alternative we found is: Calendar.com because it's cheaper, simpler to use, and has all the same features and more.
In this blog post, I will break down the 9 Calendly Alternatives most businesses end up switching to along with analysis of features, pricing and pros and cons of how each one stacks up against Calendly.
I promise you that you'll find an alternative to Calendly for yourself after going through our research below.
Now let's get to it…
SECTION 1
Top 9 Calendly Alternatives
We tested and played around with 57 different calendar scheduling tools, here are the top 9 Calendly Alternatives for 2023. Here is a quick comparison table of how the top two scheduling software tools stack up against Calendly:
| | Calendly | Calendar.com | Hubspot Meetings |
| --- | --- | --- | --- |
| Free plan? | Yes, but extremely limited | Yes | Yes |
| Most Popular Plan | $16/mo | $20/mo | $45/mo |
| G2 Rating as of May 2023 | 4.6 | 4.7 | 4.3 |
| Top Features | Optimized for all devices. | Chrome extension allows you to access your links without switching tabs. Easy to use, lots of integrations, robust team scheduling. Unified calendar dashboard for each user. | Easy to use link creation features and page design features. Native integration with Hubspot free CRM. Direct integration with Google calendar, Outline 365. |
| | | Try Calendar.com | Try Hubspot Meetings |
If you'd like to jump to a specific one simply use the links below.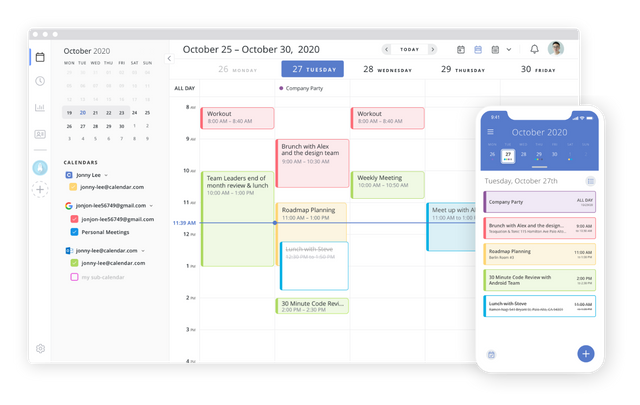 Calendar.com is a scheduling software with an intelligent link feature or a virtual polling option. Calendar.com is unique in that it allows for tons of customization. For instance, if users want to set up a lunch meeting, they can select specific nearby restaurants from right on the booking page, alongside meeting times. 
As needed, users can modify the length of time, frequency, or location of the meeting. They can also create native appointments using the calendar integration of their choice or directly in the Calendar.com interface. 
Many users choose Calendar.com because of its reporting functionality and ability to get a bird's eye view of all of your meetings across every calendar, for easy calendar management. In addition, Calendar.com boasts some great reporting functionality that makes it easy to keep your thumb on the pulse of your productivity.
Best Calendar.com Features
Connect all of your calendars to get a uniform overview of what's coming your way.

Create events in your native calendar, and have them sync over to Calendar.com.

Mobile app functionality to take your scheduling on the go.

Advanced functionality for meeting types and locations.

Team calendars.
Pros
Ability to create sub or shared calendars.

SMS notifications of meetings and appointment reminders.

Ability to white label your scheduling pages.
Cons
A new product, so they are regularly releasing new features that are mostly in beta.
Pricing
Calendar.com offers a no-strings-attached 14-day free trial. After that, users or small teams can use the Basic plan for free or move up to the Standard plan for $6/user/month or Pro for $8/user/month.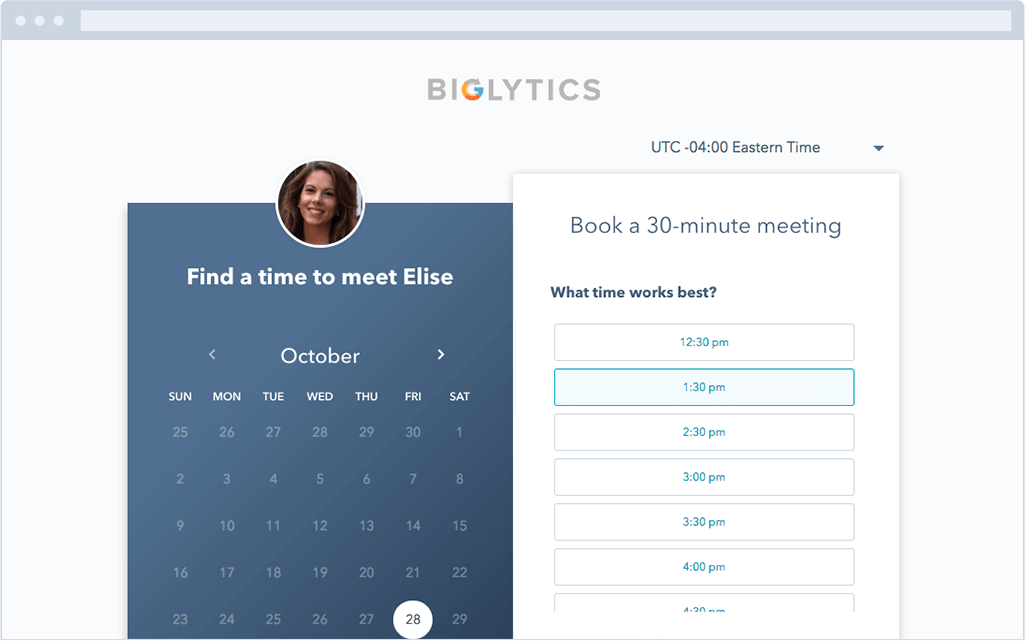 Similarly to Calendly, HubSpot Meetings is a scheduling software that makes it easy for prospects and customers to book time with your team. You can create a meetings link with direct access to your team or individual calendars, and then use it whenever you need to schedule time. You can also integrate HubSpot Meetings with your landing pages and make it effortless for visitors to get access to your team. 
What makes HubSpot a great Calendly alternative is that it's built on top of HubSpot's free CRM platform, which comes with a number of advantages. If you're using them together, HubSpot Meetings takes advantage of all of your contacts' historical data and context to provide an excellent customer experience.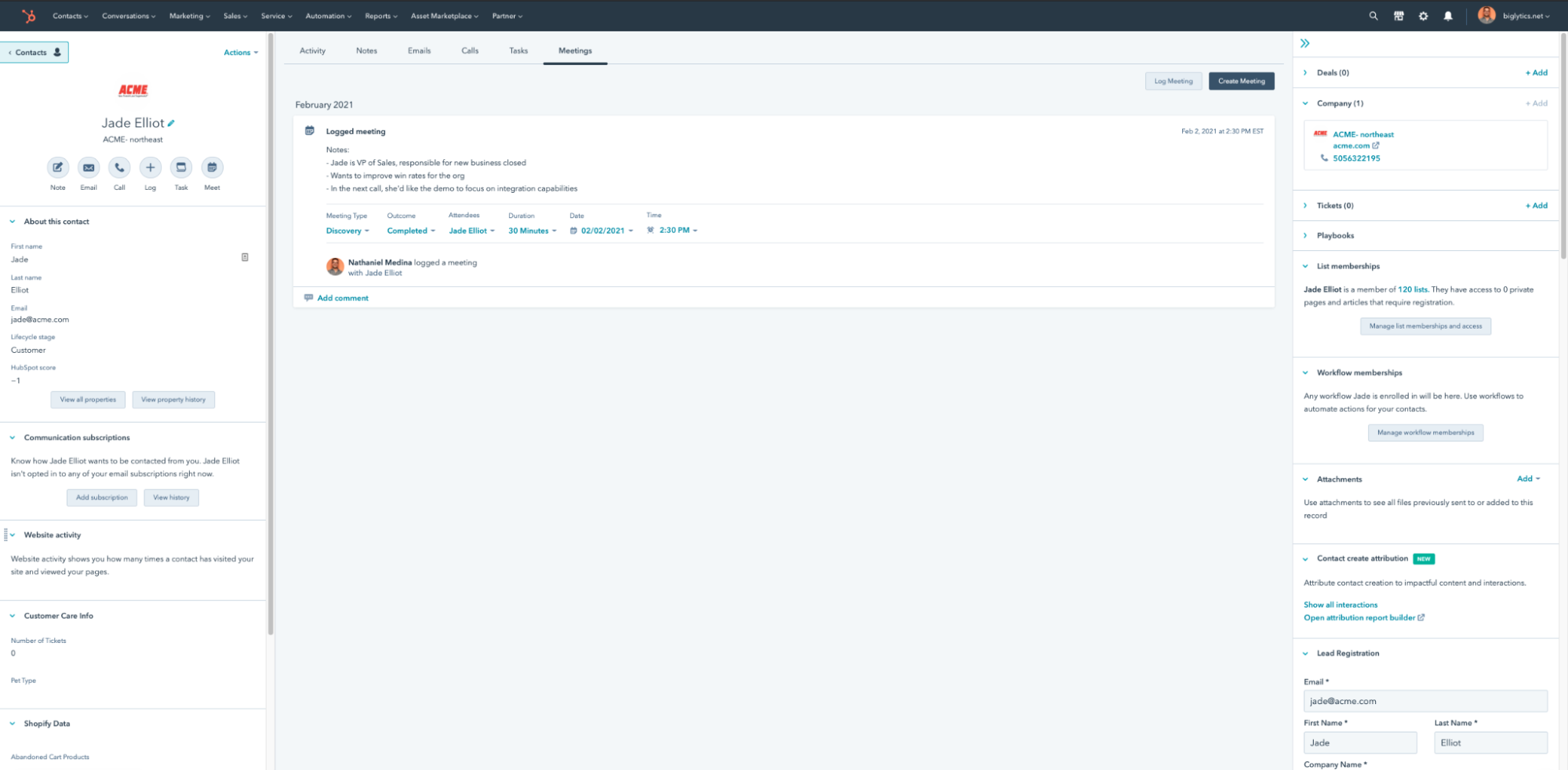 Sync meeting details to contacts in the HubSpot CRM
You can use scheduling links directly in email marketing, in saved replies, and in playbooks that your sales or customer success teams develop for better customer connections. If your meeting is just a short call, you can record it automatically and save it directly in the contact's records for later reference.   
Best HubSpot Meetings Features
Native integration with HubSpot's free CRM and other essential campaign management tools.

Direct integration with Google Calendar and Outlook 365.

Easy link creation and page design functionality.

Create group or round robin links to share the meeting duties across a whole team.

Automatically add contacts to your company's HubSpot CRM to keep things clean and provide context cross-functionally.

Embed your calendar scheduling functionality anywhere on the web.
Pros
Integrates directly with impactful tools like

HubSpot Call Recording

.

Comes with a fully built-in CRM backbone.

Accessible but in-depth design functionality makes it easy to create exactly the type of pages you'd like.
Cons
Works best with HubSpot functionality (Hubspot suite of applications) though integrations are available for Google and others.
Pricing
The HubSpot Meetings feature is available for free, with additional functionality available in premium editions of HubSpot Sales Hub and Service Hub.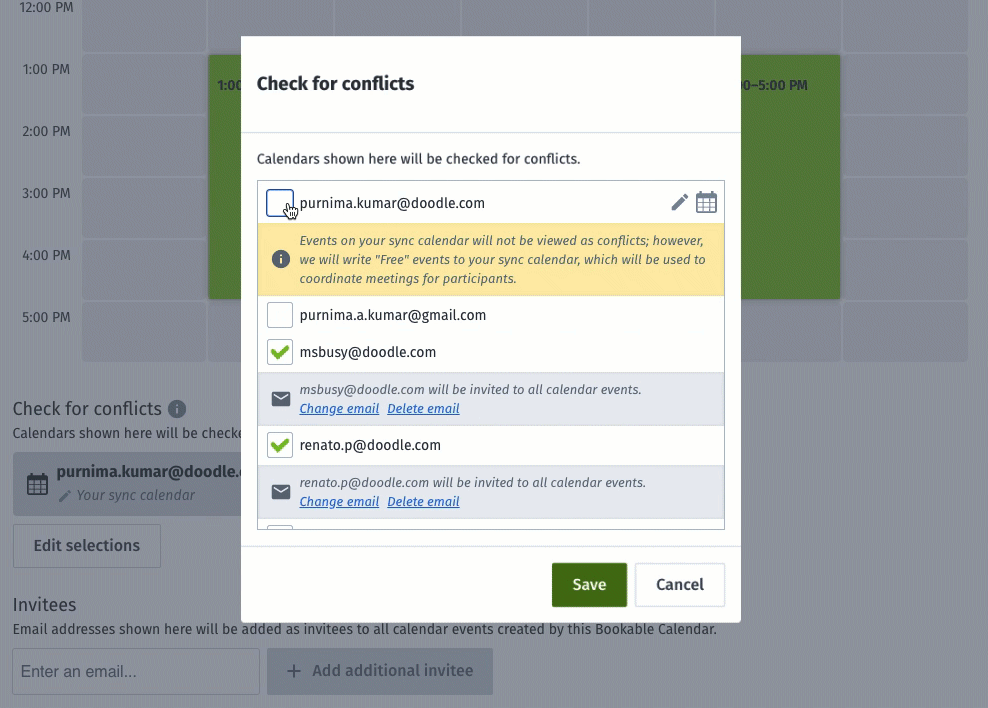 Unlike Calendly, Doodle is a Calendly alternative that doesn't have a direct integration that allows a single link. Instead, with Doodle, the organizer goes to the Doodle site, creates a meeting, and proposes a few different times. Then, all of the participants pick the times that work best for them. 
Doodle is one of the most popular scheduling tools out there because it offers a strong use case for meetings that need to occur across many people and time zones. Because it all happens within an individual website, users don't need to worry about email provider compatibility. In addition, its straightforward design makes it easy for even the least tech-savvy people to book meetings.
Best Doodle Features
Free scheduling polls for multiple users

.

Confirmation and reminder email functionality.

Clear visual snapshot of available and unavailable times.

Calendar syncing with integrated calendar providers.

No account required for one-off scheduling needs.
Pros
Ability to add blackout days.

Limit the number of events that can occur in a single day.

Automatic time zone adjustments when scheduling appointments.
Cons
Most of the advanced features are only available on paid plans.

Limited integrations.

Fairly simplistic feature set.
Pricing
Doodle offers a 14-day free trial, after which users can use the basic plan for free, or upgrade to Premium for $10/month, or Pro for $150/month. After that, users can purchase monthly or annually.
SECTION 5
Acuity Scheduling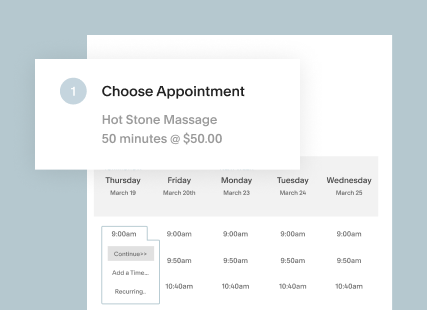 Acuity Scheduling is another appointment scheduling app that has been around for a long while. While other software is excellent for individuals, Acuity Scheduling is designed for small businesses or team use. Acuity is best used by service-based companies that need to let their users buy products and schedule their services simultaneously.
For businesses like salons, consulting, or technical workers (like plumbing, for instance), Acuity frees up time to focus on the work you're getting paid for rather than determining when your next open slot is. Companies can also set up automatic reminders for employees and customers, schedule video conferencing, and link directly with your billing and licensing software.
Best Acuity Scheduling Features
Affordable plans for both individual and business users.

Tons of integrations: Mailchimp, Quickbooks, Zoom, and various calendar software.

Data dashboards make it easy to track how many no-shows and successful meetings your team has had.

Add-ons to allow for things like checkouts and extra features in the scheduling process.

Intake forms for medical and dental offices.
Pros
Unlimited appointment scheduling.

Embeddable calendar widget.

Easy for businesses to create and users to add coupons and vouchers.

SMS notification for upcoming appointments.
Cons
No free plan.

All plans are branded besides the highest tier.

Subscriptions and membership sales only available in the mid-tier.
Pricing
Acuity offers a seven-day trial and otherwise bills at an annual or monthly plan. The least expensive program starts at $15/month, and the most expensive is $50/month.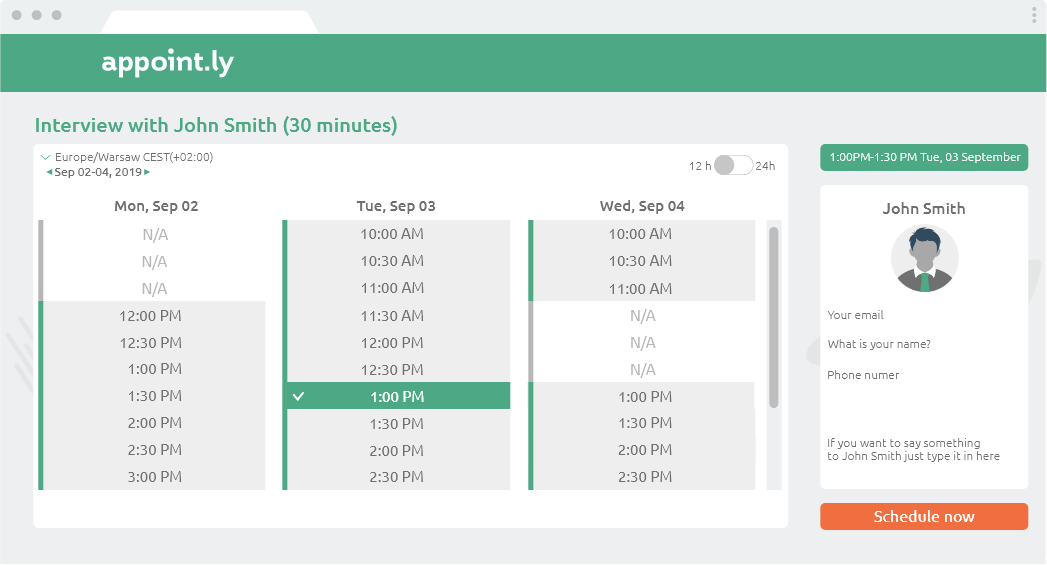 Appointly is powerful but straightforward appointment scheduling software that makes online scheduling easy. Like other Calendly alternatives, Appointly allows users to create an event and send a scheduling link to the individual they want to meet with. The recipient can then select a time from the available slots, and the software will automatically add the event to the sender's calendar.
Appointly offers functionality like additional custom fields, recurring appointments, preferred contact method, and allows users to set specific availability schedules daily, weekly, or monthly. Most users of Appointly are individuals rather than businesses or teams.
Best Appointly Features
Easy to use design functionality.

Straightforward link design.

Integrates with Google, iCloud, Outlook, Office 365, and Exchange.

Automated meeting scheduling and forwarding to personal calendars.

Time zone auto-adjustment based on user's location.
Pros
Simple, easy-to-use functionality.

Custom field creation.

Fully-featured free plan.
Cons
No team scheduling or round-robin options.

No shared calendar view.
Pricing
Appointly offers a 14-day free trial, after which users can purchase annually or monthly. If purchasing annually, there is a 20% discount. In addition, they provide a basic plan, which is free, a pro paid plan for $10/month, and an Enterprise paid plan which requires contacting their sales team.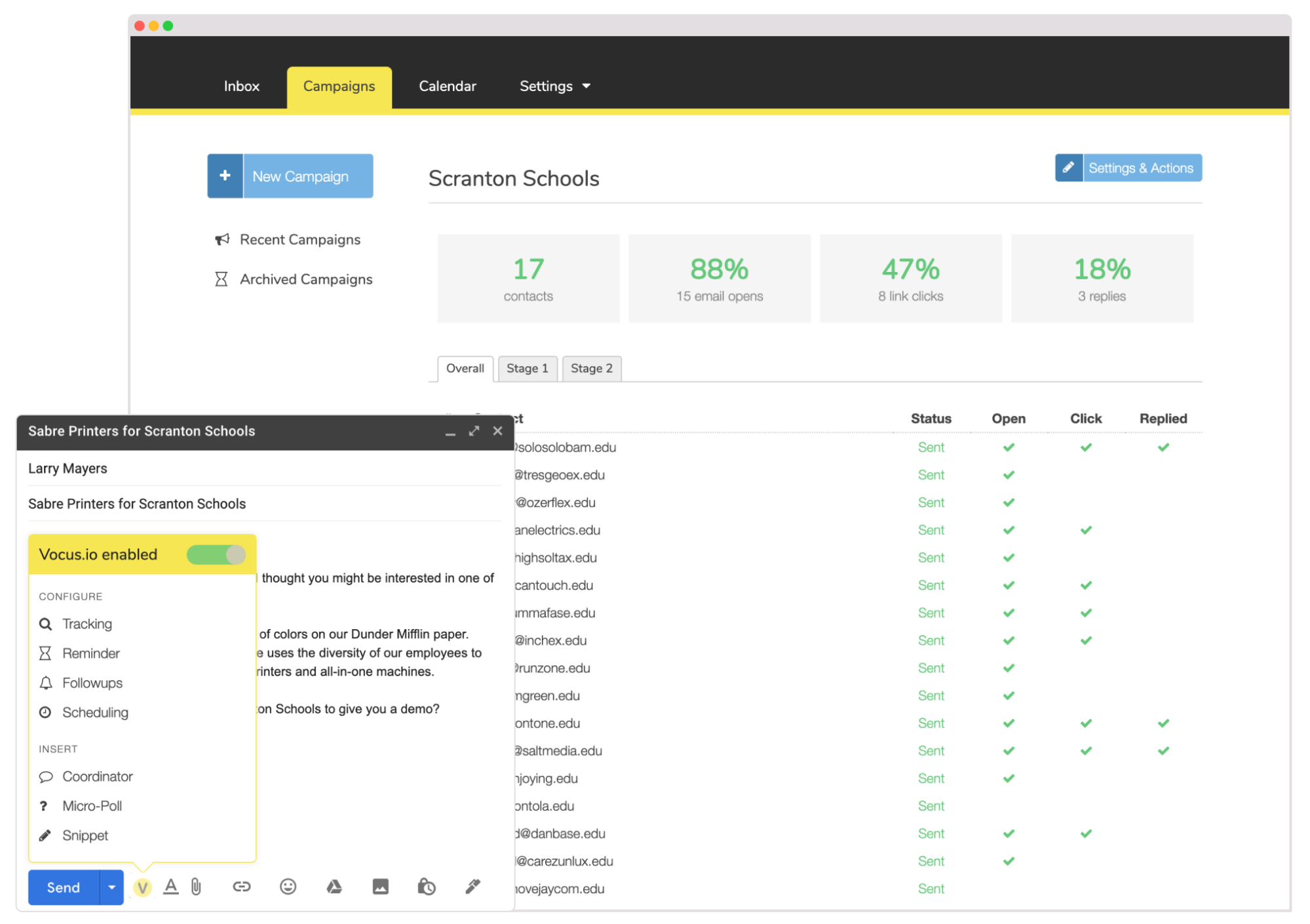 Vocus.io is a great 1:1 meeting scheduler that allows businesses to create personalized meeting pages that customize the days, times, and meeting durations they show as available. Vocus.io also lets companies put in short-notice meeting cancellation rules and meeting buffers; useful features to make sure the meeting experience is good for everyone.
Like some other Calendly alternatives, Vocus.io allows users to either share a link or embed their calendar scheduling widget directly onto their site or a landing page. However, unlike some other schedulers, Vocus.io also offers a whole suite of email functionality, including campaigns, scheduling, snooze functionality, and template libraries.
Best Vocus.io Features
Optional custom form fields that are easy to add to your company's scheduling page.

Ability to completely customize the user experience: companies can create a custom domain and use entirely custom branding.

Tons of integrations, including with Zapier, Salesforce, Microsoft Teams, and Zoom

Chrome extension makes it simple to access key features wherever your team is.

Email automation functionality makes it easy to keep in touch with prospects.
Pros
Includes canned response functionality and email automation along with scheduling.

Team functionality for scheduling campaigns, shared inboxes, templates, and analytics.
Cons
No advanced enterprise features, like SSO or SAML.

Some key functionality is only available on more highly-priced tiers.
Pricing
Vocus.io offers a free thirty-day trial. After that, you can purchase a Basic, Starter, or Professional version of the product. After that, the pricing starts at $5/user/month.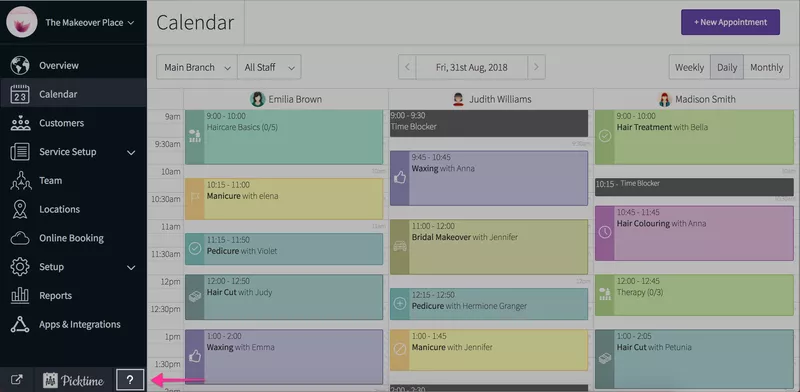 Picktime.com is a scheduling platform that enables businesses and individual users to schedule appointments and services with ease. Like Acuity Scheduling and other Calendly alternatives, Picktime.com is excellent for companies that offer services that are their primary product, for instance, salons, medical offices, equipment rental centers, or freelancers. 
Easily allow users to create appointments, reschedule, or set preferences for specific locations right from within a single, centralized location. Even if your company has businesses around the globe, Picktime.com's reporting makes it easy to understand what's happening where and if your team needs to change their processes or hours to improve.
Best Picktime.com Features
Syncs personal and professional calendars to keep everything organized.

Accepts payments and deposits via integrations with PayPal, Stripe, and Square.

Integrations with Zoom and other video platforms make it easy to facilitate virtual meetings or classes.

Automatic notifications for both customers and businesses. Never miss another appointment.

Built-in dashboard makes it easy for users to manage ongoing classes and subscriptions.
Pros
Excellent for businesses or services that have ongoing meetings.

Integrated review software makes it easy for customers to tell you how they feel.
Cons
Not as fully featured as other similar products.

Has a slightly steeper learning curve.
Pricing
Picktime.com is an entirely free solution.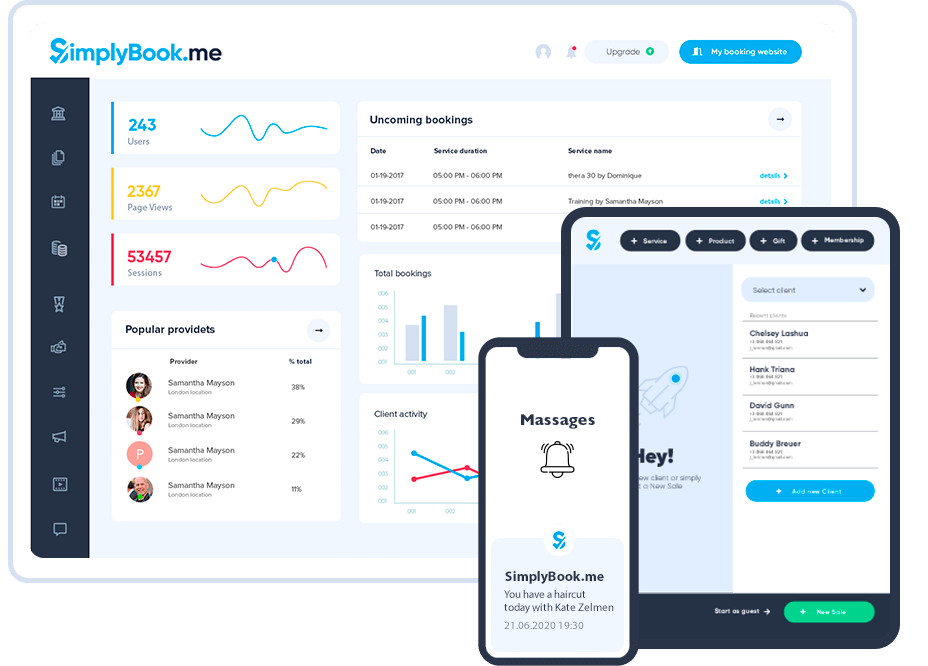 Simplybook.me is another excellent Calendly alternative tool designed for businesses rather than individual use. If your company offers a service, Simplybook.me is a great option to consider for client scheduling. Along with scheduling links, Simplybook.me allows companies to create entire portals and a booking app for their clients to use. In addition, it's easy to create a beautiful and professional-looking booking page using their built-in design software.
Simplybook.me also has an extensive API which makes it easy to connect to any other pieces of your marketing or sales stack. They are HIPAA and SOAP compliant.
Best Simplybook.me Features
Integrations with Instagram, Facebook Messenger, Google Business (and Google Meet), WordPress, and many others.

Easy-to-add customizations, like coupon codes and custom fields.

In-person POS system that makes it easy to accept payment.

Customizable client portal to make your customer experience excellent.

Notification and email cadence that can be personalized based on your business needs.
Pros
Very intuitive and easy to use.

Ability to sell member subscriptions, do patient intake forms, and fulfill several edge-case needs.
Cons
Limited template library.

Expensive compared to similar products.
Pricing
Simplybook.me offers a 14-day free trial and then a limited free plan after that. To purchase advanced functionality, users must upgrade to a different subscription level. Currently, Simplybook.me is offered annually (at a 17% discount) or monthly. Pricing starts at $9.90 monthly.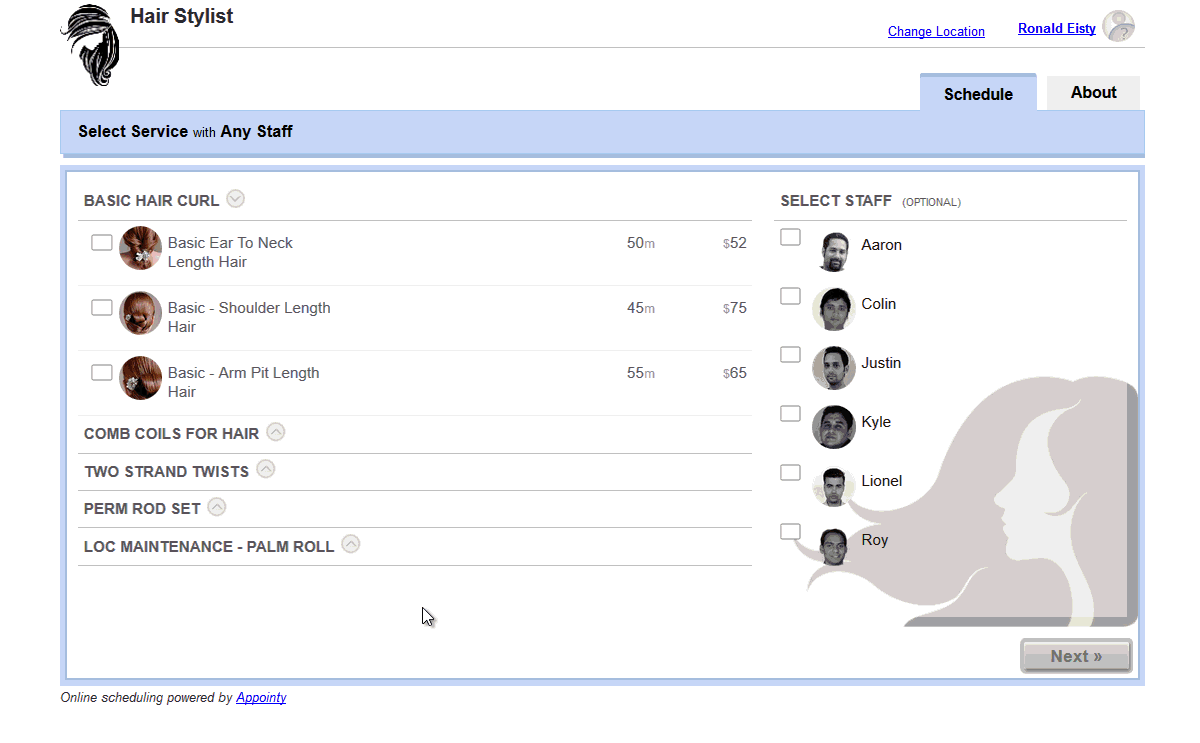 Appointy.com is an appointment scheduling tool that offers functionality across multiple different business segments. In addition, they have varying feature options depending on your needs. For instance, they offer 1:1 meeting scheduling and the ability to schedule attendance to workshops, classes, events, and even tours or guided practices.
If your business doesn't have a website to embed scheduling functionality on, Appointy.com offers customer subdomains to anyone with an account within their system. Like other systems, they allow a company to set their active hours, sync their calendars, and then allow users to book during times that make the most sense for their needs.
Best Appointy.com Features
Facebook and website booking.

Ability to offer last-minute deals and coupon codes easily.

Guest login for event partners or guest lecturers.

Automatic client verification.

Pre-payment acceptance and functionality.
Pros
Businesses can use Facebook and other social media as a booking platform.

Business hour adjustments let customers book outside of business hours when they are most likely to.
Cons
Limited payment options, only PayPal or Authorize.net.

Inability to white label effectively.
Pricing
Appointy offers a 14-day free trial and a basic, free plan after that. If your business is looking for more advanced features, their lowest tier (Growth) starts at $29.99 a month. You can also purchase annually at a 33% discount.
SECTION 11
Pros and Cons of using Calendly
Calendly is a scheduling app that takes out all of the back-and-forths when trying to schedule a meeting. Instead of needing to send multiple emails to get everyone on the same page, with Calendly, users can send a single link that syncs up everyone's calendars and lets individuals schedule at the time that makes the most sense for them.
While Calendly is a popular pick for many consumers, there are also tons of Calendly alternatives available that can help you meet your own unique needs. For instance, if your business needs a more advanced calendar set-up or booking workflow, Calendly might not be the best choice: it doesn't currently offer an option to add coupon codes or additional parameters for your company booking pages, for instance. 
On the other hand, Calendly is excellent for users looking for simplicity or straightforward software for booking meetings as it provides a great booking experience. Beyond that, another alternative may be best—especially if your company is getting more advanced or complex with your usage. Before we get into exploring the alternatives, let's have a look at the best features, pros and cons of using Calendly.
Best Calendly Features
Optimized for all devices.

Open, free-to-use API.

Team scheduling functionality.

Group events with multiple schedulers/attendees.

Deep privacy and control settings.

Calendar integrations.
Pros
Meshes multiple calendars easily.

Automation: reminder emails for attendees and organizers are automatic, as are follow ups.

Easy rescheduling.
Cons
Users need to be users within your account in order to use collaborative events.

If you have more than one company, you'll need more than one account.

No options to add brand or company assets.
SECTION 2
[chapter number="13" style="c"]
You have scheduling software alternatives!
While Calendly is undoubtedly one of the best known in the business, other software may fit your business needs better. For example, consider whether you are looking for a 1:1 meeting scheduler, or if you want software that makes it easy for your team to have a round-robin scheduling functionality, or even if you'll primarily be scheduling things like workshops or events. Then, use those specifications to have a look through this list and determine which scheduling tool is best for you.