LAST UPDATED ON April 12, 2023 ‐ 1 Comment
8 Types of Collaboration Tools [Updated for 2023]
As the post-pandemic future of work is looking increasingly remote, effective virtual collaboration is more important than ever.
Successful remote work comes down to having the right tools to make collaboration possible. The perfect combination of tools can make your team exponentially more productive and free your bandwidth to focus on your most critical work. 
We updated this guide for 2023 to  cover the main categories and types of collaboration software and some examples in each category. We'll also get into how to choose the right tools and the criteria of a successful collaboration. 
What are Online Collaboration Tools?
Technically, a whiteboard is a collaboration tool. So is a phone, or even a round table. For the purposes of this article, we're going to be discussing online collaboration tools, which are (mostly) cloud-based tools that help distributed teams organize, manage, and execute collaborative work.  These tools allow you to communicate, manage projects and tasks, and share/store files no matter where you and your team members are located.
8 Types of Collaboration Tools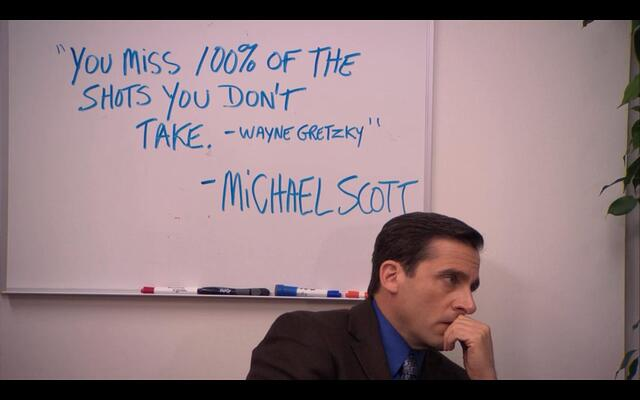 Image: The Office
"Inspirational" quote from Michael Scott of The Office
SECTION 1
Type 1: Online Whiteboards Collab Tools
We mentioned that actual whiteboards are types of collaboration tools. You could say they're the original collaboration tool. As brainstorming technology goes, it's hard to beat a big blank space you can fill with possibilities. Online whiteboards allow you to do the same thing remotely, in real-time. Remote collaboration can be a lifesaver for visual learners and those who think best by mapping things out (a mind map is a great example of this). 
One of the most effective ways to use a whiteboard is with video conferencing. This allows you to chat, brainstorm, and bounce ideas around while you markup the whiteboard. 
SECTION 2
Type 2: Project Management Tools
Project management tools are mission control for collaborative work. They're designed for project collaboration, to help you assign tasks, track progress, and create an information-sharing hub, so everyone knows what they need to be doing and has access to the resources they need. Reporting features allow you to track your team's progress and keep tabs on individual team members. 
Most good project collaboration software includes a calendar function, messaging, and a file sharing tool. Depending on your needs, a project management tool could be your one-and-done solution for collaborative work. Basecamp, a popular project management platform, bills itself as "the only tool you need to run your entire business." 
If you're already coming from a specific project management methodology–like Agile or Waterfall–look for project management tools with these features built-in. You'll also find tools that include Gantt charts and Kanban boards, which you may already be familiar with in their offline versions. 
SECTION 3
Type 3: Shared Calendars
Keep everyone up-to-date with synchronized calendars.  Every operating system comes with some sort of calendar, and so do many business collaboration software bundles (like Office 365). You can integrate these with your project management tools to schedule tasks and deadlines, although most project management platforms include their own calendars.
Which calendar you end up using usually comes down to your operations system or collaborative software suite of choice. For example, if you're already using Google Workspace for everything, using Google Calendar makes more sense than shopping for a stand-alone collaboration solution. 
Calendars tend to be free or included, but there are some great calendar plugins out there that can make scheduling meetings and collaborative work a lot easier. We'll get to those in the top tools section.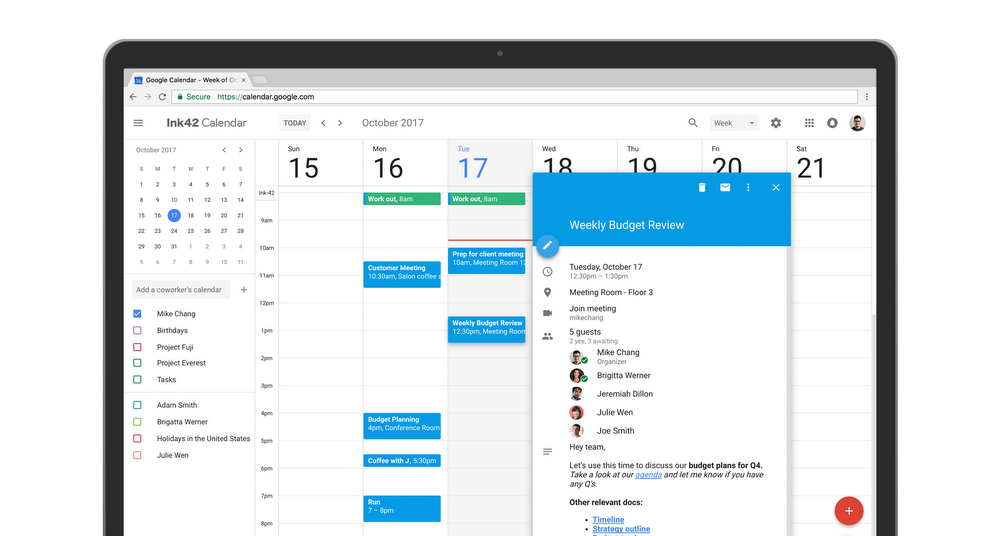 Image: Google
Google Calendar screenshot: Invite multiple guests.
SECTION 4
Type 4: Instant Messaging Tools
IM tools are types of collaboration tools. Stay on the same page even if you're not in the same room with instant-messaging tools. Some instant messaging platforms allow you to designate different channels for different teams. Directories let employees find and message each other directly. 
SECTION 5
Type 5: Cloud Storage And File Sharing Tools
Cloud computing is the backbone of most business collaboration software today. It's what makes it possible for small businesses to run powerful tools without buying servers or storing anything onsite. When it comes to types of collaboration tools, cloud storage and file-sharing let you do so much: from simply keeping files securely backed-up and stored remotely via the cloud to editing and collaborating on documents in real-time. These tools are must-haves.
Like shared calendars, cloud storage is increasingly becoming a standard feature of other collaboration software. 
SECTION 6
Type 6: Video Conferencing Tools
Video conferencing platforms make meetings and seminars possible from anywhere. You can use video conferencing as a stand-in for all kinds of face-to-face team communication tool, from a one-on-one chat to a conference with hundreds of participants. 
Recent demand for video conferencing tools has driven rapid improvements and innovations to the point where many companies will stay at least partially remote post-pandemic. Screen sharing makes real-time collaboration more efficient and closer to an in-person experience. Breakout rooms in a larger video conference or webinar can replicate the smaller group discussions found at an in-person event. 
Prices vary considerably depending on features. If you're a team of one or two mostly making one-on-one calls, you can expect to pay zero to double digits monthly, whereas webinar features can cost hundreds depending on the number of participants. 
SECTION 7
Type 7: Wiki Tools 
A study from McKinsey found that knowledge workers spend about 19% of their time at work gathering information they need to do their jobs. A team Wiki addresses this by providing a knowledge base of mission-critical info. (If you're unfamiliar, a Wiki is a website that allows visitors to make changes, contributions, or corrections.) Your team Wiki info can be edited and updated by team members so it improves over time. Bit.ai, a Wiki tool, found that having such a database can improve productivity by 35%.
Wikis pair well with communication channels and project management collaboration software. For example, a Slack channel for your product team could have a pinned post with a link to your product Wikis, keeping everyone informed and current on all things product-related. 
SECTION 8
Type 8: Enterprise Collaboration Social Networks (ESN) 
ESN tools are in the category of enterprise collaboration software, and are just like social networking sites such at Facebook and Twitter but are designed specifically for business. An ESN enables crowdsourcing, synchronous and asynchronous communication, and integration with other business tools (like file sharing apps). This is especially helpful in larger, siloed organizations. People can stay in the loop on issues across teams, in the same way they may use social media to keep in touch with distant relatives. An article in the Harvard Business Review points out that social networks can improve speed and efficiency,
"(Social networks) can help employees make faster decisions, develop more innovative ideas for products and services, and become more engaged in their work and their companies. A social network also helps to reduce email volume by giving teams group channels to discuss their work."
-HBR, "What Managers Need to Know About Social Tools," Nov.- Dec. 2017

The article goes on to describe one study of an internal social tool which found that those who used the platform were 31% more likely to find a coworker who could help them meet a job goal and 85% more likely to identify a coworker on the network who could connect them with an expert who could help them. 
Networking is a cornerstone of collaboration, but you don't need an ESN to network. Many of these tools have been rendered obsolete by project management and instant messaging collaboration software, which serve the same functions (see Socialcast's 2018 obituary).
SECTION 9
Different Kinds of Collaboration
There are many ways to work together. Different workflows and communication styles sometimes call for different tools. The biggest difference in remote team work comes down to how you handle time: do you work mostly synchronously or asynchronously? Effective collaboration typically requires a hybrid of the two. 
Synchronous vs. asynchronous collaboration
Synchronous communication. Synchronous means occurring at the same time. Video conferencing and instant messaging are synchronous communication. 
The main advantage of synchronous communication is that it's instant. Your team can discuss ideas and give feedback in real-time. With the right synchronous communication tools, it's almost like everyone's in the same room. 
However, the main disadvantage of synchronous communication is also that it's instant. These tools encourage interruption and pseudo-urgency, which can kill productivity. Nobody does their best work coding or writing with a Slack channel open, constantly pinging them in the background. Getting the most out of synchronous communication often means knowing when not to use it. 
Asynchronous communication. Asynchronous means not coinciding in time. Email is asynchronous, so are voice messages. Asynchronous collaboration software requires you to wait for feedback rather than receive it live.
Asynchronous communication is good for anything that can wait or requires significant thought. To avoid lost productivity due to interruption, use asynchronous communication when team members are busy doing focused work or whenever a message is not urgent.  
Document collaboration: File sharing & real-time collaboration
File sharing and collaborative documents can be either synchronous or asynchronous, depending on how you use them. Sharing a Word document and waiting for a revised version with tracked-changes from a fellow team member is asynchronous. On the other hand, a cloud-based document synchronization program like Google Docs allows you to work synchronously. You can make edits, comments, and suggestions in real-time and talk to coworkers in the chat window while you all work on the same document. You can also wait for comments (asynchronously) while you're doing something else. In that case, it's not the collaborative tool that's asynchronous but your workflow.
8 Top Collaboration Tools for 2022
SECTION 10
Whiteboard Tools 
Microsoft Whiteboard is an intuitively designed, cloud-based canvass for collaboration that's part of the Office suite of products. 
Price: Free with Microsoft Office.
Pros: 
A popular choice for presentations.

Designed to work well with Microsoft Surface products. 

Good for teams already working with Microsoft Office.
Cons:
Fewer features than some standalone alternatives.
Google's free, online whiteboard. 
Price: Free with Google Workspace (formerly Gsuite.) 
Pros:
Google native. You can start a "jam" from a Google Hangouts call.

Easy to use.

Built for collaboration.
Cons:
Some users

report glitches.

Some features need improvement (which may or may not be a priority for Google's developers).
A dedicated whiteboard tool with several other collaboration features included. 
Price: Free trial. $12-20 after that.
Pros:
A one-stop collaboration tool–more than just whiteboarding. 

The base price is enough for most small businesses. 
Cons:
Many of the same features are available from free alternatives.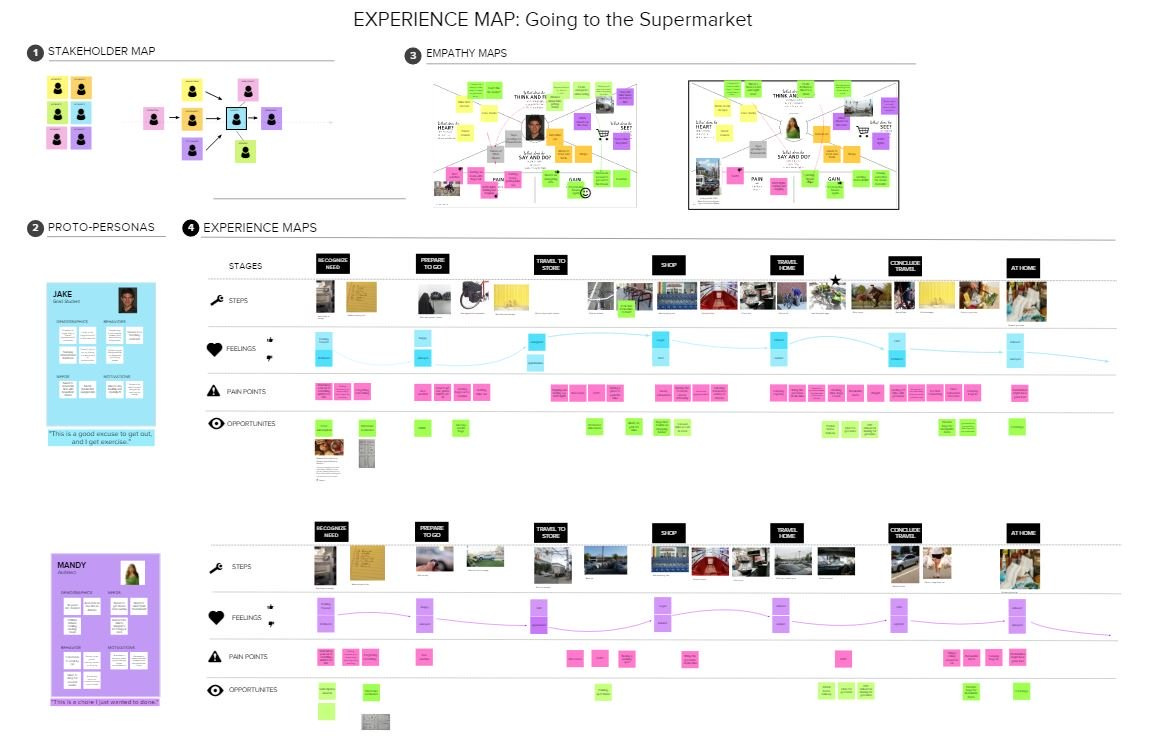 Image: Mural.co
Like Mural, Miro is a project management tool built around a whiteboard.  
Price: Free – $16/member per month.
Pros:
Built for small/medium businesses.

Design and workflows replicate in-person collaboration. 
Cons:
Some reviews say that advanced features get in the way. 
SECTION 11
Project Management Tools
A deliberately simple project management tool with calendars, to-do-lists, and file-sharing. 
Price: Free trial, $99/month after that. Unlimited users. There's also a limited personal version for freelancers that's free forever. 
Pros:
Basecamp is a thought leader in the WFH/remote work movement. As they say on their website, "Basecamp literally

wrote the book

on working from home." Basecamp's design and functionality reflect this expertise.

Fixed price.
Cons:
Fixed price (could be a downside for light users).
A visually-oriented collaboration hub that's popular with tech companies and startups for its agile framework. 
Price: Free – $17.50/user per month.
Pros:
Tech-savvy users and developers will feel right at home.
Cons:
This cloud-based project and task management tool is popular with businesses that need tracking features to monitor task completion and keep HR in the loop. 
Price:  Free – $25+
Pros:
Tasks can be subdivided into folders, allowing you to keep track of many projects at once. 
Cons: 
Big gap in functionality between the entry-level and pro tiers. 

Lists can cause tasks to pile up, making overwhelm worse rather than simplifying it. 
An award-winning customer favorite that provides an impressive array of tools at a reasonable price. 
Price: $8-16/user per month. Most of the worthwhile features come in at the $10 price point.
Pros:
CRM integration.

Kanban boards.
Cons:
More features than most small businesses need.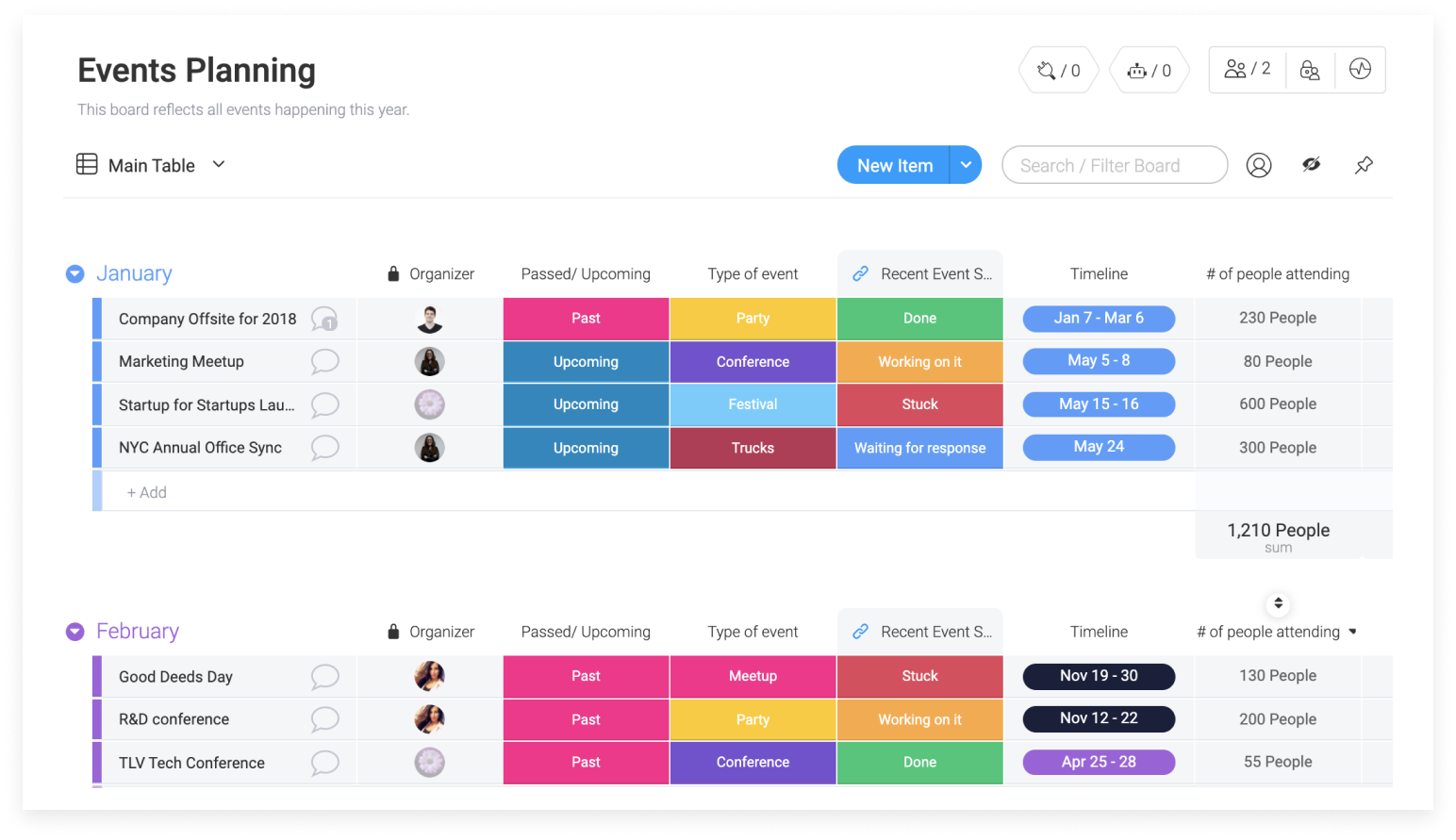 Image: Monday.com
Monday screenshot: Event planning table.
An all in one marketing, customer service, and CRM collaboration software that is a good fit for a marketing team or customer service team at small businesses and startups.
Price: $9-48/user per month for 15,000 contacts.
Pros:
Easy to use and implement
Offers free CRM for small businesses
Free onboarding
Rich set of templates for emails, landing pages, and lead capture forms
Cons:
Need to add more integrations
Specialized customer service software often has more support-focused features.
SECTION 12
Shared Calendar Tools
Apple's default calendar. You either have this one or Google's  in your pocket
Price: Free with Apple products and iCloud.
 Pros:
Syncs across your apple devices.
Cons:
Microsoft's default calendar. 
Price: Free with Microsoft products and/or Office.
Pros:
Office and Outlook email integration. 
Cons:
Like iCal, this is a default solution few users would seek out if given a choice.
Google's masterpiece of an online calendar. Endless integration options make it a natural for collaboration.
Price: Free.
Pros:
Everyone with a Gmail account or an Android device has it already. 

The iOS version is better than iCal.

Super easy to use. Clean design.
Cons:
Online only.

As with all Google products, you get convenience but it may come at the expense of data privacy. 
A project management plugin that turns to-do-list items into scheduled events, so they actually get done.
Price: Free-$4-6/month
Pros:
Great for people and teams who struggle with procrastination. 
Cons:
A collaboration app that takes the back-and-forth out of scheduling. Just send a link with your availability, and the recipient can pick a time that works for them.  Check out our detailed Calendly alternatives article for a table comparison of all the top calendar apps.
Price: Free – $12/user per month.
Pros:
Pays for itself in time-savings. 

One less "busy work" task to worry about. 
Cons:
Lacks a feature for overlapping schedules.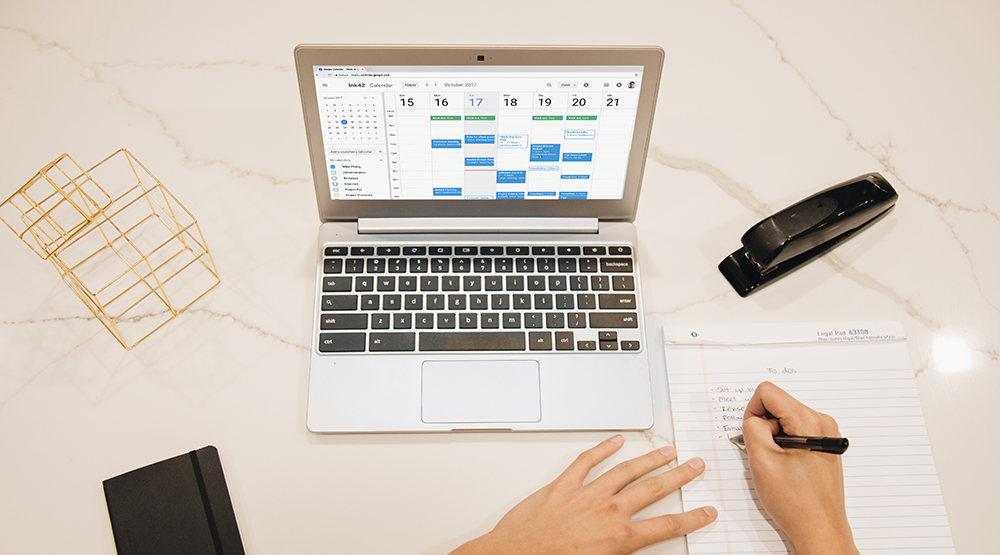 Image: Google
Google calendar open on a laptop.
SECTION 13
Instant Messaging Tools*
*Note: most of the project management tools we've covered include chat features.
Slack has become synonymous with business instant messaging in recent years, and for a good reason. Slack is easy to set-up and features great customization and integration options. 
Price: $6.67 per user/month for small to medium businesses. $12.50 per person/month unlocks more advanced tools.
Pros:
Slack channels are great for organizing teams within teams. 
Cons:
Slack is an interruption monster for teams without clear boundaries. Some users say Slack's best feature is the "away" button!
Google's messaging app, originally developed to work inside Gmail.
Price: Included with Gmail and Google Workspace.
Pros:
You already have it. 

Great for chatting while you're sending emails. 
Cons:
A big step down from something like Slack. No substitute for a project management platform, unlike slack, which could be all the organization you need.
Skype's IMing feature. 
Price: Included in Skype for Business
Pros:
Good encryption. Integrates with other Skype and Microsoft tools. 
Cons:
Just like Skype's video conferencing, their chat offering has gone from the only show in town to a sad "me too" product in a market saturated with better alternatives. 
SECTION 14
Cloud Storage & File Sharing Tools
Dropbox is not only one of the original file storage solutions but one of the original SAAS companies. Still a good choice for many users and businesses.
Price: Starts at $12.50/user per month, includes 5TB of space. (3-user minimum).
Pros:
Reliable, secure, easy to sync across multiple users and devices.
Cons:
Best-in-class file sharing, but collab features are sorely lacking. 
Google's cloud storage. Included with Gmail and Google Workspace accounts. 
Price: 15GB free for individual users. 2TB is $9.99 per month. Alternatively, a Google Workspace business plan is $12.99/user per month and includes 2TB of Google Drive storage. 
Pros:
Includes word processing, presentation, and spreadsheet tools, all of which have real-time collaboration built-in. 
Cons:
Limited offline functionality compared to other options.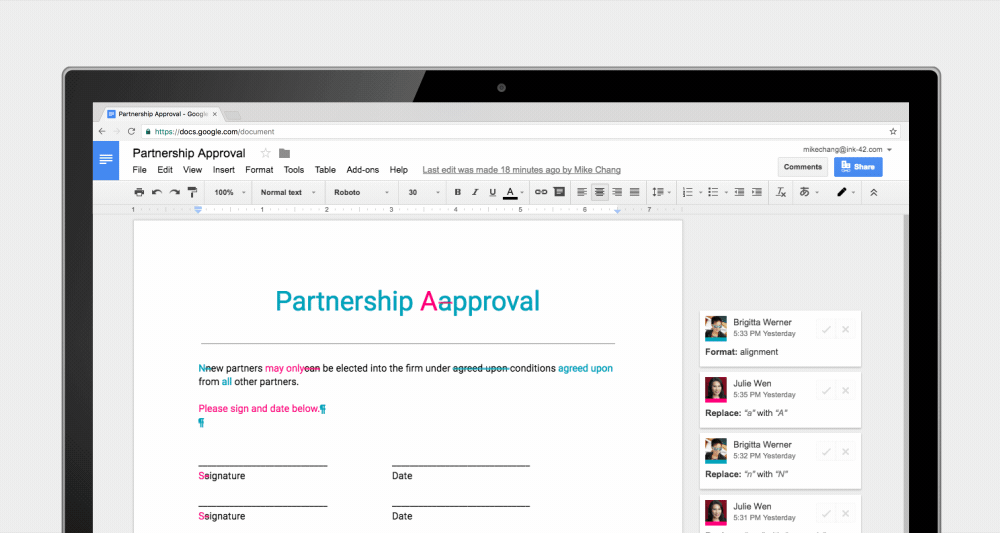 Image: Google
Google docs team collaboration tool.
Apple's cloud-based storage. 
Price: Same as Google Drive, $9.00/month for 2TB -OR- Contact Apple for Apple at  Work pricing.
Pros:
Ideal for personal users looking to sync their work and data across multiple Apple devices.
Cons:
Not optimized for business. Not ideal for collaboration.
Microsoft's cloud-based storage. 
Price: $6.99/month for 1TB -OR- 1TB included with Office 365's basic business plan.
Pros:
Cons:
Saves local copies of files. This can fill your hard drive. 
SECTION 15
Video Conferencing Tools
The app that got us through the first year of "the new normal." Like "Google," "Zoom" has become what intellectual property experts and linguists call a "generic trademark," meaning we now call all video conferencing a "Zoom call" regardless of what app you're using.
Price: Business plans start at $14.99/Month.
Pros:
Lots of integrations.

Optional webinar hosting.
Cons:
Popular because it's popular, not because it's noticeably better than the alternatives.
Skype's enterprise version with Office integrations.
Price: Included with Office 365 Business.
Pros:
Good security. 

Office 365 users already have it.
Cons:
Dated user experience. We used to "Skype" our long-distance friends, now we "Zoom" them.
Google Meet
When you schedule a Google Calendar event with more than one attendee, it automatically includes a Google Meet link for your meeting. 
Price: Free with Gmail or Google Workspace.
Pros:
Included with Google Calendar. No signup or setup is required. 
Cons:
Less popular than Zoom. People might not notice the link because they're not used to using Google Meet.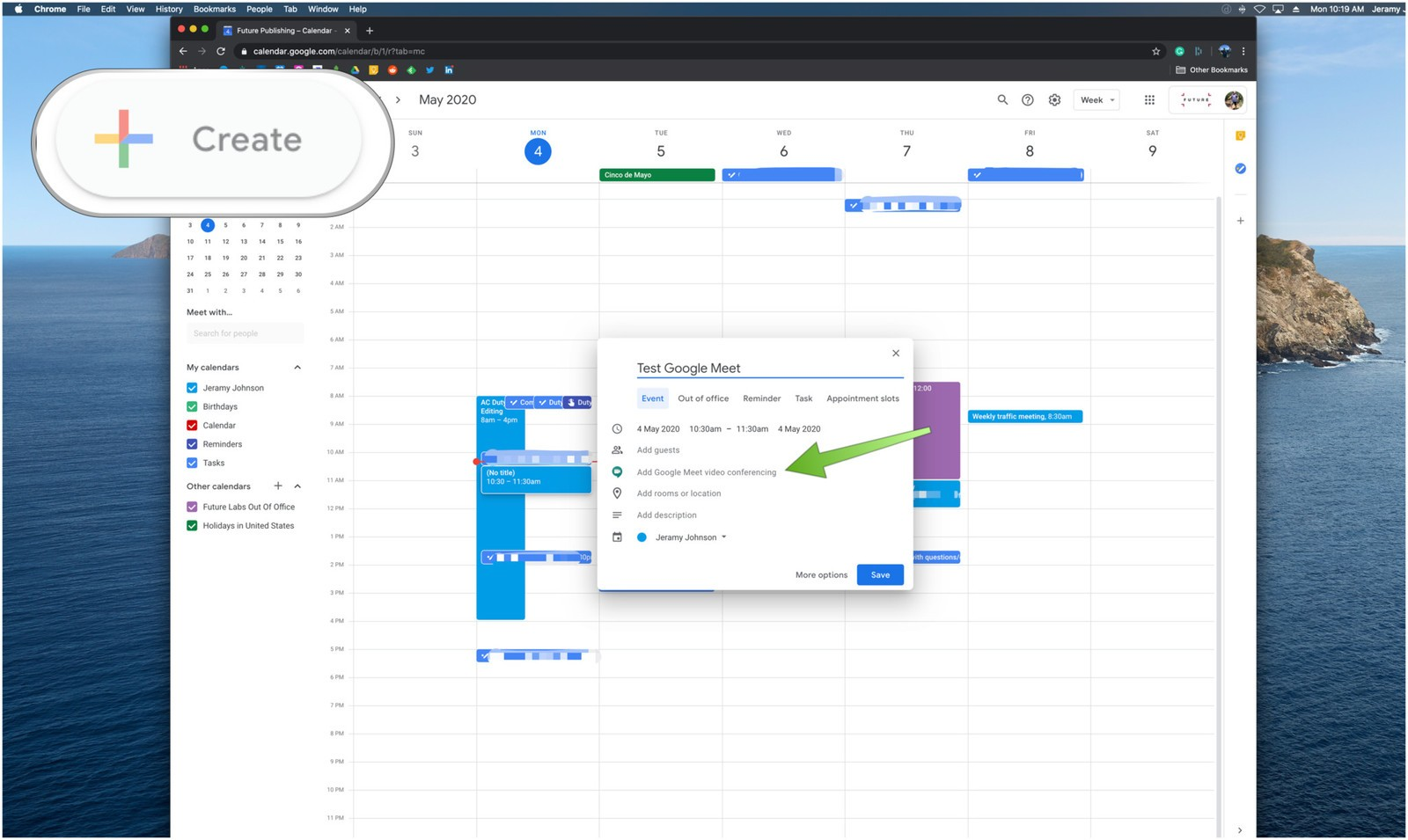 Image: Androidcentral
Schedule a Google Meet in Google Calendar.
Group chat team collaboration software from Microsoft Team with a more modern feel than Zoom.
Price: Included with Office 365 Business. There's a limited free version that doesn't require Office. 
Pros:
Cons:
Not worth it if you're not using the rest of Microsoft's business products. 
A well-thought-out tool that turns knowledge management into project management, helping ideas become results. 
Price: Free for the first 10 users. Advanced features, $5-10/user per month.
Pros:
Simultaneous editing features are terrific. 

Managers have a lot of control within the platform. 
Cons:
Build a knowledgebase with your notes, and collaborate from wherever you are.
Price: Free – $8/user per month.
Pros:
Functions well offline or online. 

More than just a wiki. Has note-taking and project management functions as well. 
Cons:
Too complex for some users. Steep learning curve. 
Slab helps you turn your knowledgebase into digestible resources, like articles and handbooks. 
Price: Free – $12.50/user per month.
Pros:
Makes your knowledgebase highly searchable. 
Cons:
An integration-rich home for both client-facing and internal documents. 
Price: Free – $15/user per month
Pros:
Integrations are the main selling point. 
Cons:
Chatter
SalesForce's social network feature. 
Price: Contact SalesForce.
Pros:
An obvious choice for SalesForce users. 
Cons:
Overkill for a small operation (as are most ESNs).
A collaboration platform dedicated to breaking down silos.
Price: Contact their sales department.
Pros:
A comprehensive platform for businesses that need more than a shared calendar and chat channels.
Cons:
Breaking down siloes isn't a priority if your workplace isn't siloed, to begin with. 
SECTION 18
Keys to Collaboration
Now let's talk about what "good collaboration" actually means and how to select the right collaboration tools that will help you achieve it.
Teamwork > Tools
Good online team collaboration starts offline. Teamwork is a way of operating. It's a set of values. It's a standard you and your organization strive to maintain. Online collaboration software doesn't teach you how to work as a team, but they do make it possible to take teamwork online and work collaboratively no matter where your individual team members are located. For best results, keep the fundamentals of teamwork in mind and look for tools to improve those fundamentals. 
How to choose collaboration tools
Start with your needs, then audit the tools you already have
If you're reading this article on a device you or your company owns, you already have some of these tools. You may also be paying for additional platforms that include collaborative software features you need. There's a decent chance you have costly overlap and redundancies in your toolkit.
Once you know what capabilities you need, take a look at the tools you already have and see how well those needs are being met, where you might require a new collaborative solution, and where you can downsize. Sometimes this is pretty straightforward; if you're already paying for additional storage in Google Drive, it probably makes sense to use other Google Workspace tools as well. Other times, you may end up going a la carte with features. For example, you may use a project management app for handling logistics and tasking and go with a different, more specialized app for instant messaging, even though the project management software includes instant messaging. 
Choosing the right software is not an exact science. It's a balancing act requiring team leaders to weigh costs, must-haves, and nice-to-haves. You may find that you're better off with a good enough feature in a system you're already heavily invested in than a perfect feature in a new system (learning curves can be costly too). Or it could be the reverse, and a single function justifies the cost of a standalone solution.
Focus on enablement
We buy collaboration tools to enable collaboration. The best online collaboration tool is the one that helps your team do their best work. Every team will have a slightly different features wishlist and different needs, but the desired result, efficient team collaboration, looks the same in every team. To get there, you want tools that enable the following: 
Clear, effective communication. 

Motivated and empowered team members. 

Clear roles and expectations.

Idea brainstorming.

An organizational structure and management style that fosters great work. 

Achieving defined goals together.

When you're selecting your online collaboration tool, focus on the results you're going for. Ask if your tools enable these key elements. Start with your idea of success, then work backward and determine the tools that would make getting there easier.