LAST UPDATED ON June 8, 2023
12 Webinar Topics to Win & Engage Customers in 2023
Anyone who's experienced a webinar first-hand, either as a host or an audience member, probably won't need convincing about the impact one can have. It's no secret that webinars are great for driving traffic to your website, generating leads, and conducting live training at scale.
SECTION 1
12 Webinar Topics to Win & Engage Customers in 2023
How to ______ Webinar
There's no better marketing strategy than helping people solve problems. The cool thing about the how-to webinar is it doesn't even have to be a problem related to your product. For example, a brand that cares about the environment might host a webinar on how to get involved in advocacy.
Example: Check out AWeber's content writing webinar for a great example.

Onboarding Webinar
You can host a webinar to get new hires up to speed and teach them everything they need to know. The content you produce in this webinar can be reused in the future as your company grows. 
Example: Glassdoor uses this onboarding webinar to bring new customer/partners into the fold.
Deep Dive Webinar
In this variation on the "how-to" webinar, you can take an hour to explain how to use a specific feature of a product fully. This can be an internal sales-enablement play, like teaching your sales team how to use automated data tools, or you can teach your customers how to get the most out of your product. This is particularly helpful for B2B Software as a Service (SAAS) companies who might be frustrated by users who only deploy a few of a product's advanced features.
Example: Human Resources Today held a webinar to explore the impact of AI in human resources.
Sales and Marketing Webinar
A webinar can be a fantastic content marketing asset. If you go this route, be sure to include all the sales bells and whistles, like clear call to actions (CTAs). Keep in mind you don't want to come off as too salesy; the most successful marketing and sales webinars tend to use one of the other categories mentioned here – like the "how to" format – to engage potential customers rather than hitting them with a hard sell.
Example: This Marketo webinar helps attendees learn to automate marketing campaigns. (Notice how although this webinar promotes Marketo's automation services, it delivers valuable tips you can use even if you're not a customer.)
"Trends in ____"-or- "The state of ____"
So you wanna be a thought leader? This is what thought leaders talk about. A thought leader is someone who has their finger on the pulse of their industry and the broader market and can speak with authority about those trends. Salespeople and marketers are desperate for this sort of information, but their jobs often keep them too busy to do their own analysis. A webinar can bring them up to speed. 
Example: Every year, HubSpot presents Agency Day to discuss trends and challenges in the agency world.
Current Events
Talk about how your company or individual departments can respond to a crisis or a current event (for example, many companies held successful webinars related to the impact of Covid-19). 
Example: Harvard Business Review hosted a webinar on post-pandemic global supply chains.
Diversity and allyship
There's recently been a long-overdue acknowledgment of injustice and inequality. Many organizations and individuals are trying to do the right thing and take meaningful action, but they don't always know where to start. A webinar can help communicate what these values mean to your business and how you plan to back up your mission statements with action. An interactive or panel format can help amplify diverse voices from within your organization. Obviously, you'll want to be sensitive about your approach on topics like this, so be mindful of your agenda and the people you involve.
Example: The Allyship & Action Summit hosted a cyber summit addressing race in freelancing.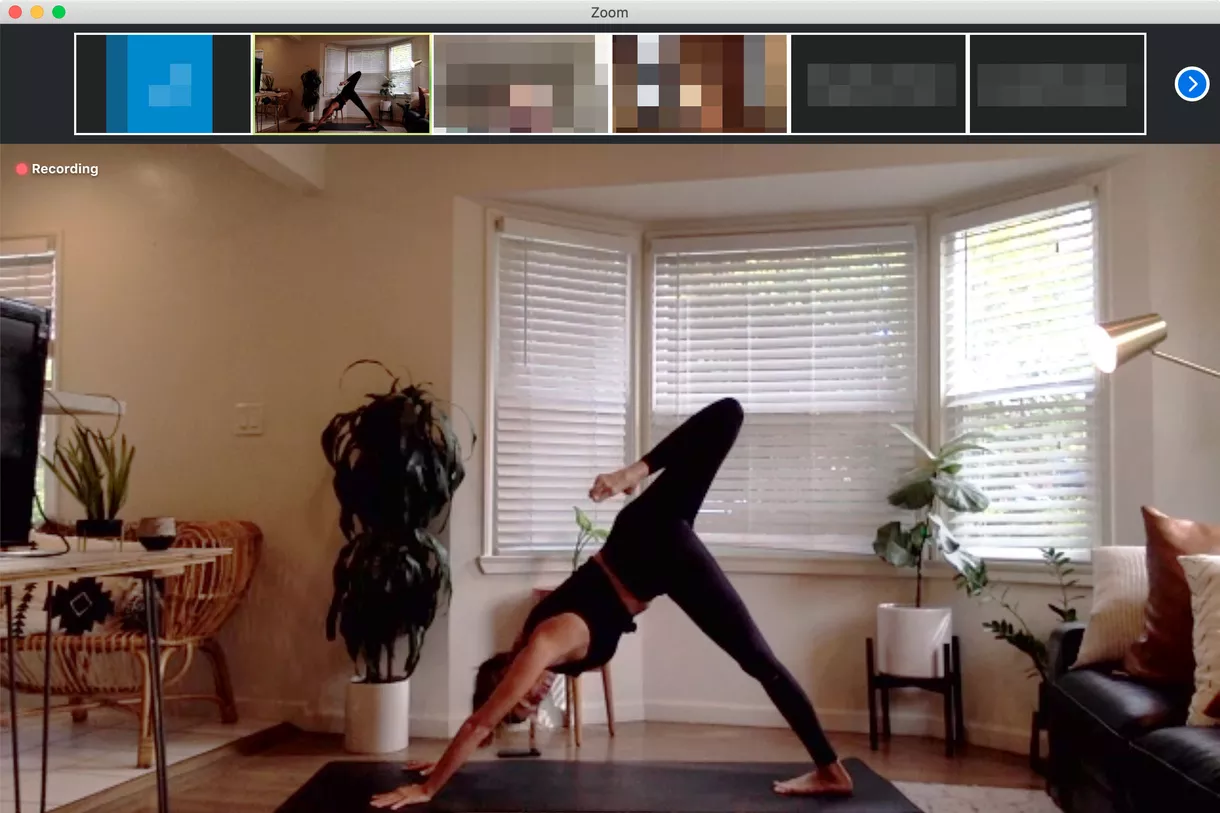 Self-care and Wellbeing
Webinars can help us cope and do better work in the new normal. Think about hosting a forum on self-care strategies or organizing a Zoom yoga class. Create a space for your team to share what they're up to outside of work, something they'd ordinarily be able to do around the water cooler. 
Example: Office Meet Yoga offers virtual yoga classes geared towards teams working remotely.
Career advice & Advancement
Use a webinar to equip your employees with what they need to know to succeed. Tailor your advice to your team's unique concerns. For example, if you work with independent contractors, help them learn everything freelancers should know about taxes. 
Example: FlexJobs is a platform that helps people find flexible and remote work. The platform hosted a webinar on how to change careers and work remotely.
Corporate Communications/ Town halls
Hold a virtual town hall where your C-suite can speak directly to your whole organization. 
Example: The Federal Deposit Insurance Company (FDIC) puts on quarterly town halls for small business owners.
Compliance Webinar
In this variation on e-learning, you can use a virtual event to get employees up to speed with new regulations or compliance standards. Check with industry and state regulators to find out how to meet their standards through remote training. 
Example: The FDA hosts a webinar series on tobacco regulation compliance for retailers.
Virtual Launch
Hold a virtual product launch via webinar. The companies that make the best of the pandemic do so by going on offense with remote tools. Instead of just trying to do the best you can to replicate an in-person event, try to create an experience that would only be possible online
Example: Salesforce combined a "how to" webinar with a B2B product launch with their Pardot launch webinar which taught attendees how to use AI in B2B marketing.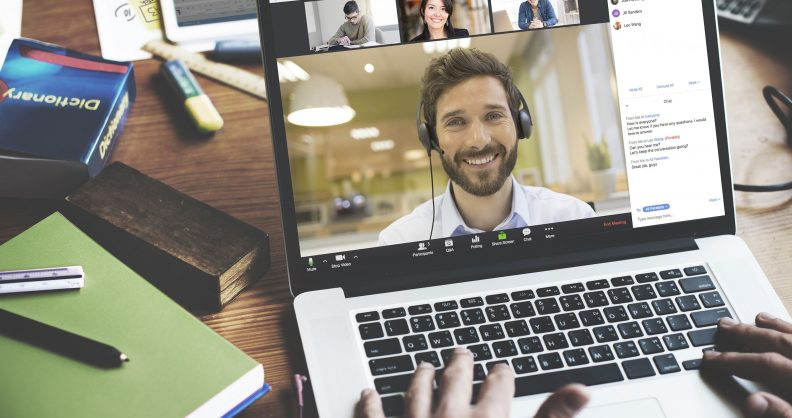 Image: Zoom
For many, the real challenge is not coming up with an webinar topic or idea but choosing the right webinar topic for their audience. There are several factors to consider when choosing your topic, including:
Who's your audience?

What type of information is your audience seeking for professionally and personally?

What do you want them to take away from it?

What can you teach them (or bring in an expert to teach them)?

What platform will you use? What are the logistics and expenses to consider?
This guide will help you pick an awesome topic. We'll also give you some helpful webinar tips and best practices to help you run your first webinar. And we'll also look at some trending webinar topics for inspiration.
If you want to host a webinar and just need some inspiration for a great topic, you can't go wrong with any of the following.
Here is a review of the quick list of topics that are the most popular webinar topics/ideas we talked about, feel free to click on each one to see examples and descriptions of each one and review them:
SECTION 2
Thinking Through Your Webinar Content 
As the saying goes, "Content is king." You could get everything else wrong, but if you present an interesting subject in an engaging way, your webinar is bound to be a success. 
What do you want to talk about?
The simplest place to start is in your own head. Brainstorm a list of things you'd like to talk about. Try mind-mapping topics related to your field. What's the one thing you wish you had an hour to talk about with your customers or staff? Also, what are the questions you get asked most often? Remember: If one person asks you a question, it's probably on the minds of others too.
What topics are you knowledgeable about?
What can you talk about? What do you want to be seen as an expert on? Everyone wants to be a "thought leader" these days; a webinar is one of the best ways to practice thought leadership and hone your messaging. 
Working with experts
Your program doesn't have to be limited to your own areas of expertise. Bringing in a subject matter expert (SME) opens the door to discussing anything and everything. There are a couple of ways to do this:
Interview a SME 
With an interview format, you remain in the driver's seat while including an expert to field questions and add depth to the conversation. The ratio of your contribution to theirs is totally up to you and depends on your background. If the SME is discussing things you and your audience don't know much about, it might be best to let them do the talking while you ask questions and facilitate audience Q&A. 
On the other hand, if you're also knowledgeable about the topic, you might be better off sharing the floor and doing more of a panel discussion.  
Facilitate a SME's presentation
It could be that your best results come from just hosting a killer SME and letting them do all the talking (we'll talk about why this is a smart marketing play in second). Consider this: The Super Bowl halftime show is sponsored by Pepsi, but the show itself has nothing to do with their product. Nonetheless, Pepsi gets plenty of benefit from being associated with it. Webinars are a great way for you to take a similar approach where your product shines by association. Hosting an interesting presentation by someone outside your organization is a compelling webinar play that too few businesses consider. 
Trending conversations
If you can't think of a webinar topic, try looking at the news, industry forums, publications, or even Twitter. Chances are there are ongoing conversations and controversies, and you could use a webinar to weigh-in on them. You'll find new webinar topics every day once you start looking for them. 
What is the purpose of your webinar?
To know what your webinar should discuss, it helps to know why you're doing one. If you can't think of a reason, here are some popular categories.
Training & eLearning
Help your staff, your customers, or the public learn how to do something. Giving a product tutorial can be a part of a customer success strategy. 
Panels and discussions 
Host a deep dive into a topic. Bring together industry leaders, experts, and unique voices. You could even host a debate. The panel format lets you explore a topic thoroughly by bringing in different speakers to discuss different facets of the topic.
Launches and events 
Celebrate the launch of a new product, help generate buzz, and offer exclusive value to those who attend. A virtual launch lets you reach a much bigger audience in a more interactive format than one that's done in-person.
Value plays and social proof
There are many ways you can use webinars to offer value to your customers and make yourself look good in the process. This value add doesn't even have to be directly related to your product. Consider topics that are off-topic but on-brand. For example, Rolex and Patagonia regularly put out content that has nothing to do with high-end watches or fleeces but champions the values and causes they care about.
 
Webinars as content marketing and lead gen
Webinars are a fantastic way to deliver useful content to your audience and prospects. By asking for email addresses and other personal info when attendees sign up, you can use a webinar as a powerful lead generation tool. 
SECTION 3
Which Webinar Platform To Use
One consideration that might affect your choice of webinar topic is your choice of format. Some platforms have audience limits. Others can broadcast to the whole world. Some are more interactive than others. Prices vary too. Here's a rundown of some popular webinar platforms and some suggestions on how to pick one.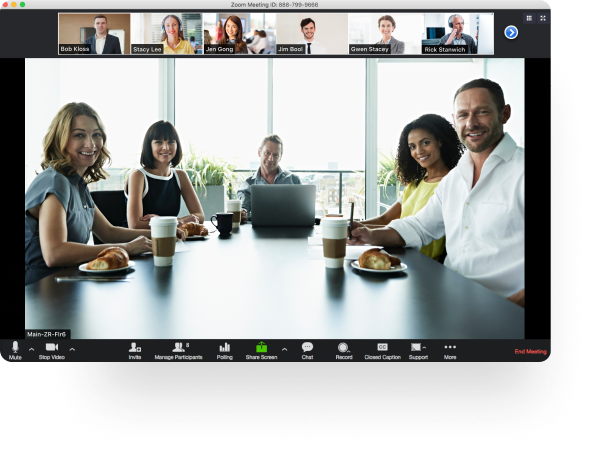 Image: Zoom
Platforms
You have a ton of options. Here are some of the most popular:
Zoom – Zoom's great advantage is that you're probably already using it for video conferencing. The same features that allow for large video calls let you host panels with up to 100 speakers! 
Webinars OnAir – A cloud-based webinar platform with tracking pixels and monetization options salespeople frequently need. 
Livestream – Livestream, by Vimeo, is a professional-level broadcasting platform. This is the way to go if production value is a priority. 
On24 – This webinar platform brands itself as "elite." It has a lot of features, but it's one of the pricier options. 
Facebook & Youtube Live – Facebook and Youtube both offer free live streaming options. Both allow you to save the video of your webinar to share later. Zoom has a YouTube integration that lets you stream your Zoom webinar on YouTube as well, reaching a wider audience. 
GetResponse – Your SaaS-y option with all sorts of integrations, including a YouTube Integration. If Zoom is a video conferencing tool with a webinar feature, GetResponse is a marketing tool with a webinar feature.
WebinarNinja – Another Great choice for marketers, WebinarNinja features CRM integrations. 
LiveWebinar – is a nice alternative to the bigger brands which have tons of features and cost a lot. The software allows you to run interactive webinars as well as e-learning and training sessions with difference audiences.
SECTION 4
Which Webinar Format To Use
Logistics 
How long should your webinar be?
Consider the audience's attention span. In theory, you could run a webinar all day, like a virtual conference. Compared to a real-world conference, doing so would save you a small fortune in venue rental and travel expenses. Typical webinars are shorter affairs, though. If you have a lot of material, break it up into sections with Q&A rounds or breakout rooms in between. You can always have an intermission too. Just be realistic about how long you can expect attendees to spend staring at a screen before they zone out.
Costs
Choosing a platform is like choosing any business software; you have to consider the costs of getting the features you want. Think about integrations and how new software might fit into your existing toolkit. If you're already using a video conferencing platform that has a webinar add-on, that may be cheaper than signing up for a separate webinar platform.
Number of attendees
The platform may limit your maximum number of attendees. Or you might also want to set your own limit to make the webinar more intimate, more exclusive, or to generate demand through scarcity. 
How much interaction do you want?
Consider how you want your audience to experience the webinar. Like all the other factors we've discussed so far, your format will influence your chosen topic and vice-versa. Some topics are better as lectures or panels, while others lend themselves to Q&A.
Lecture or discussion 
You could use a webinar to broadcast a one-way lecture and then follow-up with a Q&A portion.
Moderated Q&A 
Depending on the size of your audience and how well you know them, it might be critical to have a moderator whose job it is to screen questions.
Questions in the chat window –

Most webinar and live streaming platforms allow audience members to drop questions in the chat while they're watching. This helps generate a lot of questions without interrupting the speaker. It also makes it easy to screen the questions and pick the best ones. 
Live questions –

Another way to do questions is to invite participants to go LIVE in a video chat with the host. This can be a great way to field in-depth, multi-part questions and to do demos. It also opens the door pretty wide for time-wasters, so beware of that. You may want to include a time limit for participants so you can mute or boot those who can't take a hint. 

Breakout rooms 
A good option if you're covering multiple topics. For example, Working Not Working recently hosted a webinar for freelancers which included breakout rooms for writers, designers, and other groups to discuss specific issues related to their respective crafts. 
Who's Hosting? Who's Tech Hosting?
In webinar jargon, hosting means a couple of different things. The host is the person presenting the webinar, but there's also a tech host (who may or may not be the same person) facilitating the tech logistics of the event. A host can mute and unmute participants and moderate the chat. You can designate more than one host, depending on your payment level—software like Zoom charges per host per month. 
Hosting is also a branding consideration. Do you want the headline of your event to mention an individual host or the company hosting the event? "An Evening With So-and-So" might be better for an SME or something internal, whereas "Company X Presents…" might be better for a marketing webinar. 
SECTION 5
Who is Your Webinar Audience?
As the saying goes, "know your audience." How you choose a topic for your webinar depends on who you expect to attend and what they want to take away from the event. 
Who is attending?
Like any other content you put out, it's vital to know who your target audience is for a webinar. Buyer personas can help you better understand who they are and what they want from the experience. Create a profile of a hypothetical audience member, including demographics and other information that might be relevant. Try to add insights into their work goals and pain points. You can then use this profile to tailor your content and marketing message. For example, if you're doing a webinar on sales automation tools, your buyer persona might be a salesperson who worries about spending too much time on data entry. In your webinar, make sure to talk about how automation can save time by automating data entry.
Customer-facing 
If your webinar is customer-facing, you have to treat it like any marketing, sales, or PR asset. Because that's what it is. Every webinar needs goals, but the goals of a customer-facing webinar must be linked to your companies broader marketing goals and sales targets. 
Internal 
Suppose nobody's going to see this webinar outside your organization. In that case, you may want to consider a different set of priorities, perhaps focused on things like training outcomes or compliance standards. If you plan to use said webinar outside your company, consider the future marketing conversation around it (even if the original audience is just your own staff). 
What do you want them to learn?
The unique value of a webinar is that it allows you to talk directly to your audience, at length, and in-depth, about anything you want. The best results for you and your audience come from considering their perspective. Write down questions and problems they might have; let these guide your webinar outline. 
SECTION 6
Your Next Steps After You Read This
Now that you know how to plan and create a webinar, here are a few things to consider before you go live. 
Survey says…
If you're still stumped and have no clue what you want your webinar to be about, why not survey your potential audience. Put a message out on your social channels (or Slack if it's in-house) and say something like this:
 
"Hey, we're putting together a webinar for the end of this quarter, and we'd love to know what you all want to hear about…" 

Then give them a multiple-choice survey or ask them to contact you with suggestions. 
Do a dry run 
The time to be sure everything runs smoothly is before you have to do it live. Be sure you have the right software. Be certain your internet speed is fast enough to host a webinar. Make sure your mic is working, and everything sounds right.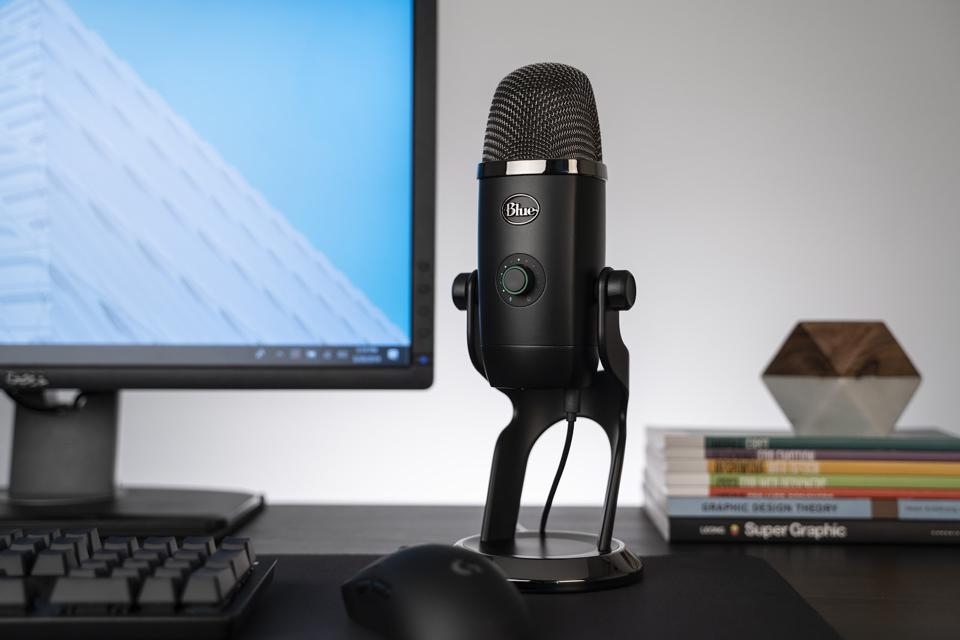 Image: Blue
Upgrade your hardware 
If you want to run a webinar with your computer's mic, nobody's stopping you. But for $80-100, you can upgrade to a high-quality mic that will give you podcast quality audio. The Blue Yeti series is a bestseller and the latest work-from-home flex. Forbes called it "Probably the best USB mic on the market."
Don't forget to promote your webinar
Nobody's going to come to your webinar if they haven't heard about it, so be sure to spread the word on social media, blog posts, and your newsletter. 
After the event, a recording of your webinar becomes a valuable piece of content to share with your audience. Don't miss this great opportunity to give your webinar a second life and connect with folks who may have missed it the first time around. 
You might want to consider transcribing the video or parts of it and sharing the text as blog posts. Not only is this a good way to share the content of your webinar, but it's potential SEO gold. You could also use the transcript as written training material or as the foundation of a white paper or ebook. 
What to do after you host your first online event
Your first webinar is probably going to be the hardest. Once you get the hang of how to host one, you might as well use those skills and the software you've invested in to host more webinars. It takes a lot of effort to pull off a successful webinar – it's definitely more work than a blog post or email blast. But that means there's an opportunity there too. If you can create mindful, effective webinars on a continual basis, you can carve out a niche that'll be tough for competitors to match.