LAST UPDATED ON July 3, 2023
3 Test Email Message Samples To Check Before Sending (+ 6 Tools to Try)
How many times did you happen to see an email with badly written copy, poorly rendered images, or broken links? It happens all the time, in fact, 80% of emails have at least one typo or a broken link or image in them. But such a blunder can cost a company a spoiled reputation no matter if you're a small company or an enterprise.
If it's a problem that is consistent with all the emails a company sends you might even risk getting marked as spam by your recipients and getting on a blacklist.
Sending debugged emails (i.e. emails which display well on all devices) is a must for any email marketing strategy. To ensure every transactional notification or marketing email you send is flawless, you need to test critical elements of email infrastructure, deliverability, templates, and other parameters.
In the article, I'll show you how to test your emails to ensure they get delivered to your recipients without typos, display issues, broken links, or emails and do not trigger a spam filter or get marked on 
SECTION 1
Why email testing is important
Let's start with a 101-type of question: is email testing critical indeed?
Same as email hostings and sending platforms assists in the delivery of personalized marketing emails and increase consumer engagement, email testing is important to make that process smooth and effective. In a broader sense, email testing should be applied to personal and professional emails (follow up emails, invoice messages, job application emails, and other types).
Email testing tools are small business marketing tools that help to find and eliminate errors in an email (message body, subject line) and launch polished email marketing campaigns. But it's not the only reason many small business owners should use them. Implementing email testing flow allows you to make well-crafted emails, which leads to improved customer experience, increased conversions, and a constantly growing customer base.
The more you invest time in debugging and polishing your emails, the more chances they will reach real customers (or leads) and make them loyal to the brand eventually.  
If you skip on full-cycle email testing or just test one parameter, there are high chances of:
your emails won't be delivered at all

your emails will go to spam folders

HTML emails won't be rendered

images won't be rendered

links (or a CTA button) may be wrong/misleading

wrong people can receive wrong emails

your domain and IP reputation can be damaged
The consequences of such small, at the first glance, failures can lead to bigger ones: damage of brand reputation, poor customer experience, and revenue loss eventually.
Now you see that email testing is indeed critical. Let's find out what untested sample emails look like and how to avoid such an experience.
SECTION 2
Test Email Message Samples
Before launching your next email campaign, it's not enough to choose a sending platform. You need to pay attention to the below three features and check them properly to avoid customer dissatisfaction and getting your letters into spam.
SECTION 3
Test Email Sample 1: Image rendering
The best way to show the importance of image rendering is to compare two emails that seem identical: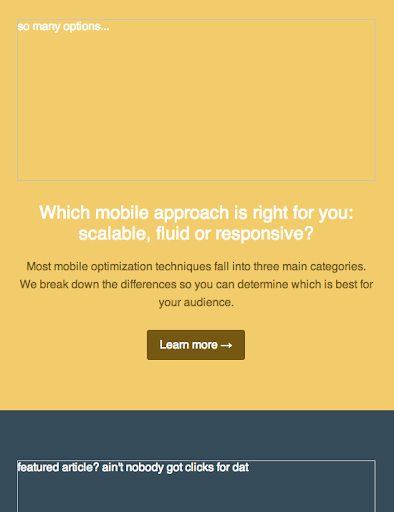 versus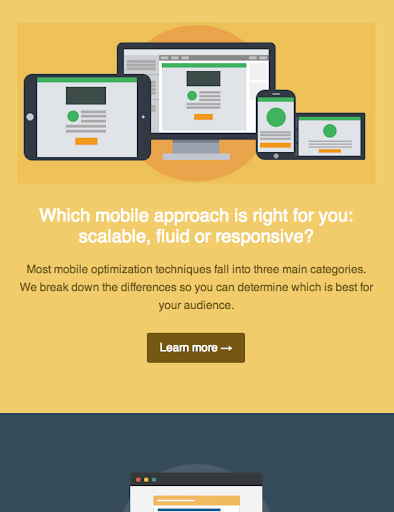 Images: Litmus 
See any difference? While you expect your email to look perfect for every recipient, a number of renderings that differ depending on a device people use to check their inboxes might spoil the whole experience. 
You need to check and revise each email to ensure all the users of popular email clients like Gmail, Outlook, Apple Mail, Yahoo! Mail your message correctly with all the bright images you have so carefully chosen to insert.
One of the first rules to follow when it comes to images is starting simple. Never pack your email with tons of images and complex features all at once. You will then spend a lot of time looking for one single element that causes a poor display. It is better to add them one by one, running a test after inserting each new element.
Note: if you can't decide which image size to use in your emails, go with the classics – 600×650 pixels; it's still working well
Besides, some elements might look good on a desktop but totally spoil the email on a mobile device. This is why it is important to check not only image rendering but make your emails responsive. By rendering checks, you make email visuals perfect and by ensuring responsiveness, your customers using various email clients and devices can see your beautiful visuals correctly.
SECTION 4
Test Email Sample 2: Email Deliverability & Spam
At least once, each of us has seen such or similar emails: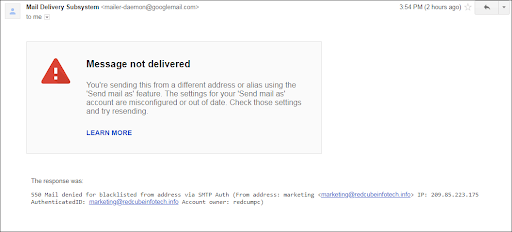 Image: GMass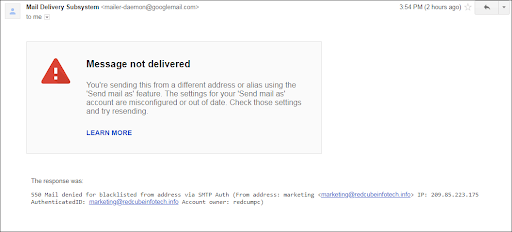 From above, another thing to pay attention to is deliverability and ways to avoid getting emails into spam. No one wants to spend a lot of time crafting a perfect email but never gets it delivered or opened. 
While it is true that people often check a spam folder to see whether there is an important email that went there by mistake, there are a lot of recipients who consider emails in a spam folder malicious and get rid of them without opening them.
Email providers utilize complicated algorithms and strong filters to avoid certain emails getting into subscriber inboxes. While it might seem good, even those emails that are not spam might get stuck and never reach the consumer inbox. 
While emails you want to send might look like perfect emails to share with customers, unless you conduct testing, you will never know that they might not reach recipients' inboxes in the end.
To ensure your messages are ready to be sent, there is some advice on how to avoid getting stopped by spam filters:
Never use spammy words like "%off", "FREE", "PROOF", too many exclamation marks (!!!) or dollar signs ($$$). Both in a message body and a subject line.

Insert 60% of text and 40% of images in the message body. Templates with heavy and excessive images might be considered spam.

Warm up your domain. You have to configure DNS and email authentication records.

Insert only credible links in the email body. Avoid sharing many links in emails. Use an email header analyzer to ensure all email security protocols are active.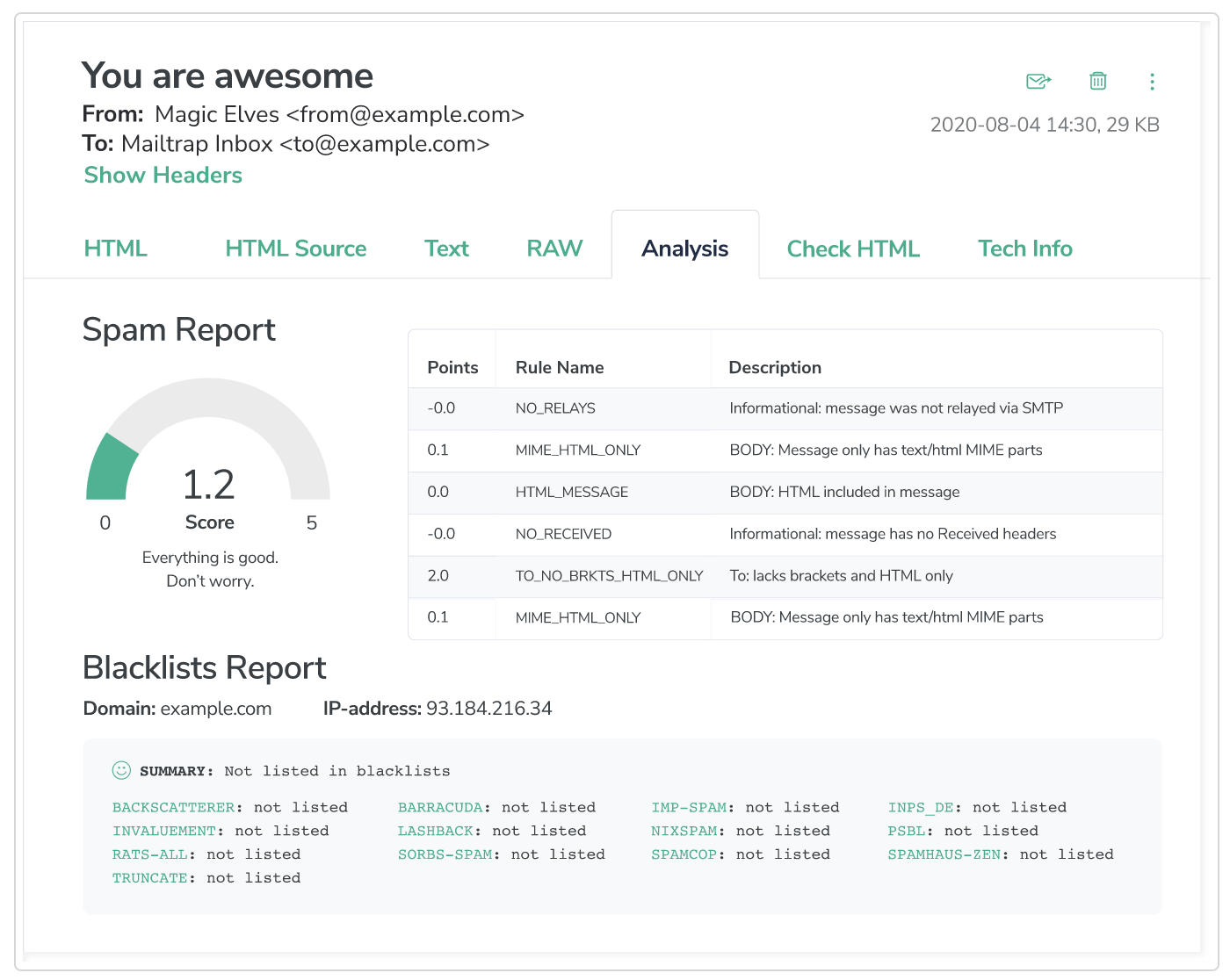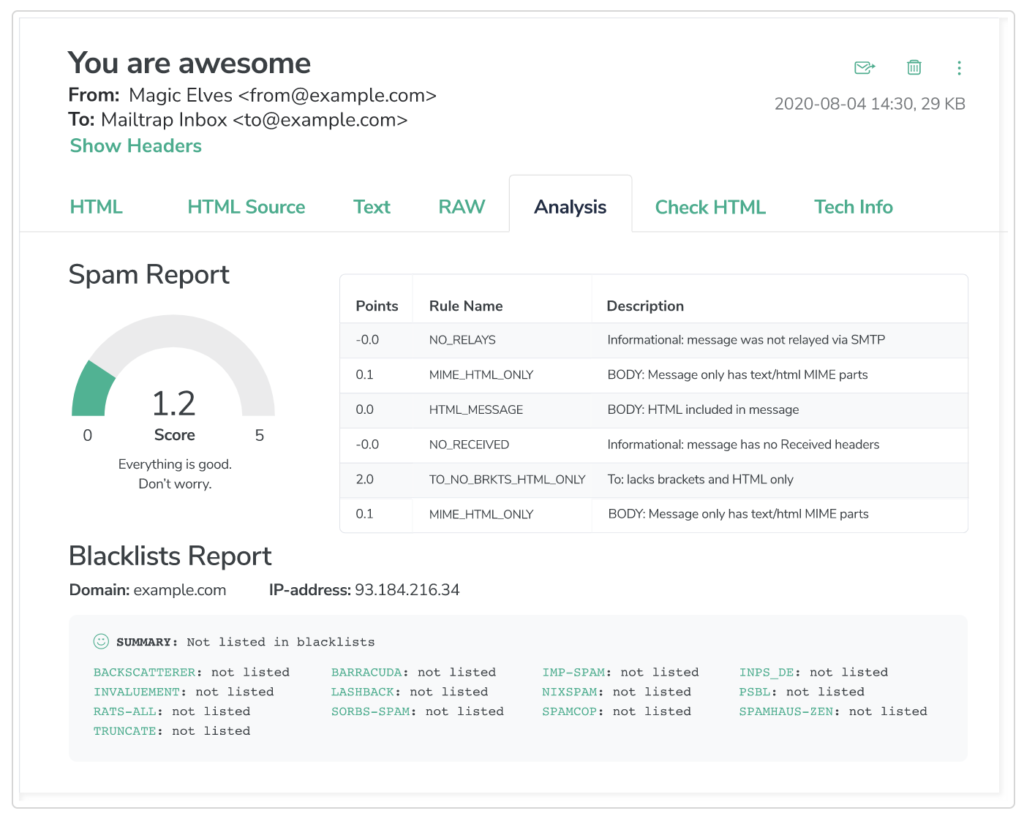 Example of spam test
It is true that you can check the above elements on your own but doing it with special tools doing spam testing and blacklisting analysis will have a better result. All your emails will be then sent to spam filters and a spam score. 
You can therefore fix your test emails and get rid of those elements that might lead your emails to spam folders as well as improve the delivery of your emails to recipients.
SECTION 5
Test Email Sample 3: Email Copy & Links
Make sure you never send such emails: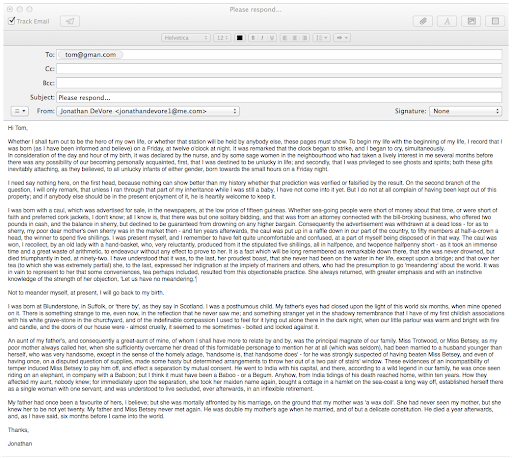 An example of a poorly formatted and overwhelmingly wordy email (Image: Hiver)
Or emails with links leading to dead pages: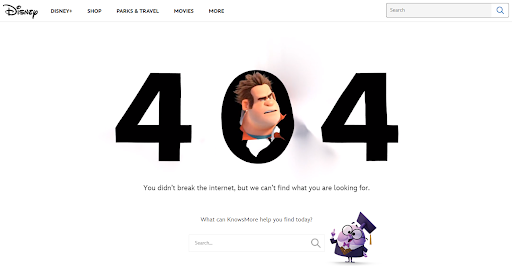 Example of a 404-page error (Image: SEJ)
The last but very important two elements to check before hitting the send button are email copy and inserted links. Many marketers and small business owners pay much attention to it, which is totally good. You must test links and email copy. However, don't emphasize analyzing only these elements since, as you see from above, the tech aspects of emails are critical.
Make sure all the text is well-written, proofread, without any mistakes, with the correct fonts and line spacing. It is important to bear in mind that your text should be easy to read and digest. Work on message structure and use clear CTAs. Don't make people think but evoke emotions and make sure the textual part leads to action rather than confusion.
On another note, check all the links you use in the text: there should be no misleading or broken links or those with a bad reputation. Such things lead to a spoilt user experience and damage to brand reputation. For instance, you set up a Shopify store and want to experiment with an email marketing campaign. You send an abandoned cart email with a misleading link. How can the customer finish the purchase? Imagine it's not a single customer but hundreds of them. Very frustrating.
To prevent broken or malicious links, you can either check them by hand, one by one, or use link testing tools to ensure not a single link is missed. They save time, help to improve the quality of all sent emails, and ensure a pleasant customer experience.
SECTION 6
Top Email Testing Tools
With such a wide range of products on the market, it might be rather difficult to choose testing tools that fit your needs. 
Let's discover 6 tools that will help you with testing all the above-described elements.
Area of testing: email infrastructure, email deliverability and spam check, HTML template debugging, links analysis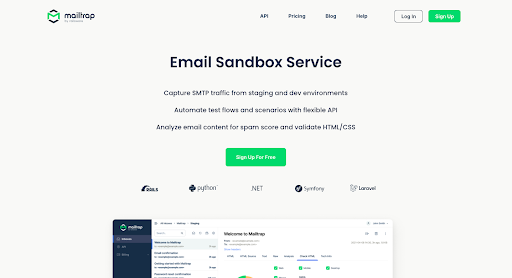 Mailtrap is a full-cycle email testing service. Mailtrap imitates the work of a real SMTP server to capture your test emails. It's a great solution to test all the technical aspects of emails in a safe environment, which means your test email samples won't reach real users.
From checking templates to analyzing spam scores, from configuring email sending functionality to validating email headers, the service covers everything you need for solid email testing and even slightly more than you expect.
Price: free version; paid plans start  from $9,99 per month
Pros:
All testing is done in a single environment

Set of features allow to test all the technical aspects of emails

Quick, easy setup

Shared access with team members
Cons:
Limited functionality in a free version 

You need somehow a tech background to evaluate all the power of Mailtrap

Very hard to test email sequences for deliverability
Area of testing: image rendering, email preview, ensuring of email responsiveness, links checks 
EmailOnAcid is an email preview tool for rendering and displaying. It helps to check images, links, content along with inbox display and email accessibility. 
The service is a good choice if the core area of improvement is the rendering of emails making a custom template for the campaign. It helps to set up responsive email campaigns that will look stunning on 70+ popular email clients. 
Price: starting from $73 per month; a free trial is present
Pros:
Inbox previews

Link & image validation

Template library

Solid blog with email marketing tips and tricks
Cons: 
The renderings are not always accurate

The full functionality comes with a higher price
Area of testing: a detailed spam analysis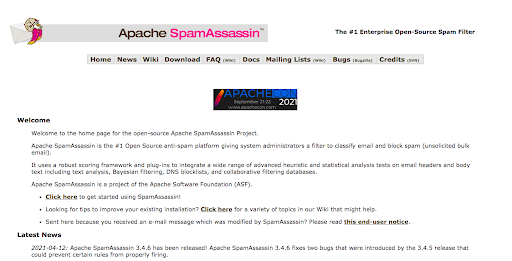 SpamAssassin is a great tool for spam tests. It checks email headers and their content to ensure there are no unwanted elements or spammy words. 
SpamAssassin uses a system of rules and scores meaning each parameter needs to be tested against the given rules to obtain a spam score (at least, a default value to be accepted). Many available spam checkers use the core principles of SpamAssassin, so this is a classic.
Price: Free
Pros:
Email header and text analysis

Bayesian filtering

DNS blacklists

Collaborative filtering databases

Internal or local whitelists and blacklists
Cons:
Lack of advanced/custom rules

Lack of per-user customizations and configurations
Area of testing: email deliverability and authentication, spam and blacklisting.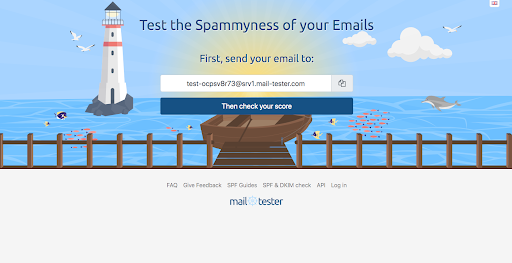 Mail-Tester is a tool for checking email deliverability and authentication. The tool analyzes the server, the message, and the IP from which it was sent and shows what has been configured in the right way and what's not.
Price: Free (API integration starting from €50/500 tests)
Pros:
Easy to use

Shows a detailed report

Provides recommendations on what to improve

Checks many factors that affect deliverability

Checks whether the domain is blacklisted
Cons:
Area of testing: email content polishing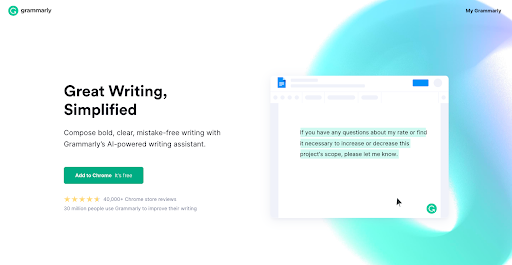 Grammarly is a great tool to check email copy. It marks most grammar, spelling, and punctuation mistakes. 
The premium version offers a wider range of features including sentence style, its structure, and vocabulary enhancement.
Price: Free. Paid plans starting from $12 per month 
Pros:
High level of check accuracy

Desktop and mobile-friendly 

Real-time and fast checking
Cons:
No offline option for editing

Style and advanced copy checks are rarely sufficient
Area of testing: email copy structuring, readability improvement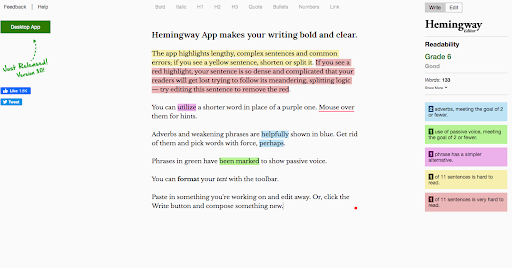 Hemingway is a useful tool for checking readability. It highlights those sentences that seem too long and difficult to read. The tool underlines passive voice and adverbs that might be unnecessary and need to be replaced. Hemingway then provides a score and tips on what to improve in the text to increase its readability.
Price: free online version, $20 for a desktop version
Pros:
Formatting features

Underlining difficult-to-read sentences 

Easy import from and export to other resources
Cons:
Will not replace human editing 🤓
It might seem rather intimidating to get your hands on such a large number of testing tools but once you start with email testing, you will be wondering how you ever lived without it. Things like a low deliverability rate, an abundance of spam words, and poor spelling will not only affect user experience but result in a bad company reputation.
Avoid test email mistakes outlined above, choose the most suitable tool. And effortless email testing to you!