LAST UPDATED ON September 21, 2023
Nextiva vs. RingCentral: Which Wins in 2023?
Successful collaboration requires excellent communication. And in today's digital age, you need a powerful, feature-rich business phone system that can offer unified communication and advanced collaboration capabilities. 
That's where Nextiva and RingCentral come in – two of the best VoIP providers on the market. With cutting-edge features like auto attendant, call transfer, voicemail transcription, and video meetings, these platforms are transforming how businesses communicate and collaborate.
But which one is the better choice for you? 
In this article, we'll pit Nextiva vs. RingCentral, weighing their features, pricing, customer support, pros and cons, and more. We'll make it easy to find the ideal phone system for your communications needs – because, with Nextiva and RingCentral, the possibilities can be endless.
Let's roll.
SECTION 1
Nextiva vs. RingCentral: A Sneak Peek
Nextiva and RingCentral are both solid business phone systems. But what gives Nextiva an edge over RingCentral? 
Intuitive user interface and excellent customer support. 

Unlimited calling, video conferencing, call recording, and voicemail transcription included with all plans.

Built-in CRM, including internal team chat and video calling capabilities tailored to sales teams.

Competitive pricing starting at just $18.95 per user per month.
Nextiva's easy-to-use interface, robust feature set, and affordable pricing make it the clear winner for businesses seeking an efficient phone system. However, RingCentral's advanced collaboration features may better suit teams prioritizing collaboration.
| | Nextiva | RingCentral |
| --- | --- | --- |
| Money back gurantee | 30 days on all accounts | 30 days only if you buy an annual subscription |
| Free Trial | 7 day free trial | 21 day free trial limited to 5 users on account. |
| Pricing | Starts at $17.95/user/month | Starts at $20/user/month |
| Date Founded | 2006 | 1999 |
| G2 Rating as of May 2023 | 4.4/5 from 1900+ reviews | 3.9/5 from 650 reviews |
| Capterra rating as of May 2023 | 4.0/5 from 200+ reviews | 4.2/5 from 1080+ reviews |
| 24/7 Customer Support | Yes | Yes |
| Unlimited Calling in US & Canada | Yes | Yes |
| CRM | Yes. Has built in CRM making it. easy to manage customer interactions | Integrates with popular CRM software but does not offer built in CRM capabilities |
| Call Forwarding | More sophisticated call routing system, allowing businesses to route calls based on specific criteria such as time of the day or caller ID | Call forwarding features are somewhat basic |
| Unlimited video conferencing | Offers unlimited video conferencing on all plans at no additional cost | You have to pay extra for advanced video conferencing features |
| Call pop-up notifications | Allows users to see who is calling before they answer and take appropriate action such as transfer the call or go to voicemail. | Does not show pop-up notifications. |
| Key Features | Call pop up notifications, Drag and drop call flow editor, Calendar and Meeting scheduling, call recording | Real time analytics, collaborative video features, unlimited team chat rooms, call recording |
| | Try Nextiva | Try RingCentral |
The best way to learn more about each solution is to read their reviews on TrustPilot from customers who have used each one, feel free to do so by following these links:
Read Nextiva Reviews              Read RingCentral Reviews
SECTION 2
What is Nextiva?
Nextiva is a leading Unified Communication as a Service (UCaaS) platform – a powerhouse in the VoIP industry, streamlining internal and external communication with just one unified tool. It seamlessly integrates phone, SMS, video, and email, packed with tools that drive productivity. With Nextiva, you communicate better, collaborate better, and succeed better.
Rated the Best Business Phone Service in 2023, it's highly scalable, reliable, and works best for businesses of all sizes.
Let's talk about some of Nextiva's key features.
Call management:

Includes advanced call management features, such as voicemail-to-email and call queue, and unlimited audio, video, voice, and internet faxing on all plans. You also get plenty of other customization options, such as call routing and auto-attendant greetings.

Analytics and reporting:

Provides insights into call volume, call duration, and other key metrics to help you optimize your communications strategies.

NextivaONE desktop app: Adds more functionality to the tool, making it easier to see all interactions across different communication channels (SMS, phone, chat, and more) in one place.
Integrations: Integrates with a variety of popular business tools like Salesforce, HubSpot, and Microsoft Teams, essential for streamlining workflows and enhancing productivity.
CRM: Includes a CRM (Customer Relationship Management) system that allows you to track phone calls, manage tickets, gain customer insights, and track sales and customer service conversations.
Nextiva simplifies communication and collaboration both internally and with customers while reducing costs and increasing efficiency.
SECTION 3
What is RingCentral?
RingCentral MVP is another popular business communication platform and a Nextiva competitor actively shaping how businesses connect and collaborate. With features like VoIP calling, video chat, IVR, text messaging, and more rolled into a single, easy-to-use interface, RingCentral is standing the tides of communications technology.
What are some of RingCentral's main features?
Video conferencing:

Advanced features like virtual backgrounds, breakout rooms, and host controls allow for seamless collaboration and engaging meetings.

Team messaging:

Robust mobile apps facilitate easy file sharing and team messaging to keep your team connected and productive on the go.

Integrations:

Integrations with third-party software, including Salesforce and Zendesk, streamline workflows and boost productivity.

Call management: Voicemail-to-email, call recording, and call queuing features ensure faster responses.
SECTION 4
Nextiva vs. RingCentral: Which VoIP Wins?
Nextiva and RingCentral are two leading and fierce competitors in the VoIP market. Both systems are highly scalable, reliable, feature-rich, and offer excellent support. Choosing one can be hard, especially when you don't know what to compare them on. 
Here's a feature-by-feature comparison between Nextiva and RingCentral to make picking one easier.
SECTION 5
Pricing Comparison
Our key takeaway: Nextiva is cheaper than RingCentral if you buy the service for 20-99 users but slightly more expensive than RingCentral if you buy it for fewer than 20 users.
Nextiva offers cheaper pricing options for larger communications. Its Essential plan costs $18.95 per monthly user and includes unlimited voice and video calls.

While Nextiva's pricing is cheaper than RingCentral's on most plans, it can be a bit complex. Nextiva's pricing changes based on the number of users and features. Comparing different plans can get tricky as costs vary based on specific needs.
The more subscriptions you buy, the cheaper the prices. To be able to use all the features, the Enterprise plan is good. On Essential and Professional plans, you might miss certain features.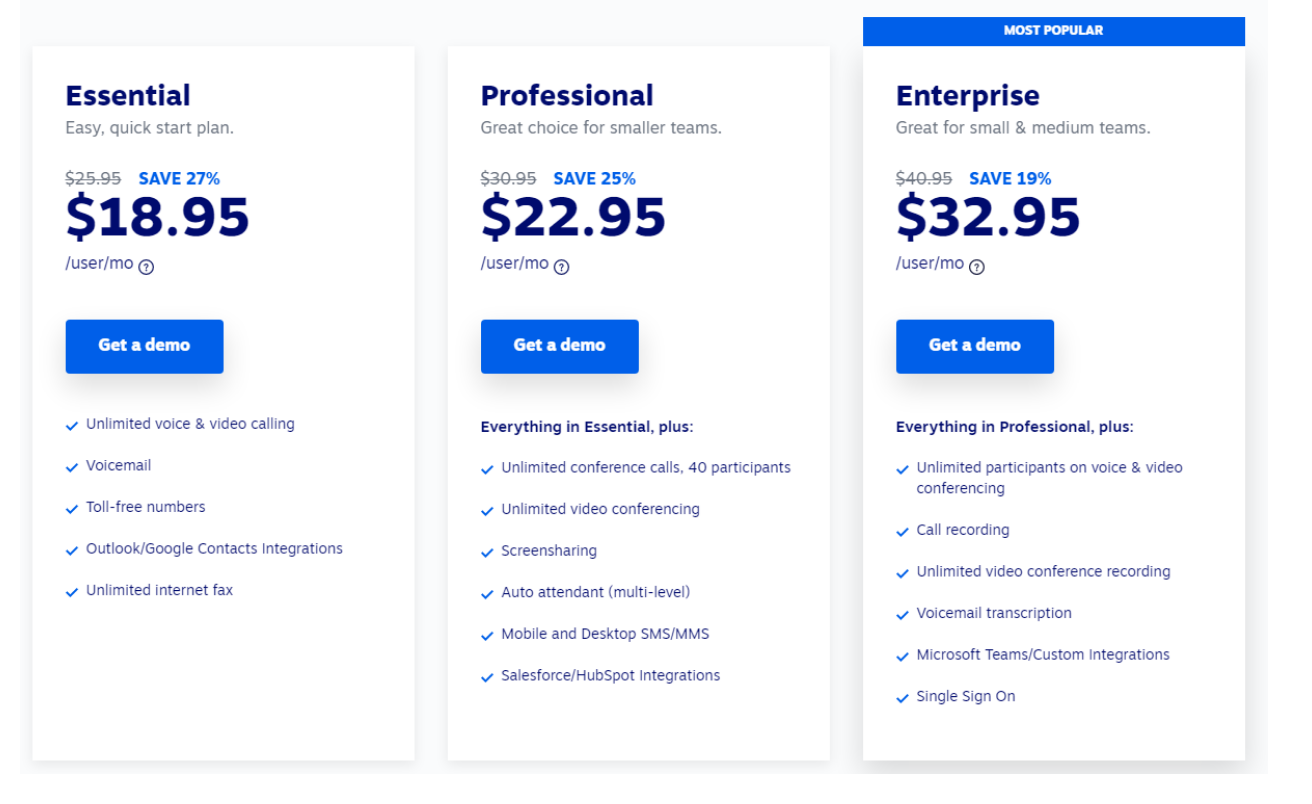 Source: Nextiva
How does RingCentral's pricing compare to Nextiva's?
RingCentral's pricing isn't as complicated as Nextiva's. Subscriptions for more than 50 users are eligible for discounts, but you have to contact their sales team for discounted pricing.
RingCentral's Core package costs $20 per user per month, but it's a voice-only CX limited to 20 users and doesn't include video. RingCentral's pricing structure is relatively simpler. However, prices are generally higher than Nextiva.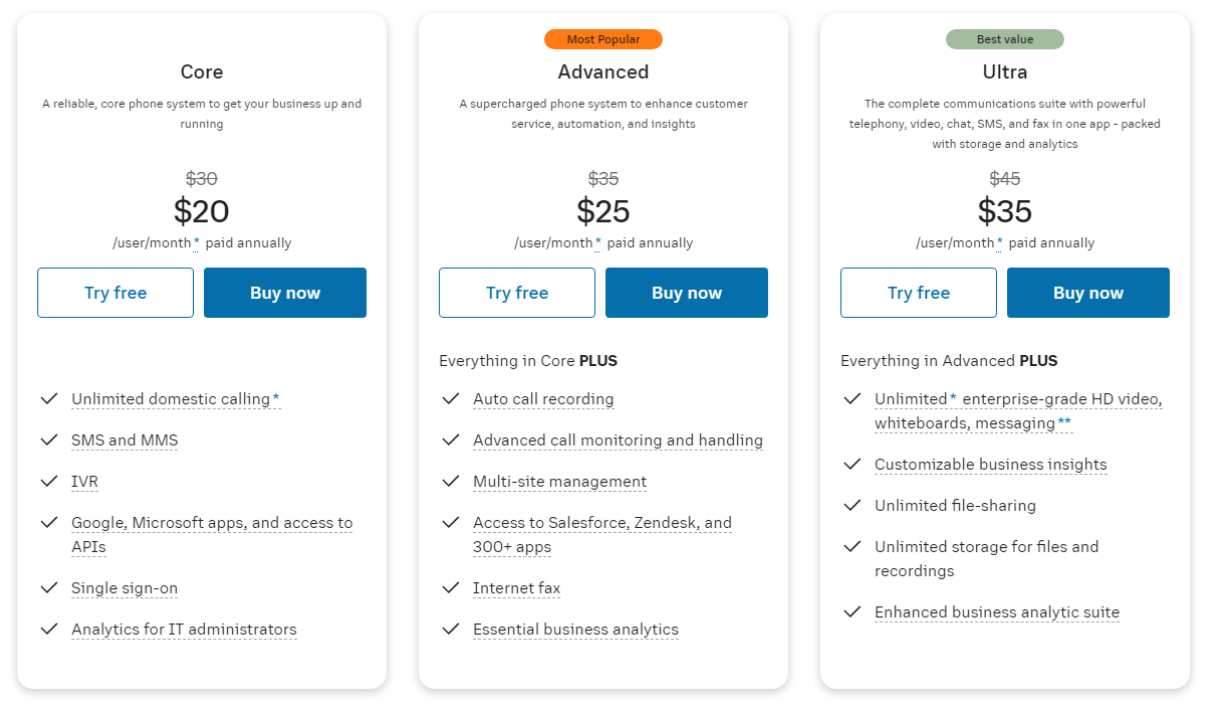 Source: RingCentral
Here are two areas where Nextiva is priced ahead.
Nextiva offers unlimited calls

starting from the basic plan, meaning significant cost savings for high-volume businesses.

Most Nextiva plans include comprehensive communication features

(like voicemail-to-email, video conferencing, etc.), while RingCentral charges extra.
When choosing between the two, weigh the prices based on what you need from the solution.
SECTION 6
Features Comparison:  
Our takeaway: Nextiva is an all-inclusive communications solution that helps manage customer and internal conversations in one place. RingCentral is more collaborative but lacks the basic features you need in a VoIP phone system.
Both Nextiva and RingCentral offer an array of communication and collaboration features. 
As mentioned in the pricing section, Nextiva's core calling features are available on all plans, including call forwarding, voicemail-to-email transcription, call recording, and a Nextiva app. The platform is highly customizable, giving businesses the freedom to configure their phone system to suit their needs.
Not far behind Nextiva, RingCentral also provides robust calling and conferencing capabilities but doesn't offer the same unlimited freedom that Nextiva does on all plans.
Here's a head-to-head comparison of where each stands out.
Where Nextiva stands out:
Affordable pricing options for small businesses

Advanced call management features like voicemail-to-email and call queuing included with all plans

More customization options like call routing and auto-attendant greetings

Integration with Microsoft Teams for unified communications
Where RingCentral stands out:
Advanced video conferencing features like virtual backgrounds, breakout rooms, and host control

Team messaging and file sharing available on the mobile app

A wide range of integrations with third-party software, including Salesforce and Zendesk 

Better overall reliability and uptime
While relatively comparable, Nextiva stacks up better against RingCentral in feature comparison.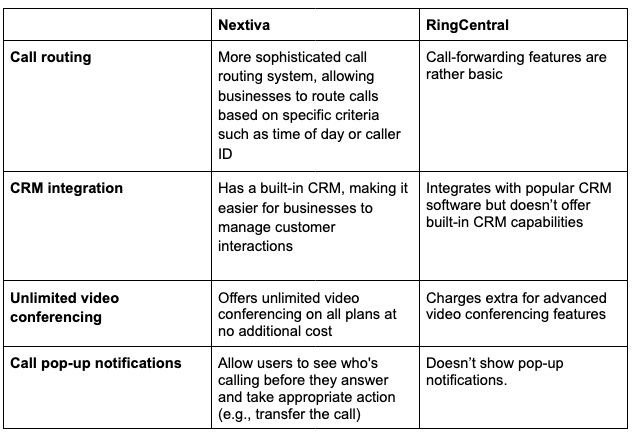 Below is the table we kept in a Google doc as we tested the two solutions.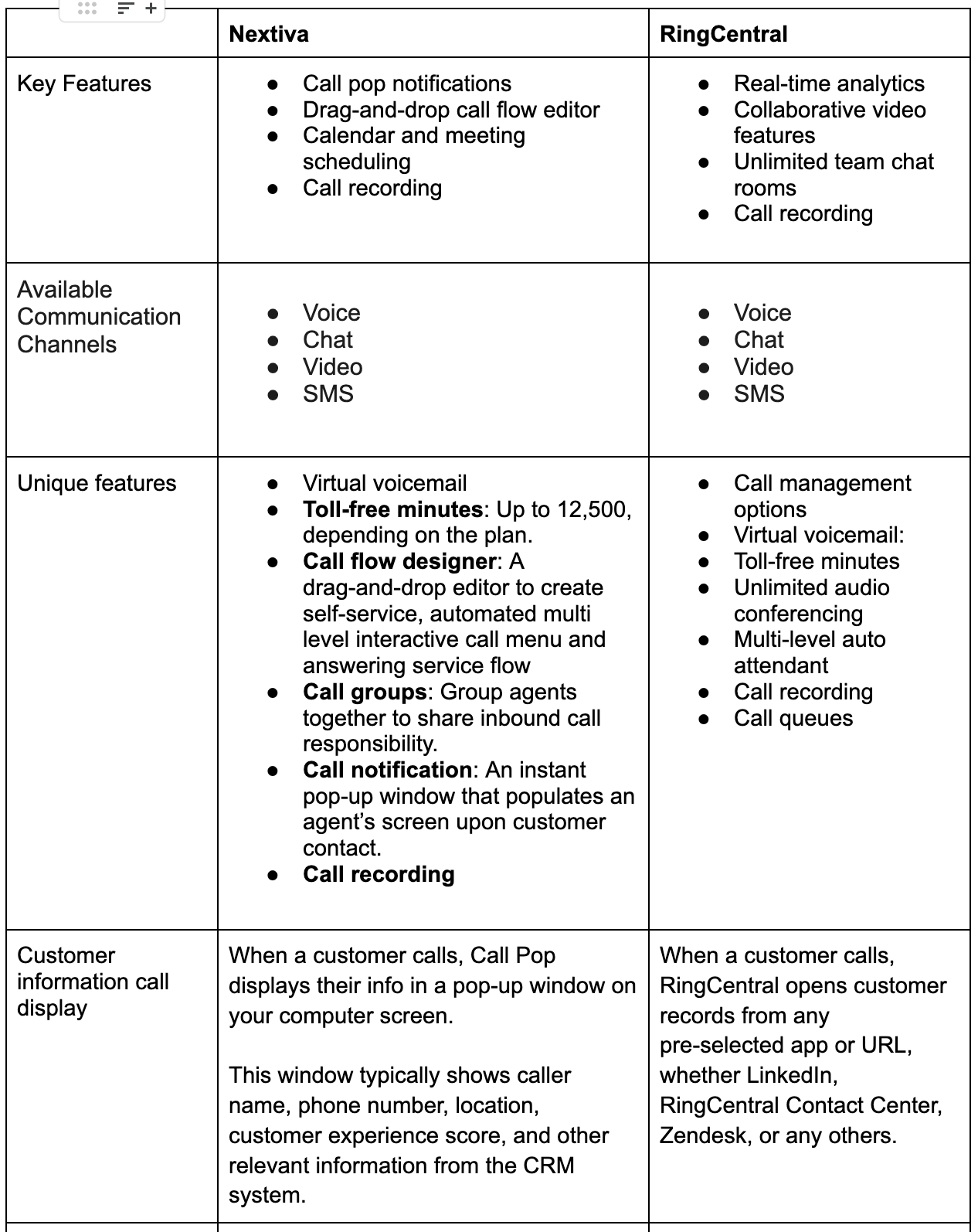 SECTION 7
Customer Support Comparison
Our takeaway: Nextiva's customer support wins based on response time, support agents, and response quality.
When comparing customer support, the quality of customer service may vary based on individual experiences and specific needs. 
Nextiva offers 24/7 live chat and online ticketing support. Larger accounts also get a dedicated account manager. Their support team has a reputation for being extremely responsive and knowledgeable.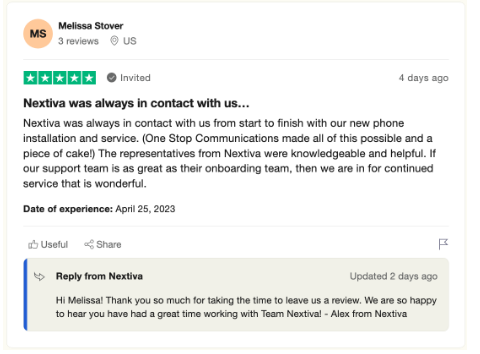 Source: Trustpilot
RingCentral also has live phone support, a knowledge base, a ticketing system, and 24/7 live chat.
Both services are helpful, but RingCentral support compares poorly to Nextiva overall.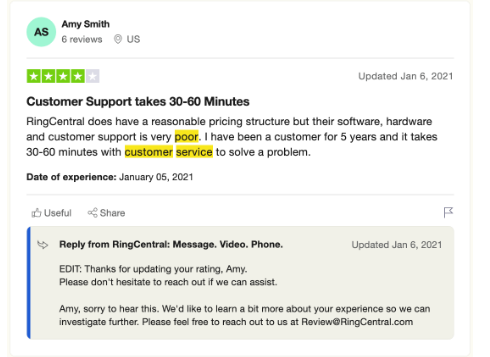 Source: Trustpilot
SECTION 8
Analytics Comparison
Our takeaway: Both Nextiva and RingCentral have best-in-class analytics capabilities. It's hard to choose a winner.
Nextiva's analytics – a core aspect of its services – are built into all of its products, including CRM and team collaboration tools. It offers valuable insights through highly visual charts and graphs.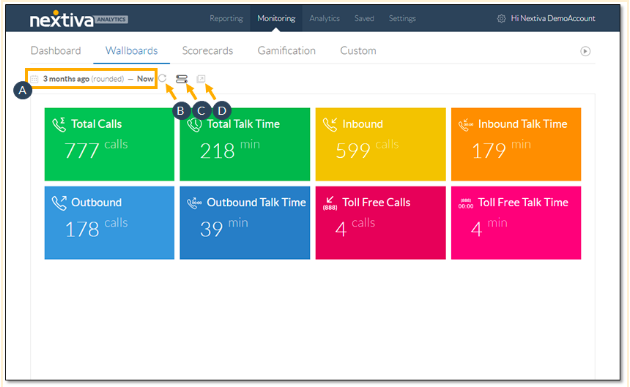 Source: Nextiva
The reporting dashboard provides a live view of which team members are available or on the call in a contact center at any time. It also features voice analytics offering a real-time overview of actions in your contact center.
Nextiva tracks team performance and individual employee productivity with custom reports and filters such as customer location, employee name, call subject, total talk time, incoming, outgoing, and missed calls, and other key performance indicators (KPIs). Additionally, its Analytics add-on is specifically designed for contact center monitoring.
Something unique to Nextiva – it shows call activity across different US states, helping determine the geographic distribution of customers. You can use this information to increase advertising efforts in countries with higher potential customer densities.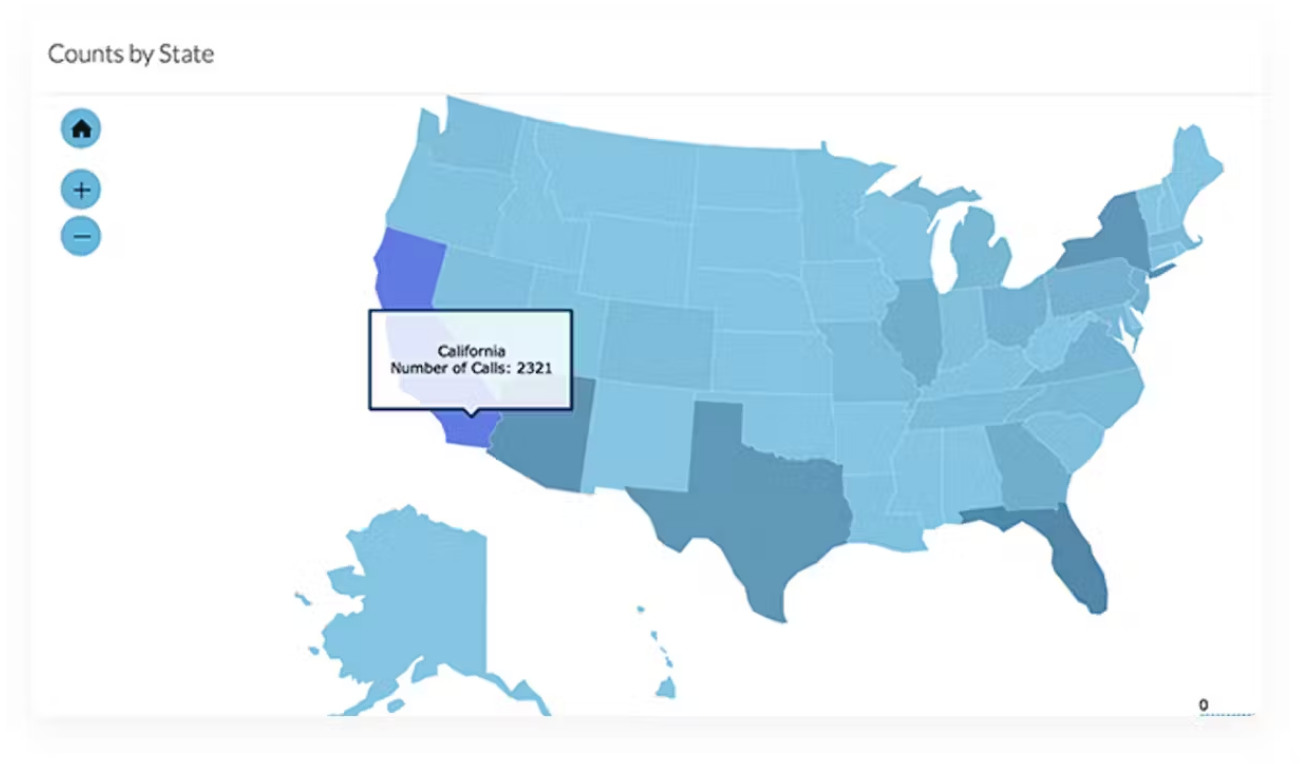 Source: Nextiva
RingCentral's analytics system is equally impressive, with an accessible analytics portal that breaks down metrics visually using customizable and pre-built report templates.
Some of the KPIs you can check:
How quickly an employee responded to customer inquiries.

How many customers were satisfied with an interaction?

The number of calls abandoned by the customer.

Calls answered per hour.

Average time of processing.

And other key performance indicators.
Like Nextiva, RingCentral's analytics are equally powerful. It's hard to say which platform offers better analytics. Evaluate both platforms and their analytics capabilities against your business needs, budget, and preferences before settling on one.
SECTION 9
Team Collaboration Comparison
Our takeaway: RingCentral has a better and richer suite of team collaboration tools than Nextiva.
Let's first see how team collaboration works in Nextiva.
Let's say you need a tool to communicate with your sales team about new account signups on your website. You also want different departments to coordinate and work together to keep the business running smoothly.
The NextivaONE app and Cospace can help a lot with this.
With the NextivaONE app, your team can communicate through one-on-one or group video meetings and audio and text calls. You can even add customers or leads to messaging groups and send them voicemails and file attachments. Overall, the app is great for team messaging.
Besides NextivaONE, Nextiva has another app called Cospace. It's a Zoom/Slack hybrid that lets you share messages, files, and updates.
Cospace's "persistent chat area" enables you to create a continuous video or audio meeting that teammates can join and drop out of when needed. This feature is especially valuable for remote workers as it mimics an office environment.
RingCentral is also a great choice, equipped with essential team collaboration tools. It offers video and audio (individual and group) and team messaging. The instant chat feature lets you send DMs to teammates or messages to a group. 
Like Slack, it has @mentions, notifications, conversation search features, file sharing, emojis, and more. It even allows you to create message threads for different projects. 
The persistent chat feature here is Team Huddle, where reps can drop in and out of a call anytime.
RingCentral's video conferencing capabilities are comparable to apps like Zoom. You get access to whiteboard functionality, the ability to draw, add shapes, sticky notes, text boxes, images, and more.
RingCentral's AI can generate video highlights and meeting summaries, which is useful for those who missed a meeting. Users can stay current by reviewing transcripts, searching by topic or keyword, and accessing automated action items and meeting notes.
Finally, RingCentral's task management tool comes in very handy. You can assign tasks to your team on the go, set due dates, and add recurring tasks.
As much as Nextiva won in all other comparisons, RingCentral has the edge when it comes to team collaboration features.
SECTION 10
Integrations Comparison
Our takeaway: RingCentral outperforms Nextiva in this area by the sheer number of integrations alone.
Nextiva offers a variety of integrations, but it depends on the plan you choose. Some of the major ones include:
Salesforce

HubSpot

Workbooks

NetSuite

Zendesk

Microsoft Outlook and Teams

And others
In contrast, RingCentral MVP has over 300 pre-built integrations in its App Gallery, including:
Microsoft 365

Google Workspace

HubSpot

Salesforce

JIRA

MailChimp

GitHub

and more
SECTION 11
CRM Capabilities Comparison
Our takeaway: Nextiva outshines RingCentral, boasting a fully-functional CRM as a key selling point, while RingCentral relies on third-party integrations for CRM access.
Nextiva's integrated CRM efficiently tracks every incoming and outgoing call and message. The customer satisfaction ratings serve as urgent signals to promptly address customer concerns and improve service. The information gathered by the CRM can influence your future marketing strategies and lead to better sales pitches. 
Another key customer management function is the sales automation tools. These automatically send personalized messages to customers based on where they are in the sales cycle.
For example, when a lead goes from "Qualified" to "Offer Made," Nextiva automatically sends a proposal email. Pretty neat.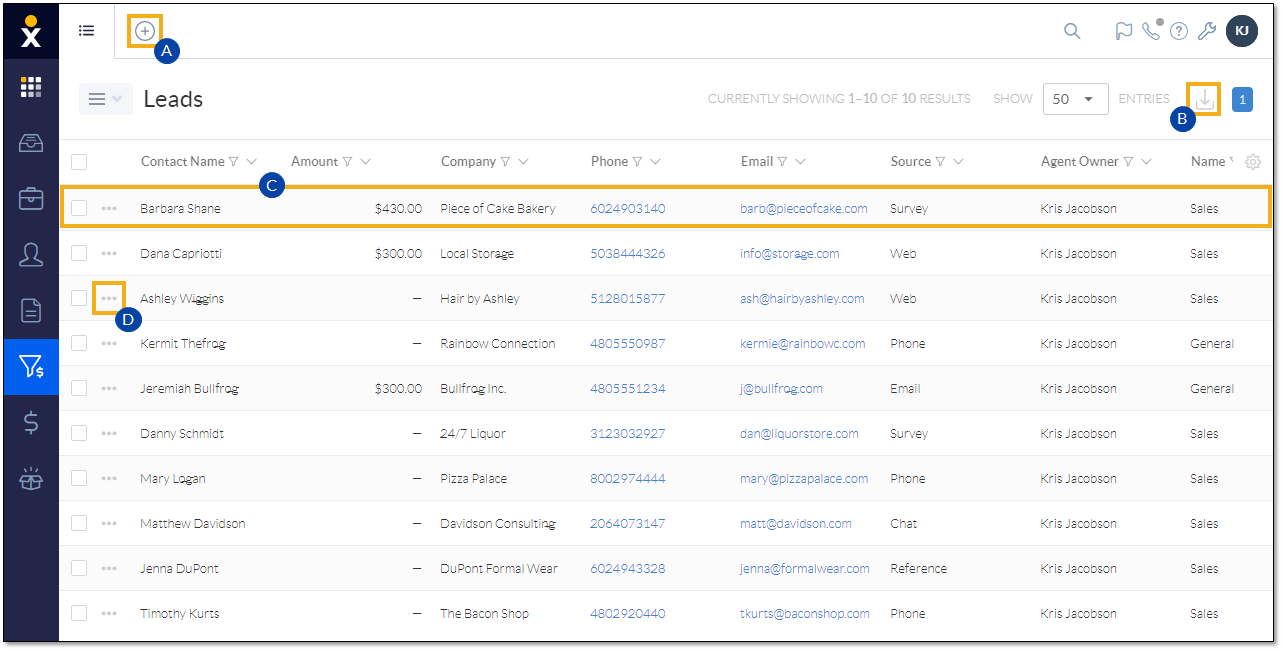 Source: Nextiva
The CRM gives easy access to customer information and allows making calls right from the dashboard. Its automation tools can also send automated follow-ups and customized emails, such as birthday discount codes, to celebrate special occasions.
However, if you're considering RingCentral, don't let the lack of an in-house CRM discourage you. It seamlessly integrates with popular CRMs like Salesforce, HubSpot, Freshworks, and Zoho. RingCentral remains a viable option if you have the budget for these tools.
SECTION 12
Final Thoughts: Nextiva or RingCentral?
Whether taking a customer call, talking to your teammates, or using a CRM to keep track of your customers and external/internal interactions, Nextiva helps do it all with one solution.
RingCentral is a great business cloud phone system with team collaboration features as additional functionality. It has many great features, but the lack of communication features and a CRM can be a big issue in business communication.
RingCentral is an excellent choice for reliable phone service with top-notch call management features.
Nextiva's collaboration tools and CRM automatically record every communication between your team and clients, whether an SMS or a phone call.
Automation features like email automation can send out messages based on specific triggers. In addition, automated messages such as follow-ups can be sent during different sales cycle stages.
The team collaboration features make remote work more accessible, and the analytics help you closely track your organization's performance and gain insights to improve it.
Get Nextiva for an all-in-one VoIP service mixed with Slack, Microsoft Teams, and Salesforce.
Additionally, if you need a business phone system for an international company, virtual phone numbers in South Africa, Asia, the United Kingdom, etc., and a solid phone system that has all the bells and whistles to make calls: call queuing, call recording, SMS, conference calls, video, audio, etc. and some collaboration features beyond that, such as team messaging, file sharing, shared notes, etc. RingCentral is a better fit for you.
But suppose you're looking for a slightly cheaper solution and are a US-based business that doesn't need an international number. In that case, you'll need a CRM and seamless UCaaS alongside all the solid phone system features of RingCentral (which Nextiva also offers);  everything works via an app – then Nextiva is a good choice for you.