LAST UPDATED ON September 22, 2023
Top 16 Nextiva Alternatives: Choose the Best in 2023
If you're reading this, chances are you've landed on this page searching for an alternative solution to Nextiva or a more cost-effective business phone system. Or maybe you're simply curious about the other alternatives available.
I don't blame you. I was in your shoes three months ago. Plus, it never hurts to look around!
When it comes to VoIP and business phone services, Nextiva has quite a dedicated user base. With over 100,000 customers and $200 million in revenue annually, it's a leading player in the VoIP market.
Nextiva offers small businesses (like mine) some cool features like unified communications, unlimited calling, remote collaboration, call analytics, and CRM tools. However, because needs and use cases vary from company to company, Nextiva isn't the definitive solution to every business communications problem.
My team and I decided to take three months to sign up and test 16 Nextiva alternatives. We tested business VoIP phone systems and Unified Communications as a Service (UCaaS) providers. In this article, we share our findings and present the top 16 Nextiva alternatives to consider in 2023.
Ready to check them out?
FYI: If you're pressed for time to read through them all, here's a little cheat sheet that compares the top three Nextiva alternatives and highlights the key features and use cases.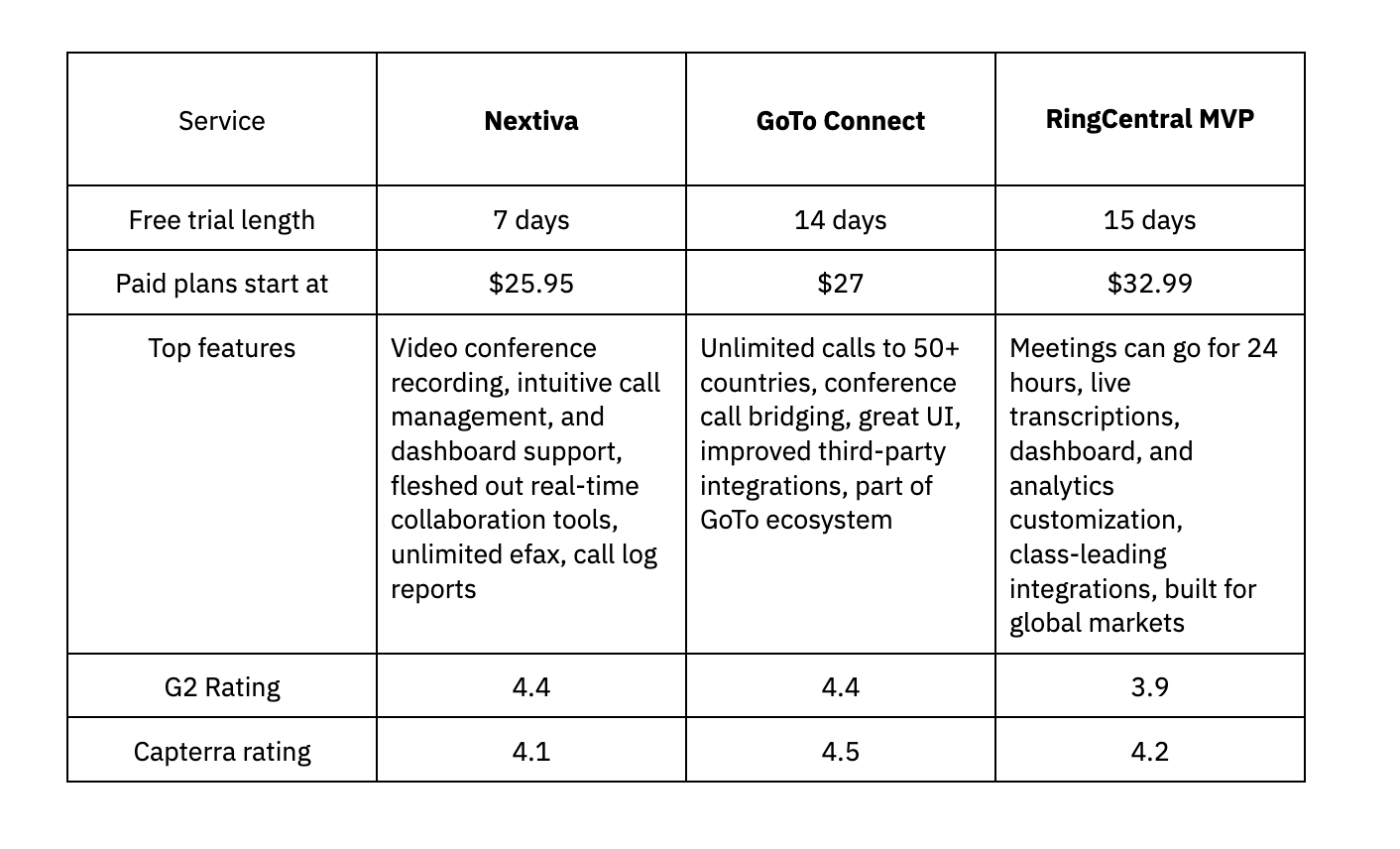 Ready to check out the alternatives? We'll talk about Nextiva and when you should pick it as a solution and then 16 alternatives. Let's roll.
Nextiva should be your pick if
Nextiva is a well-engineered UCaaS software helping modern businesses scale up and legacy businesses transform their support and communications infrastructures. What stood out most in our Nextiva review is the thoughtful features the company has baked into key VoIP tools.
1. You have a big team with a large workload
Nextiva is like a Swiss army knife of business communication. It packs phone calls, video calling, team messaging, analytics, and CRM in one tool. Instead of switching between multiple apps to coordinate with vendors, clients, and employees, you can use Nextiva's Cospace, NextOS, Phone System, and NextivaONE mobile apps to achieve your key performance indicators (KPIs) faster.
Above all, Nextiva's pricing strategy is designed to help large companies save more in the long run.
2. You value customization
A trusted VoIP provider will fit into your business model and that's what Nextiva does. It offers an array of customizations to improve productivity. From priority alerts, chat buttons, and hold music to wallboards, sales pipelines, analytics reports, and add-ons—you can customize a lot of features to make the Nextiva app work for you.
3. Ease of use is important to you
If you spend a few minutes checking out Nextiva's features, you'll see that its UX and UI have been crafted with thought and care. The layout makes it a user-friendly VoIP system, crucial for users from different technical backgrounds.
Nextiva Breakdown: Why It Might Be The Solution For You
As a business VoIP provider, Nextiva comes with a great set of Private Branch Exchange (PBX) and contact center features, a responsive user interface, and agile customer support. The Scottsdale-based company offers a 99.999% uptime guarantee and top-notch encryption to protect your systems and integrations (such as G Suite and Microsoft Teams) for smooth workflows.
Despite all the amazing features Nextiva offers, it might be overkill for small businesses or solopreneurs with light call traffic. Here are some key Nextiva features, pros and cons, and pricing to help you decide whether Nextiva is for you.
Best Nextiva Features
Stable HD video and audio conferencing

Visual voicemail

Busy lamp field

Professionally recorded greetings

Virtual phone number
Pros:
Unlimited calling for U.S. and Canadian customers

E-fax available for all users

Nextiva app is intuitive and easy to use

Responsive customer service
Cons:
No call recording in the base plan

SMS is not available in the base plan
Monthly Pricing
Essential plan:

A $18.95/user/month that includes unlimited voice and video calling, voicemail, toll-free numbers, Outlook/Google Contacts integrations, and unlimited e-fax.
Professional plan:

Costs $22.95/user/month, including everything in the Essential plan, plus unlimited conference calls for up to 40 participants, unlimited video conferencing, screen sharing, multi-tier auto attendant (multi-tier), and more integrations.

Enterprise plan: Priced at $32.95/user/month, packs everything in the Professional plan, plus unlimited participants on voice and video conferencing, call recording, unlimited video conference recording, voicemail transcription, custom Integrations, and Single Sign On (SSO).
Top 16 Nextiva Alternatives: Find the Best VoIP and Business Phone Service
Any VoIP phone service requires custom solutions based on the target audience, internal workflows, and growth challenges – something Nextiva cannot address alone. Here are some solid VoIP solutions keeping it company.
We've made this guide as comprehensive as possible so that you can make an informed decision. We have gone with monthly plan prices but you'll most likely save a little more with annual billings. 
GoTo Connect is one of the best Nextiva alternatives. It's effortless to implement without making too many backend changes. LogMeIn, the Boston, Massachusetts-based company, has provided remote collaboration tools since 2003. It rebranded to GoTo in 2022 to streamline its product lineup.
As part of the GoTo line of business and productivity apps, GoTo Connect offers a seamless UI, easy implementation, real-time collaboration features, and pricing flexibility. From porting existing numbers, call routing, international calling, and call switching to analytics, integrations, whispers, and barging, it covers all the essential features you need to improve sales productivity and boost morale.
What makes GoTo Connect unique is its number of features on the base plan compared to Nextiva. If you're running a small team, you'll save a lot more with GoTo Connect.
Best GoTo Connect Features
Call queues, ring groups, and auto attendants available for all users

Unlimited calls to 50+ countries in the higher plans

Conference call bridging for simultaneous phone and video conferences

A robust set of integrations available in the marketplace
Pros
Familiar ecosystem for GoToMeeting and GoToWebinar users

Intuitive video conferencing and meeting UI 

Queues and filters for incoming calls

The basic plan offers more value than Nextiva
Cons
Whispering and barging only available in the most premium plan

The support team could be improved
Monthly Pricing
Basic plan:

A $27/user/month plan that covers most video conferencing and phone service needs. 

Standard plan:

Costs $32/user/month, bumping up the meeting participants to 150 while adding PBX capabilities and some international territories.

Premium Tier: Costs $43/user/month and includes cloud contact center software and up to 250 participants.
GotoConnect vs. Nextiva
Nextiva offers better customer service than GoTo Connect. 

Daily reports and analytics are not as accurate or detailed as Nextiva

GoTo Connect's chat interface is not as advanced as Nextiva
RingCentral MVP (formerly RingCentral Office) is not only one of Nextiva's closest competitors but also one of the best business VoIP services you can use today. Based in Belmont, California, the company was founded in 1999 and has been offering business communication tools ever since.
RingCentral MVP has comprehensive features ideal for both growing and complex teams. If you're a Nextiva user looking for more third-party integrations and detailed call management features like call forwarding and screening at lower tiers or have a presence outside of the United States, RingCentral MVP is the go-to alternative.
Best RingCentral MVP Features
Meeting durations of up to 24 hours

Custom graphs and real-time service quality reports

Global phone numbers and localization

Live transcriptions and auto-follow feature to keep the speaker at the center of conversation
Pros
Powerful whiteboards for real-time collaboration

Wide range of call handling rules for inbound calls and dashboard customization

HD calls and intuitive video conferencing features

Up to 500 participants in video conferences 
Cons
Monthly Pricing
The cheapest RingCentral MVP plan

starts at $32.99/user/month and is strictly for small teams.

The standard plan

costs $40.99/user/month and includes Efax, unlimited users, and audio conferencing.

The premium plan

costs $47.99/user/month and offers automatic call recording, SSO, hot desking, and more integrations. 
*The plans become a lot more reasonable if you opt for annual billing.
RingCentral vs. Nextiva
Nextiva's introductory price is cheaper than RingCentral MVP. RingCentral also costs users more at renewal.

RingCentral's free trial gives new subscribers 50 minutes of domestic calls/user and it's limited to five users. Nextiva has a 7-day free trial.

Nextiva's cross-platform apps are built better and more consistent than RingCentral apps.
If you're already using Zoom, you might not have to look far for Nextiva alternatives. Founded in 2011, this San Jose, California-based company is arguably the most popular video conferencing tool today. Additionally, Zoom has a reputation for being a solid VoIP and contact center provider. Zoom Phone takes video meetings to the next level by combining workspaces, whiteboards, chat, third-party integrations, and PBX.
Best Zoom Features
3-way ad-hoc conference calls

Transfer calls between Zoom Meetings and Room

Virtual desktop environment support

Bring your own carrier to Zoom Phone
Pros
Extremely reliable cross-platform experience thanks to superior apps

All paid plans include the same features

Cheaper plans in comparison to Nextiva
Cons
SMS and chat features are limited

Conference quality suffers with a large audience
Monthly Pricing
Zoom plans are simple but offer no discounts when billed annually. 

The pay-as-you-go plan for U.S. and Canadian customers starts at $10/user/month, and the unlimited plan is $15. 

For true global VoIP operations, Zoom charges $20/user/month.
Zoom vs. Nextiva
Zoom customers can add up to 100 video conference participants, as opposed to 250 with Nextiva

Zoom's customer service team is difficult to reach for basic users

Zoom users need to pay separately for Zoom Pro to bypass the 40-minute meeting limit
Aircall is a clever little business phone tool that goes up against Nextiva by offering more features in the entry-level plan. It offers more integrations, better features in base plans, and responsive support teams to bite into Nextiva's market share. Originally founded in Paris in 2014, Aircall now has offices in New York, Paris, Sydney, London, Madrid, and Berlin.
Best Aircall Features
Concurrent outbound calls from the same number

Superior call documentation (note-taking, post-call tagging)

Call recording access for up to 1 year

API support for custom plan
Pros
More than 50 integrations are available for the most affordable plan

Warm transfers are available in the base plan

Hubspot, Zoho, Zendesk, Intercom integrations
Cons
Call quality can be buggy in slower connections

Random errors that make the service looks cheap
Monthly Pricing
Aircall's base plan

starts at $30/user/month, while the scale-up plan costs $50/user/month.

The advanced plan is billed annually and includes robust analytics and a power dialer.
AirCall vs. Nextiva
Aircall's call quality isn't consistent and tends to suffer during high call volume. Nextiva is ahead when it comes to call quality and reliability.

Aircall doesn't have native video calling features. You can use the Speakylink integration for video calls. But the experience isn't as good as Nextiva's native video conferencing features.
Launched in 2018, San Francisco's OpenPhone has quickly positioned itself as one of the most affordable, no-fuss UCaaS providers with clear pricing plans. Alongside the standard enterprise VoIP features, OpenPhone incorporates robust integrations and call-recording capabilities for the base plan.
Best OpenPhone Features
Custom "snippets" for canned responses and message templates

New phone numbers can be added only for $5

Slack and Zapier integrations

Virtual phone number
Pros
Team messaging for up to 10 contacts

Call recording available in the base plan

Plans are ideal for small teams
Cons
No phone number support for customers

Desktop UI isn't as polished as mobile apps
Monthly Pricing
OpenPhone plans start at $17/user/month and include most UCaaS features.

The advanced plan includes call transfers, advanced IVR, and HubSpot and Salesforce integrations, costing $25/user/month.

If you pay annually, you can save 20% on both plans.
OpenPhone vs.  Nextiva
OpenPhone offers only email support for Standard and Premium users. Nextiva offers 24/7 email, chat, and phone support to all users.

Unlike Nextiva, OpenPhone isn't yet HIPAA compliant. If you're in healthcare, this could be a deal breaker.

Nextiva has a 99.999% uptime guarantee. OpenPhone doesn't guarantee uptime.
Founded in 2004, Ooma Office is an out-and-out business VoIP vendor. It has a great phone call management system but lacks video conferencing features. If your use case is all about video meetings, choose Nextiva. Otherwise, Sunnyvale, California-based Ooma is a cheaper, call-centric alternative.
Best Ooma Features
Hot desking for hardware utilization

Virtual receptionist

Salesforce, Google, Office 365, Microsoft Teams, and Dynamics 365 integrations
Pros
An incredible range of call management features in every plan

Unlimited users at base plan 

Ooma Office is a rare VoIP vendor that focuses equally on hardware
Cons
Video conferencing is not available in the base plan

No uptime SLA
Monthly Pricing
The Essential Ooma plan starts at $19.95/user/month and covers 50+ calling features for SMBs. 

The Pro plan costs $24.95/user/month and adds video conferencing, better text messaging, and desktop apps. 

The Ooma Office Pro Plus tier costs $29.99/user/month and offers call queues, hot desking, and integrations.
Ooma vs. Nextiva
Ooma's most expensive plan can only handle up to 25 video participants, while Nextiva can accommodate up to 250 people.

Ooma Office has a limited set of integrations compared to Nextiva.

Unlike Nextiva, which has a 99.999% uptime guarantee, Ooma has no uptime guarantee.
Dialpad Talk is a cloud VoIP service that stands out as a lightweight and AI-powered Nextiva competitor. In fact, it's one of the best UCaaS software to use AI besides Google Voice. 
Founded in 2011, this San Francisco-based company has a unique voice intelligence feature for live transcriptions and notes. If you're a Nextiva user, you'll love that Dialpad Talk offers unlimited audio recording for all users.
Best Dialpad Features
Voice Intelligence for smart meeting assistance

Unlimited outbound calls and video meetings

Speech coaching for real-time feedback

G Suite, Microsoft 365, Azure AD SSO, and Zapier integrations
Pros
Local and international phone numbers

100% uptime SLA for enterprise users

Smartly tuned AI features create efficient workflows
Cons
Similar to Nextiva, the third-party integrations are limited in the base plan

Video conferencing is limited to 10 users
Monthly Pricing
Dialpad's base plan starts at $23/user/month and is one of the most value-packed entry-level plans you can find.

The Pro plan costs $35 per user per month but includes ring groups, global SMS, APIs, and webhooks.

If you pay annually, these plans can save you $8 to $10 monthly. 

You can also opt for a quote-based enterprise plan with SSOs, unlimited ring groups, and data retention policies.
Dialpad vs. Nextiva
Video participant limit is higher in Nextiva (250) than in Dialpad (10).

Dialpad's interface and workflows rely heavily on AI. If you're not fully into AI, Nextiva is a better fit for you.

Unlike Nextiva, Dialpad doesn't have a drag-and-drop call flow builder.
If you're just starting out and don't need a comprehensive solution like Nextiva VoIP, you can save a few bucks with 8×8. Founded in 1987, the Campbell, California-based 8×8 is one of the oldest cloud communication providers offering excellent value. 
It focuses solely on core UCaaS features, making it a good starting point for most users. You can also make unlimited international calls to up to 48 countries using 8×8. 
Best 8×8 Features
Basic and multi-level attendant for incoming calls

Unlimited and instant messaging experience

No hardware limitations
Pros
Auto attendant available in the base plan

500 video participants in X2 and X4 plans

30-day free trial
Cons
Customized greetings is a paid feature

No analytics in the base plan
Monthly Pricing
8×8 Express starts at $15/user/month and is specifically designed for small teams looking for core features like HD video and audio conferencing, unlimited calling in the U.S. and Canada, voicemail and SMS.

If you want to scale and get analytics, call queues, and more participants, you'll have to pay $24/user/month for the X2 plan.

The X4 plan costs $44 per user per month and offers voice calling in multiple countries, coaching, and supervisor analytics.
8×8 vs. Nextiva
8×8's analytics and dashboard are not as polished as Nextiva.

8×8 Express users don't have access to 24/7 live support. In comparison, all Nextiva users are eligible for 24/7 live support. 
Founded in 2007, Phone.com has been helping businesses ditch personal numbers for business and use existing phone hardware for unified communications. The good thing about Newark-based Phone.com is that it offers all the features you need and expect from a UCaaS provider competing with major VoIP players. 
But what stands out the most is the human touch, thanks to the live receptionist. If you're looking for core VoIP features but don't want to pay extra for Nextiva plans, Phone.com offers a cheaper alternative.
Best Phone.com Features
Live receptionist for greater flexibility

Easy to deploy and use

Additional phone numbers can be added for as low as $1.99
Pros
Efax available on all plans

Efficient customer service

Affordable plans
Cons
The number is video participants is limited to 100, even in the most premium plan

Third-party integrations are only available in the Pro plan
Monthly Pricing
Phone.com plans start fairly cheap. The basic plan starts at $14.99/user/month but is severely limited.

The Plus plan unlocks features for $19.99/month/user. 

The Pro plan costs $29/user/month.

You can get a 20% discount on all plans by paying annually.
Phone.com vs. Nextiva
Phone.com users can only accommodate up to 100 video participants on the most expensive plan. For Nextiva users, the limit is 250 participants.

It has fewer third-party integrations than Nextiva, and these are only available on the Pro plan.

Real-time analytics and overall KPI tracking are better in Nextiva.
San Francisco-based Zendesk isn't only a great customer service SaaS but also packs feature-rich VoIP for business phone service users. If you're both Nextiva and Zendesk users, you might want to check out Zendesk Talk before picking another Nextiva alternative. 
Since its founding in 2007 in Copenhagen, Denmark, Zendesk has refined its products to achieve near-ubiquitous status in the customer service and communications industry. Unlike Nextiva, Zendesk users don't have to pay separately for VoIP features.
Best Zendesk Features
After-hours routing customization

Superior analytics for outbound calls

Local and toll-free numbers
Pros
Part of the Zendesk ecosystem

Wide numbers of integrations

Easy onboarding 
Cons
Less value as a standalone service

Confusing product structure
Monthly Pricing
Zendesk doesn't have separate plans for VoIP since it's baked into all its main offers.

Zendesk Suite plan starts at $59/user/month and includes all VoIP features. 

If you need multilingual support and advanced features, the Suite Professional plan starts at $125/user/month, and the Suite Enterprise plan starts at $199/user/month. 

You save quite a lot by paying annually on all plans.
Zendesk Talk vs. Nextiva
Zendesk Talk focuses solely on voice calls, so it can't compete with Nextiva's video tools.

You cannot use Zendesk Talk without a Zendesk Support account, making it confusing for new users.

It's difficult to reach the Zendesk support team compared to Nextiva support.
If you're running a small team, Needham, Massachusetts-based Grasshopper is a perfect alternative to Nextiva. Since its launch in 2003, Grasshopper has focused on business audio communications. It doesn't offer video conferencing capabilities or team messaging. However, it more than makes up for it with robust phone call features and phone number-based pricing.
Best Grasshopper Features
Phone number-based, not user-based pricing

Instant response when an agent isn't available

Simultaneous call handling

Add-ons for Ruby live receptionist, call blasting, and professional greetings
Pros
Flexible plan switching at any time

Robust features for incoming calls

Same features on all plans

7-day free trial
Cons
No call recording 

No video conferencing

Severely limited integrations
Monthly Pricing
You can use all of Grasshopper's features for $26/month as long as you pay yearly to use one phone number and only three extensions.

The Partner plan includes 3 phone numbers and 6 extensions for $44/month.

The Small Business plan allows 5 phone numbers and unlimited extensions for $80/month.
Grasshopper vs. Nextiva
Grasshopper is aimed at small teams with simpler workflows. If you want to get more out of your VoIP, such as video calls or call recording, consider Nextiva.

Unlike Nextiva, Grasshopper doesn't have many essential integrations.

Nextiva's cross-platform apps are more polished than Grasshopper's, giving you a consistent and robust user experience.
Based in Holmdel, New Jersey, Vonage Business is a sleek Nextiva alternative that boasts advanced conferencing features and a unified communication UI. The company was founded in 1998 as Min-X but renamed Vonage in 2001 to expand into a global cloud communications company. 
If you're a productivity freak, you'll love Vonage's "never miss a call" strategy. It's superior to Nextiva VoIP as it offers more recording options and analytics as old as 18 months.
Vonage Business offers all the key VoIP features like unlimited calling and instant messaging on all plans for U.S. numbers, a 99.999% uptime guarantee, and a call continuity feature for offices with glitchy internet.
Best Vonage Features
One extension works on multiple devices

Simultaneous ring and call continuity

24/7 US-based customer support
Pros
Superior video conferencing UI and team collaboration features

Some features come as add-ons, helping small teams keep the cost down

20 third-party integrations
Cons
Unlike Nextiva, video participants are capped out at 100 in the premium plan.

Some essential features are add-ons that can add up to the price quickly.

No MMS support.
Monthly Pricing
The cheapest plan starts at $19.99/line/month and covers basic VoIP features. 

The premium plan starts at $29.99/line/month with multi-level auto attendant and CRM integrations. 

The advanced plan will set you back $39.99/line/month but brings on-demand call recordings and call groups.
Vonage Business plans are competitive, but your costs might rise significantly if you subscribe to paywall features.
Vonage vs. Nextiva
Call recording, monitoring, and queuing are add-ons in Vonage, whereas Nextiva includes these in all the plans.

With Nextiva, you can include more video participants (250) than Vonage (100).

Nextiva's Cospace outperforms Vonage in real-time

collaboration

capabilities. 
Founded in 2001 in San Ramon, California, Five9 is a remote collaboration service for customers and agents, and VoIP is an important part of its product line. Nextiva can be challenging when a large portion of your business is overseas. If you're looking for proven global call center software, Five9 is for you. However, keep in mind that VoIP features are not included in standalone plans. So if you use Five9, you might as well extract all the benefits from the plans.
Founded in 2001, the San Ramon, California-based Five9 is a remote customer and team collaboration service. VoIP is a big part of its product line. Using Nextiva can be challenging if a large part of your business is overseas. If you're looking for tried and tested global call center software, Five9 fits the bill. But remember that VoIP features don't come in Five9's standalone plans. So, if you use the platform, you might as well extract all the values from its plans.
Best Five9 Features
Smart automatic call distribution (ACD) improves agent performance 

Intelligent virtual agents (IVAs) for complex inbound calls

Workflow automation tools
Pros
Easy to use and customizable UI

Plenty of features for power users

Offers an in-built watered-down CRM
Cons
Geared toward mid-level and enterprise users

The cheapest plan starts at $149/month
Monthly Pricing
Five9 has 4 plans starting from $149/month and going all the way to $229/month. 

The base plan offers polished global call center software.

The top tier includes automations. 
Five9 vs. Nextiva
Nextiva allows small teams to onboard with cheaper plans. Five9's pricing strategy might put it out of reach for most users.

Unlike Nextiva, Five9 is an out-and-out enterprise software, which makes its customer support complex and difficult to reach.

The user interface is not as polished as Nextiva 
Mitel is an Ottawa, Canada-based UCaaS vendor offering a sought-after VoIP service called MiCloud Connect. It's worth noting that Mitel recently partnered with RingCentral MVP, allowing Mitel customers to use RingCentral's conferencing features. 
Founded in 2001, some of Mitel's legacy UI still exists – making it a challenge for complex teams as the mobile apps are not as refined as Nextiva. 
Best Mitel Features
Intuitive call flow editor

Mitel users get a 90-day satisfaction guarantee

Messages, calls, and recordings are stored for 7 years
Pros
The base plan offers unlimited outbound and inbound local minutes and a direct inward dial (DID) number

Some advanced PBX features are available in the base plan

Mix and match service
Cons
Video conferencing is limited to 100 participants in the premium tier

Confusing profile upgrades make users unsure of ROI
Monthly Pricing
Mitel's MiCloud Connect plans start at $20.99/user/month and come with basic PBX features. 

The middle tier offers CRM integrations and call recording for $26.59/user/month.

The Elite tier adds 7 years of archiving for $38.49/user/month.
Mitel vs. Nextiva
Mitel's customer support is not on par with Nextiva.

Nextiva allows more video participants (250) than Mitel (100).

Mitel's future roadmap isn't as clear and defined as Nextiva's.
Fusion Connect is an Atlanta, Georgia-based managed services provider (MSP) with a solid hosted VoIP product called FusionWorks. While Nextiva primarily focuses on UCaaS, Fusion Connect also offers managed hardware connectivity and security services since its inception in 1997. If you've used Microsoft or any of the company's managed services, you might be familiar with Fusion Connect's phone and UCaaS services.
Best Fusion Connect Features
Diversion inhibitor to prevent redirection

One number calling from any device

Microsoft Dynamics integrations
Pros
100% uptime guarantee

Up to 1000 participants for video conferencing

Up to 13 participants can be added to an active call
Cons
A lot of features are part of UCaaS services 

Unclear pricing structure
Monthly Pricing
Fusion Connect doesn't have plans advertised on its website, but the base FusionWorks plan starts at $19.95/month. That's typical of MSPs and managed connectivity providers (MCPs).

You'd have to call sales for a quote based on your use cases. 
FusionConnect vs. Nextiva
Fusion Connect's VoIP products lack a transparent pricing strategy

Fusion has fine print for contract termination fees. Nextiva, on the other hand, offers a straightforward product

Fusion Connect's customer support team is far behind Nextiva
If you're managing a small team and want a fixed plan, Manhattan-based OnSIP is one of the best alternatives to Nextiva. ACD queues, business hours rules, and ring groups are among its most popular features. 
However, its proprietary consumer interaction feature called "sayso" stands out the most. Founded in 2004, OnSIP relies on phone calls similar to Ooma, so omnichannel messaging and integrations are limited. 
Best OnSIP Features
sayso can be embedded in websites for improved omnichannel communication

Seamless dashboards and desktop, web, and mobile apps

Unlimited calling is extended to 21 countries
Pros
Simple, easy-to-use UI for new users

Plans for users with low call volume
Cons
No SMS or chat support

Add-on features are expensive
Monthly Pricing
OnSIP has a unique, affordable pricing plan at $18.95/user/month that covers all services, but some features like advanced ACD queuing, busy lamp field, and inbound bridge are offered as add-ons.

If you have a small team and don't mind usage caps, there's a custom plan for $49.95.
OnSip vs. Nextiva
Even though OnSIP's "sayso" implementation for video and chat support is clever, it lacks the SMS support of Nextiva.

Unlike Nextiva, OnSIP's third-party integration is severely limited.
What's the Best Nextiva Alternative? How Do You Choose One?
Business phone system and VoIP market is filled with UCaaS tools from both legacy enterprise players and small businesses. Nextiva is a big part of this market, but unified communication isn't a plug-and-play service for all users.
Some users find benefits in RingCentral due to its scalability and expertise in collaboration. Others may prefer 8×8 for its feature-rich VoIP services and contact center capabilities. Small businesses might consider options like Vonage and Grasshopper, while larger enterprises would likely look for a tool like GoTo Connect that offers video conferencing at scale – the options are plenty.
It's important to read the fine print, compare integrations, support, add-ons, and essential features, to find the perfect Nextiva alternative for your needs. We've listed, argued, and tried to lay bare all you must know before choosing your ideal business phone service. Best of luck!