LAST UPDATED ON November 28, 2022
Top 8 Ad Tracking Software Tools for 2022: Tried Tested & Rated
Data is vital when it comes to knowing how well your advertising campaigns are performing. Make sure you are using ad tracking software to get it.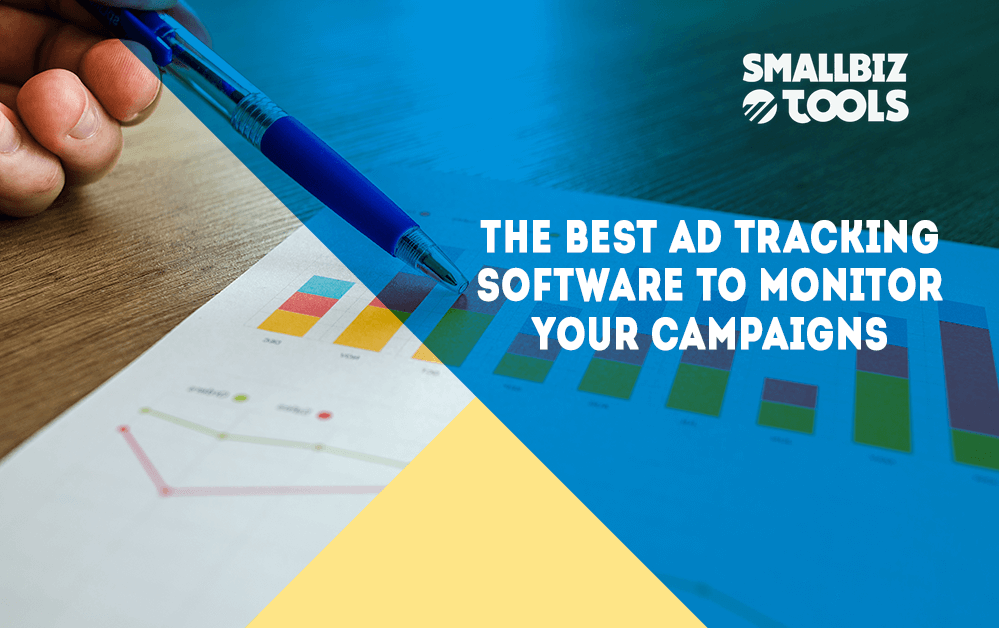 When people invest in any sort of marketing, from radio ads to content writing services, they're always aiming to see the highest possible return on their investment. However, it's difficult to know what's driving said ROI. 
Is it customer traffic? 
Is it conversions? 
What about social media interactions? 
All of these can play a role. Ad tracking software puts the answers at your fingertips and helps you make informed marketing decisions..  
SECTION 1
Why Do You Need Ad Tracking Software?
Ad tracking software is part of the greater umbrella known as campaign management software. Some people use them interchangeably, and there's a reason for that. Those in charge of major advertising campaigns are often juggling several different mediums and tasks simultaneously. They need simplification. They need their analytics tools to provide clarity and simplicity. The same applies to small business owners too.
Ad tracking software is designed to help people make the most educated decisions possible, whether they're running a marketing campaign or a small business. This means capturing data on the success and conversion rates you are getting through ads. With tracking, it's a lot easier to determine whether a campaign is successful or not. 
Here are some of the top ad tracking software options and a quick guide to picking the right one and getting the most out of it.
SECTION 2
Top 8 Ad Tracking Software Tools
Let's start the roundup…
Everflow.io
Everflow.io is an affiliate tracking platform. Affiliate marketing is a good match for ad tracking software because there are often multiple links that you need to monitor at the same time. If your marketing relies heavily on an affiliate network, affiliate tracking will help you gauge your effectiveness.
Pricing: $395 per month for up to 50,000 clicks
Pros: 
Cons: 
Expensive.

Advanced features require advanced skills.
Bitly is a solid fit for someone who wants to get started with ad tracking software but doesn't have a large budget. 
Pricing: Free! Paid plans start at $29 per month.
Pros: 
Best-in-class link shortening and customization. 

Best-in-class at a lot of things. This is the best link tracking option for most small business users (and big businesses too–according to Bitly, 2 out of 3 Fortune 500s use their software). And you can't beat the price. 

Cloud-based
Cons: 
Bitly doesn't provide tracking reports. 

Lacks some features that more expensive competitors offer.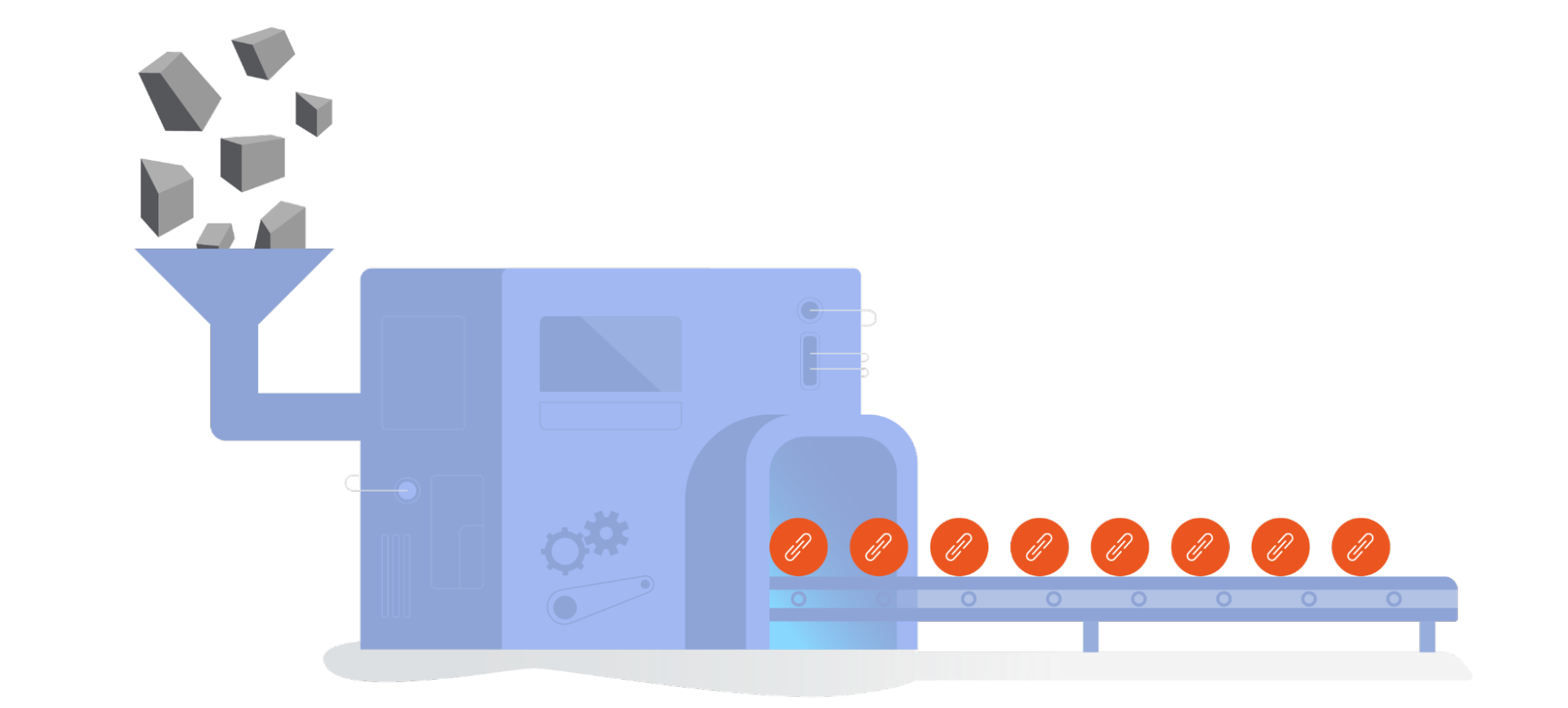 Image: Bitly 
If the benefits of Bitly sound great and you're willing to pay more to get to the next level, Linktrackr is a good match. This ad tracking software is also cloud-based and it tracks conversions as well as sales generated from your ads. 
Pricing: $9 – $60 per month
Pros: 
Impressive array of features without being overwhelming.

Well organized and easy to use.

Includes split testing features. 
Cons: 
Affiliate tracking software that can grow with your business, starting with a feature-packed free version. Peerclick's greatest strength is its focus on ROI.
Pricing: Free! Paid plans range from $99 – $649 per month
Pros: 
The free version is outstanding. 
Cons: 
Steep jump in price between the free version and the lowest-paid tier. There are comparable platforms out there at a lower price, like Linktrackr. 
Affiliate tracking featuring all the integrations you could want and a sleek platform to keep everything organized. 
Pricing: $69 – 999 per month. According to Voluum's website, the most popular plan is $149 per month.
Pros: 
Tons of integrations, 40+ to be exact.

Contemporary design and intuitive UX–a nice-to-have considering some of Voluum's competitors look like spam sites from a decade ago.
Cons: 
ClickMeter generates reports on the performance of tracking links. Its scalable design covers everything from the needs of a small business with one domain all the way up to an agency tracking several domains for clients. 
Pricing: $29 – 349 per month. The most popular plan is $99 per month.
Pros: 
Cons: 
The web version is clunky.

Advanced tools might be overkill for small business owners doing it themselves. Professional marketers will get the most out of ClickMeter.
A one-stop option for many businesses. AdsBridge's designers seem to have thought of everything, including a handy landing page builder. 
Pricing: $29 – 379 per month. The most popular plan is $89 per month. 
Pros: 
Good for multiple users and teams. 

Impressive reporting and data.   
Cons: 
Some users have reported speed issues. 
A simple, reasonably priced tool that covers all the basics of tracking and reporting. 
Pricing: The "standard" plan is $29 per month. The "enterprise" plan is $79 per month.
Pros: 
The "enterprise" level is a good value compared to similar tools. 

Helpful explainer videos. 
Cons: 
It seems to be a "me too" product bringing nothing special to the table besides a good price. Nothing about their website speaks to a strong brand identity or tells you who it's for.
SECTION 11
Ad Tracking Features Compared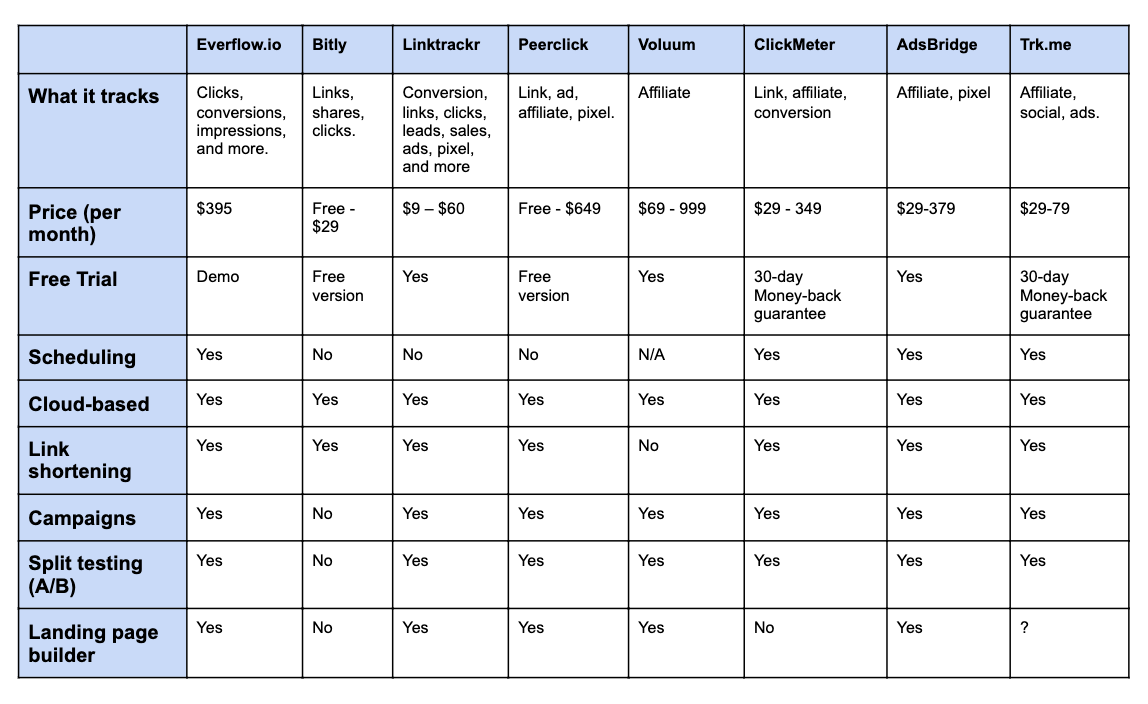 *Note: Chart is based on information from each company's website. The purpose is to give you a quick comparison of these platforms and is by no means an exhaustive list of all available features and functionality. Check product websites for more info.
SECTION 12
Ad Tracking Benefits
As the old saying goes, knowledge is power. Ad tracking gives you advanced knowledge about your customers and their behavior. This knowledge gives you the power to drive conversions with content tailored to your audience. 
Ad tracking helps you learn more about your customers 
Tracking answers a ton of questions: 
How do visitors find you?
What do they do when they're on your site?
Knowing the answers to these questions helps you make better marketing decisions and get a higher return on your ad spend. 
Ad tracking helps you improve your content and campaigns
Tracking will tell you if a campaign is working. If it isn't, tracking will help you figure out why. 
Suppose your ad is getting a lot of clicks, but people are bouncing the second they get to your site. In that case, you may have SEO problems. Or your site may just need work. 
On the other hand, if they're staying on your sales page for a while but they're not converting, you may have issues with your offer, product images, and/or checkout. More tracking will help you narrow it down. 
On the content marketing side of things, tracking will point you to the right content for your audience. Search terms and traffic data will tell you which keywords to target and which ones bring folks to your site and which posts attract their attention once they're on it. 
Ad tracking helps you convert
When people say "valuable" content, they're talking about relevance. Info from ad tracking helps you drive conversion through relevance. By honing your branding, messaging, and offer according to tracking insights, you'll reach the right people with your advertising campaign. 
It will also cost less to convert them. As a result, your revenue will be higher than if you didn't target your marketing.
Image: Flickr
SECTION 13
How to Track Ads Like a Pro
Ad tracking is like the nervous system of the digital economy. It's one of those things we don't often think about because it's all around us. Google and Facebook make their money on ads. And tracking is the reason they're able to deliver such impressive returns on ad spend and charge a premium for competitive search terms. 
When you get into the tracking game as a small business, there's no limit to the kind of data you can collect or how much. The real challenge is to focus on tracking the right data points via link tracking. 
The three key pieces of data a small business should be tracking are: 
Traffic sources
Where is your traffic coming from? What keywords are people using to find you? And who are these people? Where do they live? Are they iPhone users or Android users? Traffic info can tell you all of this and more.
Click-through rate (CTR)
Of the people who see your ad or your post, how many click through to your website?
Conversion
Of the people who click through, how many make a purchase?  Conversion tracking will tell you.
SECTION 15
How to track an ad 
There are several ways to track. Most platforms sort all of this out automatically (you won't have to make a pixel on your own or build tracking code into a link), but it helps to know how tracking works and the different ways it can be done. 
Link tracking 
This is the simplest form of tracking. For most businesses, it's probably also the most useful. URL tracking will send you information about who clicks your link anywhere that link is shared.
Affiliate link tracking 
Link tracking is handy for affiliate marketing. With a special affiliate link, you can track the source of a shared link and reward your affiliate network for sharing it. 
Pixel tracking 
A pixel is a tiny transparent image built into your emails or banner ads that transmits information about customer behavior back to you. A tracking pixel can tell you a lot of things like how many people saw your ad, how long they viewed it for, and how many of them clicked. 
Facebook Ad Tracking 
The Facebook ad tracking pixel gives you unique insights into how Facebook users interact with your page. This will help you design more targeted and relevant ads and boost your Facebook advertising ROI. Google Ads and other ad platforms feature similar built-in ad trackers. 
Cookies
Cookies track user behavior on your website and help you design retargeted ads aimed at repeat visitors. 
SECTION 16
Features to look for when choosing ad tracking software
Here are a few things to look for in tracking software. Not all are must-haves. When in doubt, go with the most straightforward tool that will still get the job done. You can always upgrade later. 
Key tracking features and what they do
Link shortening
Link shortening makes your links easier to track and easier for your audience to share on social media. Bitly, the best link shortener around, happens to be free.
Campaigns 
Ads don't exist in a vacuum. They're usually part of a broader campaign. A campaign feature lets your plan, execute, and track an ad campaign. 
Scheduling
The time of day your posts and ads appear can make a big difference. Scheduling helps you nail your timing. Tracking will give you feedback about the best times to post. 
Split testing (or A/B testing)


Run two ads at once and see which performs better. One of the best things about tracking is it lets you test your marketing.

Landing page builders


You can use an ad to send people to a landing page with an offer or signup form and track their behavior when they get there.  If your tracking software doesn't have a dedicated landing page builder, be sure it can integrate with one. 

Get the right type of ad tracking software for your needs 
Your tracking options are virtually endless. And that's a problem. There's only so much you need to track. Ad tracking isn't about tracking all the data. It's about tracking the right landing page metrics data. 
Avoid data overwhelm 
For most small businesses, ad tracking will give you more data than you need. This is a problem because sorting through data for the relevant points you need is a massive waste of time. Look for ad tracking software that allows you to focus on the metrics that matter most.
Get the right tracking for your platforms
The right ad tracking software depends on the platform where you do your advertising. If you run a lot of Facebook ads, Facebook ad tracking is a no-brainer. If you're doing an email campaign, throw a tracking pixel in there. 
Make sure you stay compliant 
Be sure that your tracking software includes compliant features such as opt-ins. You don't have to be a legal expert or hire one to do ad tracking, but you should be aware of privacy rules. 
When you're choosing what to track, only focus on data points that are relevant to the customer's relationship with your business (like the metrics we mentioned above). Avoid anything that feels like snooping.
Small businesses need to remember that the internet gives them global reach. Your brick-and-mortar shop might only do business in Rhode Island, but your website is accessible in France and Estonia. If you violate the rules on the other side of the pond (see below), it could hurt your search engine ranking at home.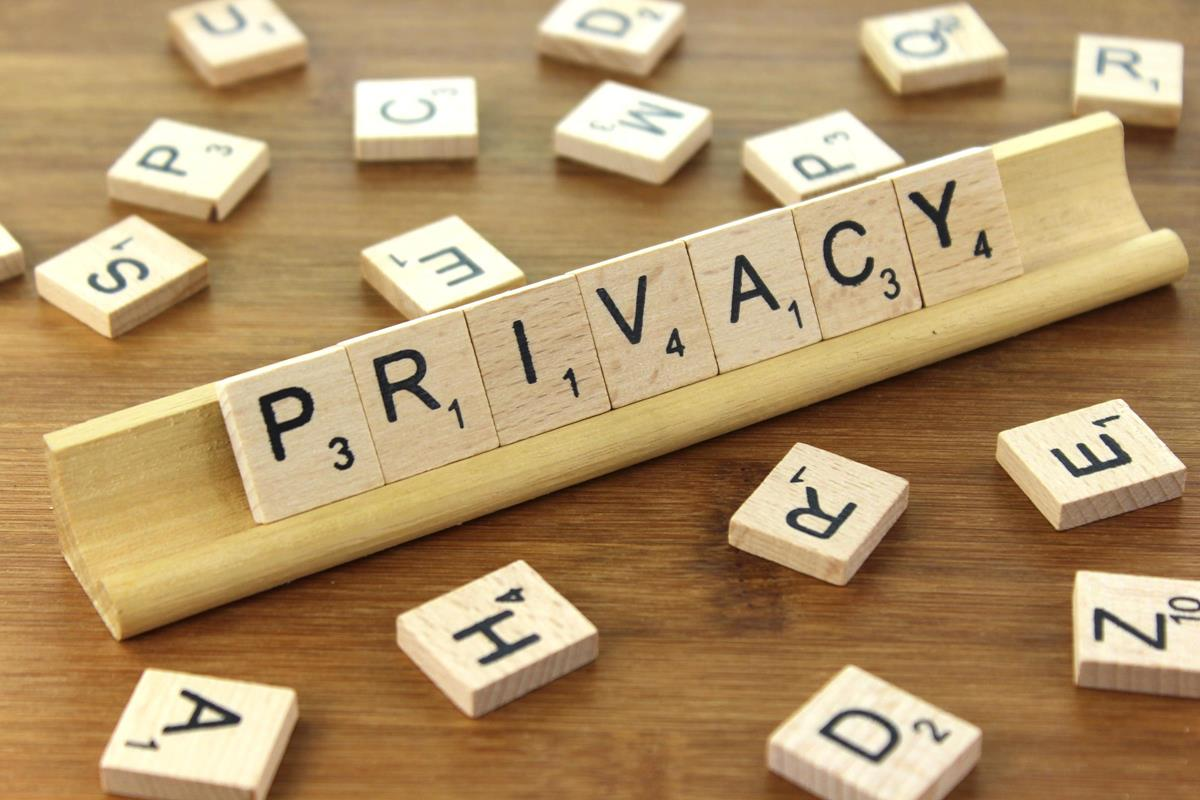 Image: NousEurope
 
GDPR 
The European Union has strict privacy laws that require consent for cookies and tracking. 
If you violate these rules from outside the EU, your traffic could suffer. If you do business in Europe and violate GDPR, you'll face severe fines. 
See if your ad tracking software has a GDPR compliance feature, and be sure it's turned on. 
For email signups and subscriptions, this means you need a clear opt-in. Most signup forms have a GDPR feature. 
FTC regulations
In the United States, the FTC (Federal Trade Commission) regulates "behavioral advertising" such as ad tracking. Check with them if you have any questions about the rules.
Watch out for click fraud
Click fraud is when a third party targets your pay-per-click (PPC) ads by clicking with no intent to buy or having a bot do so over and over again. This can lead to all sorts of costs, headaches, and legal issues. But it can be easily prevented if your tracking platform has security features to avoid it. 
Any type of fraudulent activity such as PPC fraud can lead to identity fraud and worse, according to Aura – a leader in detecting fraud and identity theft:
Every 7 seconds there's a victim of identity theft and there has been Over 2X increase in identity theft cases in the past year.
SECTION 17
Knowledge is Power. Tracking is How You Get it
Ad tracking software takes the guesswork out of content marketing and digital advertising. It's how you drive more traffic, more conversions, and more marketing ROI. 
With so many platforms out there and so many pieces of data to collect, the businesses that get the most out of tracking will be the ones who know what to track and know which tracking tool is right for their needs. We hope this guide has helped point you in the right direction.