LAST UPDATED ON June 26, 2023
Identityforce vs. Lifelock: Which Wins? Why Aura Beats Both
IdentityForce vs. LifeLock: one's better for budgets, the other for features. A third option (Aura) beats them both. Let's compare all the pros + cons now:
Identity theft has become a prevalent and costly threat, with Americans losing billions of dollars to cybercriminals each year.
None of us are immune to having our identity stolen, making it crucial for all of us to take proactive measures for protection.
The good news is that there are a variety of identity protection services on thee market, each with its own set of features. Among these options, IdentityForce and LifeLock have gained significant popularity.
In this article, we will conduct a detailed comparison of these two leading identity protection tools, enabling you to make an informed decision that best suits the needs of you and your family.
Let's dive into the analysis!
—
Need a quick rundown to settle your IdentityForce vs. LifeLock comparison?
See the chart below of the complete comparison and here is our final verdict:
Our Final Verdict: Aura beats both Lifelock and Identityforce because:
Aura starts at $12/mo and does not hike prices on you like Lifelock or IdentityForce
Aura has all the features of both of Lifelock and IdentityForce
Aura delivers complete identity theft coverage
IdentityForce is a younger company with a lot of features for identity theft protection. Lifelock is an older company which provides a similar feature set at a cheaper price for the first year but hikes the price on you starting second year. Take a look at the feature comparison of Identityforce vs. Lifelock below.
IdentityForce vs. LifeLock at a glance
| | Aura | IdentityForce | Lifelock |
| --- | --- | --- | --- |
| Free Trial | 14-day | 30-day | No |
| Money Back Gurantee | 60 day | No | 60 day |
| 24/7 customer service | Yes | Yes | Yes |
| Fraud monitoring | Yes | Yes | Yes |
| Bank & Credit Card Activity Alerts | Yes | Yes | Yes (not on standard plan) |
| Investment Account Alerts | Yes | Yes | Yes (ultimate plan only) |
| Dark web monitoring | Yes | Yes | Yes |
| Change of address monitoring | Yes | Yes | Yes |
| Crime in your name monitoring | Yes | Yes | Yes (not on standard plan) |
| Sex offender registry monitoring | Yes | Yes | Yes (ultimate plan only) |
| Home Title monitoring | Yes | No | Yes (ultimate plan only) |
| Social media identity monitoring | Yes | No | Yes (ultimate plan only) |
| Credit monitoring | Yes | Yes on UltraSecure Plan Only | Yes (ultimate and higher paying plans only) |
| VPN | Yes | Yes | No |
| Lost wallet assistance | Yes | Yes | Yes |
| Credit Freeze/Lock | Yes | Yes on UltraSecure plan only | Yes (not on standard plan) |
| PC Protection Tools/Antivirus | Yes | Yes | No |
| Stolen Funds replacement | Up to $1M | Up to $1M | Between $25K - $1M depending on plan |
| Identity Theft Insurance | Up to $1M | Up to $1M | Up to $1M |
| | Try Aura Free | | |
Aura beats both IdentityForce and Lifelock simply because it's cheaper, better customer service and has all the features the other two have.
We don't have to tell you the stats on identity theft aren't looking up. Almost a third of Americans have become victims of identity thieves. The FTC received 5.7 million fraud and identity theft reports in 2021 alone. So learning which identity theft protection service provides the best bang for your buck is a smart move.
In this article, we'll analyze how LifeLock and IdentityForce, two of the most popular ID theft protection services on the market right now, stack up against each other. To fairly compare both solutions, we used identity theft protection service Aura.com as a standard, common baseline.
Ready? Let's roll.
The US has three major credit reporting bureaus: TransUnion, Experian, and Equifax. IdentityForce is a TransUnion brand. So it claims a "legacy" in identity protection that spans over 40 years.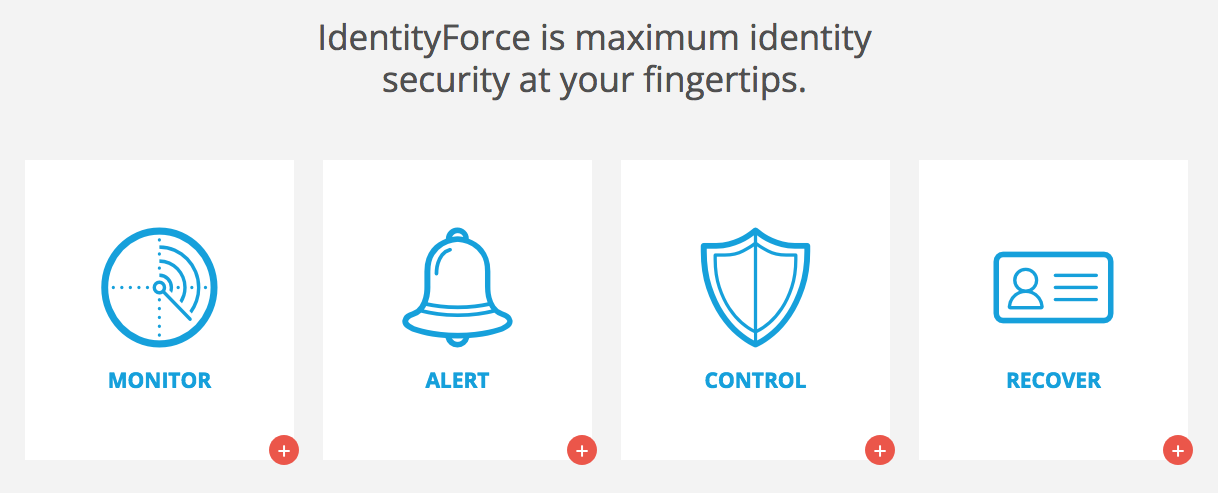 IdentityForce offers two subscription options. The basic plan includes tons of fraud monitoring features consumers are looking for. The higher-priced tier provides access to credit monitoring, credit reports, and credit score updates.
We'll compare both protection plans to see what you're really getting for your investment.
LifeLock has been providing identity theft protection services since 2005, racking up nearly 50 million customers along the way. Security company Norton acquired LifeLock in 2017. Three out of four Norton 360 subscription plans now include LifeLock identity theft protection.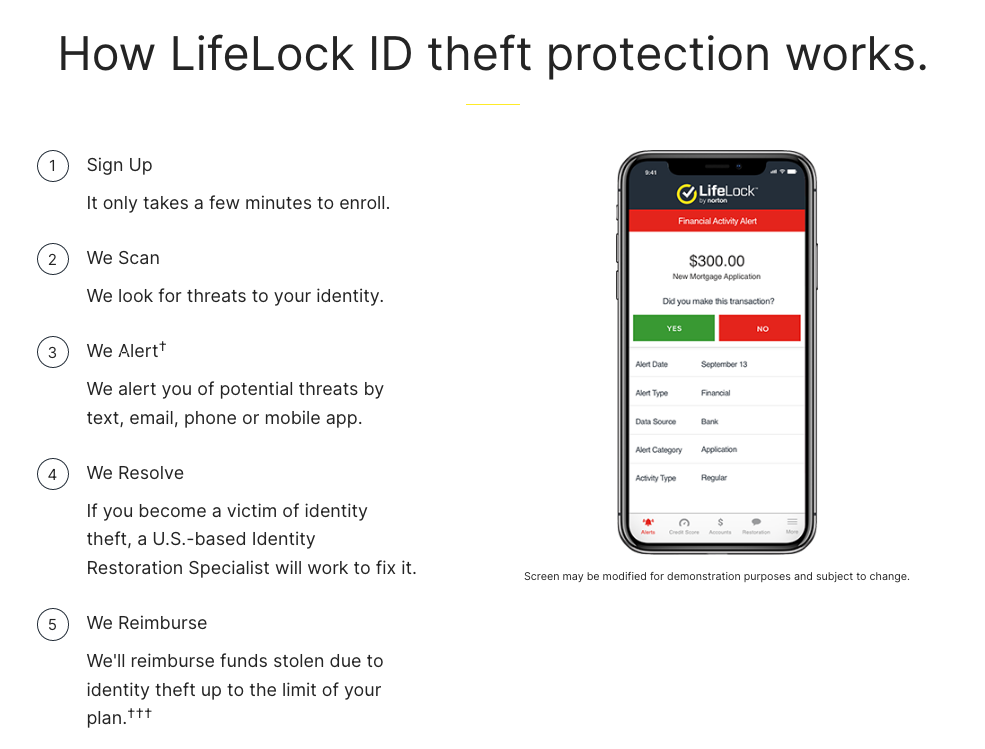 LifeLock gives consumers three subscription plans to choose from. Standard plans come with basic ID theft protection features. Upgrading to Advantage or Ultimate Plus subscriptions offer more coverage, but they also cost double or triple the price, respectively.
So let's discuss the best way to compare the features, pros, cons, and prices between IdentityForce and LifeLock.
How To Choose One Solution: IdentityForce vs. LifeLock
The best way to compare IdentityForce vs. LifeLock is by looking at what's included in a subscription. ID theft protection plans typically provide:
Identity theft and financial fraud monitoring

Bank and credit card monitoring with account activity alerts

Credit profile monitoring, credit reports, and credit score updates

Criminal record and sex offender registry monitoring

Online and device security tools

24/7 customer support

Identity theft insurance and identity restoration help
So how do you choose between two solutions offering similar features?
It might help to write out a list of your must-haves and personalize your decision based on these needs. 
For example, if you've been a victim of identity theft before, you're actually more likely to become a repeat target for ID thieves. So you should look for subscriptions with credit monitoring and account activity alerts.
Similarly, active social media users have a 46% higher risk of identity fraud. Subscriptions that include social media monitoring may be wise here.
You should also consider which features you're willing to pay extra for. 
Let's say you're a renter who frequently travels for work. You may not need a subscription that includes home title monitoring. But a plan with a VPN and online security tools will be worth the peace of mind when working on Wi-Fi at the airport or your hotel.
This comparison guide highlights all the features offered in both IdentityForce and LifeLock subscriptions. So you'll be able to see which company's plan best fits your needs and budget.
IdentityForce vs. LifeLock Features Comparison
ID theft & financial fraud protection features
Identity monitoring feature
Every identity theft protection service has a mission to protect your personal data from identity thieves. That takes 24/7 monitoring of information like your name, address, Social Security Number, driver's license number, etc. 
Identity alerts warn you if someone tries to use your personal information (to take out a payday loan in your name, for example). Same goes for if your information has been exposed due to a data breach, lost ID, or stolen wallet.
IdentityForce and LifeLock both offer identity monitoring services and threat alerts. You'll receive these alerts in each company's mobile app (both available for Android and iOS devices). 
Alternatively we found that Aura is a more comprehensive solution, it's all-in-one identity theft protection features monitors all your personal info, accounts, credit, IDs, and whatever you add into the system manually. It's much easier to use.
Here's what an alert from Aura may look like:
Dark Web monitoring feature
Cybercriminals buy leaked personal data like an SSN for as little as $5 on the Dark Web. LifeLock and IdentityForce both patrol this underground market for you. IdentityForce provides more detailed reports and determines the actual risk to your identity. 
In comparison you can run a free Dark Web scan with Aura to see what this looks like.
Financial account monitoring feature
IdentityForce keeps an eye on your bank, credit card, and investment accounts. Suspicious activity or transactions trigger account activity alerts, so you can take action ASAP. 
Mid-level LifeLock plans and higher include credit and bank account activity alerts. But only the Ultimate Plus plan provides 401k and investment account activity alerts.
When we tested Aura we found that financial monitoring reports show up twice as fast compared to Lifelock and IdentityForce, which means less waiting. We also liked that all Aura plans include financial account tracking and near real-time fraud alerts, which means no waiting for alerts!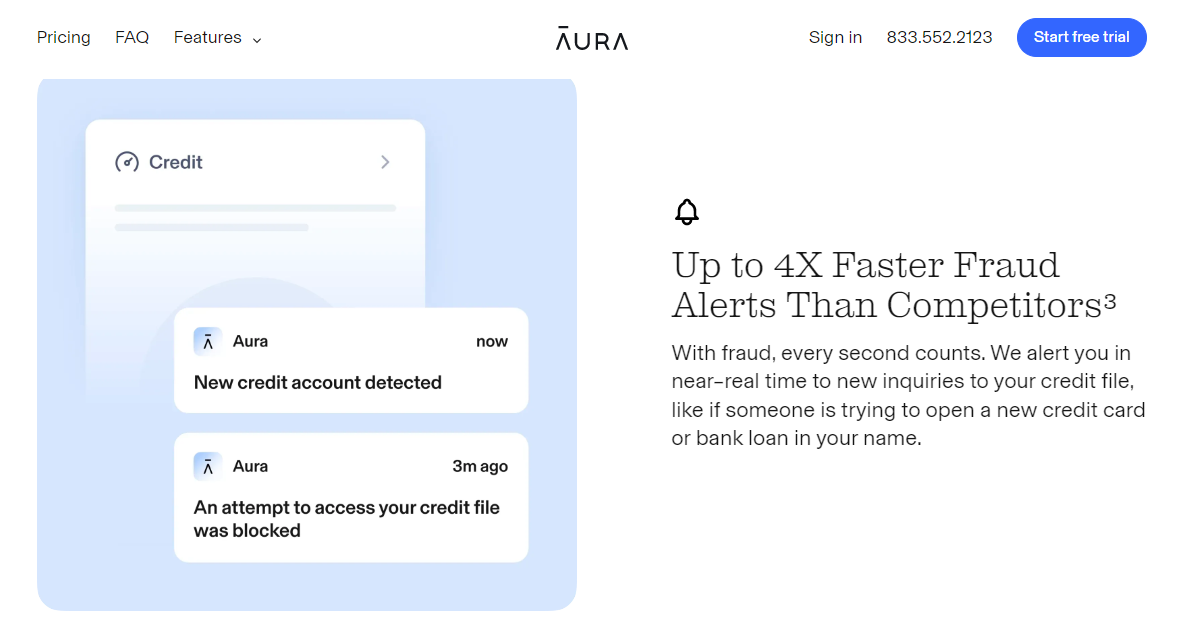 Home title and address monitoring feature.
These features protect homeowners from mail fraud and home title theft, which usually starts with identity theft. Once a fraudster has all your information, they can transfer the deed to your home out of your name. Then they can refinance or apply for mortgages against it and disappear with the money. 
Both IdentityForce and LifeLock offer address change monitoring. LifeLock only provides home title monitoring on Ultimate Plus plans; IdentityForce doesn't offer it at all.
Alternatively home title and address monitoring come standard on all Aura plans.
Credit monitoring & credit freezes
Credit monitoring tools check the three credit bureaus (Experian, Equifax, and TransUnion) for changes in your credit profile. You'll receive an alert if someone makes an inquiry on your credit history, tries to apply for a loan in your name, etc.
Credit monitoring is not offered on IdentityForce's basic plan. Upgrade to the UltraSecure+Credit plan, and you'll gain three-bureau credit monitoring, credit reports, and credit scores. You'll also receive a credit score tracker and credit score simulator.
LifeLock only monitors one credit bureau on its Standard plan, which includes an annual credit report and credit score. The Ultimate Plus plan provides three-credit bureau monitoring and alerts. 
A credit freeze locks your credit profile to prevent identity thieves from destroying your credit history. Credit freezes are only available on the higher-priced IdentityForce plan. LifeLock offers just a TransUnion Credit File Lock on Ultimate Plus plans.
Compared to Lifelock and IdentityForce Aura plans cover credit monitoring across all three major credit bureaus. You'll receive a monthly credit score report, annual credit reports, and near real-time alerts 4x faster than competitors.
Criminal record monitoring
It's common for criminals to use stolen identities when encountering law enforcement. This allows them to evade their outstanding warrants and let new charges slide off their public record. So victims of identity theft sometimes have arrest records, court appearance fines, and worse tied to their names.
Criminal record monitoring scours state and national databases for your name on new arrests, court records, and sex offender registries. Letting these go undetected could cause irreparable damage to your reputation and business. 
IdentityForce supplies court records monitoring and sex offender registry monitoring on all plans. LifeLock monitors and sends alerts on crimes committed in your name on all but Standard plans. 
We found that Aura does not lag behind, it also monitors criminal and court records and notifies you if a criminal has stolen and used your identity.
Online & device security
Cybersecurity tools prevent identity thieves from stealing your personal data. They can ward off phishing attacks, account takeovers, and device hacks.
A virtual private network (VPN) scrambles your online data to prevent criminals from accessing it. VPNs empower you to safely surf public Wi-Fi at a coffee shop, hotel, airport, etc. We recently did a detailed review of UltraVPN breaking down all the features of and benefits of a VPN and why you should use one.
Antivirus solutions block malware, spyware, and potential phishing attacks on your devices. And password managers generate and encrypt complex passwords to strengthen the security of your accounts.
IdentityForce offers a VPN, password manager, and online PC protection tools on all plans. Their mobile app lets you enable two-factor authentication to further protect your account.
Since Norton owns LifeLock, none of these cybersecurity tools come standard. Like Identity Guard's IBM-powered Watson AI, Norton uses machine learning to spot emerging cyber threats. Prepare to shell out an extra $9.99 per month on a separate Norton 360 plan to cover these bases.
Again as we tested Aura to compare and we found that it is just an easy all in one comprehensive solution compared to Lifelock and IdentityForce, all Aura plans include a secure password manager, VPN, and robust antivirus tools. Its Safe Browsing feature also blocks you from dangerous phishing websites loaded with malware.
Customer Support:
IdentityForce vs. LifeLock
IdentityForce provides 24/7 US-based customer support for all subscribers. LifeLock says they have 24/7 live member customer support, and their most expensive plan offers "priority support."
As we tested the customer support for both solutions we sent out requests and questions to each. We found that both companies outsource their support overseas. We found that outside 9am-5pm weekdays,  holidays, weekends, late at night – is a tough time to receive support from Lifelock. We had an issue with Lifelock app not working on our machine and it took us a few days to get it resolved.
Comparing our experience with Aura- we found that they have US-based customer support which is fast and reliable and is available 24/7/365 to help answer any account, technical, or billing questions. They were very fast and they had a 1800 number you can call and actually get a real person on the line.
ID Theft Insurance & Restoration: IdentityForce vs. LifeLock
The process of recovering your identity if you're a victim of fraud is more time-consuming and expensive than most people realize. You might also need legal help disputing charges or fraudulent accounts.
IdentityForce provides up to $1 million in identity theft insurance to cover these expenses. It also issues up to $1 million in stolen funds replacement on all plans. But credit reporting help is only available to Ultra +Credit subscribers.
LifeLock supplies up to $1 million in identity theft insurance for lawyers and identity restoration experts. Standard plan members will receive up to $25,000 in stolen funds reimbursement. Those in the Advantage plan are eligible for up to $100,000 in stolen funds reimbursement. And Ultimate Plus customers may be reimbursed for up to $1 million in stolen funds.
Comparing Aura to Lifelock and IdentityForce – Aura offers up to $1 million in ID theft insurance on all plans (increasing to $2 million for couples and $5 million for family plan subscribers). They'll also team you up with a US-based White Glove Resolution specialist to help recover your identity and resolve fraud. 
Pricing: IdentityForce vs. LifeLock
IdentityForce: $18/mo  &  $24/mo
IdentityForce offers two plans: UltraSecure ($17.99/month) and UltraSecure+Credit ($23.99/month). The +Credit upgrade unlocks three-bureau credit monitoring, credit reports, credit scores, and credit freezes.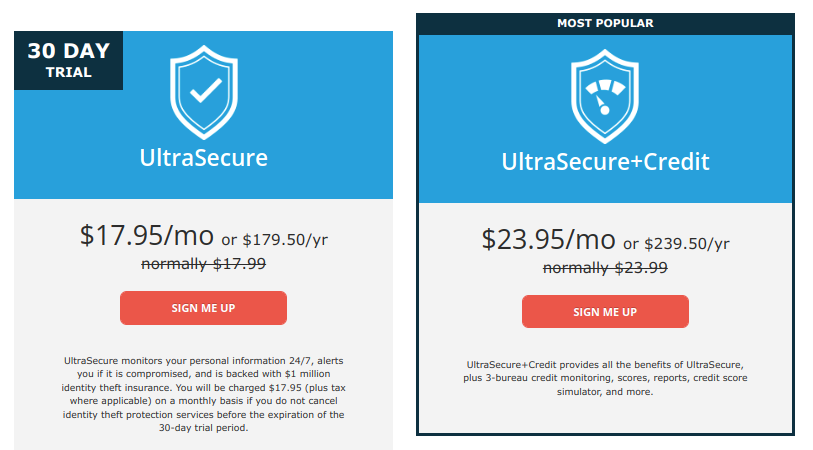 IdentityForce will let you test the waters with a free 30-day trial. But it doesn't provide a money-back guarantee. If you're interested in couple or family plans, you'll need to call for a quote directly. 
LifeLock: $9/mo, $18/mo, $24/mo
LifeLock offers three plans:
LifeLock Standard ($8.99/month). This basic plan covers identity and social security number alerts, data breach notifications, Dark Web monitoring, and one-bureau credit monitoring.
LifeLock Advantage ($17.99/month). You get all the benefits of a Standard plan, plus a monthly one-bureau credit report and credit score. You'll also receive bank account and credit card activity alerts and notifications about crimes committed in your name. 
LifeLock Ultimate Plus ($23.99/month). The premium plan delivers all the perks offered in the Advantage plan, plus priority support. Big-ticket items like three-bureau credit monitoring, home title monitoring, and social media monitoring are also included.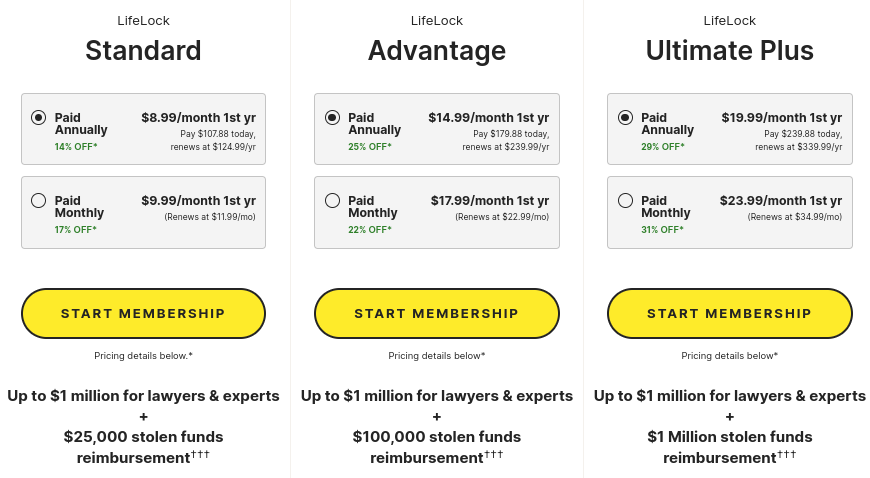 LifeLock does not offer a free trial, but it does have a 60-day money-back guarantee. 
Lifelock Promotional pricing warning
LifeLock raises membership prices on all plans by up to 45% when you renew after the first year. 
Standard plans jump from $8.99 to $11.99 per month. Advantage plans rise from $17.99 to $22.99 per month. And Ultimate Plus customers will pay $34.99 instead of $23.99 per month.
LifeLock offers couples plans ranging from $14.99/month (renews at $23.99) to $39.99/month (renews at $69.99). Their Family Plan covers two adults and five kids. It ranges from $21.99/month (renews at $35.99) to $46.99/month (renews at $79.99).
Aura: Individual, Couple, and Family plans
Aura's in a league of its own here. The company believes in fair and transparent pricing. So its three subscription tiers are based on the number of adult subscribers and covered devices, not features.
You'll get access to all Aura's features on every plan, whether you're looking out for yourself or protecting your entire family.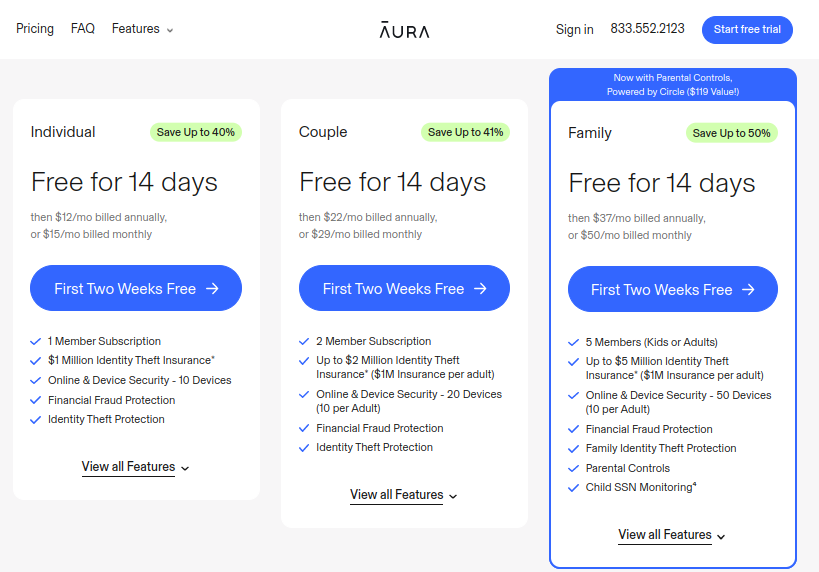 Individual plans ($12/month) cover one adult subscriber and up to 10 devices.
Couple plans ($29/month) protect two members and cover 20 devices.
Family plans ($50/month) protect up to five adults or children and a total of 50 devices.
That pricing model makes it pretty easy to find the plan best for your needs, right? Plus, all subscriptions entitle you to a free 14-day trial and a 60-day money-back guarantee. 
Aura: The all-in-one you're really looking for
If you've been keeping score, you probably noticed that Aura checks more boxes when it comes to identity theft prevention than IdentityForce and LifeLock.
A relative newcomer on the scene, Aura launched in 2014 as an all-in-one digital security solution. Its highly-rated subscriptions are loaded with standard features to help protect users from identity thieves, financial fraud, and cyberattacks.
Aura's comprehensive and proactive suite of tools includes:
Identity monitoring

Financial account monitoring

Credit monitoring and protection

across all three major credit bureaus

Password manager, antivirus software, and VPN

Dark Web monitoring

24/7/365 US-based customer support and White Glove Fraud Resolution

Transparent pricing with annual plan discounts

Account activity alerts 4X faster than the competition 

Identity theft insurance ($1 million on all plans, increasing to $2 million for couples and $5 million for family plans)

14-day free trial and 60-day money-back guarantee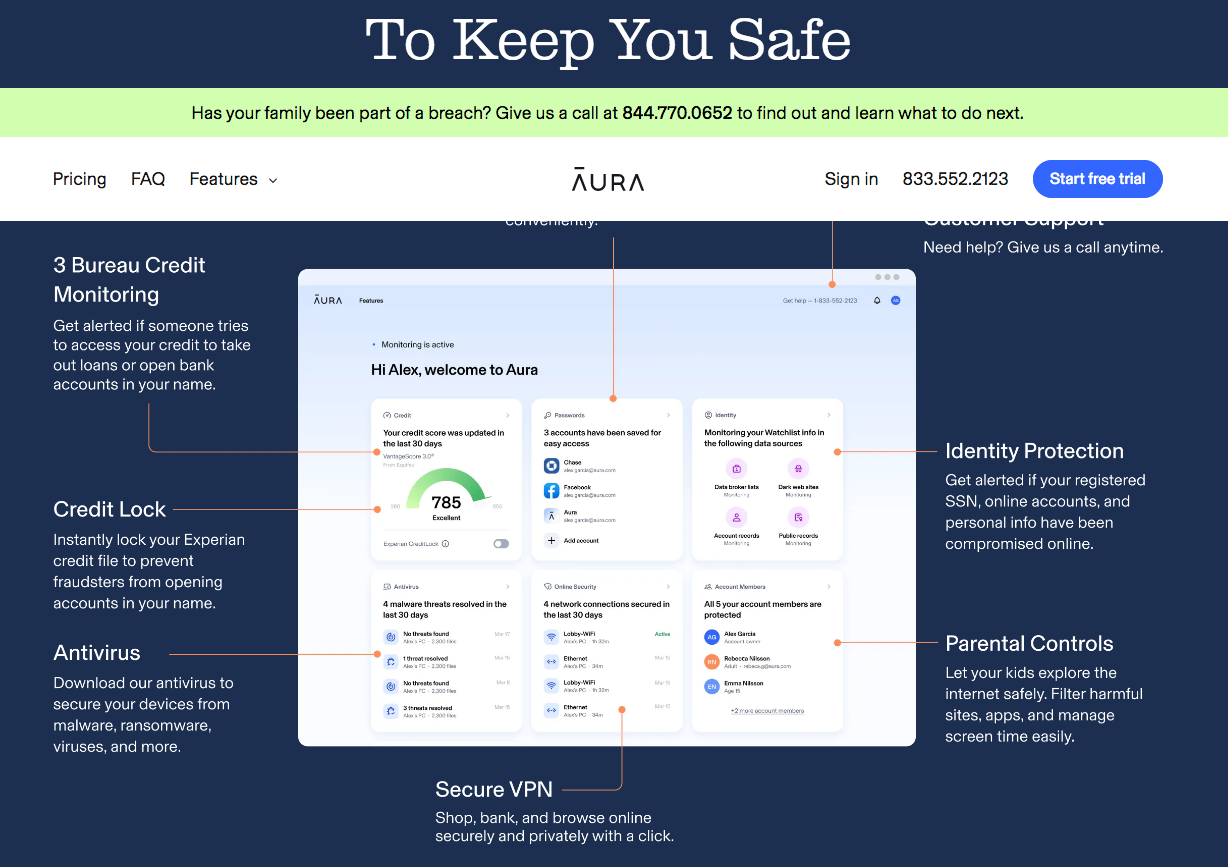 So here are a few reasons why Aura gets our vote:
Fair, transparent pricing (and no nickel-and-diming). Every feature in Aura's complete all-in-one identity theft protection solution is available on every plan. 
IdentityForce makes you upgrade to a higher-priced subscription for credit monitoring. And LifeLock's basic plan skimps on major ID theft protection features, forcing you to sign up for the most expensive plan to get everything you're looking for.
Aura provides standard features only the highest-priced IdentityForce and LifeLock subscriptions offer. So it's actually a better value for your investment.
4x faster threat alerts. Every second counts when it comes to fraud and identity theft. Aura alerts you in near real-time if they detect new inquiries to your credit file or suspicious transactions on your accounts. It'll help you spot early signs of fraud and shut them down before they snowball into serious financial damage.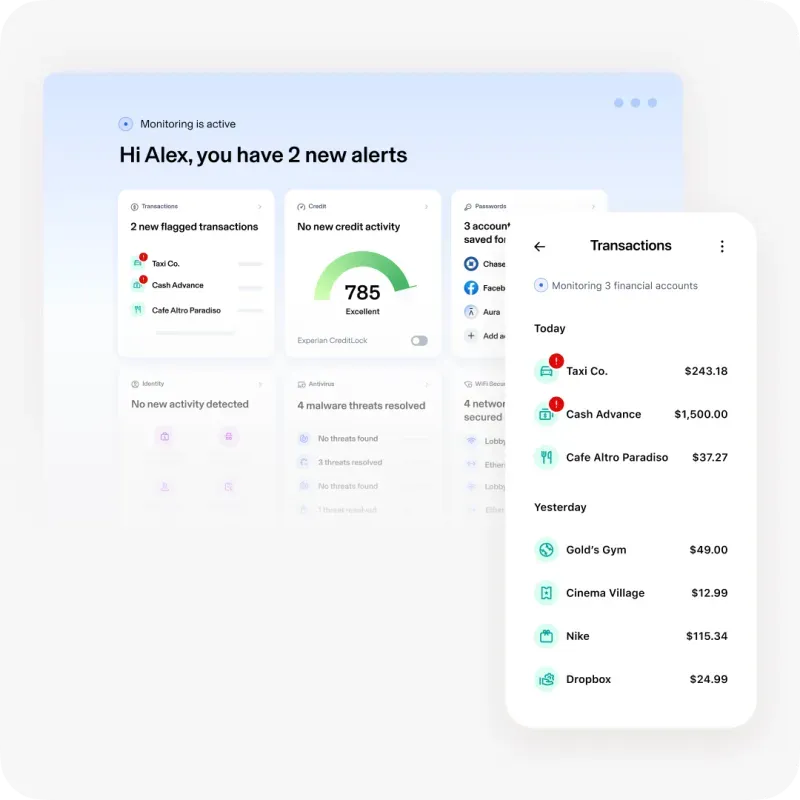 Proactive protection. Aura takes proactive steps to prevent ID theft and fraud, so you and your family can stay one step ahead of cybercriminals. You'll have a military-grade VPN, password manager, and online security tools that block dangerous sites attempting to steal sensitive information. Aura even protects your info from spam, robocallers, and more.
Affordable family monitoring. Over 1.25 million children were victims of identity theft in 2021. Aura's family plan monitors your child's identity and sends alerts if their SSN has been stolen or if their personal information was exposed online. An Aura Family subscription gives parents the chance to catch these early signs of child identity theft for less than LifeLock ($50/month vs. $80/month).
IdentityForce vs. LifeLock vs. Aura
IdentityForce, LifeLock, and Aura are legitimate identity theft protection companies you can trust. 
IdentityForce crams many identity protection and cybersecurity features into its basic plan. But you'll need to upgrade to the higher-priced tier for access to credit monitoring.
LifeLock provides a budget-conscious option for first-time ID theft prevention buyers. However, the extra cost of a Norton 360 subscription you'll need cancels out this value. The second-year rate hikes also make it more expensive than comparable plans from IdentityForce and Aura.
That's why Aura takes the crown for the best identity theft protection service. Even the lowest-priced subscription offers top-tier identity, finance, and credit monitoring tools. You'll also gain a VPN, antivirus software, password manager, and malware protection at no extra cost.
In the end, anything's better than nothing. But Aura delivers more value for your dollar in every category.