LAST UPDATED ON August 17, 2023
UltraVPN Complete Review 2023 – Watch Out For This
Final Verdict: UltraVPN is a fast VPN that does a great job giving you bulletproof privacy and security online. It's a good value with affordable pricing. The only downside is that interruptions create a poor browsing experience.
I signed up for UltraVPN and took it for a test run. The bottom line: 
The good: The feature I liked the most about UltraVPN is its speed. It offers extremely fast connections with 116 country servers to choose from, providing me access to majorly all the streaming platforms worldwide, like Netflix, Hulu, BBCiPlayer, and more. Another powerful feature of UltraVPN that impressed me the most was the presence of a built-in security layer like the 256-bit AES encryption to ensure my data is protected, even when I am connected to unsecured public WiFi hotspots. 
The bad: UltraVPN did not work well on my Android device. I had to clear app data and restart my device for the service to run properly. Another downside of UltraVPN is that it tries to reconnect too many times which causes network interruptions and degrades the browsing experience. Finally, it does not offer a free trial. I had to pay to test their service.
—
So the first question goes like this, 'Why did I use a VPN in the first place?' 
Here is the answer: I frequently travel for conferences and company events once every quarter.
Not long ago, I was traveling to speak at an SEO conference, and found myself using public wifi on a daily basis.
Keeping my data safe is a top propriety for me when working online.
(And it should be for your small business, too.)
So, in this post, I'll give you an in-depth look at the pros and cons of UltraVPN —one of the most popular VPNs and my personal VPN of choice.

Let's dive in.
My key findings after using UltraVPN:
Pros:
Minor Drop in Speed:

There wasn't much change in downloading and uploading speed when changing my network to UltraVPN. When I was using my internet without it, the speed test showed the downloading speed as 45.55 Mbps and the uploading speed as 48.51 Mbps. However, there was an 11.11% drop in the downloading speed and an approximately 15% drop in the uploading speed when I used UltraVPN.

Covers Major Countries But The Number of Servers Are Less:

UltraVPN offers 830+ servers that are well-distributed in 116 countries which further gets distributed in 44 cities for major countries including the United States, United Kingdom, Australia, Canada, France, Italy, and Spain. However, the number of servers are less when compared to other VPN providers like NordVPN which has more than 5000 servers. 

High-Security:

UltraVPN offers various security features and prevents your data from leaking. It offers you to choose from automatic, hydra, and IKEv2(IPSec). I selected the auto option as it sets the best protocol for you based on your established server and connection. UltraVPN further offers more security with inbuilt malware and cyber phishing detection features. There is an additional data leak protection feature in the UltraVPN called Kill Switch.

Works for Strong Firewall:

UltraVPN bypassed even the most robust firewall in China. I tested many websites using China's server and bypassed them easily. 

Average Privacy Protection:

Since UltraVPN offers a free password manager called PassWatch that streamlines your digital life while safely protecting your data and securing all your credentials, I could access the software without having to worry about my privacy.

Supports All Major Streaming Platforms:

I could access all the major streaming channels as well as other top websites with geo-blocking restrictions. I could access Netflix, Amazon Prime Video, Hulu, BritBox, Spotify, BBC iplayer, and many more.

Supports Up to 10 Simultaneous Connections:

UltraVPN allows the usage of 10 unique users with up to 10 simultaneous connections.
Cons:
Restricted Compatibility:

UltraVPN's compatibility is restricted just to Windows, macOS, Android, and iOS and doesn't work on Linux, Routers and Smart TVs. This software doesn't allow browser extensions.

Does Not Work Well on Android Devices:

When assessed using my Android device,

I experienced a few fluctuations that required maintenance. I had to clear the data and the cache and restart my Android device to fix the issue. For the desktop, I did not face such issues; it worked fine.

No Live Chat Support: UltraVPN offers 24×7 customer call and email but gets restricted when it comes to live chat support. I searched thoroughly for instant live support on its website for an issue I faced while working on UltraVPN, but couldn't find it anywhere.
SECTION 1
What Is UltraVPN?
UltraVPN is a premium VPN service brand offering fast and unlimited VPN access with no bandwidth caps resulting in no speed loss.
It offers unmatched privacy and security with no snooping, no buffering, and a choice of different server locations. It also provides support for P2P and an additional firewall to prevent IP and DNS leaks.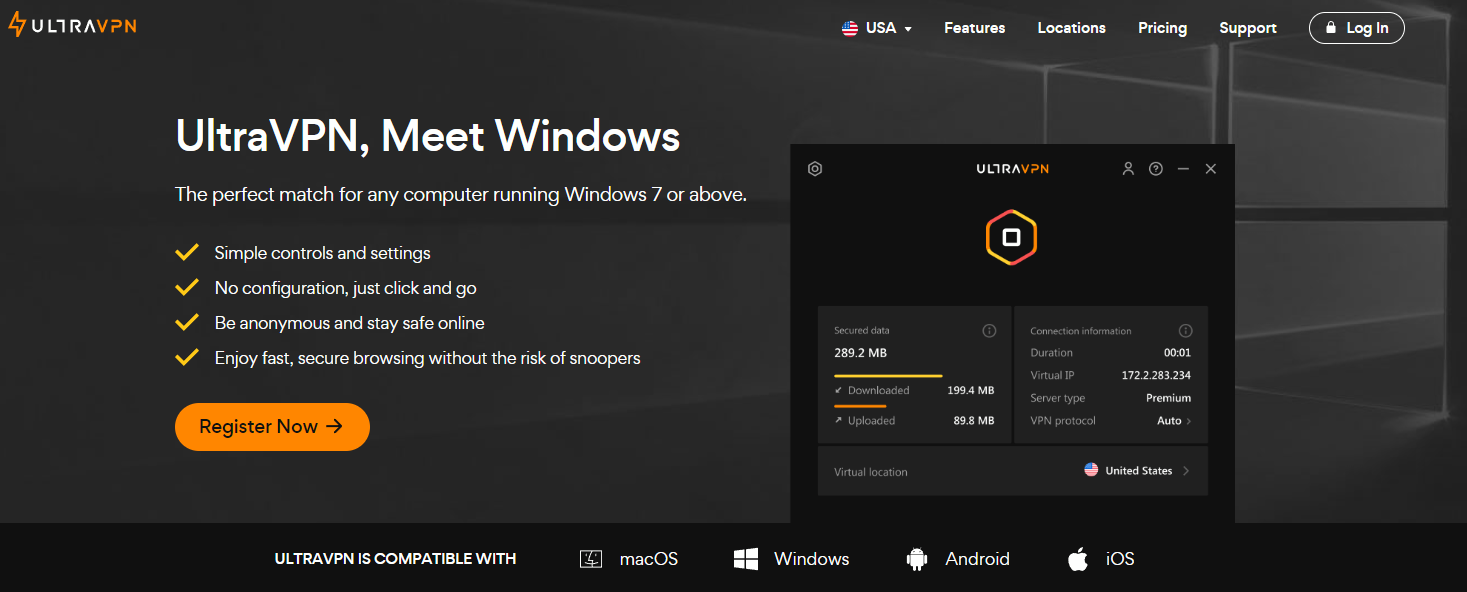 In this UltraVPN review, we will test the different features that UltraVPN offers and compare them with other top VPN service providers to see who wins the test.
Before we begin the comparison, let's look at some quick stats about UltraVPN.
SECTION 2
UltraVPN Stats & Features (Updated Feb 2023)
Here are some quick UltraVPN stats to give you a good idea about the VPN service:
Company Name: Aura Sub LLC
Headquarters:

United States 

Founded In:

2006

Rating on Zoominfo:

4.4/5

Money-back guarantee:

30 days

Allowed concurrent connections:

10 devices

Supported streaming services:

Netflix, BBC iPlayer, Hulu, Amazon Prime, Disney, and more.

Split tunneling:

 Just launched domain and apps for android and windows; domain exclusion for iOS and Mac.

New features:

Dark Web Scan and Passwatch Manager 

No logs policy:

Removed tracking details. Launched on the website

Encryption:

Military-grade 256-bit AES

Protocols:

Hydra and IKEv2

Top features:

Secured firewall (Kill Switch), no bandwidth caps, 100+ virtual locations, military grade encryption, and online media access 

Customer support:

24/7 live and call support

Locations:

125

Countries:

116

Number of servers:

830+ bare-metal ultraVPN servers in 125 server locations

Server switches:

Unlimited

Data traffic:

Unlimited

Payment Method:

PayPal and Credit Cards

Supported devices & web extensions:

Windows, macOS, Android, iOS

VPN legal jurisdiction:

United States

Pricing: $7.99/ month, $2.99/ month for one year, $1.99/ per month 2 years.
SECTION 3
Target Users: Who Should Use UltraVPN?
UltraVPN and the ultra vpn app predominantly focuses on the male audience between the age group of 25 to 60.
However, it is best for any user primarily using a VPN for privacy as UltraVPN provides military-grade encryption to keep personal information safe and protected from cybercriminals.
Thus, those users who value security and anonymity and are willing to pay for it can go for UltraVPN.
Moreover, it is an option for those who want unlimited access to all their favorite apps and websites and want to unblock any site or app while securely connecting to public WiFi hotspots at lightning-fast speeds.
SECTION 4
Top 7 Features Comparison: Streaming, Speed, Security, Privacy, Etc.
UltraVPN offers ultra-fast servers and access to 114 virtual locations to keep your digital identity secure, so you can stream your favorite shows faster and hassle-free.
We compared UltraVPN and ultra vpn app to the top VPNs on the market based on the following features, here is how UltraVPN stacked up.
1. Streaming
2. Speed
3. Server Network
4. Security
5. Privacy
6. Setup and Installation
7. Customer Support
There are streaming channels across the globe, but they have restricted their access by applying geo-blocking to specific locations. They examine your IP address to determine your location. They instantly block access if your IP is not within the channel area of coverage.
Thus, a VPN provider allows changing your IP address based on the server you connect to.
Similarly, UltraVPN promises to offer unrestricted access to any content. With UltraVPN, you can enjoy video streams from global channels on your desktop and mobile so that you never miss a game.
Besides, you can watch live events from anywhere with one click network connect and connect to the streaming server of your choice based on your target location.
So, does it work well to unblock the popular streaming services worldwide? Yes, UltraVPN is one of the fastest and most trusted VPN services to unblock OTT platforms such as Netflix, Hulu, and Amazon Prime video.
Here are the results:
Netflix
Netflix is available globally and thus, assigns different streaming catalogs to the areas where it is available instead of restricting its access.
Netflix offers regional restrictions for content depending on your location. It means the catalog in the UK is different from the one in the USA.
When you try to access US Netflix browsing from China, India, Pakistan, or any other location, Netflix blocks your streaming using its IP address filtering technique.
Hence, you get a message like this: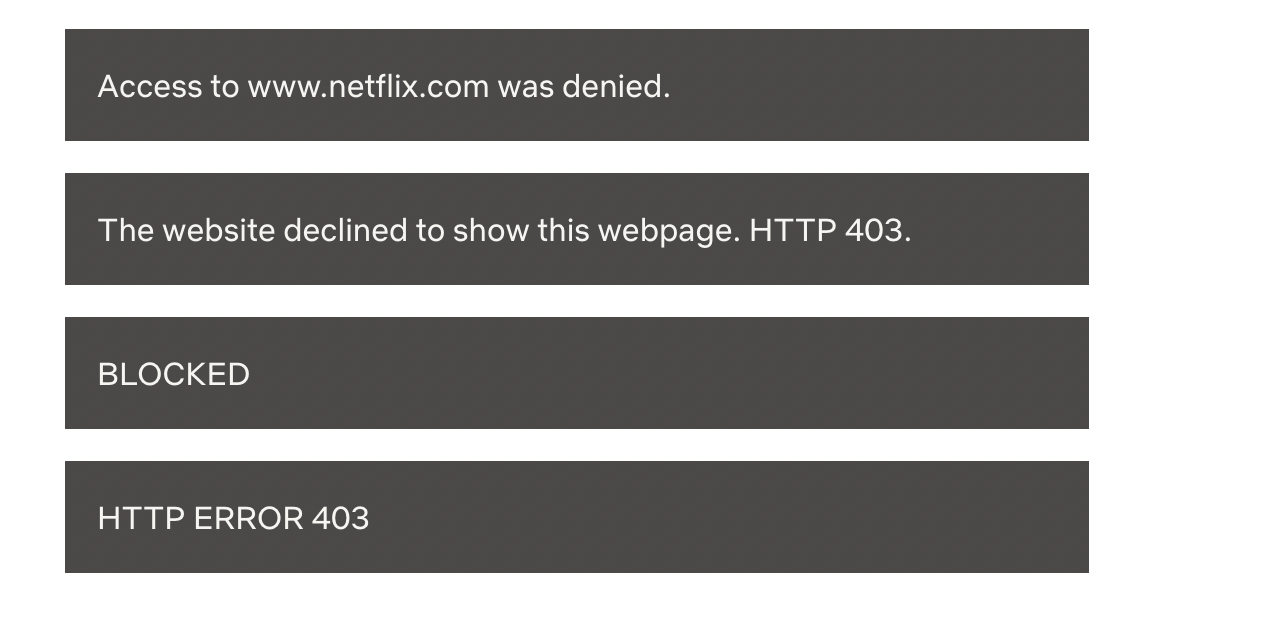 The streaming service even blocks VPNs that are unreliable in bypassing its VPN banning techniques.
UltraVPN proves to be a worthy unblocker as it can bypass Netflix blocks. It allows you to access Netflix libraries, including the US, Canada, France, Japan, and others.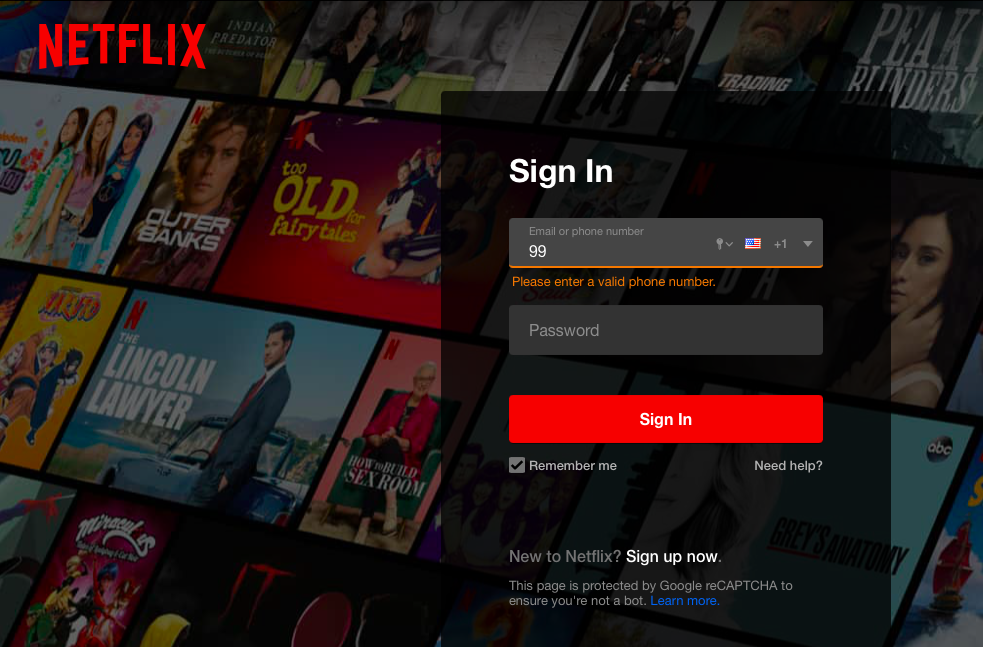 I tried accessing Netflix using US, UK, and Australia locations and all of them worked completely fine. There were no limits in speed restrictions. I was browsing shows like " The Stranger Things" and "The Witcher".
HULU
Hulu is different from Netflix as it is only available to people in the US and Japan. To browse Hulu catalogs, you need a US or Japanese IP address.
Besides, Hulu's ban is more potent than the Netflix firewall because it blocks connections from known VPN servers.
UltraVPN works great to unblock Hulu from IP addresses outside the US and Japan.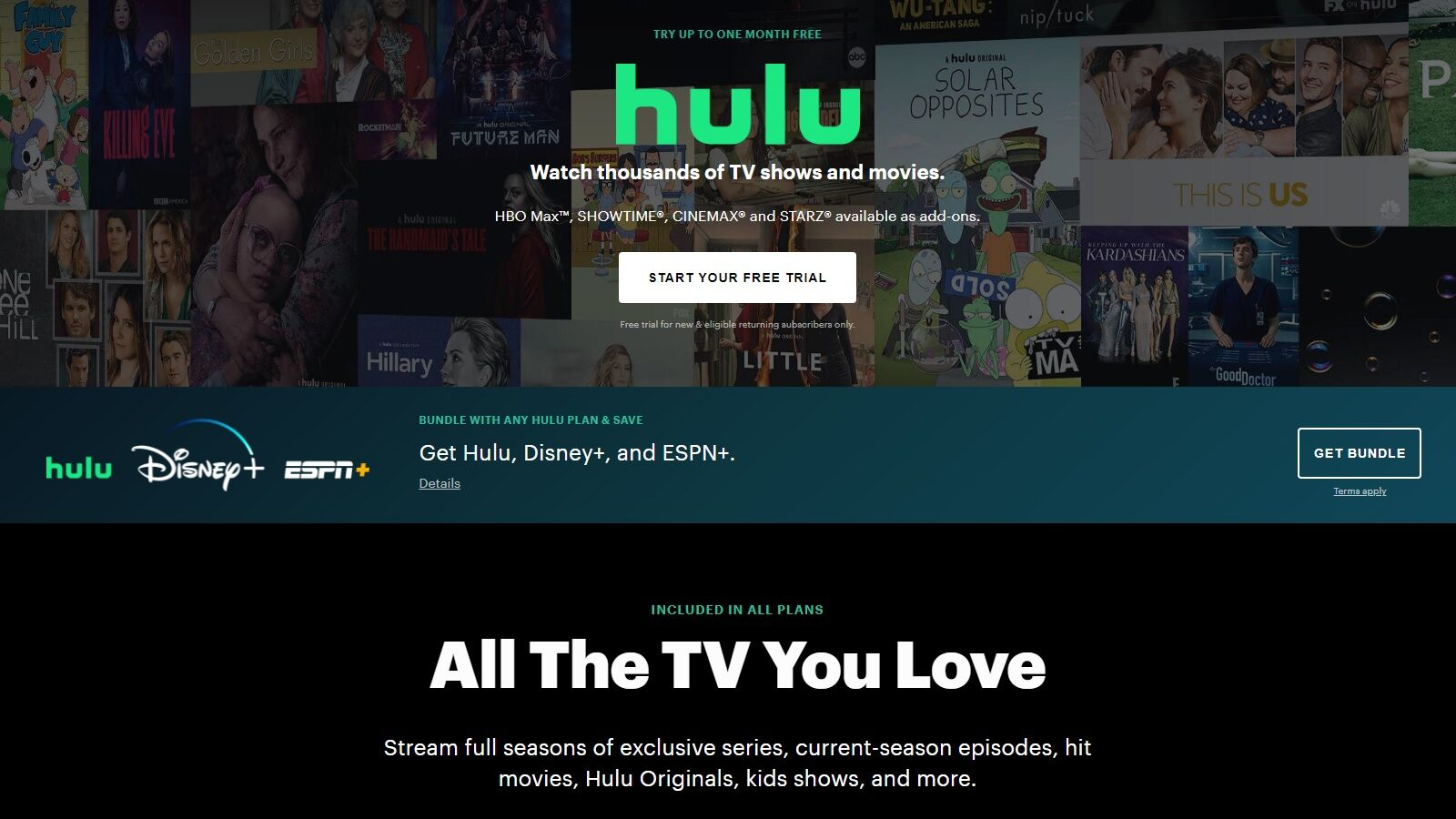 You should be subscribed and logged in to your UltraVPN premium subscription to access Hulu.
Amazon Prime Video
Prime Video provides services everywhere except for a few countries, such as Mainland China, Iran, North Korea, and Syria.
Amazon provides global service, and its geo-blocking is the same as Netflix.
However, Amazon too blocks access to known VPN servers and is effective in blocking VPNs. Very few VPNs can bypass the Amazon Prime Video VPN ban, and UltraVPN is one of them.
Here are the results of my Amazon Prime Video study:
I searched for the movie "Black Friday" on Amazon Prime Video US catalog from India. It simply denied access and the results came with a notification as seen below: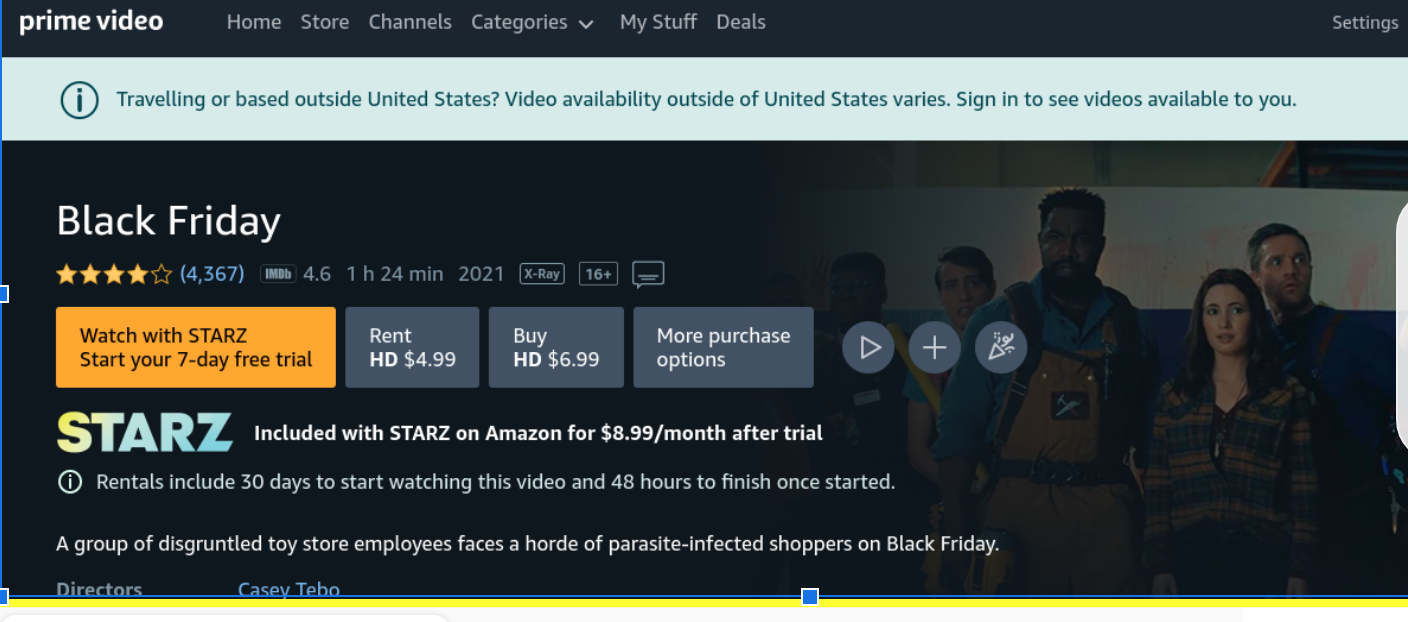 Thereafter, I used UltraVPN to change my location to the US. I was able to bypass one of the strongest VPN blocks applied by Amazon. Hence, I could browse the US catalog of Prime Video using my UltraVPN from a location other than the US.
BBC iPlayer
BBC iPlayer is another popular streaming service offering popular shows like Killing Eve and Peaky Blinders.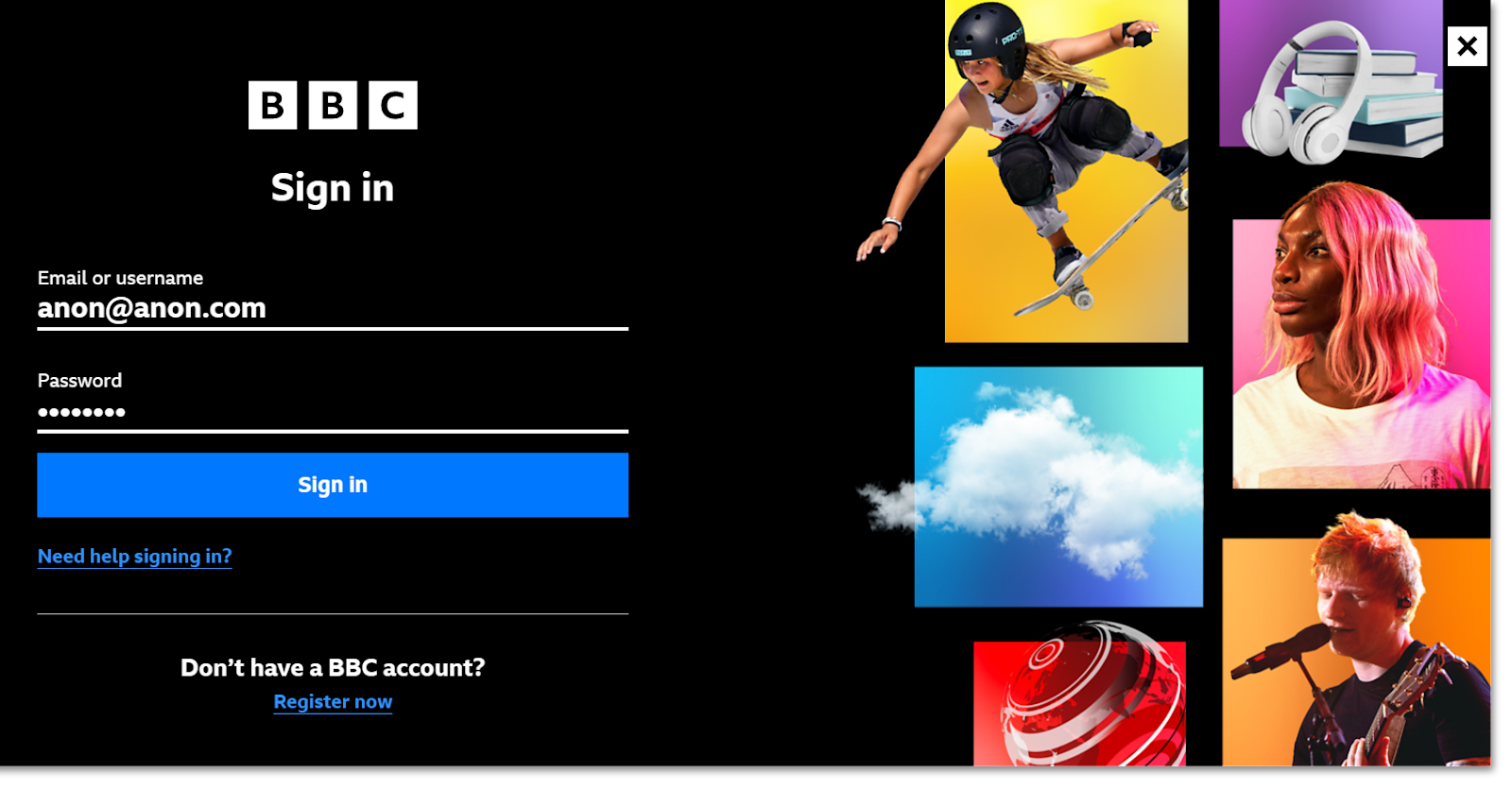 The service is available only in the UK, and BBC iPlayer applies geo-block to restrict access to known VPN servers. It constantly monitors traffic to the site and blocks VPN servers.
UltraVPN offers excellent unblocking abilities and lets you access BBC iPlayer fast without buffering.
Thus, UltraVPN excels and proves to be a credible VPN for unblocking restricted content of the top streaming services in the world.
Torrenting
People love torrenting because it is an easy way to download movies, TV series, books, games, or music.
While torrenting, when you download a file, your IP address becomes visible to everyone sharing the same file, and you compromise your location and other data.
Thus, a VPN helps hide your IP address and cloaks your online activity.
UltraVPN allows P2P connections for torrenting throughout its global network of servers. Thus, you can use any server to start torrenting. You can select a server close to you to get better speed.
However, the UltraVPN app does not offer port forwarding. Port forwarding allows unsolicited connections through the VPN to facilitate faster BitTorrent downloads.
BritBox
It is a BBC and ITV founded online digital subscription video service that operates in regions like North America, Europe, Australia, and South Africa.
The video streaming platform offers a wide range of noted OTT series and shows, including Death in Paradise, Love Actually, The Long Call, and A Spy Among Friends. Despite the platform's versatility, its access is restricted to 9 countries.
When I tried opening it in my browser, where the geographical location is India, it denied access after continuous efforts.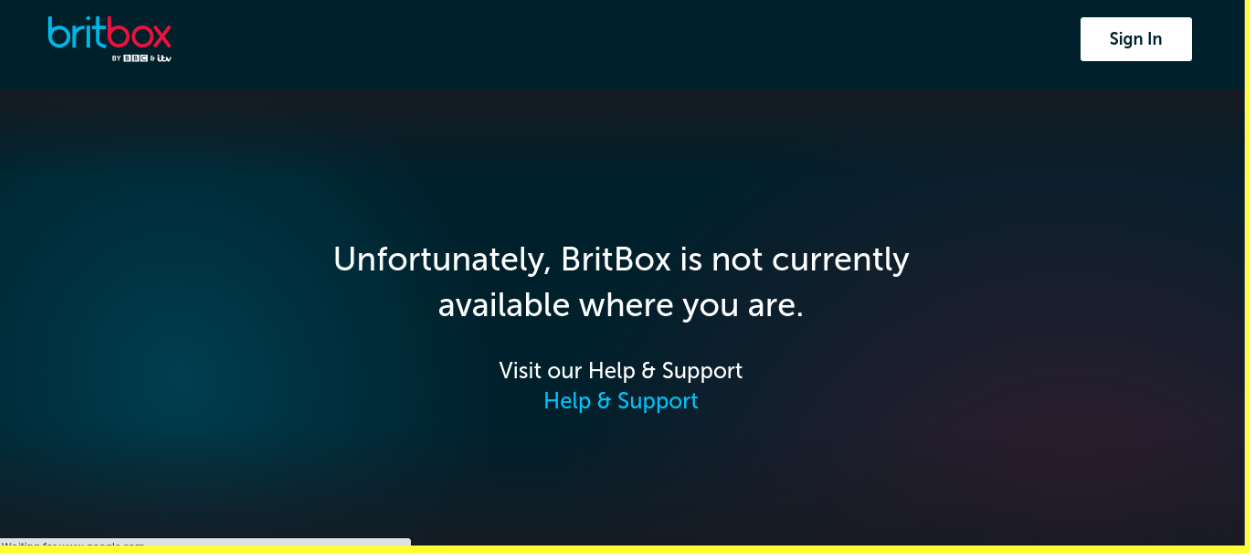 I changed my location to the United Kingdom using UltraVPN and was able to successfully bypass the platform's restriction to binge-watch "Spy City" with just a few clicks without any network interruptions.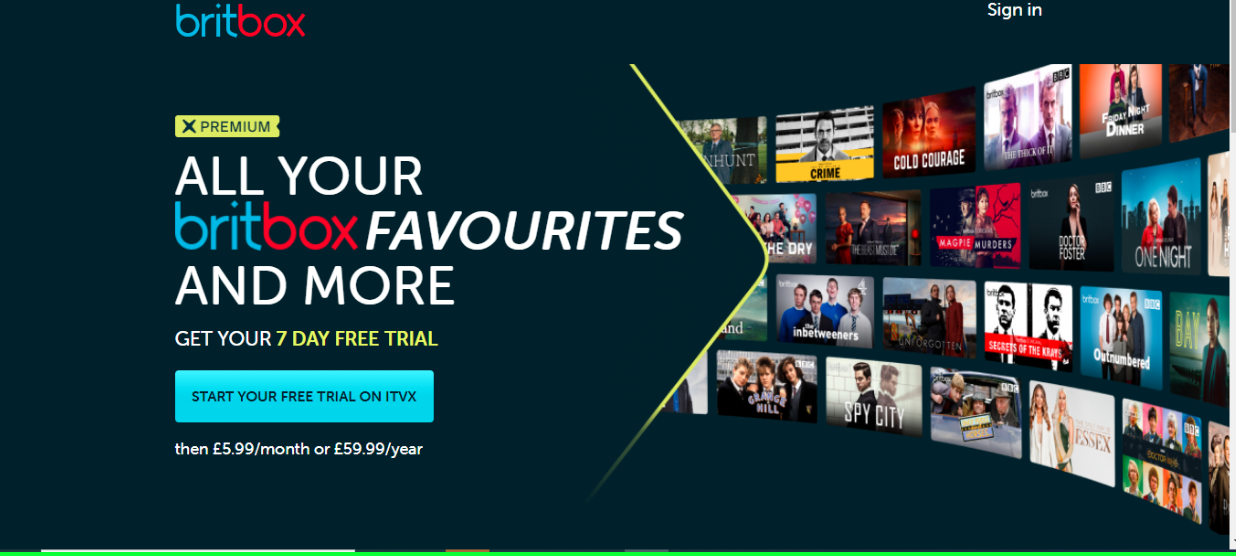 Peacock TV 
Peacock TV is one of the top US-based video streaming platforms home to iconic shows like Vampire Academy, Yellowstone, The Office, and many more. 
The website homepage states that it is available in the UK, Ireland, Switzerland, Italy, and Austria. It continuously denied my request when I tried accessing it from India.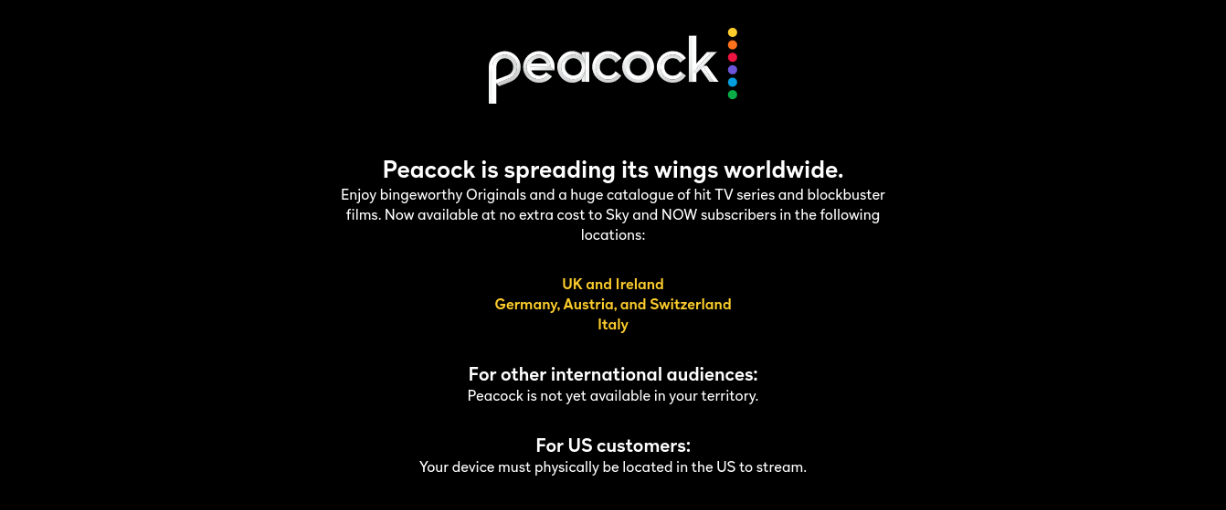 After that, I changed my location to the US using UltraVPN and was able to quickly access the platform, bypassing the website's condition that asked for the user to be physically present in the country. I could easily watch Peacock's Original "The Traitor" without buffering.
The Roku Channel
The Roku Channel is an American OTT platform that primarily serves the United States, the United Kingdom, and Mexico.
When I tried to access the platform from China, I was denied the access to watch any of the 40000+ movies or shows.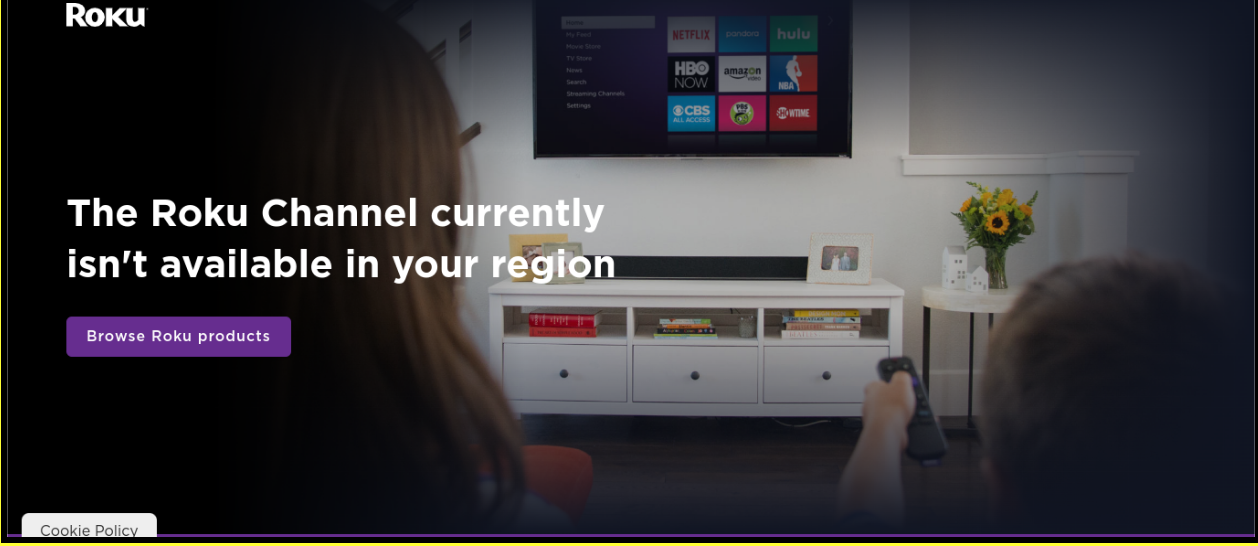 However, with the help of  UltraVPN, I changed my location to the United Kingdom and instantly got access to one of my most liked shows "Cold Case" within 3 seconds.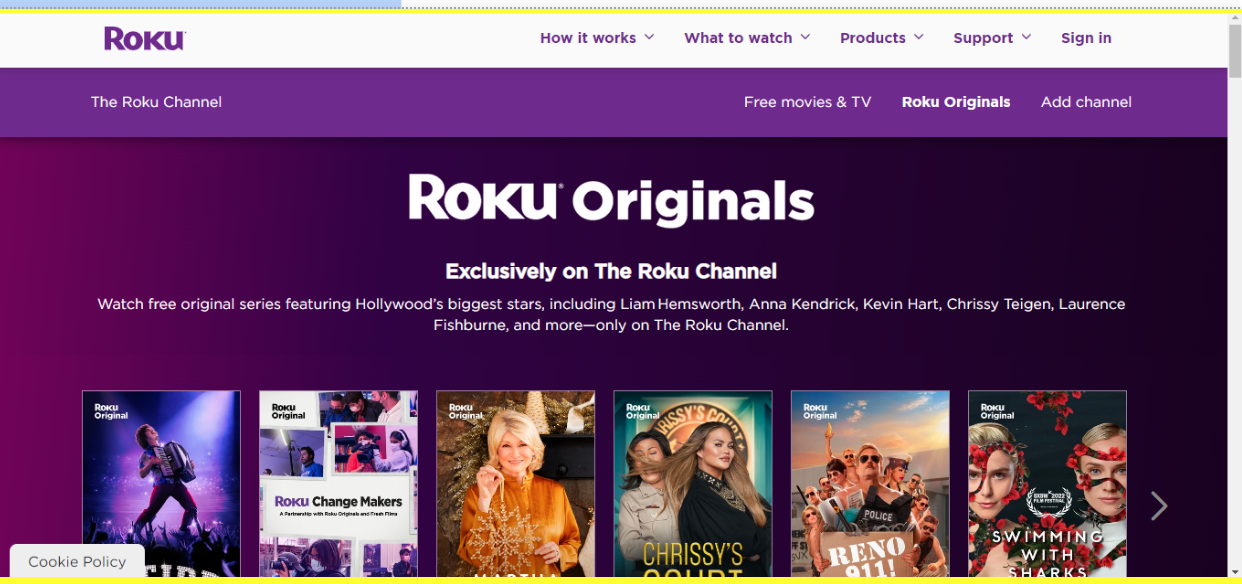 Flix Premiere
Flix Premiere is a leading subscription-based British media service provider that combines movie theater experience with on-demand availability.
Currently, the platform is only serviceable in the UK and the US. But what about the audience sitting at the other end of the globe? UltraVPN solved this problem.
Here are my test results:
This was the page I saw when I opened the website using any geographical server other than UK and US.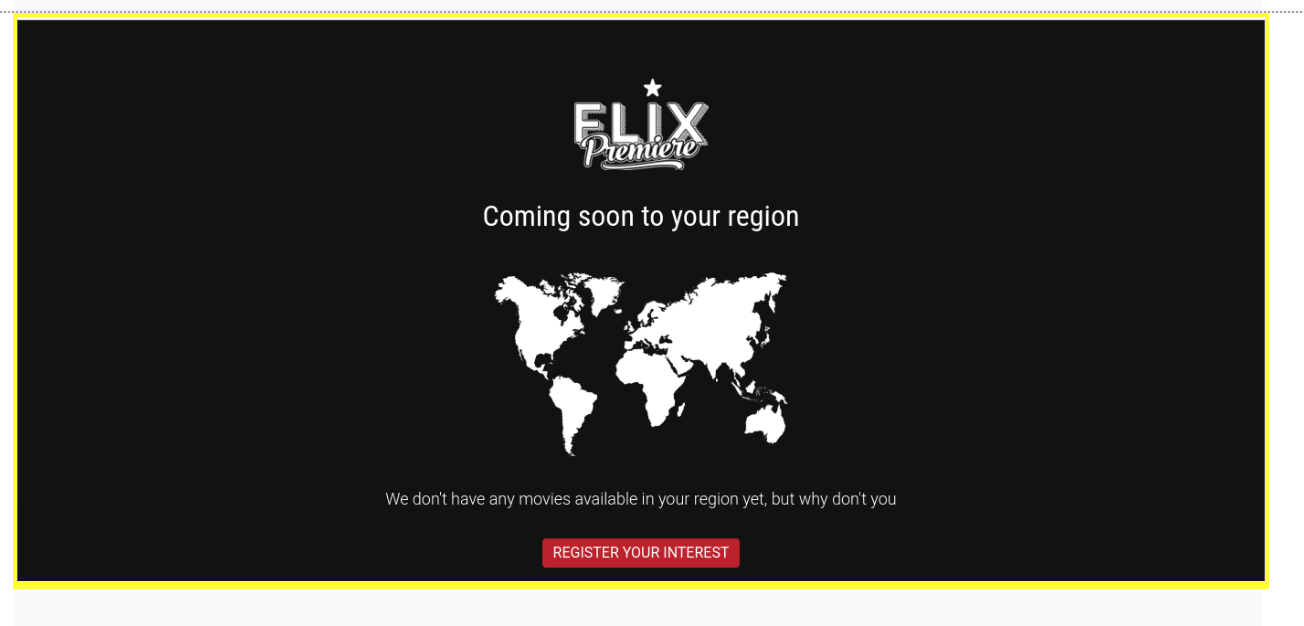 However, the tables turned for a movie geek like me when I changed my server on UltraVPN to the United States and the United Kingdom. I could watch "Little Accidents" on the platform without worrying about security breaches or internet speed.

Spotify
The UltraVPN functions are not restricted to online video streaming platforms but to other websites.
I also tried using UltraVPN for Spotify, a leading audio streaming platform worldwide.
This platform is said to be banned in mainland China. To test this, I used the UltraVPN network and changed my geographical location to China.
The results were as expected. The page didn't open.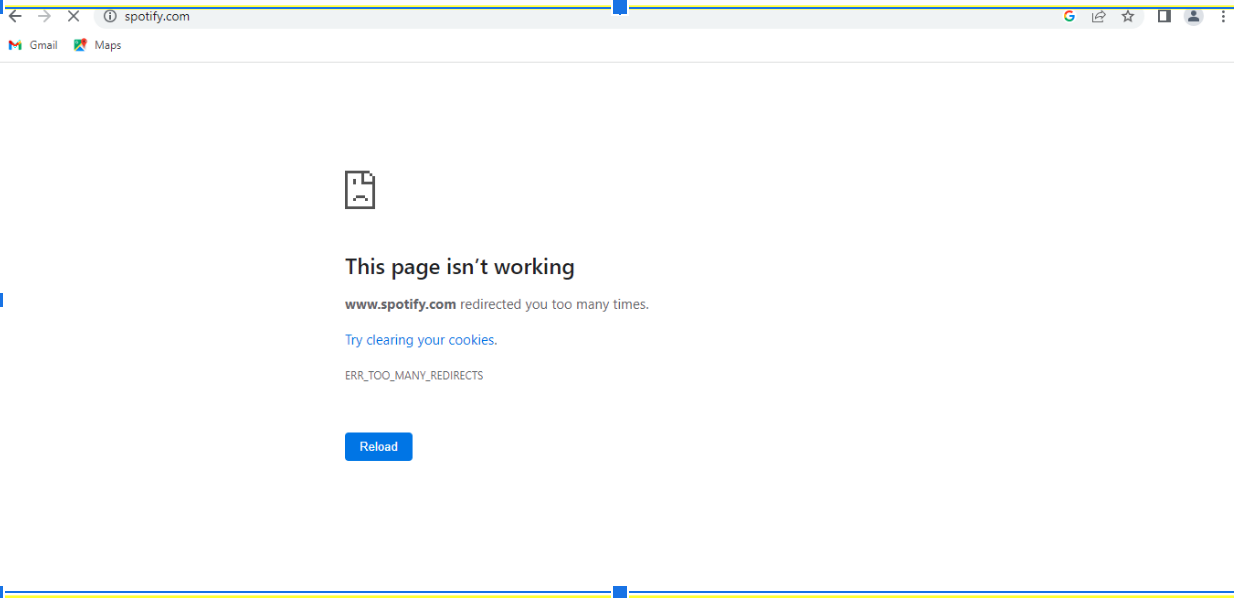 But when I changed the server location to the United States, I could easily open the Spotify website and listen to my favorite songs and podcasts within seconds.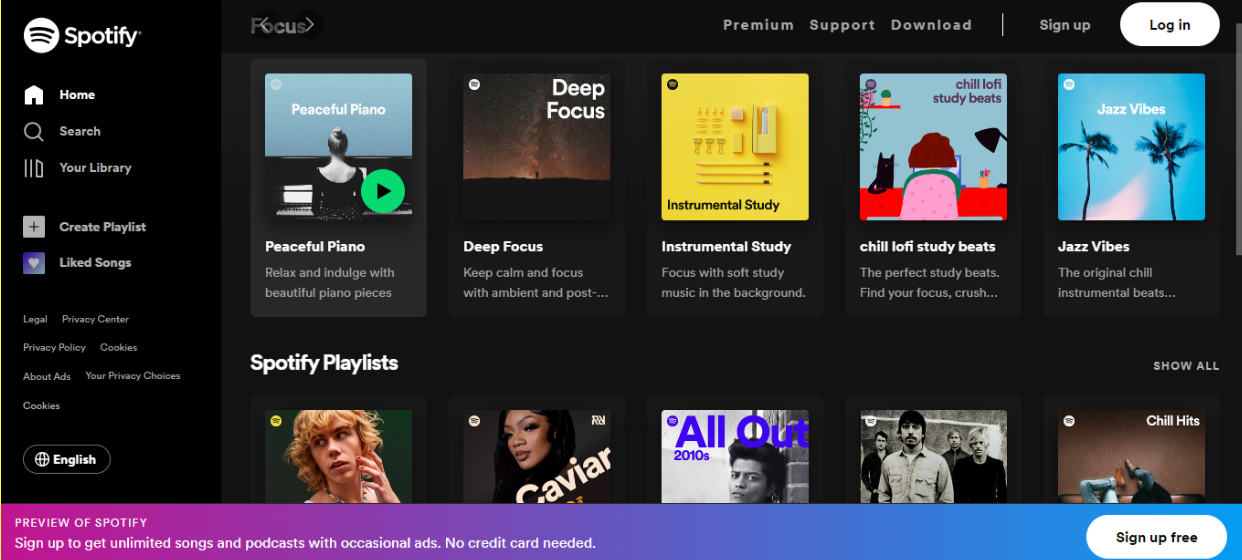 Upon conducting a number of tests using several UltraVPN servers in different locations, I found that UltraVPN app is an excellent option if you are looking for high-speed performance.
Here is the connection speed that I recorded without using any UltraVPN servers from India: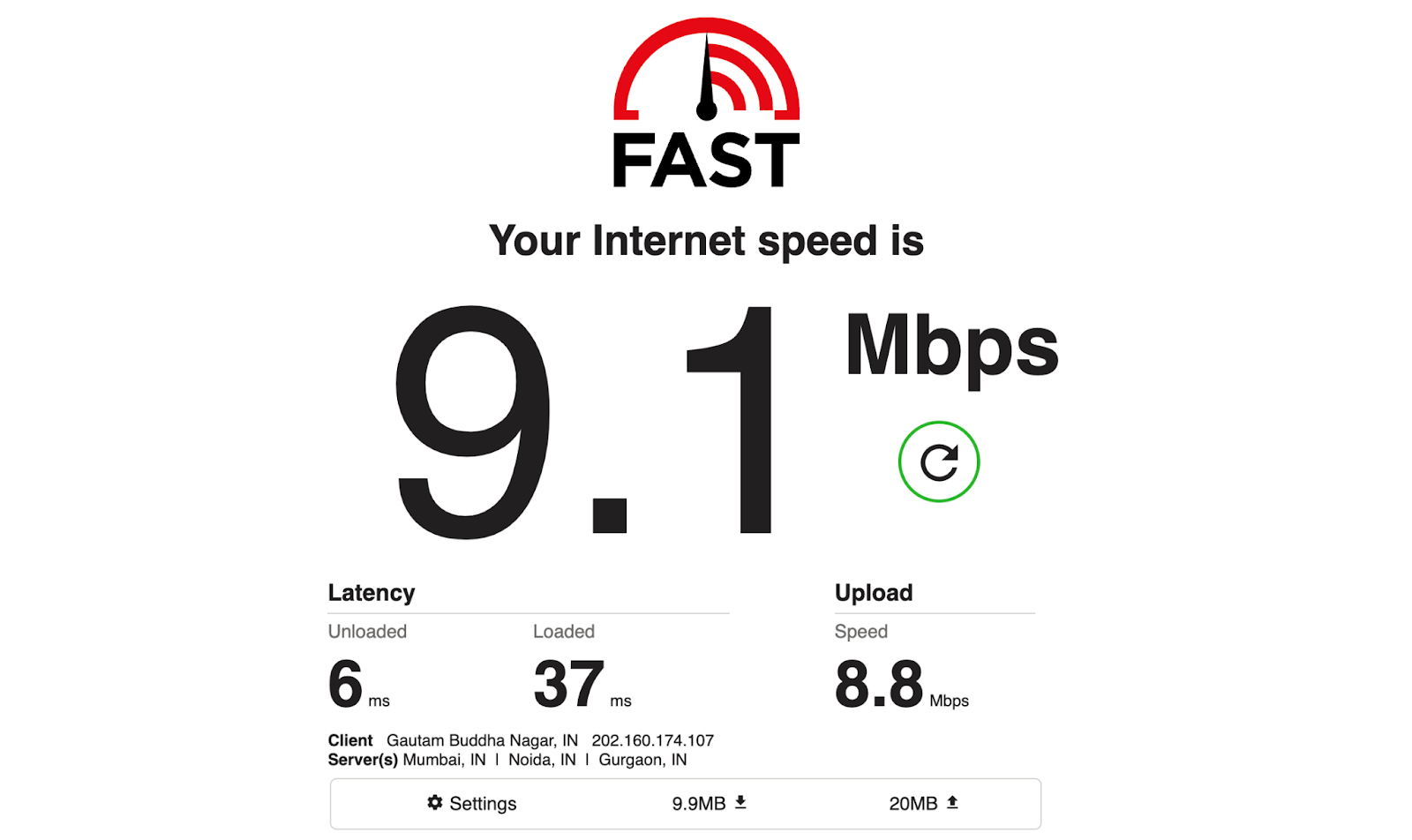 Then, I connected to UltraVPN and checked the internet speed, the speed remained almost the same. Remember, internet speed in Asia is less compared to the US.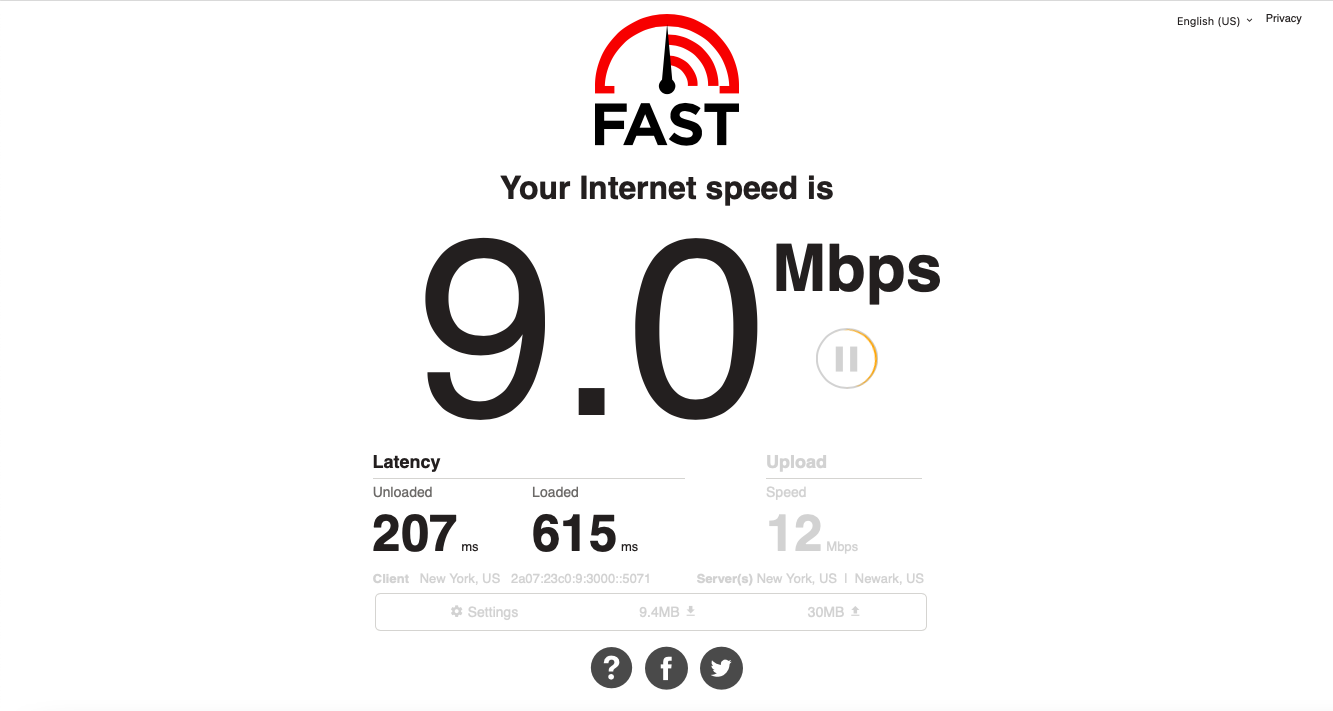 Usually, using remote servers in private internet access results in a significant drop in speed compared to any nearby location. However, surprisingly, while using UltraVPN, my connection remained fast even on the distant servers.
Thus, the results show that UltraVPN is an excellent option for streaming, torrenting, gaming, and data-intensive tasks.
The VPN can handle HD content pretty well while streaming from various video streaming sites.
UltraVPN lets you access the internet without borders, we found that it provides a distributed global unlimited VPN proxy server network offering 100+ superfast servers. The best part of UltraVPN is that it provides a server on every continent.
Hence, you can access any website in any part of the world.
Most of the UltraVPN server locations are in the North American region as the country has a higher demand for online streaming and local data.
However, other than that, the servers are well distributed across Europe, Asia and Oceania.
UltraVPN is ahead of its competitors in terms of countries covered because it offers coverage in locations such as China, Nepal, Brunei, Bhutan, Algeria, Kyrgyzstan, and Belize.
Here is the server location distribution of UltraVPN:
North America – 34 locations
Europe – 43 locations
Asia – 26 locations
Asia – 3 locations
South America – 8 locations
Oceania – 2 locations
The Multiple location feature of UltraVPN helps you stream videos from any location with just a click.
Moreover, you can also watch live events and sports from global broadcasters. You can leverage a faster network connect with your friends over social media channels worldwide.
UltraVPN offers top-notch security features, such as military-grade encryption, security protocols, a kill switch, built-in malware, phishing protection, split tunneling, and IP leak protection to keep your data hidden.
Here are some of the best security features offered by UltraVPN:
Encryption
Hacking and snooping require an extra layer of security, and UltraVPN provides the industry standard 256 bit strong encryption, which is quite impossible to break. It offers the best defense from being watched, followed, or hacked.
UltraVPN respects your privacy, does not track the sites you visit, and provides the best encryption capabilities to keep your identity safe and secure.
Protocols
In addition to encryption, UltraVPN app offers top-level protocols, Automatic, Hydra, and IKEv2, to establish a safe tunnel.
Depending on the server and connection you establish, it automatically sets the best protocol for you.
On the other hand, Hydra is UltraVPN's proprietary protocol that masks your traffic to look like regular encrypted online traffic. It offers the best performance and strong privacy.
UltraVPN also offers IKEv2, one of the most stable and secure VPN protocols, usually preferred by mobile users.
Kill Switch
Kill switch is another feature offered by UltraVPN. This feature terminates private internet access if there is a sudden drop in the VPN connection. However, this feature is kept off by default.
For example, if your VPN client malfunctions but you continue to work online, in that case, you remain vulnerable to data leaks and cyberattacks.
However, if you turn on the kill switch feature of the VPN, you can shut down your internet connection when your VPN unexpectedly disconnects. It helps to protect you from any data leaks.
Split Tunneling
In addition to encryption and kill switch, UltraVPN also has a split tunneling option which is in development. This option will allow you to choose apps and websites that you want to be excluded from the VPN tunnel.
Therefore, you use your real IP address when accessing those apps or websites. It will help you to access a LAN network or your online bank account.
You can use the split tunneling feature by just turning it on and adding the domain or websites you want to access outside the VPN client.
Malware and Phishing Protection
UltraVPN also has built-in malware and phishing detection features that are useful to increase your security. It protects your system from getting infected with viruses.
Usually, the app does not have an ad blocker. The antivirus generally can prevent some ads but not pop-ups.
Thus, using UltraVPN to scan the app's installer for viruses is recommended.
IP, DNS, and WebRTC Protection
If IP or DNS requests are leaked, it imposes a critical privacy threat.
UltraVPN offers better network protect and uses an IP leak protection feature to prevent any possible IP or DNS leaks. This feature is turned on by default. It reroutes users' traffic through an encryption tunnel to anonymize and protect data.
Thus, UltraVPN does a great job of keeping you protected while you work online.
Easy Language Preference Options
By using UltraVPN, you don't have to worry about your local language, as it supports over ten languages. It means you can use the VPN in your local language. Here are available languages:
French
German
Danish
Dutch
Portuguese
Swedish
Italian
Nynorsk (Norwegian)
Polish
Spanish
Turkish
SECTION 9
Privacy / No Logs
Privacy is a big issue for people using the internet.
UltraVPN helps to keep your browsing anonymous and secure.
It stores no usage logs while its users are connected. This limits the data that UltraVPN holds about its users.
With industry-leading 256 bit strong encryption, your browsing details remain encrypted and protected.
UltraVPN stores the following information at the stage of signing up for an account:
Name
Email address
Payment information
At the time of using the actual VPN app, UltraVPN collects the following details:
UltraVPN app and app version
If you have successfully connected or not, and if not, the reason for failure
The location of servers you have connected to
Your country and internet service provider
Advertising IDs on mobile
Device hashes
UltraVPN server collects this information only to provide, maintain, troubleshoot, and support the services. It does not have any info associating your identity with your browsing activity.
In addition, UltraVPN does not collect your IP address, device identifiers, or anything in particular with your VPN browsing activity.
It only collects your IP address when you establish a VPN connection. However, it immediately encrypts and deletes it at the end of your VPN session. This is done to prevent fraud when you submit a payment to it during your VPN session.
SECTION 10
Set-up & Installation
Downloading and installing UltraVPN is quite simple.
Here are the steps to begin using UltraVPN:
Select a subscription plan for your order.
Download and open the UltraVPN app.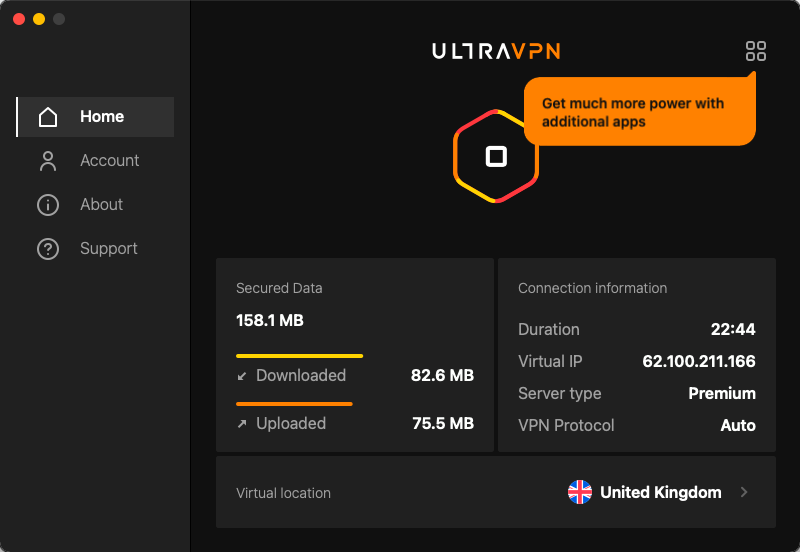 Click to use the default DNS server. You can switch servers by clicking the location button and selecting your preferred server from the list of available servers.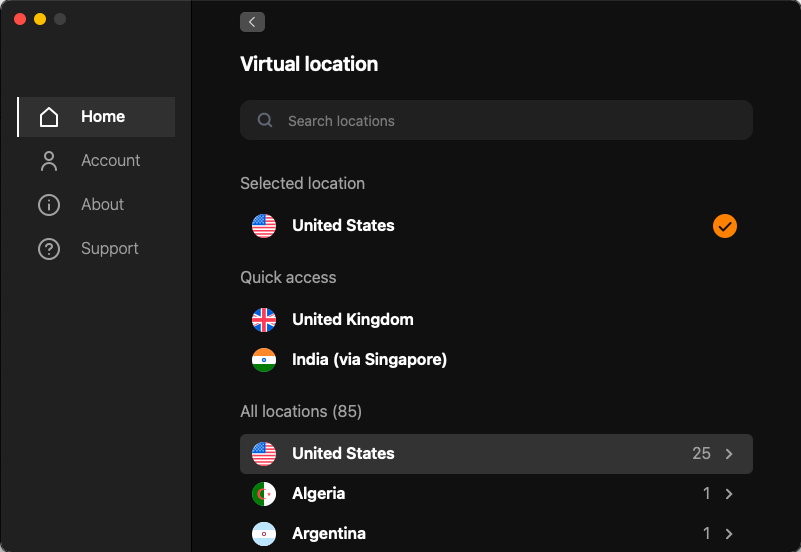 That's it; now you can enjoy faster and safer browsing.
You can also install the UltraVPN app on your Android or Apple phones by downloading it from Google Play or Apple Store. Besides, you can even install the extension in Google Chrome.
SECTION 11
Customer Support
Customer support service is always the priority when choosing a VPN service provider.
We found that UltraVPN offers reliable customer service over email and chat.
You can submit your request using this contact form, and the technical support team will get back to you as fast as possible, usually within an hour.
SECTION 12
Pros of UltraVPN
UltraVPN offers unlimited access to your favorite apps and websites at lightning-fast speeds. Two of the top selling points of UltraVPN are its fast speed and strong unblocking capabilities.
Here are the top advantages of UltraVPN:
Offers high-speed connections using the Hydra protocol
Provides apps for Windows, Android, macOS, and iOS
Allows Netflix US access on its New York server
Offers a zero-log policy and does not track you
Allows up to six simultaneous connections
Offers 100+ server locations in 85 countries
Offers affordable pricing options
Able to unblock popular streaming platforms
Offers Kill Switch to stop making unprotected connections
Offers unlimited bandwidth
Provides up to a 30-days refund policy
Provides 24/7 live chat support
Works on 256 bit encryption
Offers Password Manager tool to keep your online accounts and data protected
SECTION 13
Cons of UltraVPN
Here are the cons of UltraVPN:
Connection logs, including device identifiers
Android apps can be a little temperamental
Does not offer a free trial like other vpn providers, such as the privacyjournal
Slow response in some locations
Supports credit card, debit card, and PayPal as payment options, but does not accept Amazon Pay or Google Pay.
SECTION 14
Pricing Breakdown of UltraVPN
UltraVPN provides a low-cost service with top-level security features. It offers three plans:
1- A single-month plan that starts at $7.99 per month
2- A year plan at $4.99 per month
3- A two-year plan which reduces the cost to just $2.99 per month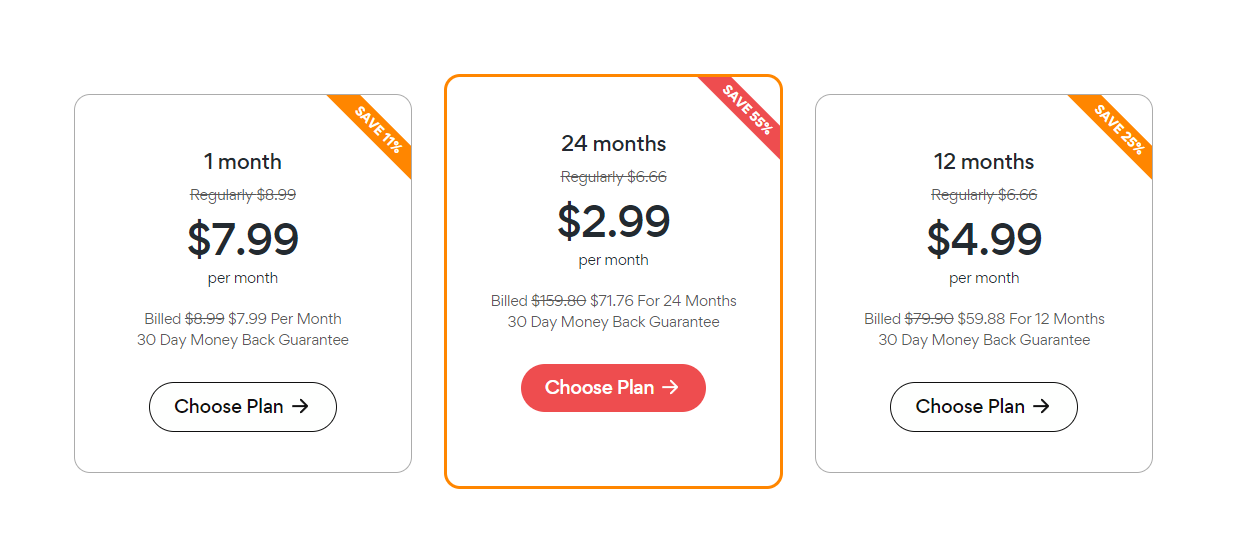 All these three plans come with:
30-day money-back guarantee

DNS leak protection

 on all your devices
Industry-leading encryption

Access to 1000+ secure

unlimited VPN proxy

servers

Unlimited bandwidth
24/7 technical support
Along with these services, UltraVPN also provides PassWatch, a password manager, and Dark Web Scan for free.
As you can see, if you choose the more extended UltraVPN subscription, you will get a higher discount.
In addition, all the subscribers get a 30-day money-back guarantee. It allows you to take a subscription to test if the VPN is worth your money or not.
You can use the following payment methods to purchase your UltraVPN subscription:
Credit cards, such as Visa, MasterCard, Discover, and AmEx
PayPal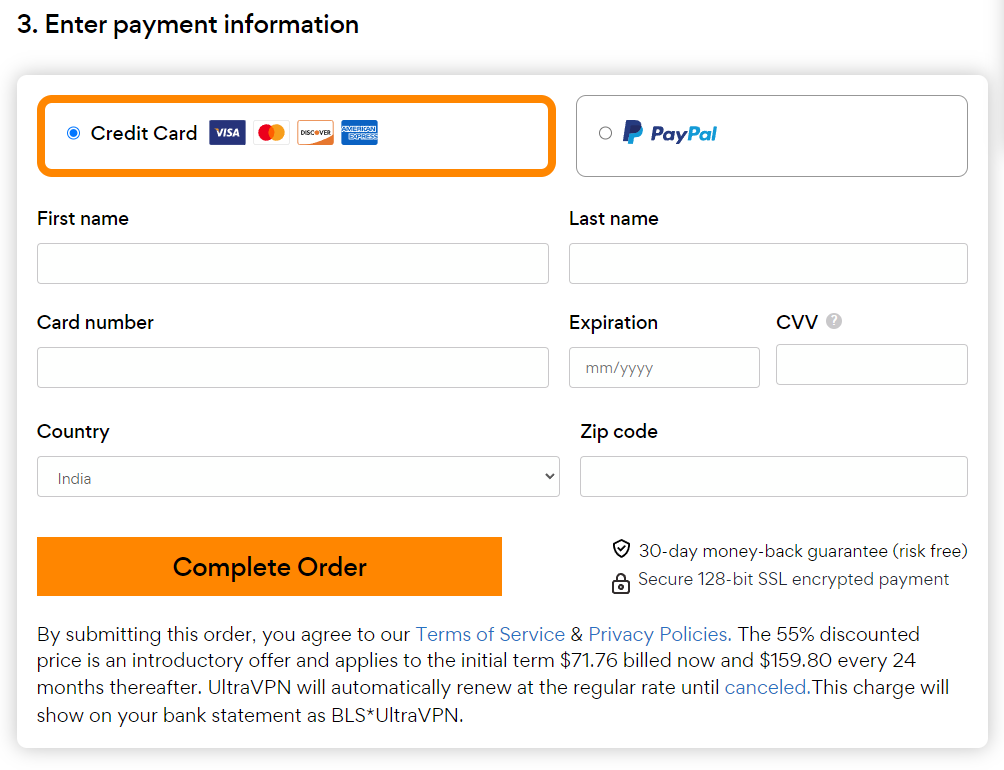 SECTION 15
Best VPN Comparison Table
Comparing the top best VPN service providers on the market: UltraVPN Wins – It Offers Maximum Streaming On Up to 6 Devices At The Lowest Price
| | | | | |
| --- | --- | --- | --- | --- |
| Service Provider | Price | Free Trial | Money Back Guarantee | Number of Devices |
| UltraVPN | $2.99 to $7.99 | No | Yes (30-day money-back guarantee) | Up to 6 |
| ExpressVPN | $8.32 to $12.95 | Yes | Yes (30-day money-back guarantee) | Up to 5 |
| NordVPN | $3.99 to $11.95 | No | Yes (30-day money-back guarantee) | Up to 6 |
| Hotspot Shield | $7.99 to $11.99 | Yes | Yes (45-day money-back guarantee) | Up to 5 |
The Bottom Line – Yes, UltraVPN Passes The Test!
Undoubtedly, UltraVPN provides its users with a global DNS server network with extensive P2P support and offers reliable privacy protection with a high standard of encryption at attractive prices.
In addition, other factors, such as unblocking popular streaming platforms, impressive speeds, and low prices, suggest that UltraVPN is a good choice.
You also must remember that UltraVPN is not a good option for bypassing censorship in countries such as China because it does not have obfuscation and cannot circumvent stubborn firewalls. Moreover, it has a relatively small server network.
Of course, there may be better options, but your choice will largely depend on what you need a VPN for. If you need a low-priced VPN that provides privacy and unblocks your favorite apps, go for  UltraVPN!
SECTION 16
[cta_smallbiz title="Try UltraVPN out for yourself" subtitle=" " link="https://urldefense.proofpoint.com/v2/url?u=https-3A__trk.aclktrkr.com_aff-5Fc-3Foffer-5Fid-3D90-26aff-5Fid-3D3161&d=DwQFaQ&c=WMd0r-PQhs0WAZxiA_cErG8GdPl1XKnTDrC5z57nsrw&r=kQNPCQ46wsIhYOTBrWIX4bAjI9Ad7Y794GN9qQf6p7A&m=hkOAGj_z1YGojclDjtQWDu3FK4o79v4Vm2pgd3OJU0brGNVc20niuCPzHZsaYryU&s=qFPTlwM68-dKJfEUtszPbLBeXIXpnyHfX_3_aHsmzKw&e=" button="Try It Now"]
FAQs About UltraVPN
1- Is UltraVPN good?
UltraVPN is one of the best VPN services for those who do not wish to spend a lot of money on a VPN provider to unlock streaming services in different countries. It is available on Google Play, Google Chrome (as an extension) and the Apple App Store.
2- Can I use UltraVPN for free?
UltraVPN is not free but is one of the most affordable VPN services. You can start using the VPN service for as low as $7.99 monthly, with a 30-day money-back guarantee. Hence, if you don't find UltraVPN worthy or satisfying, you can choose to cancel the subscription and get your money back.
3- Is UltraVPN safe?
Indeed, it is one of the safest VPN services available, which offers military-grade encryption to keep your personal information completely secure from cybercriminals. Besides, it also has built-in malware protection and IP leak protection.
4- Can UltraVPN unblock Netflix?
Yes, Ultra VPN can unblock Netflix and lets you enjoy your favorite web series and movies. UltraVPN also offers OTT unblocking for multiple other platforms like Hulu, HBO Max, Disney+, BBC iPlayer, ITV Hub, YouTube, and many more.
5- Will UltraVPN slow my speed down?
No, UltraVPN is fast, and you won't notice increased latency. Although your internet traffic will be directed through a VPN server before reaching the target, UltraVPN will keep the internet speed fast even when using multiple devices.
6- Does UltraVPN work in China?
While many premium VPN brand names service providers do not cover China, Ultra VPN does. In addition to popular countries like the US, UK, Europe, Germany, Australia, Canada, South Korea, Japan, Singapore, Netherlands, and many more, UltraVPN covers various other locations like Algeria, Bhutan, Nepal, Belize, etc.
7- How much does UltraVPN cost?
UltraVPN offers affordable pricing options without any risk. The one-month plan costs $7.99 per month, the 12-month plan costs $4.99 per month, and the 24-month plan costs $2.99 per month. Hence, UltraVPN is one of the cheapest VPN providers, with 500+ server locations worldwide.
8- Can we install UltraVPN on Firestick?
Yes, UltraVPN works with the Amazon Fire TV stick. Here are the steps to install UltraVPN on Firestick:
Click the Lens icon on the Firestick home screen.
Search for UltraVPN using voice search
You will see UltraVPN listed in the apps and games category.
Click and download the VPN.
Sign in and enjoy your services.
9- Does UltraVPN allow torrenting?
Yes, UltraVPN is one of the best VPNs for torrenting. You can choose any server to begin torrenting. It also offers a kill switch to ensure you never leak any uncrypted data to let your internet service provider know that you are torrenting.
10- Does UltraVPN work on Windows 10?
Yes, UltraVPN works for any computer running Windows 7 and above. The VPN is compatible with all modern versions of Windows, from Windows 7 to the most recent release.