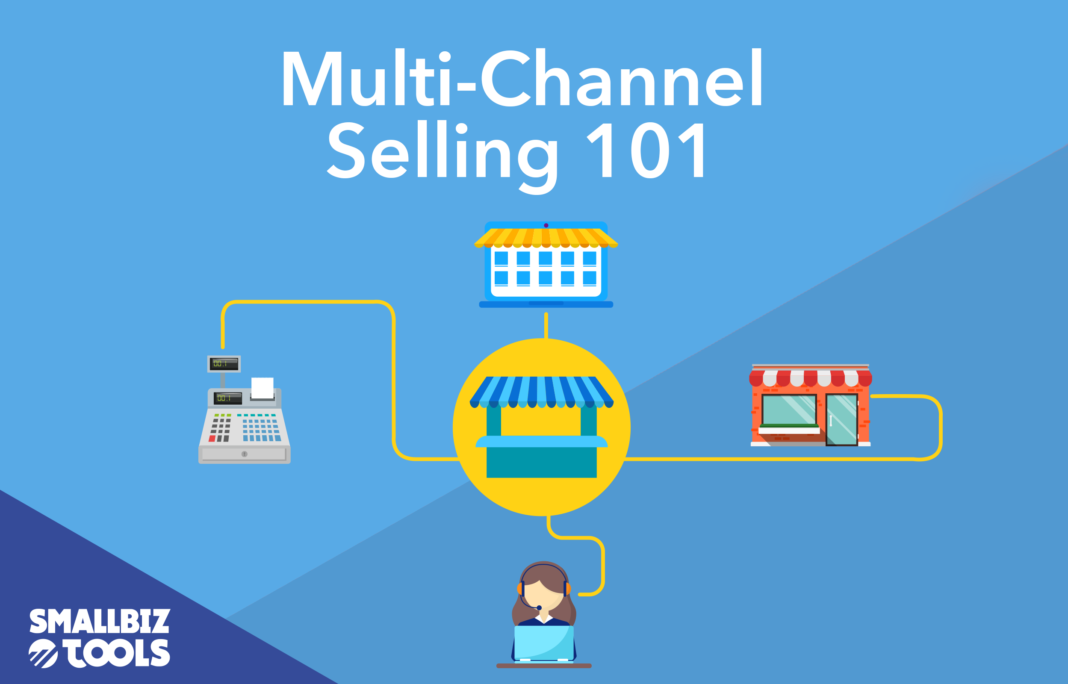 So you want to start selling on multiple sales channels? Good plan. 73% of online shoppers use multiple sales channels in their shopping journey. So, if you're not multi-channel selling, then now is a great time to start. 
But what exactly is multi-channel selling? Is it for you? How do you do it? What are the challenges? What are the solutions? And, most importantly, how can you ensure success? The eCommerce experts at Expandly are here to tell all. 
What is Multi-Channel Selling?
Multi-channel selling is selling your product using multiple sales channels. For example, you don't just limit yourself to selling an inflatable lama swim ring on eBay, you also utilize Amazon, Shopify, and Instagram.
Who is Multi-Channel Selling For?
Multi-channel selling is for anyone already selling online or thinking about selling online. Specifically, it's for those who want to:
Increase Reach
Amazon is the starting point for 56% of online shoppers, but what about the other 44%? Appearing on multiple sales channels allows you to reach different audiences, rather than restricting yourself to just one. 
Boost Awareness
85% of shoppers shop around— meaning they research other sellers, websites, and prices. Engaging consumers in all of these places creates the appearance that your brand is popular and trustworthy, which leads to more sales. For more information on this phenomenon, look into the mere exposure effect. 
Compete
Selling on all major sales channels also means that you're where your competitors are and aren't. This is important for gaining and retaining customers but also for deterring customers away from imposter brands and counterfeit products. 
Improve SEO
With a greater number of sales channels comes a greater number of clicks, sales, and customer reviews. All of these help your marketplace and website SEO and search ranking. 
Use Tools to Stay Ahead
With Amazon, eBay, Etsy and Wish all competing for online shoppers, you can take advantage of some pretty hi-tech seller tools and marketing. Features such as AI, television advertisements, machine learning, and customer vouchers are all readily available.
How Do You Sell on Multiple Sales Channels?
To start selling on multiple sales channels, you need to get set up on them. This requires a few different actions on your end.
1. Pick Your Online Marketplaces
There are many online marketplaces to choose from, so take a look around to see which ones best suit your business' goals. The four leading marketplaces to research are:
Amazon
Popular with buyers and sellers alike, Amazon boasts more than 500 million products and 100 million Prime members. 
eBay
The once-popular auction website is now an online marketplace in its own right—attracting over 182 million buyers and making more than 1,300 UK seller millionaires. 
Wish.com
Hugely popular across Europe and the US, mobile-focused Wish has 75 million active monthly users, more than one million merchants, and 200 million products. 
Etsy
Brilliant for homemade and creative sellers, Etsy attracts 33 million sellers with more than 50 million items. 
The key factors to consider when conducting this research include:
Marketplace fees

Seller tools

Competition

Barriers to entry
For example, your lama swim ring might make waves on Amazon and eBay but sink on Etsy because of the audience. 
2. Pick Your eCommerce Platform
An eCommerce platform enables you to list and sell products from your own website. If you're not already using an eCommerce platform such as Shopify or WooCommerce, but want to, start researching. We suggest checking out SmallBizTools' useful guide: finding the best eCommerce platform. 
3. Getting Started
After picking your marketplaces and eCommerce platform, you need to sign up and get started. Each sales channel comes with a step-by-step onboarding process that will get you selling in no time. To get started click on the links below:
Amazon – eBay – Etsy – Wish – Shopify – Magento – WooCommerce – BigCommerce
4. Managing it All
Once you're all signed up and onboard, you're officially multi-channel selling. Congratulations! Now comes the exciting part—managing everything. With multiple platforms to work with, you need to ensure that you're on top of your game when it comes to:
Listing – creating and monitoring listings across all of your channels. 
Orders – receiving, processing and updating orders quickly. 
Shipping – shipping orders to meet fast shipping deadlines. 
Stock – updating stock levels across each of your sales channels upon sale. 
Accounting – regularly updating your accounting software with invoice details. 
Reporting – checking out how great you're performing. 
The Challenges of Multi-Channel Selling
We're not going to tell you that multi-channel selling is challenge-free because that would be a lie. Multi-channel selling can be challenging for businesses of all sizes. The key to success is navigating those challenges with solutions. 
The common multi-channel selling challenges are:
Time
It's pretty time-intensive selling on multiple sales channels. You need to log into different systems to list products, update orders, amend stock levels, download invoices, and run reports. 
Errors
Working across multiple sales channels can also be pretty error-prone, especially when duplicating tasks. This can result in inaccurate listings, unhappy customers, and incorrect financials. 
Stock
Here's a nightmare situation for you: someone buys one of your lama rings on Amazon 30 seconds after you already sold out on eBay. Keeping stock levels accurate on each sales channel is really tough. You need to either quickly update each platform upon a sale (time-consuming) or ringfence stock per channel (profit-reducing). 
Reporting
Then there's reporting. Report downloads differ between channels making it complicated to merge and difficult to understand your performance quickly. 
The Solutions of Multi-Channel Selling
But didn't we mention something about solutions? We sure did. Thankfully, some people came along and invented technology to help multi-channel sellers out. Let's take a look.
Listing Software
Listing software enables you to log into one platform to create, upload, and edit listings across all of your sales channels. Not only does listing software save time, but it also reduces the chances of errors.
Order Management Software
Order management software gives you a dashboard overview of your sales orders, allowing you to update each of your sales channels from one screen. This can help to speed up order processing and increase internal efficiencies. 
Inventory Management Software
Remember how we said that you need to update stock levels manually or ringfence stock? Well, there's also a third option: inventory management software. This tool automatically updates your stock levels for you in real-time, preventing you from overselling. 
Shipping Integrations
Sometimes it's the little things that take up time. Shipping carrier integrations allow you to do simple things such as bulk printing shipping labels, packing lists, and invoices for all of your sales channels from one screen.
 Accounting Integrations
Likewise, accounting integrations allow you to automatically push cross-channel sales orders to Xero or other accounting software so you don't need to do this yourself. 
Multi-Channel Management Software
And finally, there's technology that does it all, known as multi-channel management software. Combining listing functionality, order management, shipping integrations, inventory software, accounting integrations, and reporting functionality—all you need is one login, one dashboard, and a whole lot of things to do with your newly found time. 
How to Succeed With Multi-Channel Selling
In conclusion, selling on multiple sales channels can make your eCommerce business a huge profit-making success or an overworked, inefficient nightmare. How do you opt for the successful outcome? Research, dedication, and the right tools.