Top 10 Disadvantages of an Instagram Business Account in 2023
Nobody can deny Instagram is an effective marketing machine and that Instagram for Business is the turbocharged version. But business owners should be mindful about setting up an Instagram Business account and examine the pros and cons before taking the plunge.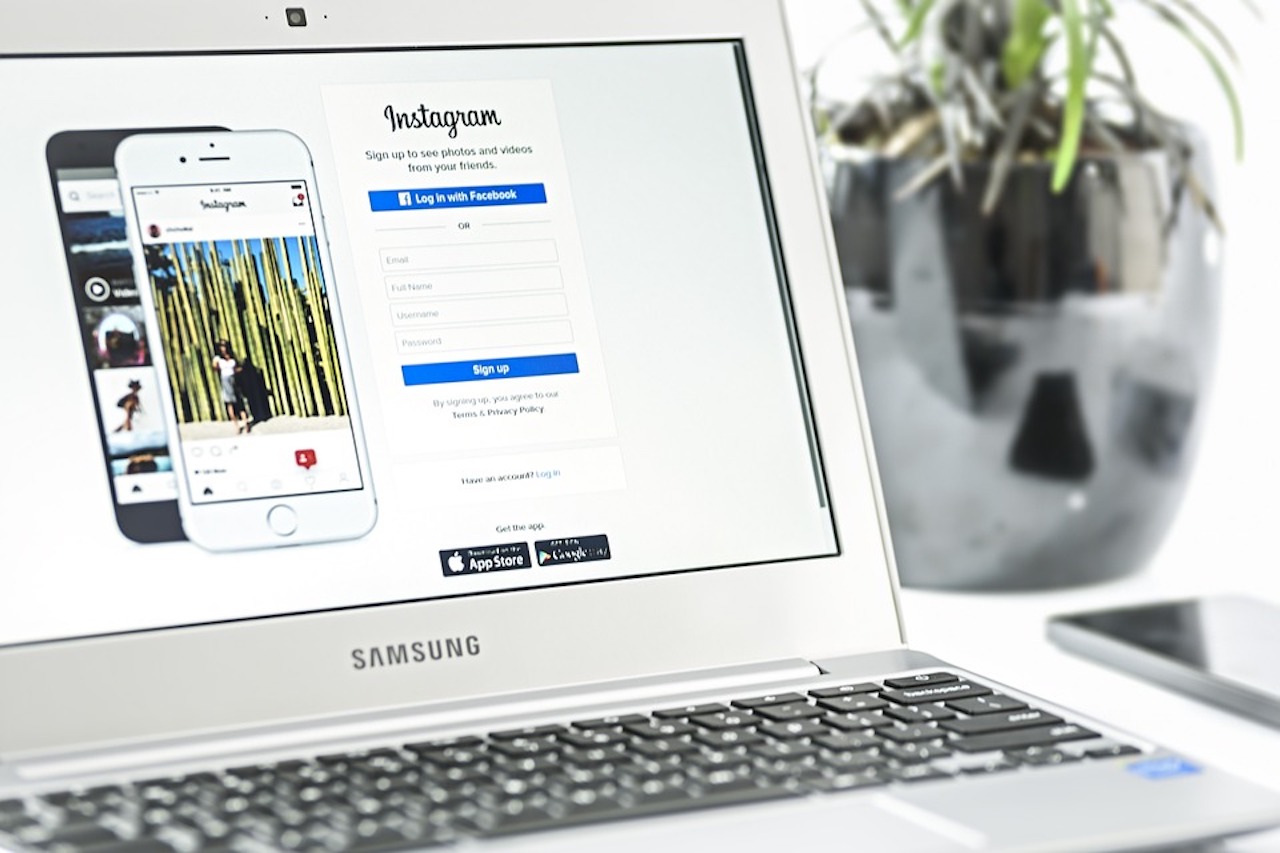 Disadvantages of an Instagram Business Account
"I'm a business so I should have a Business account, right?" Not so fast! Switching from Personal to Business on Instagram comes at a cost. This examination of the pros and cons gives you context so you can make an informed decision.
It's 2023 and nobody can deny Instagram is an effective marketing machine and that Instagram for Business is the turbocharged version.
But business owners should be mindful about setting up an Instagram Business account and examine the pros and cons before taking the plunge. While many of Instagram's features for businesses are tempting – and it might seem obvious that businesses should have a "business" account – switching your account also comes with some disadvantages. In this article, we'll examine those downsides (and summarize some of the benefits too). The goal is to help you make an informed choice about the best path for your business on Instagram (IG).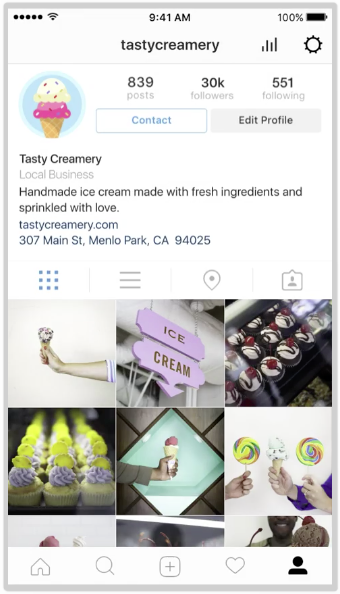 Disadvantage #1: Less Visibility
Business posts and ads appear lower in users' feeds than posts by their friends and family. By switching to a Business account, you're automatically demoting yourself in the ranking algorithm. (Caveat: The algorithm is constantly changing so it's challenging to state with certainty how it actually works – we'll discuss this further later.) Many users complain about a significant drop in engagement  after switching to a Business account, with some reporting a drop from hundreds of Likes to single digits.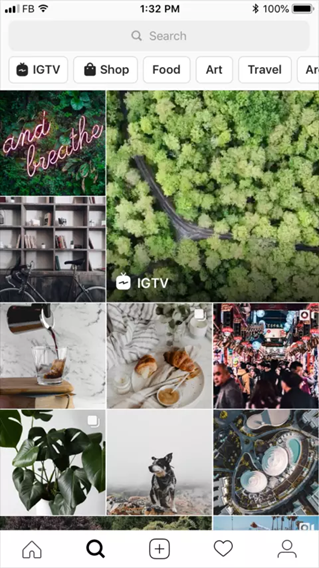 Quick word from Dmitry
I have to be honest, all the disadvantages I list here prevented me from using IG for business for a while, mainly because I just did not have the time to put in the effort in sending lots of DMs that my competitors were putting in. I started using Kicksta to outsource and automate my DMs and never looked back. It's a pretty neat platform which helps thousands of businesses build brand awareness, gain followers, and connect with customers using Instagram DMs. I suggest you check them out.
Tip: Grow your IG account by automating DMs.
Give It a Try Now!
Get Real Instagram Followers
Put your Instagram profile growth on autopilot
Disadvantage #2: Less organic reach
Never forget that Instagram, like most social media platforms, is geared toward profiting from advertising. When you switch to a Business account, you become a target customer for Instagram's promoted posts, which is how they make much of their money. Your ability to grow and engage without "paying to play" will be limited. The reason Instagram makes it easier for users to see posts by family and friends is because it keeps them scrolling long enough to encounter the ads Instagram sells to Business accounts. So if you're selling on Instagram DM it's important to keep this in mind, maybe start with a personal account first.
A lot of organic discovery on Instagram happens on the Explore page, a feed which features hundreds of posts from accounts a user isn't following that Instagram thinks he or she might like. For Business accounts, it's difficult (if not impossible) to show up on the Explore page organically.
Disadvantage #3: It's Not a Business-Centric Platform
Instagram for Business offers helpful features for business owners, but that doesn't change the fact commerce isn't really native to IG's platform. Being a Business account not only impacts how your content gets distributed and how people engage with it, it also signals to viewers that you don't really fit in. The tone on Instagram tends to be more casual and the Business label can make you seem buttoned-up and serious. That can feel out of tune on the typically laid-back platform.
Also, professional-looking content tends to be less popular with users. For example, taken-on-the-phone pics outperform professional studio shots for ecommerce brands. However, this phenomenon can work in your favor if you have good user-generated content and/or your posts have an approachable, home-made feeling to them.
Disadvantage #4: Ads are Pricey
If you want to get out of algorithm purgatory, it's going to cost you. Instagram is one of the most expensive social media platforms for advertising. Cost-per-click (CPC) advertising on Instagram averages $0.70-1.00 which many brands simply can't afford to play. To make matters worse, the highest priced age groups for CPC are 18-24 and 24-35, according to AdEspresso. For many, the point of being on Instagram (or "The Gram" as the kids call it) is to target these age groups so it can be dispiriting to see just how expensive it is to get their attention. On the plus side, the same study reveals that Instagram ads do have a high ROI if your business can afford to invest in them.
Disadvantage #5: Limited Features for Smaller Businesses
The top reason for switching to a business account comes down to two words: SWIPE UP. This is a feature businesses crave since it allows users to go directly to a link from your Instagram story. Unfortunately, this handy feature doesn't become available until you have 10,000 followers. Business accounts with under 10k followers can't offer the swipe up feature which can be a real downer.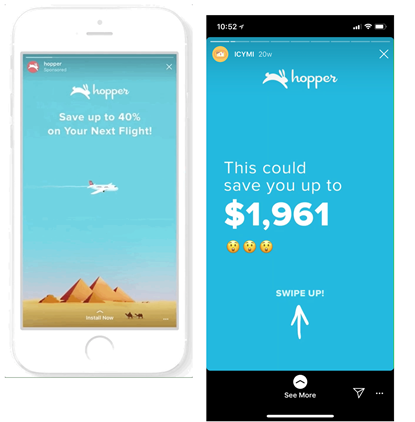 Disadvantage #6: You Have More Insights…But So Do Your Competitors
IG has a bad habit of revealing everything you do on the platform. Many Instagram creepers have been busted by accidentally double-clicking on an old photo way back in an ex's feed. It's not just jealous exes who have to deal with this transparency, it's also something businesses should keep in mind. Everything you do is visible to your competition. If they want to, they can figure out which hashtags you're trying to rank for and which audience you're trying to reach. Competitors can find your audience by simply clicking to see who follows you, something you can't control with your privacy settings the way you can with a personal account.

Quick word from Dmitry
Staying competitive on Instagram is tough, it's a noisy space! I'll be honest I don't have 5-10 hours to spend on IG hammering DMs like my competitors. However I found something sneaky which I wanted to share with you. I use Kicksta to automate sending my DMs and growing my IG business pages. It's software and service all in one, they've helped thousands of businesses build brand awareness, gain followers, and connect with customers using Instagram DMs. Give me them a try, I recommend them.
Tip: Automate your DMs by outsourcing them
Give It a Try Now!
Disadvantage #7: Privacy (or the Lack Thereof)
Personal and Creator accounts can be set to "Private" so that only approved followers can see their posts. Most businesses wouldn't want that anyway, but this gets tricky when it comes to Direct Messaging (aka the DMs). A Business account can't limit direct messages; you have to accept them from everyone. This can be great for customer service and building relationships, but it might not be worth it if you have concerns about privacy, trolling, or harassment. (FYI, here's our article
Related: We also have relevant articles about the importance of building customer relationships and how to build those long-term customer relationships (and the tools that will help you do it).
Disadvantage #8: It's a Mobile-Exclusive App
Unless you use a special third-party app or make some changes to your browser, you can't access all of Instagram's features from your PC; many only work on a mobile device or tablet. This can cause compatibility issues with other platforms and with the marketing tools you use to schedule and coordinate posts. It also means "working" from your phone, something that not every business owner wants their staff doing. (Note: This is true of all Instagram accounts, not just Instagram for Business.)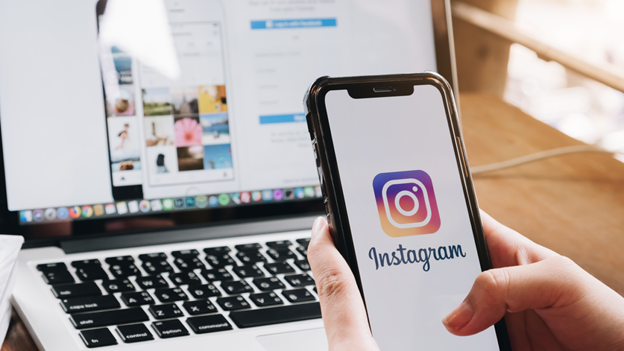 Disadvantage #9: Analytics You Don't Need
Instagram for Business opens up a wide world of analytic features, but if this data isn't meaningful for you and your market, then it might not be worth giving up organic reach to learn things you already know about your customers. For example, a small-town bakery doesn't need to know which percentage of their audience is coming from overseas; that business would simply want engagement from people within their local community, which is easier to get with a standard account since those people are more likely to see posts from a personal account.
Disadvantage #10: You're No Creator
Instagram forces you to choose between a Business and Creator account. So what's the difference between Creator and Business accounts? Creator profiles are intended for influencers and creators that don't yet have a business. These accounts are more human than a Business account but give more options (e.g. Insights) than a personal account. Creator accounts also let you choose a category like author or chef that you can display to followers. This can be a good fit if you're trying to build a fan community, attract brand partnerships, or share posts within a specific industry. Business and Creator accounts largely overlap but it's worth noting the features you're missing out on if you choose one over the other.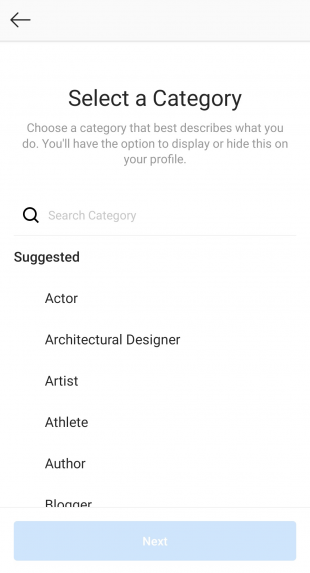 More Potential Issues (For Any Instagram Account)
Stepping outside of the Business vs. Personal account decision, keep in mind it's also possible Instagram just isn't the right platform for your business. If your customers aren't on Instagram or you can't produce the kind of content that does well on the platform, IG will be a bad fit.
The eyes have it
Instagram is very visual. If your images aren't eye-catching enough to make a person stop scrolling, nothing else you do will matter (and no account type will be effective). For this reason, the platform is geared toward products which have a strong visual element. If your product has a striking design, looks cool in use, or thrives in a good-looking setting, then Instagram might work great. But if you don't offer something that can sell itself visually, you might be better off investing your time, effort, and money in another platform (or form of marketing/advertising).
Demographics
Instagram users tend to be young; they're mostly Millennials and Gen Z (teens-35.) If this isn't your target audience, you might be in the wrong place.
Does your product skew old? Facebook is home to a slightly older crowd (Boomers and Gen X). If that's your target audience, try Facebook.
Skew young? Keep in mind over 30% of TikTok users are under the age of 19. However, there's substantially more overlap between TikTok's demographic and Instagram's than there is between Instagram and Facebook. But if you're trying to reach the youth and you're good at creating video content, try TikTok.
Slave to the algorithm
The visibility of your Instagram content depends on an algorithm that is constantly changing. It can be frustrating to develop a consistent strategy on the platform and you may find yourself spending more time trying to game the algorithm and less time focusing on producing great content.
Okay, we've been pretty hard on Instagram for Business up to this point. But obviously these accounts wouldn't exist if they didn't have some clear advantages. Here are a few perks of having an Instagram for Business account. Before you reject the idea of creating a Business account, consider these features available only to Instagram for Business users.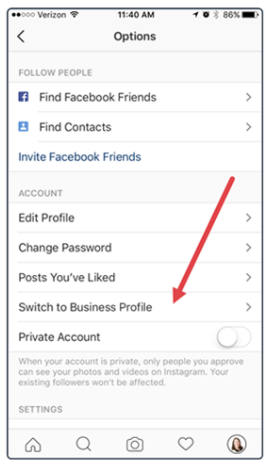 Ads
While Instagram ads are expensive, they also work effectively for many businesses. According to Forrester, Instagram ads have the highest engagement rate of all social media advertising by a long shot. They have a high ROI and a conversion rate of 1.08%, according to Shopify. That's lower than Facebook (1.85%) but higher than Twitter (0.77%).
Insights
Instagram's analytic tools are powerful, giving you insight into the performance of posts, follower activity, and audience makeup. This information can help you get the most out of your ad spend and quickly evaluate what's working and what needs to be adjusted.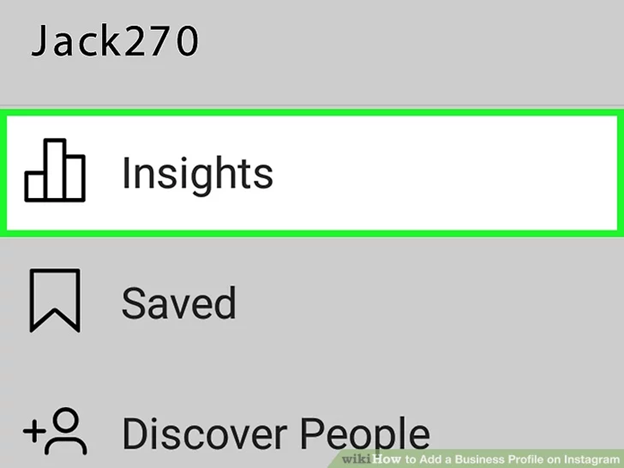 Swipe up
Everyone without an Instagram for Business account wishes they had the "Swipe up" feature. It allows Business accounts (with over 10k followers) to share links in their stories, which viewers can access by swiping up. This feature has a decisive edge over "link in bio" posts because it makes clicking on your content and offers so much easier.
Call-to-action buttons
Business accounts can incorporate call-to-action (CTA) buttons into their profile, prompting visitors to subscribe, connect via email, or take advantage of a special offer. This feature can effectively integrate Instagram into your sales funnel.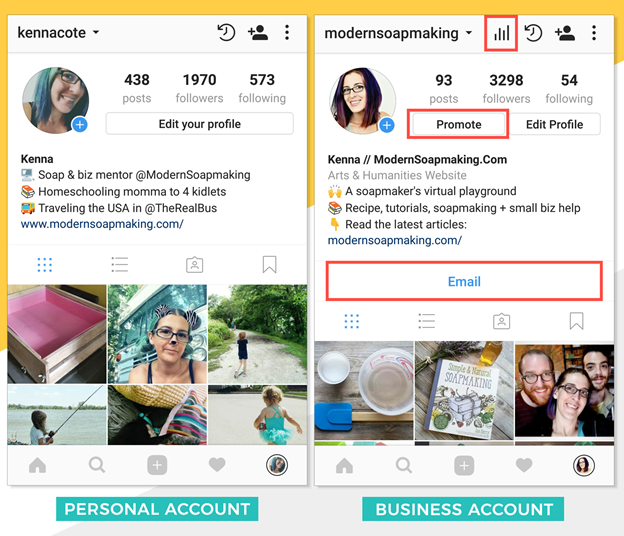 Shoppable posts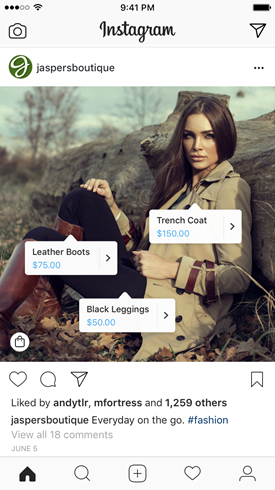 As the name suggests, these let customers shop directly from your posts. You can link to product pages within a post or story. Links and prices appear in bubbles over the products in the image, similar to how you tag people in a photo. This also makes your products searchable.
Third party apps
Business accounts mean you can use third-party apps to schedule posts in advance. That way, you don't have to be online at a specific time. Tools like Buffer let you plan and publish your content for Instagram, Facebook, Twitter, Pinterest, and LinkedIn all from one simple dashboard.
Quick replies
A time-saving best practice is to use pre-written copy in your messages (see our Instagram DM deep dive for more details). Instagram Quick Replies let you do that. Create replies for all the questions/comments you receive frequently. These canned responses can then be inserted with a touch of a button.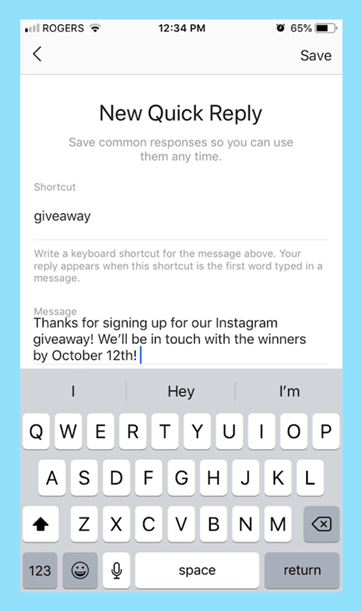 Which is Right for Your Business?
Like most business decisions, it depends. Choosing which type of Instagram account varies on a case-by-case basis so consider how the pros and cons stack up against the needs of your business. And keep in mind that, regardless of the type of account you use, the best results on IG come from building a community and nurturing relationships. No tool or account criteria can do that for you.
Which is Right for Your Business?
Ready to switch your Instagram account? See the instructions below for creating a Business account or switching from Business back to personal:
Set Up a Business Account on Instagram
To switch your profile to a Business account:
Go to your profile and tap in the upper right corner.
Tap Settings.
Tap Account.
Tap Switch to Professional Account.
Tap Business.
If you'd like, you can follow the steps to connect your business account to a Facebook Page associated with your business. This step is optional, and will make it easier to use all of the features available for businesses across the Facebook family of apps. At this time, only one Facebook Page can be connected to your business account.
Add details, like your business category and contact information.
Tap Done.
Switch Back to a Personal Instagram Account From a Business Account
If you've converted your personal Instagram profile to a business account, you can switch it back at any time.
To convert back to a personal profile:
Go to your profile and tap in the upper right corner.
Tap Settings.
Tap Account.
Tap Switch to Personal Account.
Tap Switch Back to confirm.

Nota: Cada vez que vuelva a cambiar a una cuenta personal, se borrarán los datos de sus conocimientos en Instagram.