LAST UPDATED ON March 26, 2021
Top 5 Productivity Tools to Increase Remote Team Performance
According to the latest research, at least 70% of the entire world's population works remotely at least one day per week.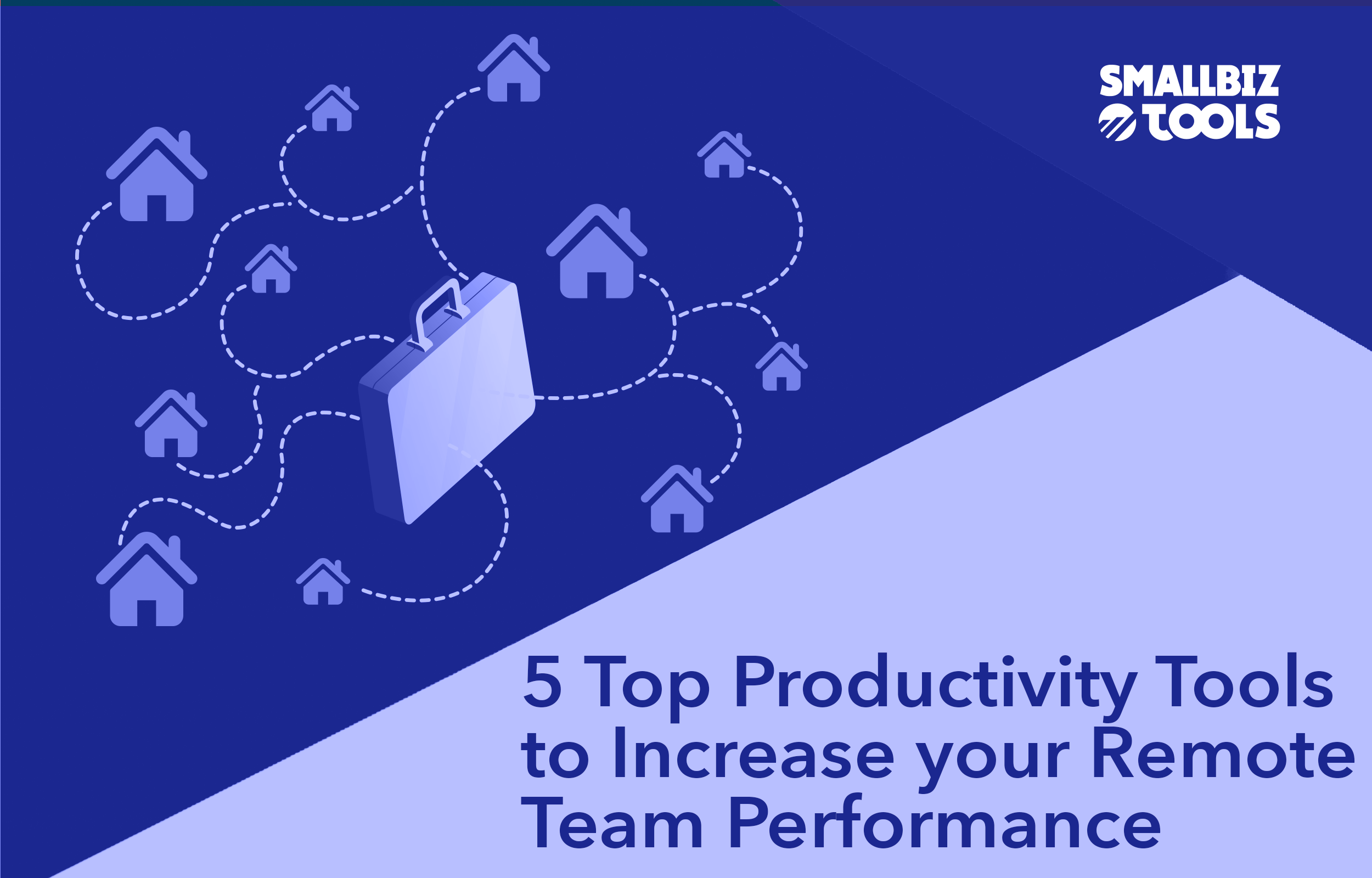 According to the latest research, at least 70% of the entire world's population works remotely at least one day per week. Additional research suggests that 99% of all remote workers intend to work this way until the end of their careers. With that said, it's clear that remote work is the way of the future and that more companies and employees will adopt it for its many benefits.
However, remote work brings about unique challenges. Communication, task management, company culture, accountability, distractions, loneliness – these are just some of the struggles of remote companies and workers. Here are a few tools that help you cope with these issues efficiently and build a successful remote team.
1. Track Your (and Your Employees') Time with PomoDone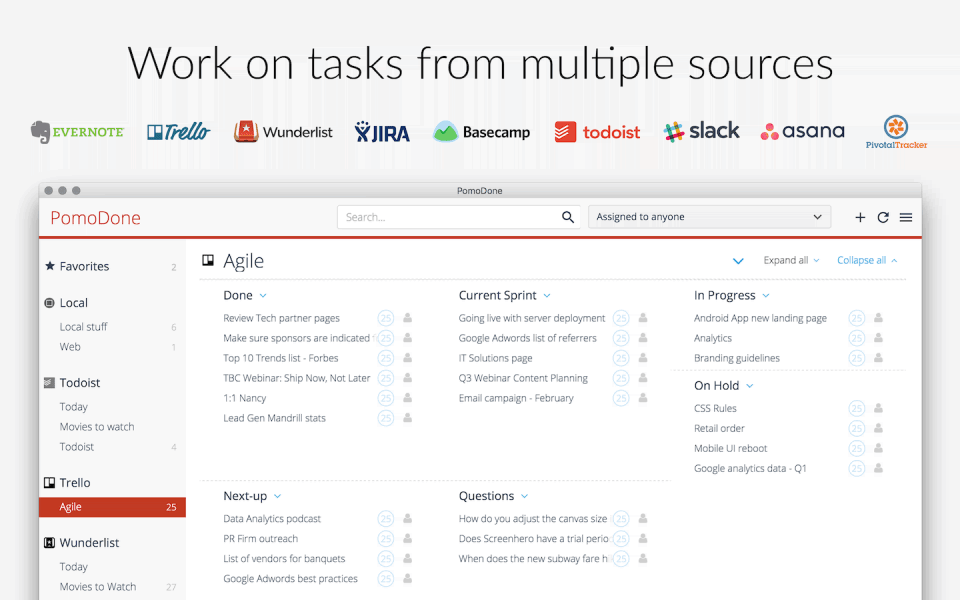 Time-tracking definitely isn't a new invention; it's been used in traditional companies for decades now. By tracking time at work, employers can make sure their employees are actually working and can see which tasks are the most time-consuming.
It also has multiple benefits, from increasing employee productivity to maximizing efficiency. Additionally, you can more accurately bill clients and predict future timescales.
The problem is, it's not that easy to convince your employees to track their time. It's extra effort on your employees' and most people aren't comfortable with having their time tracked. But PomoDone is a tool for tracking time that uses the Pomodoro technique. In this method, you work in 25-minute time blocks, followed by five-minute breaks. The tool is extremely simple to use and you can install it on any device. Unlike other invasive time-tracking software, it doesn't take screenshots of the employees' screens.
The best part is that at the end of each day, you can get time logs for individual team members. You can see where their time went and what specific tasks they worked on. That way you can be sure that they're doing what they claim to be and not spending time on Netflix.
2. Communicate Effectively with Chanty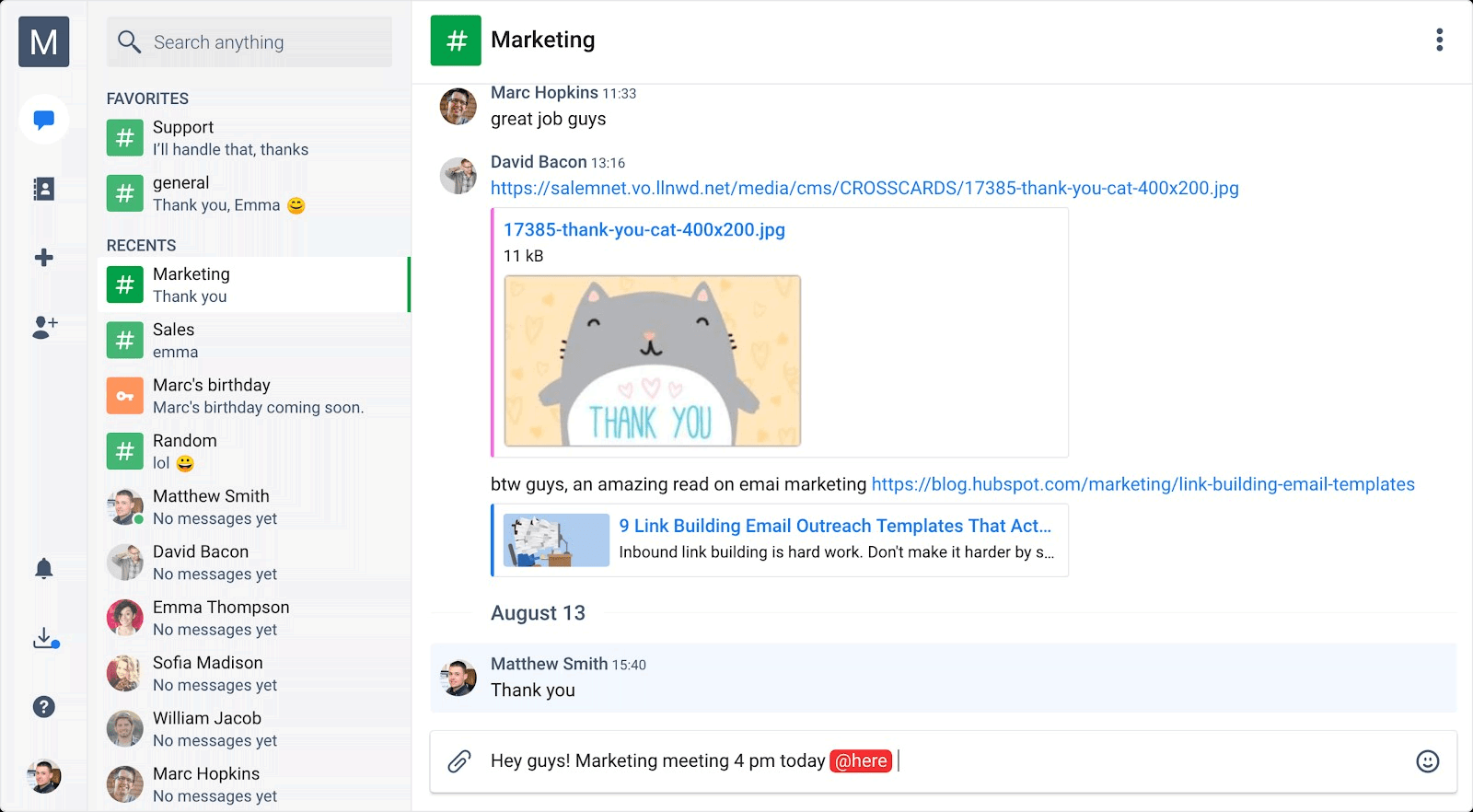 It's been a while since the business world figured out that emails aren't the most practical way to communicate in the workplace. They've been joined (but not replaced) with chat tools and messengers such as Skype. These tools weren't ideal, but they fit the bill until the conglomerate Slack joined the market. However, as the team chat app market grows, there are Slack alternatives such as Chanty that can do the job even better.
Chanty is an AI-driven team chat tool that lets you easily communicate with your remote staff. Besides the standard text features, it also comes with audio and video calls and screen-sharing. For those who want an easy project management solution, you can also assign messages in Chanty as tasks.
Chanty's biggest strength is that it's pretty fast, no matter which plan you have. As many of its users can attest to, Slack has been pretty slow in recent times. Similarly, it only allows searching up to 10,000 messages on the free plan, while Chanty's message history is unlimited. Couple this with a more affordable pricing plan and an exciting product roadmap and Chanty is definitely a tool that your remote team needs to consider.
3. IDoneThis for Easy Checklists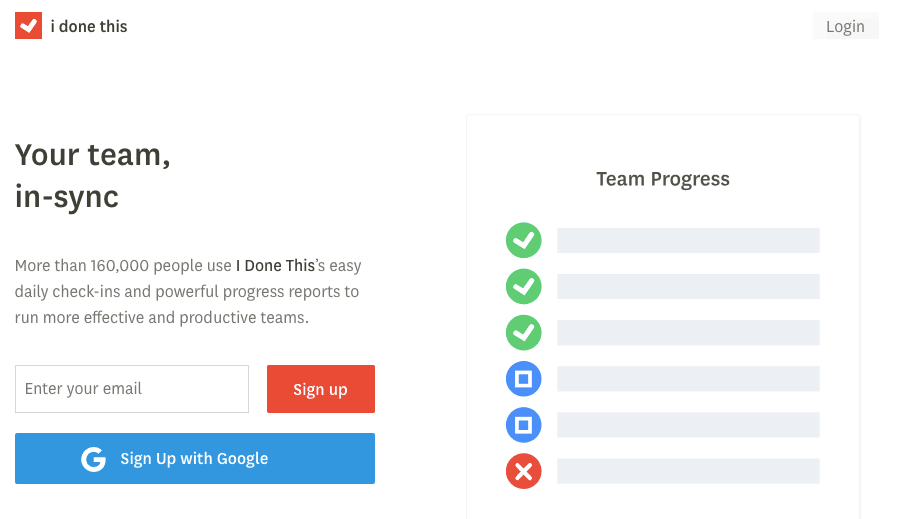 Sometimes, you don't need a dedicated project management app. Sometimes you just need a simple way to stay on top of your team's daily tasks. This is where IDoneThis shines. It's a simple tool with a single use: list what tasks are done and what's preventing someone from getting them done.
You can use IDoneThis for daily reporting, creating simple checklists, keeping track of larger goals, or finding processes that prevent your employees from doing their jobs. It also comes with a neat reports feature so you can stay on top of your team's progress and problems at all times.
4. Workzone for Project Management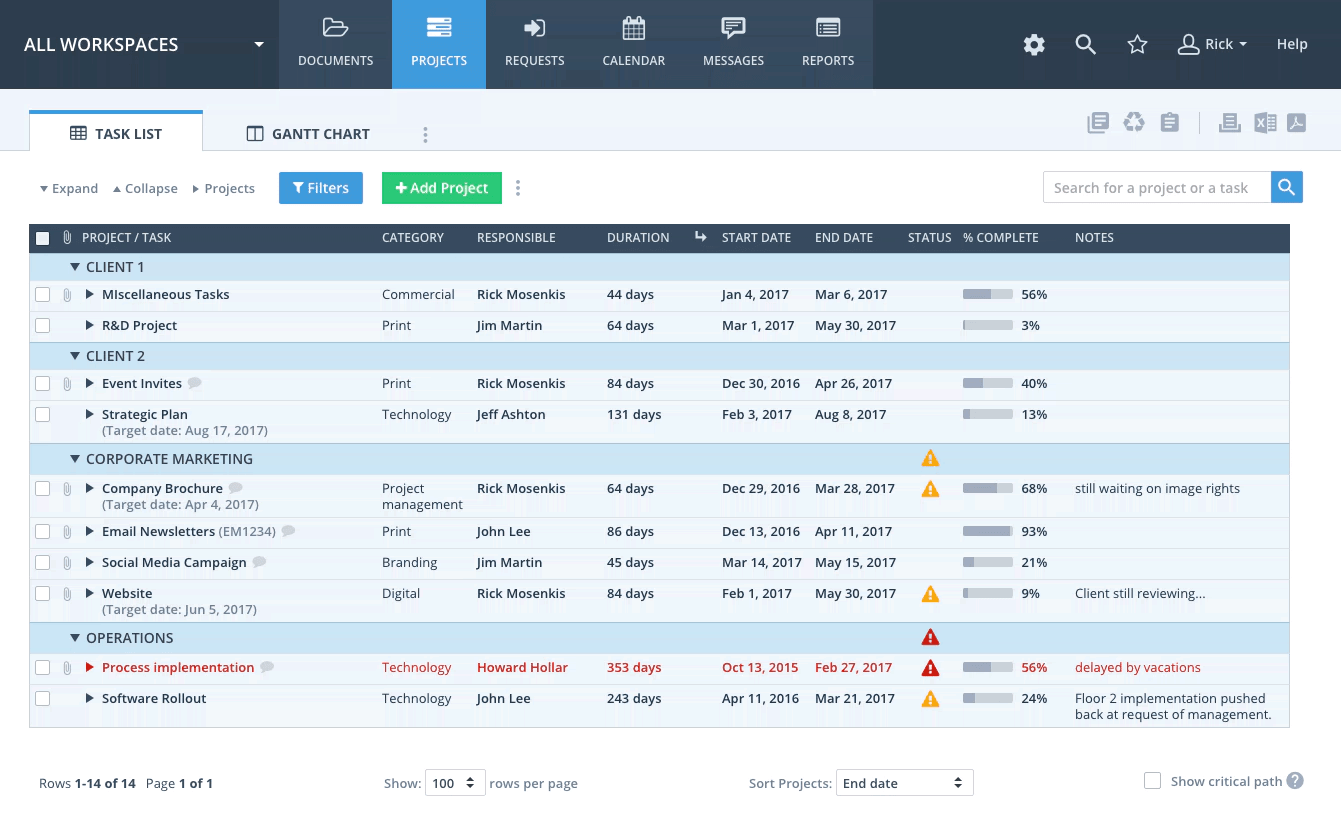 Handling work-related tasks through email and team chat apps can get cumbersome. You can easily lose track of who does what and where they are with their progress. Project management apps are one of the biggest blessings for remote teams. Though finding the right one is like finding a perfect pair of shoes – possible, but it takes ages.
Workzone is a project management app designed to be just the right thing for remote teams. It's complex enough to be useful for advanced users but simple and easy enough for beginners. It's the middle ground between complex solutions like Microsoft Project and simpler apps like Trello or Basecamp.
Using Workzone, you can get a bird's-eye view of all of your ongoing projects or look into individual tasks and team members. Perhaps the best feature is the ability to use templates for different industries. For example, you can grab a marketing template and have processes ready immediately instead of having to build lists, cards and tasks, as you would with Trello or some other PM tool. That way, you can stop worrying about project management and focus on bringing in more revenue for your remote team.
5. Timezone.io for Finding Out Team Members' Time Zones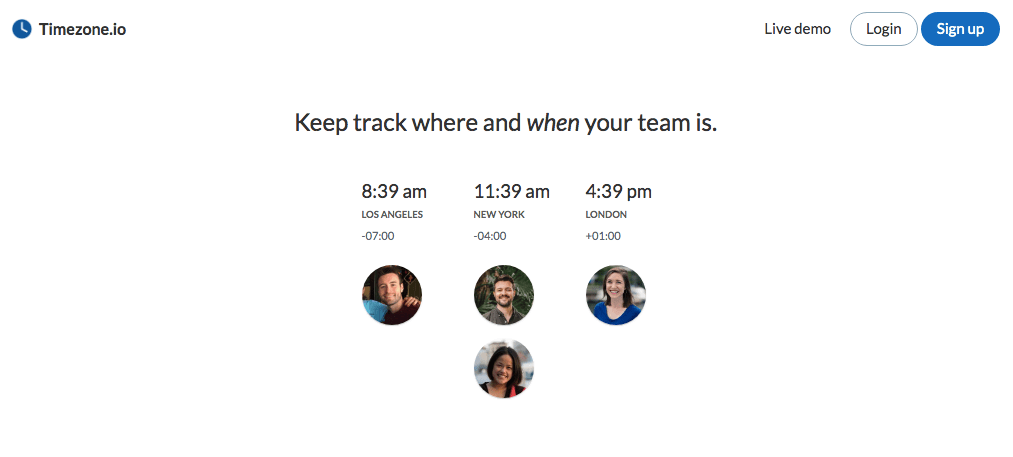 Some remote companies focus on a single country, others on a single continent. Then there are teams that are spread across the world. Although seemingly complicated, this arrangement works as long as you know your employees' time zone. This is what Timezone.io was built for.
Just enter all of your team data and it'll keep you in the loop about your team members' current time.
One tool I want to give a shout out to is Nifty for workflow management. It's a quite nice workflow solution enabling teams to track project cycles, manage tasks, document creation, collaboration and file management all in one digital solution – leading to a more productive workflow. Saves you a lot of time. I like how it's all in one place.
Conclusion
Running a remote team isn't as difficult as it may seem given the abundance of great tools we have at our disposal. With many advantages and growth of remote work, we can't wait to see what the future holds for remote workers and the tools that help them do their jobs better.