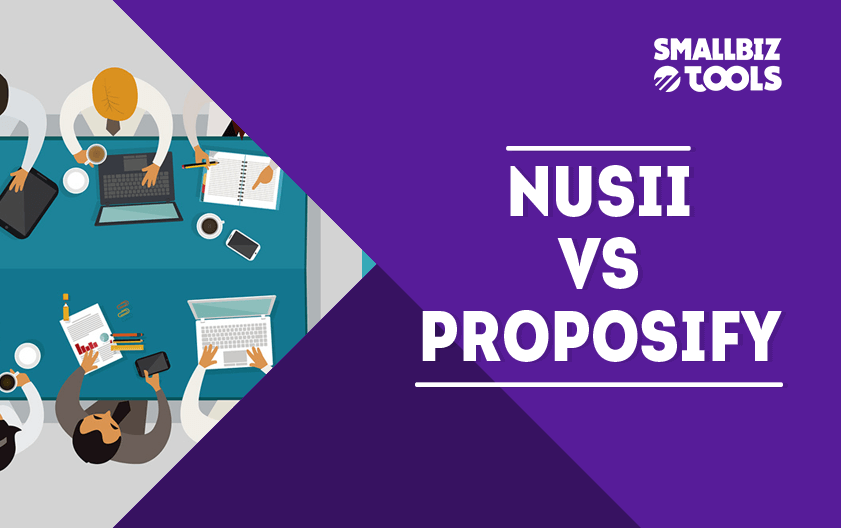 Nusii vs Proposify – A Brief Comparison of 10 Key Features
When comparing Nusii vs. Proposify, it's clear both are leading online proposal software options which aid creative professionals in sending compelling proposals to prospective clients.
In their most simplistic form, both software choices allow the user to select an online proposal template, which is then personalized and sent to a prospective client. Beyond this, there are numerous features to explore. To save you the time of digging deep into their webpages, we've provided a brief comparison of 10 key features.
1.Available Online Proposal Templates
Both Nusii and Proposify offer endless template choices. While an available online proposal template in its current state may not suit your business type perfectly, the customization options make any selection a possibility.
2.Customization Ability
Any selected online proposal template can be customized in both Nusii and Proposify. Fonts, colors, layouts, and images can be adjusted within pre-existing templates to align with existing branding. However Proposify may offer too much customization for beginners. With enhanced customization options, the learning curve can be steep and cumbersome. Some users report the customization options to be overwhelming, where Nusii is simple and straightforward.
3.
Business Volume
Depending on the volume of your business, this feature alone can help make your decision between Nusii vs Proposify simple. Nusii, as it currently stands, offers packages with between 1 and 50 active proposals, although a more customized package is possible by contacting them directly. Proposify, on the other hand, offers upwards of 200 plus, active proposals.
4.Team Use
Both software choices allow an unlimited number of active users – depending on the package selected of course – making the need to work within a team increasingly efficient. Proposify though, enables users to assign specific roles and permissions to their team members, adding an additional level of security and oversight to one's business; this feature is not currently available through Nusii.
5.Online Signature
Both Nusii and Proposify offer the ability to utilize electronic signature. This feature allows you, the business owner, the ability to sign proposals, but more importantly, allows your client to sign quickly and conveniently.
6.Trial Period
Free trials are offered for both software options. Where Nusii offers a 15-day trial with a credit card required, Proposify offers a 14-day trial with no credit card required.
7.Resources
Nusii currently offers an 'actionable' 5-part email course on how to write a more 'convincing' proposal. In addition, they have a podcast, a blog, and two e-books – one titled, "Close More Sales" and the other titled, "Survive Client Interviews". Comparatively, Proposify offers a blog, a podcast, and a freelancer guide.
8.Security
Both software providers leverage cloud hosting and utilize 128-bit SSL encryption.
9.Pricing
The pricing for Nusii ranges from $29 to $129 per month (pricing in USD), with the option of saving 20% by paying monthly. Proposify pricing ranges from $25 to $400 per month (also priced in USD), and also offers savings (20%) for those who opt to pay annually.
10.Customer Support
Customer support at Nusii is available through email, Google+, Twitter, and Facebook. Email and online support are the primary methods for Proposify users, except those who subscribe to the largest plan, who can additionally contact support by phone.
Upon reviewing the key features for Nusii versus Proposify listed above, likely one choice will better suited to your needs. Business with high volume, bigger team members, and more resources may be best suited to Proposify, while those smaller in both volume and team members may be best suited to Nusii. For more in-depth information regarding either software option, visit www.nusii.com or www.proposify.biz.