LAST UPDATED ON December 1, 2023
The 17 Best Ahrefs Alternatives for Every Budget
Let's have a straightforward chat about SEO tools.
Which one do you use? Is it intuitive and easy to navigate? Does it meet your business needs?
After using Ahrefs for many years, their new credit-based pricing system drastically limited my subscription plan and forced me to look for Ahrefs alternatives.
Did it throw me for a loop? Not really. Luckily, these days there are many powerful SEO and SEM platforms on the market.
I've tried dozens of tools over the years, so I've listed the best ones in this article based on the following criteria:
Pricing: I compared the costs and the value of every tool.
Functionality: The number and variety of features are compared to Ahrefs.
Ease of use: I included beginner-friendly and professional SEO tools.
Data reliability: I checked SEO tools' data sources and whether their metrics are reliable.
All-in-one SEO tools
If you've used Ahrefs, you know it's a robust all-in-one SEO tool for various online marketing tasks. That's why I've listed eight tools below that I believe are the closest to Ahrefs, both in terms of feature quantity and quality.
Semrush
In my opinion, Semrush is one of the best Ahrefs alternatives on the market, judging by the variety of features and data accuracy.
I've switched to Semrush after using Ahrefs for years, without any sacrifice to the quality of my work.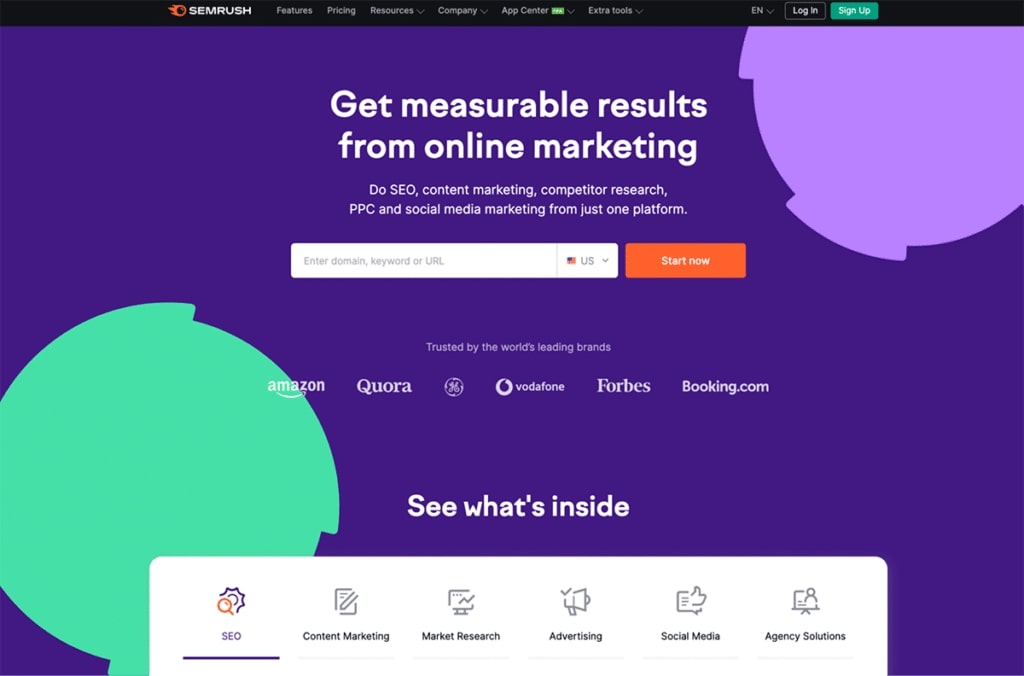 Semrush has an extensive SEO toolkit for SEO professionals, including Domain Overview, Traffic Analytics, Keyword Research, Link Building, On-page, and Site Audit tools.
Unlike Ahrefs, Semrush can be used by an entire marketing team since it has many features for paid advertising, social media, and content management.
Besides SEO, I actively use Semrush's Topic Research Tool and Writing Assistant. They work perfectly in tandem, helping me discover new topics and create optimized content.
If you want to learn more about Semrush and how it differs from Ahrefs, I wrote an in-depth Semrush vs. Ahrefs review.
Pros
Even though Semrush and Ahrefs are often treated like interchangeable tools, I want to highlight a few insider observations that make Semrush the best Ahrefs alternative.
Semrush's Keyword Research toolkit provides more essential metrics for keyword research than Ahrefs.
For instance, Semrush shows the search intent for each keyword and also generates keyword clusters automatically, eliminating the need for time-consuming research on semantically related and low competition keywords.
Besides, I also want to highlight Semrush's generous daily reporting limits, letting you pull more reports regardless of the pricing plan.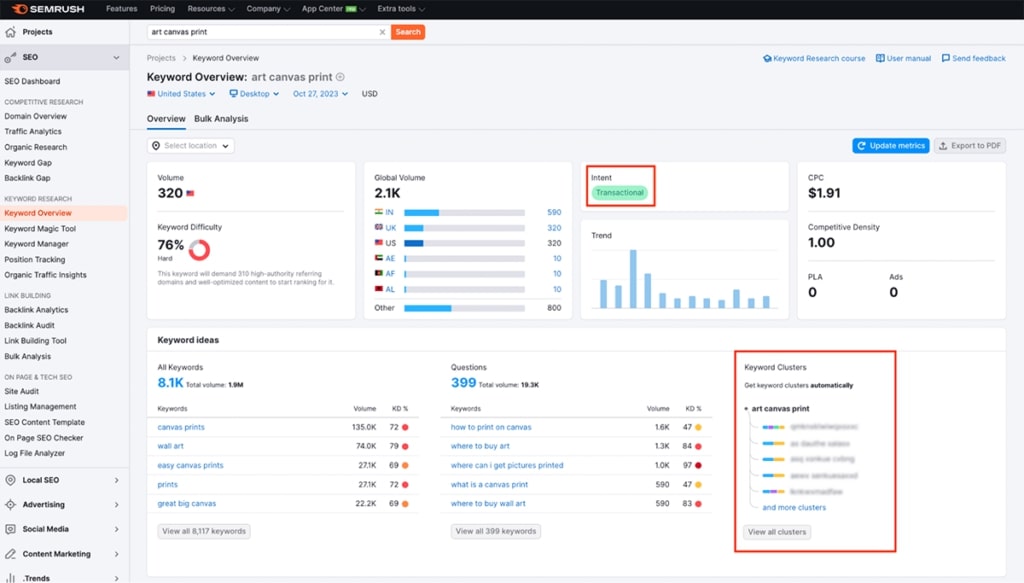 Cons
Even though Semrush has the most extensive keyword and backlink database on the market, its metrics are still estimates that may vary from your Google Analytics and Google Search Console data.
Also, the tool may seem a bit overwhelming for beginners. However, you'll quickly get used to its user interface (UI) and features after trying it several times.
Pricing
Semrush is a paid tool, but with a free 14-day trial that has different pricing plans depending on your needs.
If you are a solopreneur or a freelancer, the Semrush Pro plan for $129.95 will cover all your needs. I occasionally use this plan for managing up to 5 websites simultaneously.
The Guru and Business plans are for agencies and established businesses with giant websites. Even if you manage an e-commerce website with thousands of web pages, Semrush can process all your data and display up to 50,000 results per report.
Moz
Moz is one of the first SEO solutions launched in 2004 to enhance website visibility in organic search results. It offers various tools for examining backlinks, monitoring rankings, and conducting keyword research.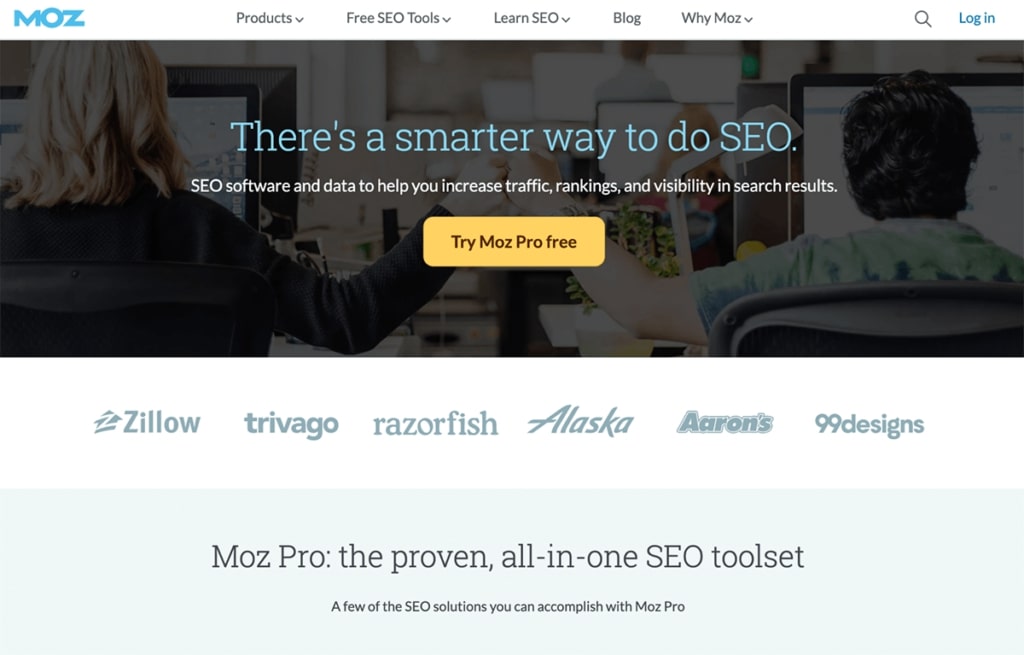 Unlike Ahrefs, Moz provides 10 free queries per month you can use for domain overview, competitor analysis, backlink, and keyword research.
For example, I occasionally use Moz's Keyword Explorer to analyze keywords. The report contains monthly search volume, keyword difficulty, organic click-through rate (CTR), an overview of search engine results pages (SERP), and keyword recommendations.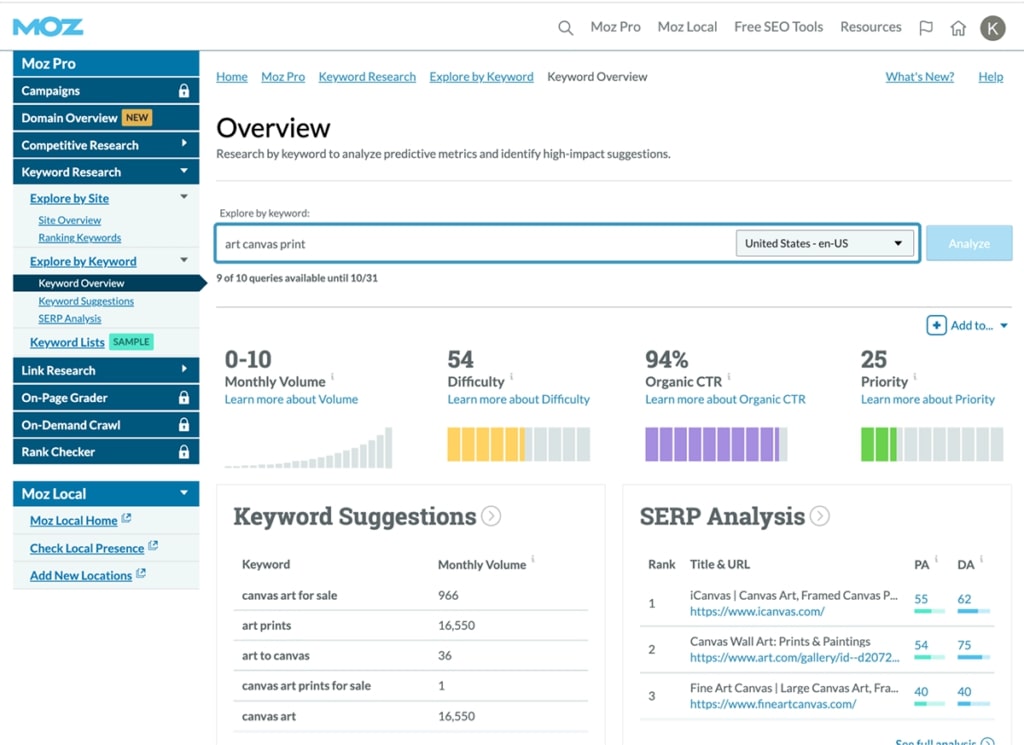 Pros
Moz is affordable and as powerful as Ahrefs.
I've tried Ahrefs' and Moz's cheapest plans for $99 per month and it turns out that Moz provides way more value for the same price.
With Moz Pro, you can do keyword research, link analysis, site auditing, and rank tracking, which can help you optimize your websites for search engines effectively. However, Ahrefs' functionality is significantly limited under the same pricing plan.
In addition, Moz's dashboard and tools are user-friendly, making it accessible for both beginners and professionals.
Cons
Moz's Keyword Explorer is less informative than Ahrefs'. You won't get insights about search intent, global search volume, monthly search trends, and insights about paid search, to name a few.
In addition, Moz provides search volume ranges, which is inconvenient and unreliable for keyword research.
If these peculiarities are not an issue, Moz can be a suitable Ahrefs alternative for your business.
Pricing
Even though Moz is a paid tool, it offers a 30-day free trial, letting you try its functionality before subscribing to any paid plan. In contrast, Ahrefs does not have a free trial.
Moz Pro has four pricing options, the cheapest one being $99 monthly or $79 if you opt for an annual subscription. The most expensive plan is set at $599 for SEO agencies and marketing teams.
Majestic
Majestic is commonly used by SEO professionals and online marketers to improve backlink profiles and domain authority. Its backlink overview reports, Trust Flow, and Citation Flow metrics provide in-depth insights into the quality of backlinks.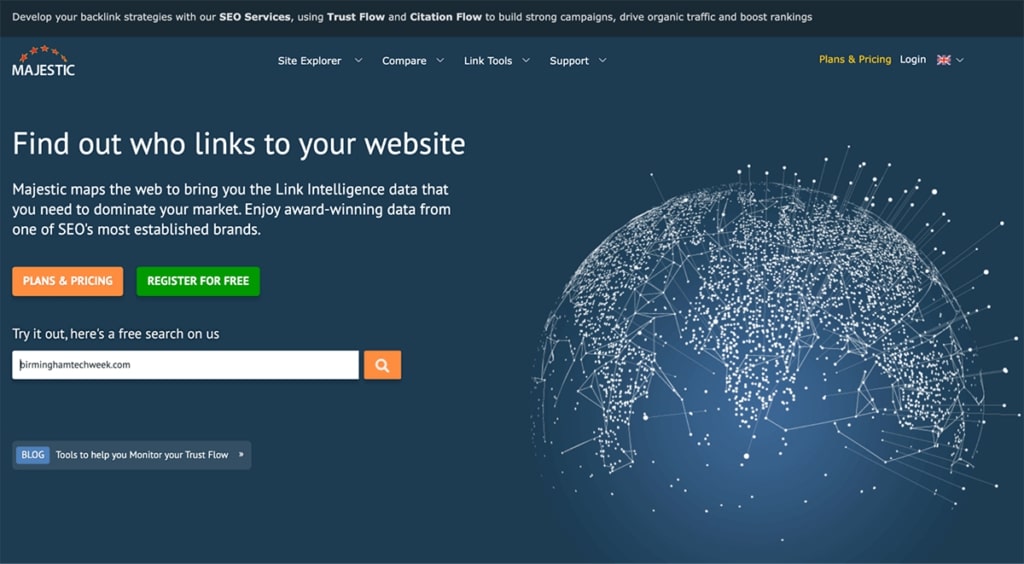 Pros
Majestic's Trust Flow and Citation Flow metrics are unique and were introduced to help users evaluate the quality and quantity of backlinks. Trust Flow measures the quality, while Citation Flow measures the quantity of backlinks.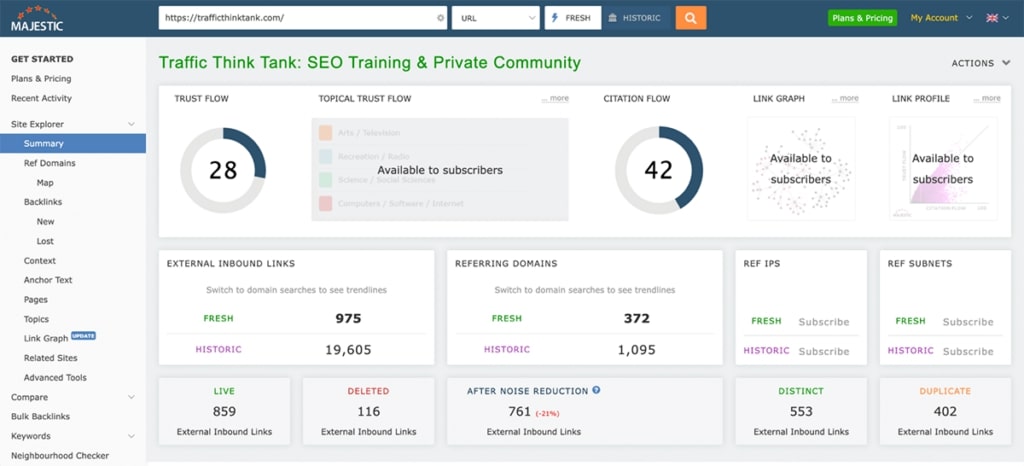 Cons
Even though Majestic offers some keyword research and competitor analysis features, its primary focus is backlink analysis. Because of this, it may not be as comprehensive for SEO and content marketing as Ahrefs.
Pricing
Majestic is a paid tool that does not offer a free trial. I personally think this makes it inconvenient for users since it's impossible to figure out whether the tool suits your specific needs.
The Lite plan is $49.99 monthly or $41.67 annually and includes the keyword generator, bulk backlink checker, and other tools.
There is a Pro plan for professionals for $99.99 monthly or $83.33 for an annual subscription.
SEO PowerSuite
SEO PowerSuite is an all-in-one toolkit that you can use to track your website rankings in local search, YouTube, and Google, conduct keyword research, backlink analysis, technical SEO audit, on-page optimization, and SEO competitor analysis.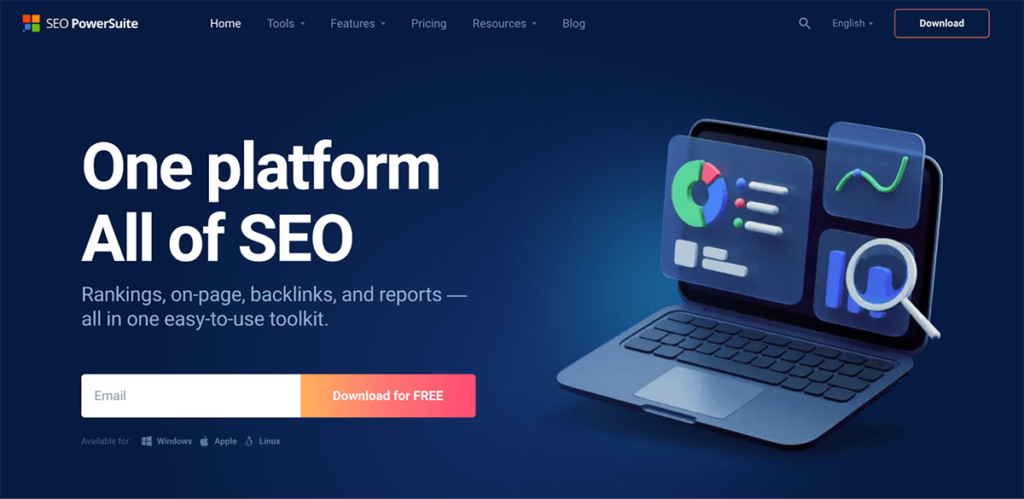 Pros
Unlike Ahrefs, SEO PowerSuite has a generous free version that lets you track unlimited keywords, audit up to 1,100 backlinks, and crawl up to 500 URLs.
Based on my experience, it's a great Ahrefs alternative for small businesses and website owners.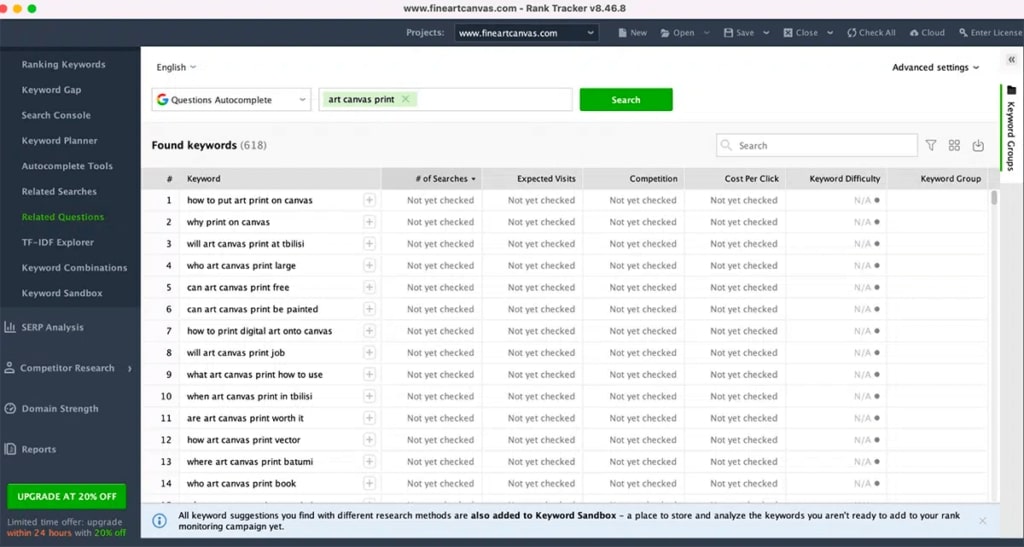 Cons
SEO PowerSuite is a downloadable software for Windows, Mac, and Linux operating systems.
Please note there is no online version of SEO PowerSuite. So, if you forget your laptop at home, you'll have to download, install, and activate the software again on another device. Perhaps that's not an issue for you, but I prefer online SEO tools that I can use without downloading anything to my laptop.
Pricing
SEO PowerSuite is much less expensive than Ahrefs and other SEO tools.
There is a free plan for site owners and two paid plans for agencies and businesses of various sizes.
The Professional plan costs $299 annually and includes unlimited keyword analysis, site crawling and auditing, backlink research and analysis, and link-building functionality.
There is an Enterprise plan for big websites, which costs $499 and includes everything from the Professional plan plus unlimited data export, SEO reporting functionality, and up to 4,000 projects under one account.
There is no monthly subscription. Therefore, try the tool before purchasing a yearly subscription.
Raven SEO Tools
Raven is an agency-focused SEO toolkit.
You can use this tool for analyzing competitors, auditing your website's health, conducting keyword research and tracking keyword rankings, executing social media campaigns for Facebook, X (formerly Twitter), YouTube, and LinkedIn, and creating marketing reports.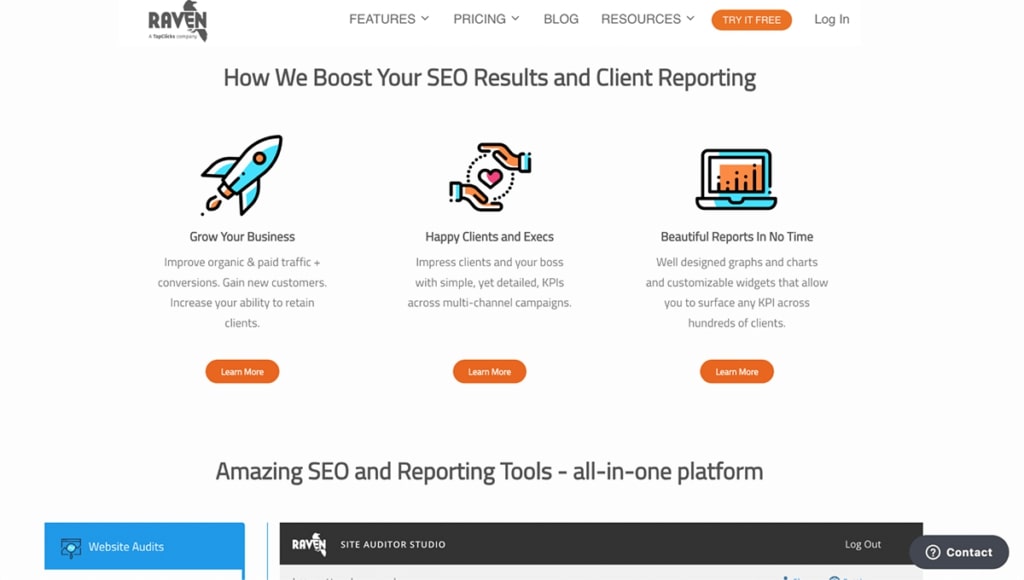 Pros
Unlike Ahrefs, Raven is an affordable tool with multiple features for content marketers, including social media management and reporting.
Furthermore, you can quickly connect your Raven account to Looker Studio for data visualization and interactive report creation.
After connecting your website, you'll find all the information about its current state and performance in the dashboard. Raven uses Majestic's data and metrics to report on your website performance.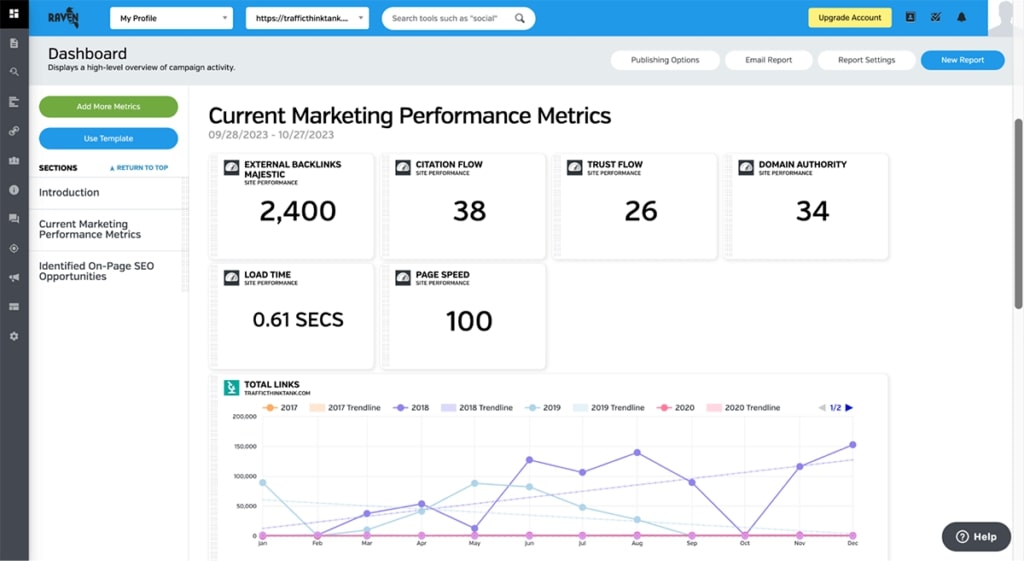 Cons
Even though I like Raven's functionality and user interface, the platform's UI seems outdated at first glance.
The latest content on their blog dates back to 2021. Besides, some users say the Raven's tools glitch occasionally.
I'd personally use Semrush instead, with its intuitive user interfaces and up-to-date content.
Pricing
Raven is a paid tool with a 7-day free trial. The trial has all the features, so it's an excellent opportunity to test the tool before upgrading to the paid version.
There are five paid plans, which may seem confusing from the beginning. The cheapest plan is $49 monthly for two domains, up to 50,000 monthly page crawls, and 1,500 SERP position tracking.
The most expensive plan costs $399 per month and comes with 40 user seats, up to 320 domains for tracking, seven million monthly page crawls, and 30,000 SERP position tracking.
Serpstat
Serpstat is a popular search engine marketing (SEM) solution with multiple features for SEO and PPC professionals.
If you previously used Ahrefs for keyword research, competitor analysis, domain overview, rank tracking, site auditing, and link building, you can do that and even more with Serpstat.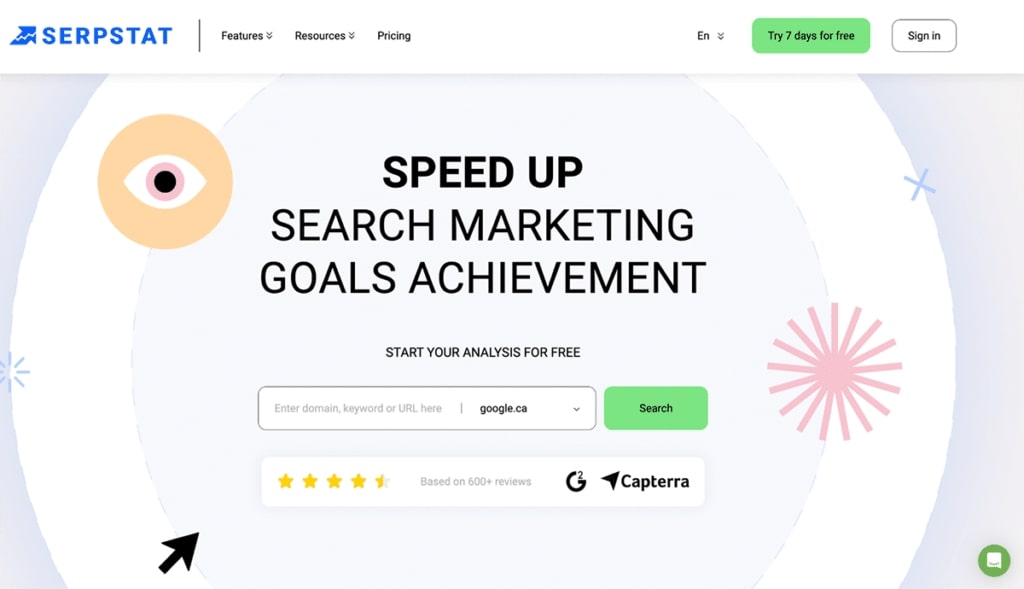 Pros
Unlike Ahrefs, Serpstat can be used by an entire marketing team because it has an extensive toolkit for various marketing tasks, including SEO, PPC, and content marketing.
It also has its own AI content generation tools and the ChatGPT integration to facilitate the content creation process.
It's worth knowing that the Serpstat freemium plan comes with feature limitations. Nevertheless, you can research keywords, analyze your website performance and competitor domains, check backlink profiles, and use Serpstat integrations.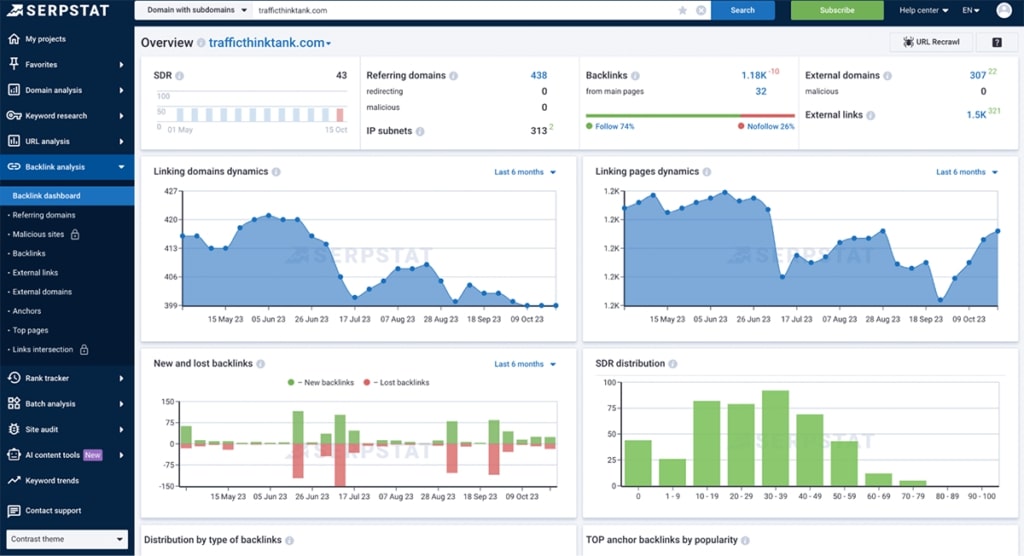 Cons
I've used Serpstat a few times during my SEO career, but I eventually switched to Semrush.
Here's why:
Serpstat's volume metric is based on the Google Ads data, which is accurate for paid traffic only. This data is unsuitable for keyword research since organic traffic numbers can differ.

Pricing
Serpstat is a paid tool that comes with a 7-day free trial.
The cheapest plan is $59 per month and is suitable for SEO contractors who manage up to five projects simultaneously.
There is an agency solution that costs $479 per month and lets you conduct up to 5,000 daily searches for websites, keywords, and link analysis.
Mangools
Mangools is a powerful SEO suite for small website owners, search engine marketing, and SEO agencies.
Mangool has an intuitive UI and various SEO features for keyword research, competitor analysis, backlink audit and analysis, rank tracking, and search engine result page (SERP) review.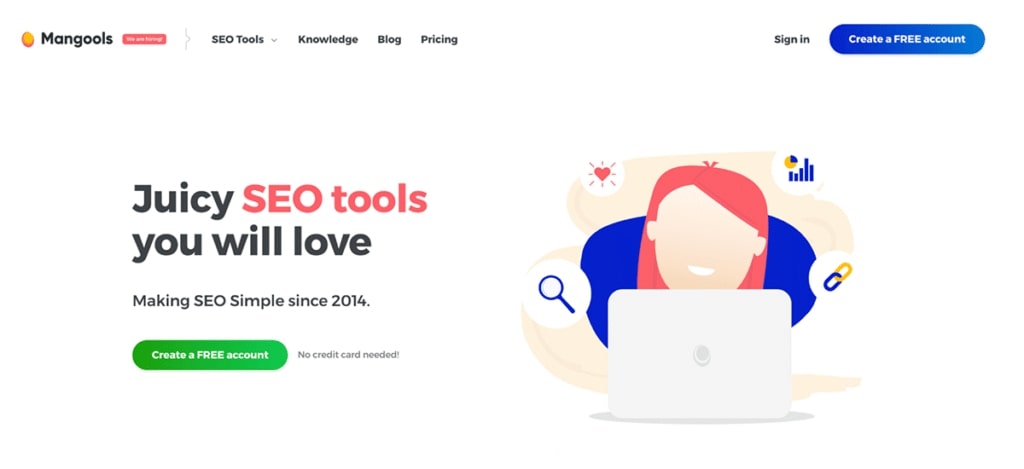 Pros
I've been using Mangools for over a year in addition to Semrush.
Mangool's free version allows you to analyze keyword difficulty and search volumes in a target country, find semantically related keywords, and review top-performing competitors.
Moreover, you can set up keyword position tracking. However, you can only track up to five keywords using the Mangools free plan.
There are also link-building and site audit features, making it a great alternative to Ahrefs.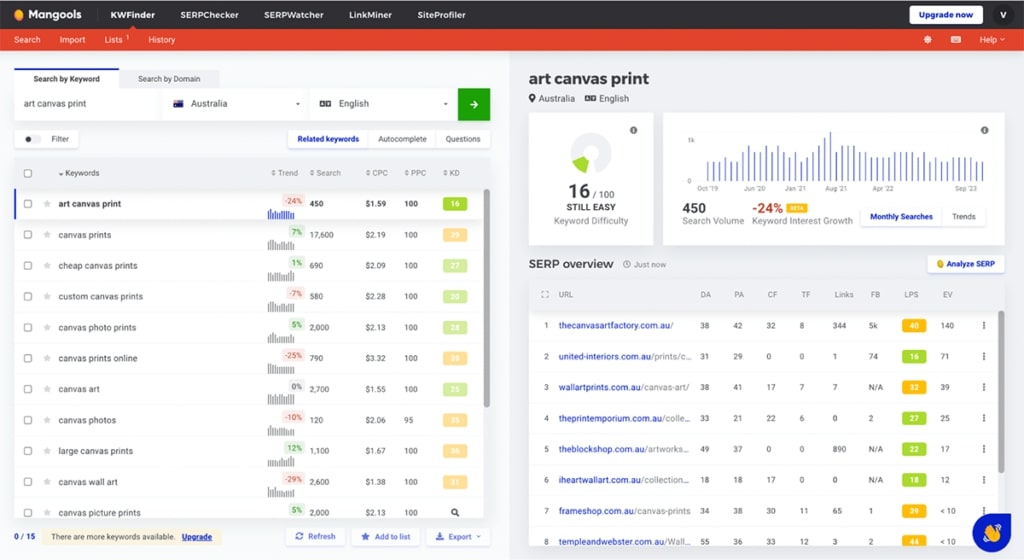 Cons
Mangools' database of websites and backlinks is quite limited compared to Ahrefs and other SEO tools.
For example, Mangools has 6 billion reported keywords. In contrast, Ahrefs has 9.5 billion keywords in its database, while Semrush's keyword database contains 25 billion keywords.
Moreover, Mangools' toolkit is limited to five SEO tools. Even though they are sufficient for most SEO tasks, Ahrefs' functionality is more powerful.
Pricing
Mangools is a paid tool. Nevertheless, it offers a great free plan for small website owners and is an affordable solution for agencies and established companies.
The cheapest monthly plan is only $29. It's suitable for entrepreneurs and small businesses with one tracked domain.
But if you manage multiple websites simultaneously, I'd recommend considering the Mangools Agency plan for $129 monthly for unlimited domain tracking, keyword, and competitor research.
SE Ranking
SE Ranking is an all-in-one SEO and content marketing platform.
With SE Ranking, you can analyze competitors' paid and organic campaigns, conduct bulk keyword research, quickly analyze keywords with the Keyword Manager, monitor backlinks, and check your website's health.
Unlike Ahrefs, there are dedicated tools for social media marketers to manage Facebook and Twitter accounts.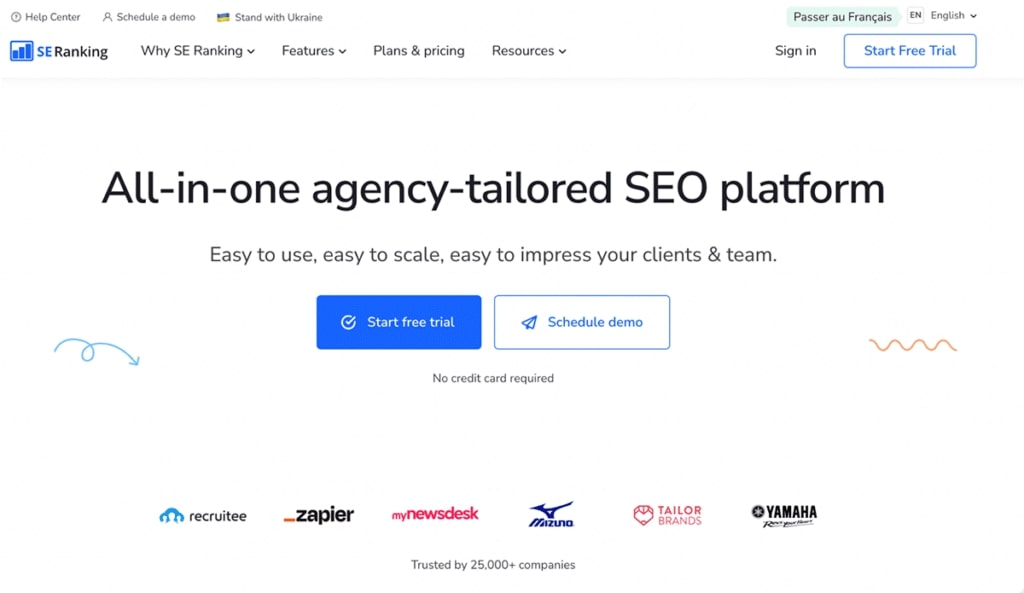 Pros
SE Ranking has a 14-day free trial, which you can use to try its functionality and decide whether it suits your business needs. I've already mentioned that Ahrefs doesn't offer a free trial.
In terms of SEO features, SE Ranking offers almost the same value as Ahrefs. In other words, you won't find a big difference between Ahrefs and SE Rankings reports.
However, I find the rankings report more concise and informative. Unlike Ahrefs' Rank Tracker, you'll find the general information about your website followed by all keywords split into five categories depending on their ranking positions.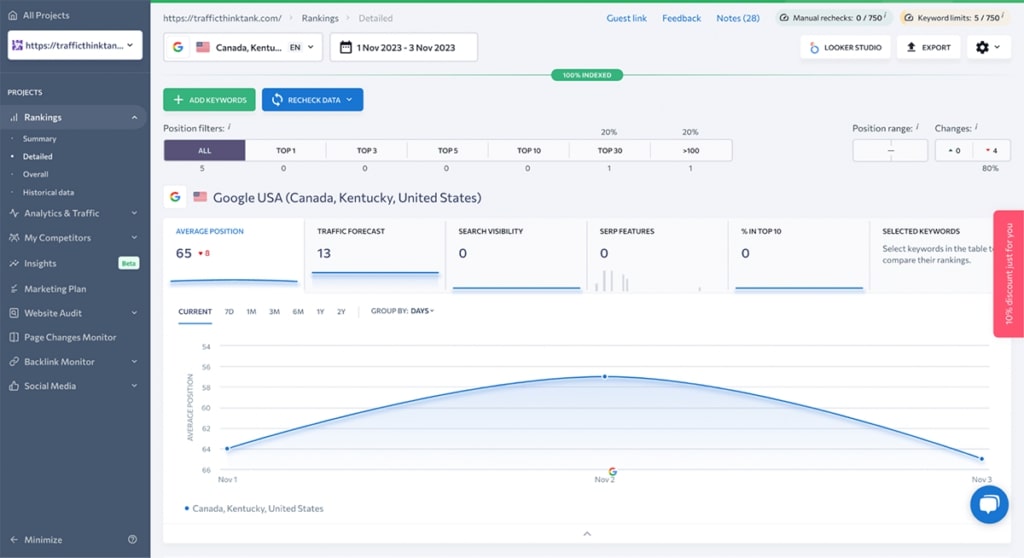 Cons
Compared to Ahrefs, SE Ranking's user interface may seem confusing.
The reports and features are located in the upper menu and the left sidebar. Depending on your SEO goals, you'll find backlink and keyword-related features in various locations in the dashboard.
For example, the Backlink Monitor is in the left sidebar, while the Backlink Checker and the Backlink Gap Analyzer are in the upper menu.
I feel like this layout is confusing and will take some time to get used to the tool.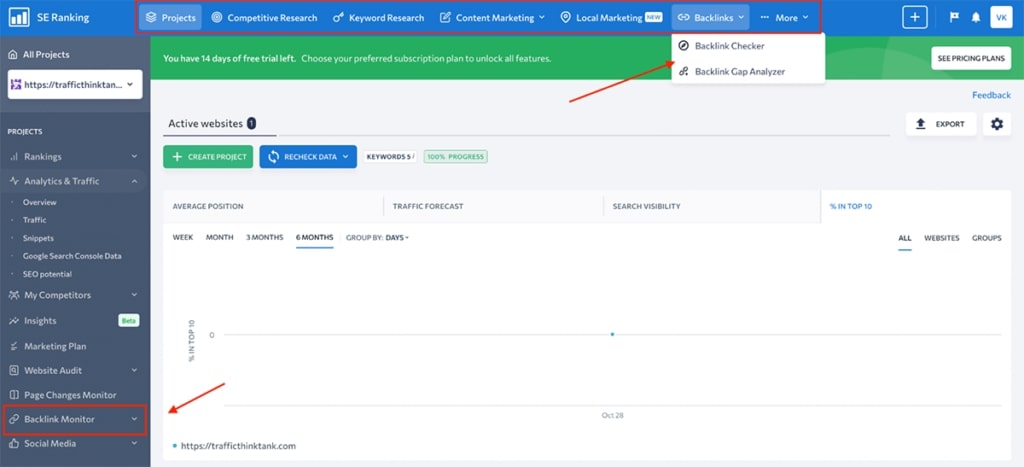 Pricing
Compared to Ahrefs, SE Ranking is more affordable regardless of its pricing plans.
The cheapest is $55 per month and lets you manage 10 domains. You'll get one user seat and access to all SE Ranking features. However, you'll only be able to track 750 keywords daily.
If you run an SEO agency or manage multiple client websites, SE Ranking's Business plan for $239 might suit your needs. It's almost half the price of Ahrefs' Advanced plan, which starts at $399 per month.
Tools for Keyword Research
Perhaps like you, I used Ahrefs primarily for keyword research at the beginning of my SEO career. Even though I've learned a lot about the tool and helped craft keyword strategies for clients, it was inefficient. I paid a lot for an all-in-one SEO tool but only used its keyword research toolkit.
If you are looking for an affordable solution for keyword research, here are some of the best Ahrefs Keyword Explorer alternatives.
SpyFu
SpyFu is a PPC and SEO tool that can help you identify juicy keywords your competitors use in organic and paid searches. It also offers link-building, position tracking, and SEO reporting tools.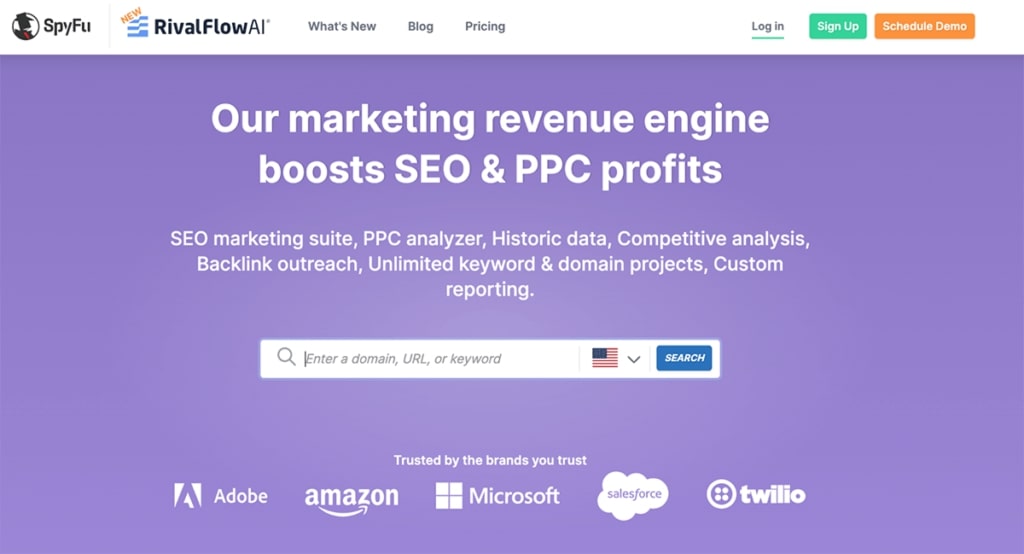 Pros
Even though Ahrefs wins based on the number of features, SpyFu stands out with its competitor research and analysis tools.
SpyFu's in-depth reports will help you analyze your target keywords, assess your likelihood of ranking in the top 10 search results, and check who bids for your target keywords in paid search.
It's a powerful tool to identify your closest organic and paid competitors and analyze their strategies.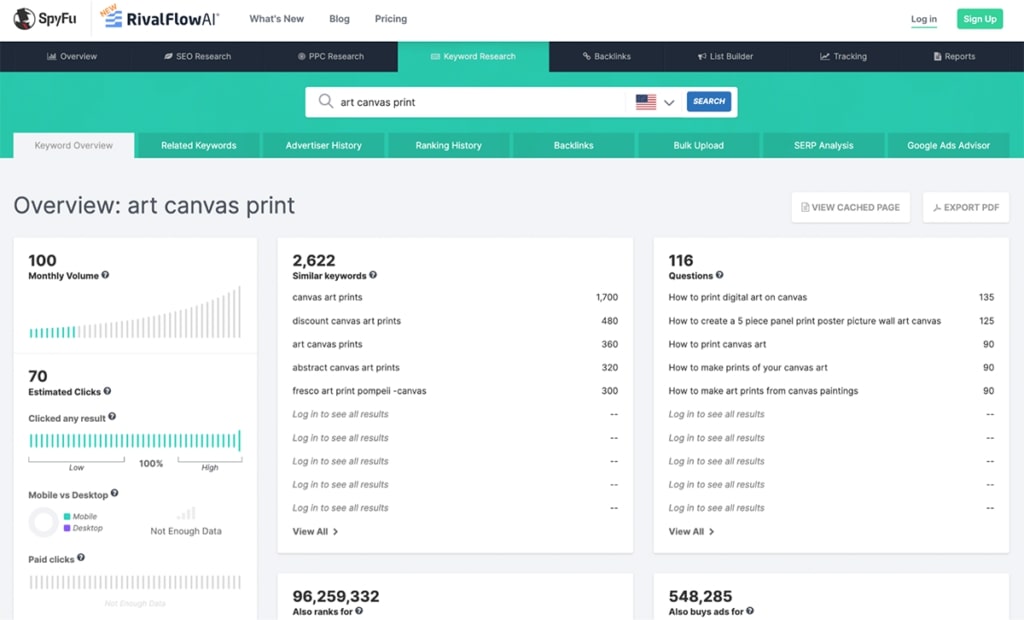 Cons
If you primarily want to use SpyFu for paid and organic keyword research, it's a good Ahrefs alternative.
I couldn't find search intent data, though. It shouldn't be an issue for small websites. However, manually analyzing search intent for giant websites will be challenging.
Besides, SpyFu's backlinks tool does not let you conduct backlink audits. It can only recommend websites to get backlinks from.
Pricing
SpyFu is way cheaper than Ahrefs.
There are two pricing plans, the cheapest being only $39 per month, while the Professional plan costs $79 per month.
Regardless of a pricing plan, you get unlimited access to SpyFu's data.
Ubersuggest
Have you heard of Neil Patel? He is a well-known online marketer, entrepreneur, and the founder of Ubersuggest.
Even though Ubersuggest is positioned as a keyword research tool, it can help you with more SEO-related tasks, such as site audit, rank tracking, reviewing backlink profiles, and discovering SEO opportunities for your website.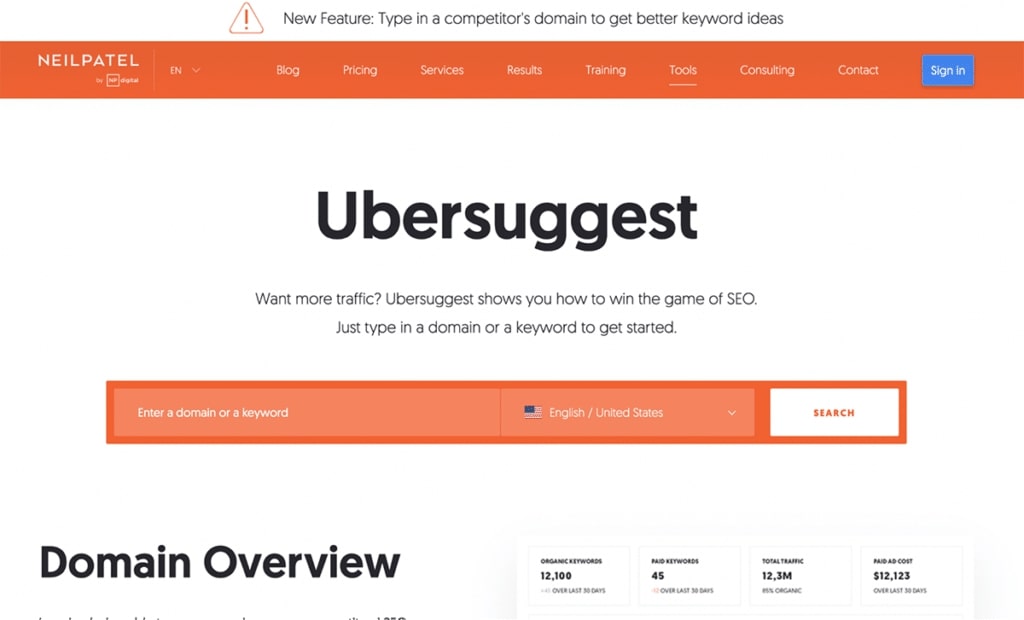 Pros
Ubersuggest provides three daily keyword searches for free that you can use to generate new keyword ideas and analyze keyword potential in organic and paid search results.
Besides semantically related keyword ideas, you'll also get a content ideas report, which helps you quickly assess keyword search intent and expected content quality.
In a nutshell, I'd say it's one of the best and most affordable Ahrefs alternatives on the market.
I would definitely recommend this tool based on its price versus value comparison if you are just getting started in SEO.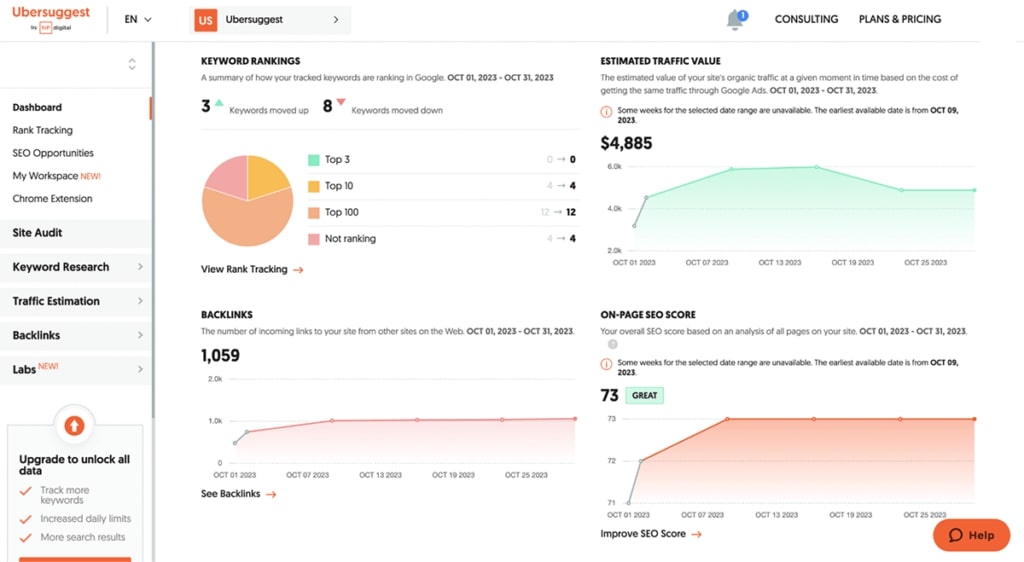 Cons
As I've already mentioned, Ubersuggest is a solid tool. However, it's not as feature-rich as Ahrefs.
In my opinion, Ubersuggest is great for particular tasks, such as domain overview, keyword research, and site audit. However, if you need more functionality and in-depth SEO data, I recommend using Semrush.
Pricing
Ubersuggest used to be free. You'll still find plenty of online reviews mentioning that it's free to use, and I've already mentioned that its free plan is solid and worth using.
However, if you want to generate more reports and access more features, the paid plan may be a suitable option for you.
The Individual pricing plan costs $29 monthly and lets you fully manage one domain. There is an Enterprise/Agency pricing plan for $99 per month that enables you to manage 8–15 domains.
Keywords Everywhere
Keywords Everywhere is a free browser extension used for keyword research.
It provides users with valuable keyword data directly within their web browser, making it a convenient tool for bloggers, content creators, and digital marketers.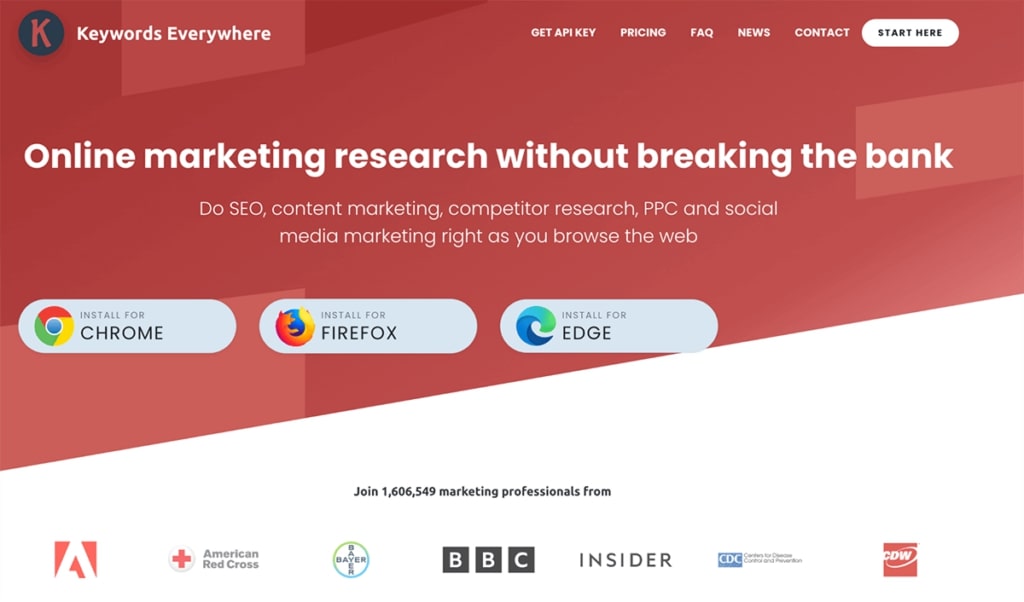 Pros
I've already mentioned that Keywords Everywhere is a browser extension that differs from other SEO tools.
Unlike Ahrefs, Keywords Everywhere provides you with keyword data right in your browser. You don't need to use any software to analyze keywords. Instead, you can plug your keyword into a search bar and get results.
Of course, Keywords Everywhere isn't as feature-rich as Ahrefs. However, its primary goal is to provide keyword ideas whenever you search for anything on the web. And it perfectly does its job!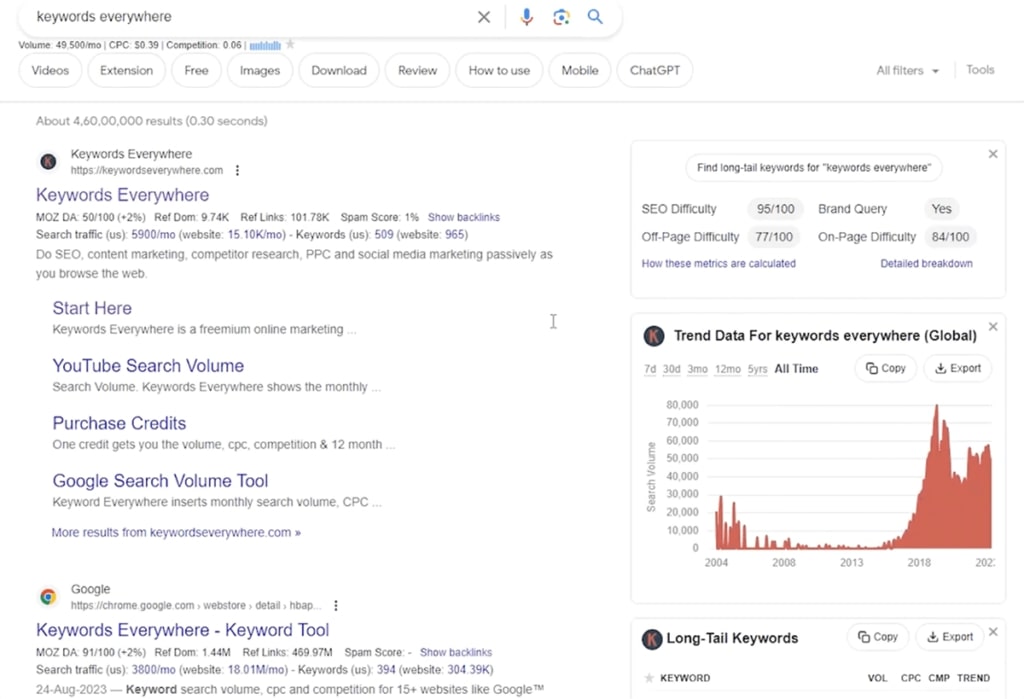 Cons
I use Keywords Everywhere to identify great keyword ideas on the go. If I notice a low-hanging fruit while browsing something on the web, I save keyword ideas and then use SEO tools, like Semrush, to conduct in-depth keyword research.
While I believe that's the best way to use Keyword Everywhere, you'll figure it out for yourself.
Remember that the tool's search volume numbers may not be accurate because it does not have access to keyword data on many platforms except for Google. Here's an excerpt from their FAQ page:
"Only Google releases their search volume. Amazon, YouTube, and other websites do not release this volume. We, therefore, show the Google Search volume whenever you run a search on YouTube, Amazon, or other non-Google sites."
Pricing
Keywords Everywhere is a paid tool and doesn't have a free version. However, it is very cheap compared to other SEO tools. You are only required to pay $15 annually for 100,000 credits, where one credit provides you with the search volume, CPC, keyword difficulty, and 12-month trend data for any keyword.
Credits are used on all the websites where the search volume, CPC, and keyword difficulty are displayed.
Based on my experience, 100,000 credits is enough for small websites and solopreneurs managing one domain.
If you run an SEO agency, try the Gold or Platinum pricing plans, which cost $240 and $960 per year and provide you with 2 million and 8 million credits per year, respectively.
Position Tracking Tools
Position tracking, or rank tracking, tools can help you monitor keyword rankings for your website in organic search results.
Established tools, like Ahrefs or Semrush, have their built-in position tracking toolkits. However, many other tools offer similar functionality. I've listed more of the best Ahrefs alternatives below.
WooRank
WooRank is a website analysis and SEO auditing tool. It is designed to help website owners, digital marketers, and SEO professionals assess the overall health of a website and identify areas for improvement.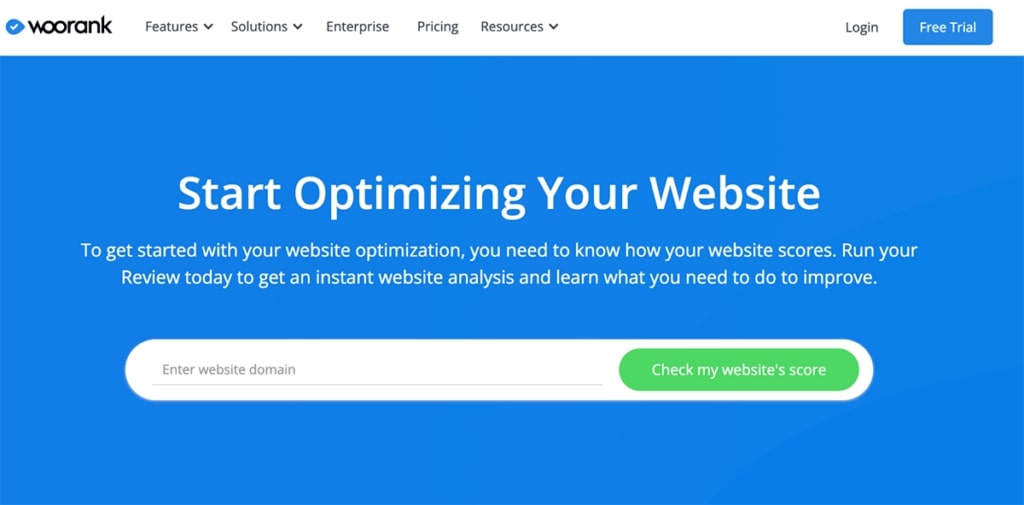 Pros
Unlike Ahrefs, WooRank is more than an all-in-one marketing tool. It also has sales and lead generation solutions, making it a suitable go-to solution for B2B and SaaS companies.
Tracking keyword positions is easy with WooRank. You can monitor up to 50 keywords with a Pro plan by adding them to the tracking list. The tool will display the ranking positions and changes daily.
Moreover, you'll also see whether your web page has a featured snippet and how much organic traffic it generates.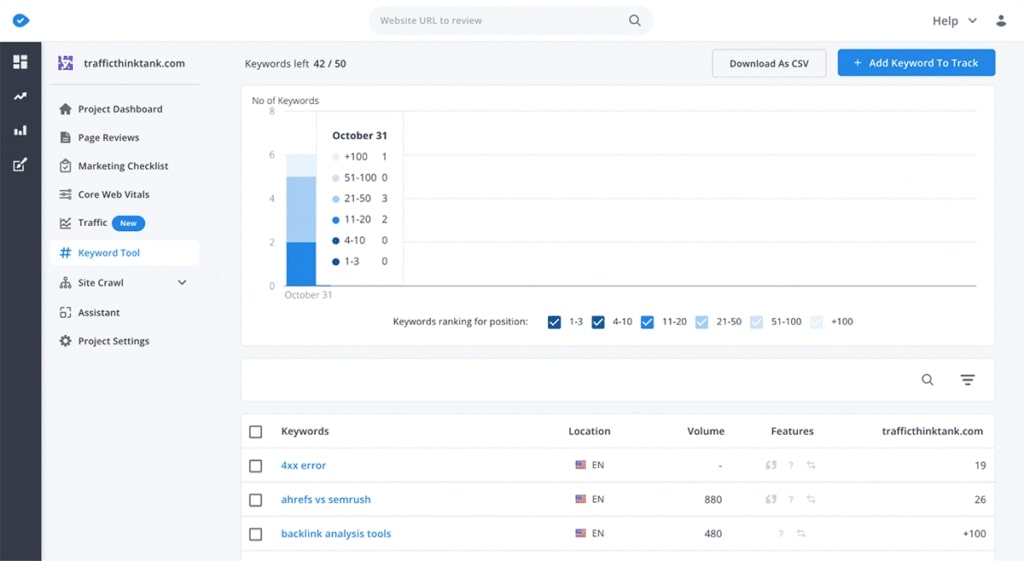 Cons
Honestly, Ahrefs does a better job at tracking rankings. You can track up to 750 keywords with Ahrefs' cheapest pricing plan — the Lite plan for $99 per month. Now compare it to the WooRank Pro plan, which lets you track only 50 keywords for $89.99 per month.
I assume the price reflects WooRank's feature-rich toolkit, including rank tracker, site audit, sales, and lead generation features.
Pricing
WooRank is a paid tool with a 3-day free trial that you can activate by linking your bank card. In my opinion, it's inconvenient since you can accidentally get charged if you forget to cancel your free trial within three days.
WooRank's cheapest pricing plan is $89.99 and covers only one domain. If you work with multiple websites, you can try the premium plan for $199.99 per month or ask for a customized solution.
RankWatch
RankWatch is an SEO management platform to monitor your website performance and competitors.
As a website owner, you can track your website's keyword rankings, analyze your website's performance in organic search results, and make data-driven decisions to improve its online visibility.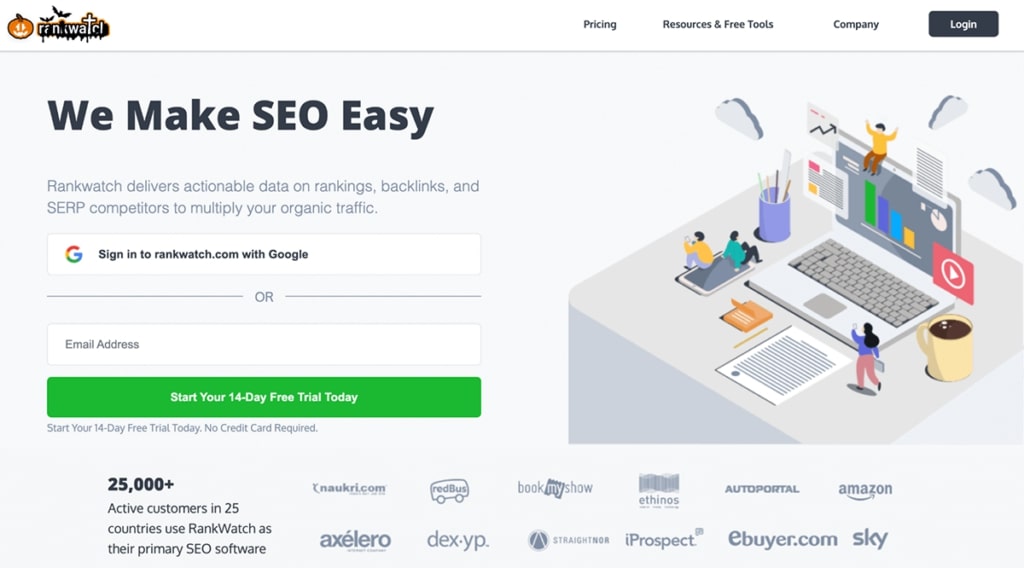 Pros
RankWatch rankings report is concise and informative. You'll get all the data about your website rankings in one report a few minutes after linking your domain.
I can't say RankWatch's functionality is better than Ahrefs' Rank Tracker. You'll get pretty much the same value but for an affordable price. I believe it's a solid solution for bloggers and small website owners.
Besides general position tracking, you can also check your website performance for every specific keyword, keyword distribution data, and top landing pages.
The site navigation is smooth and logical, so you can start using RankWatch right after registration.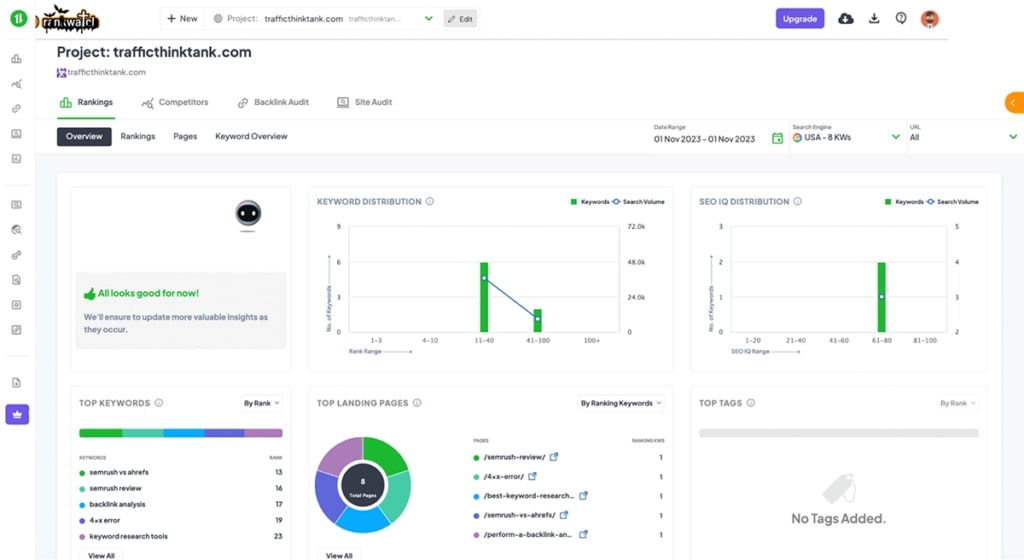 Cons
RankWatch's user interface (UI) seems slightly outdated compared to other SEO tools.
Furthermore, RankWatch users claim the tool is slow and takes a while to load reports.
Pricing
RankWatch is a paid tool with a 14-day free trial. The good news is that you don't need a credit card to activate the free trial.
Content creators and website owners can start with the cheapest pricing plan, $29 monthly, for tracking 250 keywords daily and monitoring 145,000 backlinks.
There is also a custom pricing plan for SEO agencies and giant website owners, where you'll have to pay $599 for up to 10,000 daily keyword tracking. In comparison, Ahrefs charges $999 for the same number of tracked keywords.
ProRankTracker
ProRankTracker is an SEO rank tracking and reporting solution for website owners, in-house SEO teams, and SEO agencies.
Unlike Ahrefs, ProRankTracker is focused on position tracking, letting you monitor your website positions across multiple search engines and locations.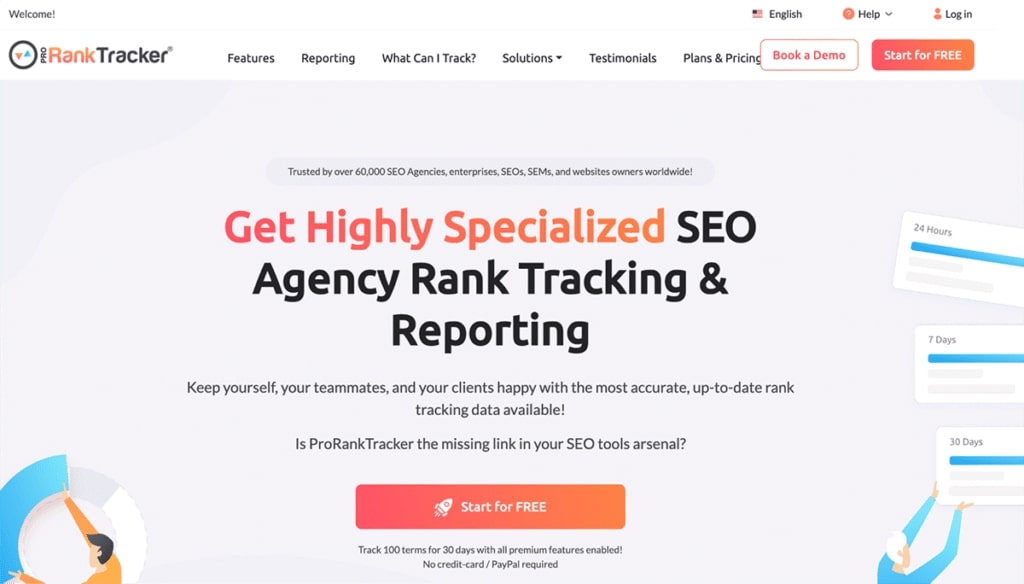 Pros
Unlike many other SEO tools, ProRankTracker lets you track ranking positions across multiple search engines, including Google, Bing, Yahoo, YouTube, and Amazon.
Furthermore, you can use ProRankTracker to monitor your keywords positions in various regions, cities, and countries. In comparison, Ahrefs lets you monitor keyword rankings at the country level only.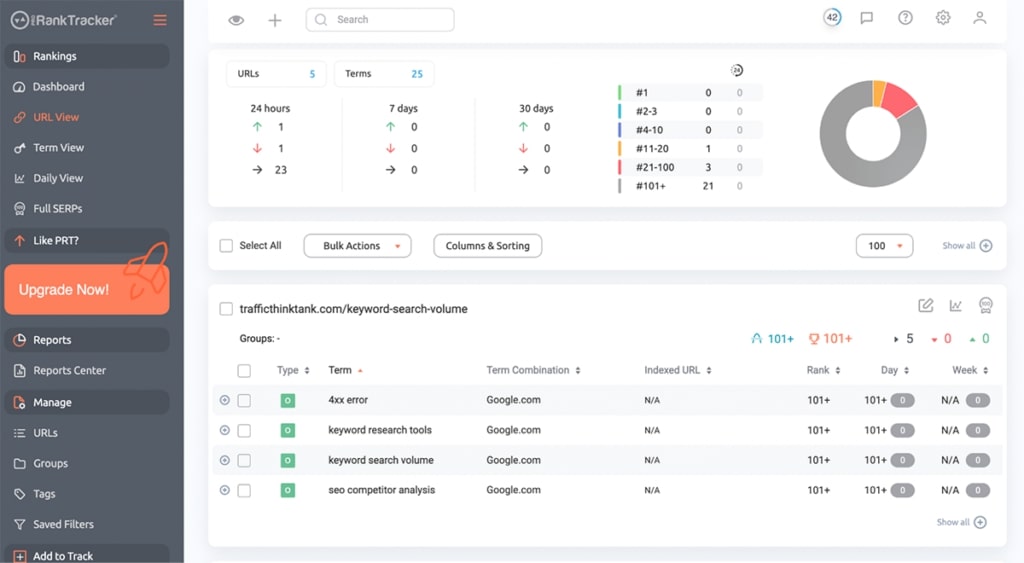 Cons
ProRankTracker requires you to manually list or upload the URLs and keywords you want to track. It's time-consuming and inconvenient. Besides, you'll have to add new URLs manually, which might be challenging for big websites.
I personally prefer Ahrefs' or Semrush's position tracking tools, where you should only provide your domain name and the list of keywords.
Furthermore, the tool's UI and functionality might confuse SEO beginners.
Pricing
Unlike Ahrefs, ProRankTracker has a 30-day free trial with all premium features and 100 tracked keywords without linking your bank card, which is great if you want to test the tool without any risks.
The monthly pricing starts at $13.50 for 100 tracked keywords with daily ranking updates, local and mobile tracking, and unlimited reporting.
If you manage multiple clients' websites, tracking up to 10,000 keywords will be $420 monthly. If you only want to track keyword rankings, ProRankTracker can be a solid solution that's worth the price.
However, if you also use other SEO software, I'd recommend considering all-in-one SEO tools, like Semrush, which also offers a position tracking tool in addition to 55 SEO tools.
Backlink Audit Tools
Ahrefs started as a link-building tool in 2010. Since then, it has added many new features. Besides, its AhrefsBot is among the most active on the web, which enables it to discover fresh backlinks in minutes.
However, there are many solid and affordable alternatives to Ahrefs' backlink audit tools.
Monitor Backlinks
Monitor Backlinks is a keyword and backlinks tracking tool developed to help you monitor your website performance over time, acquire new backlinks, and spy on competitors' keyword and backlink strategies.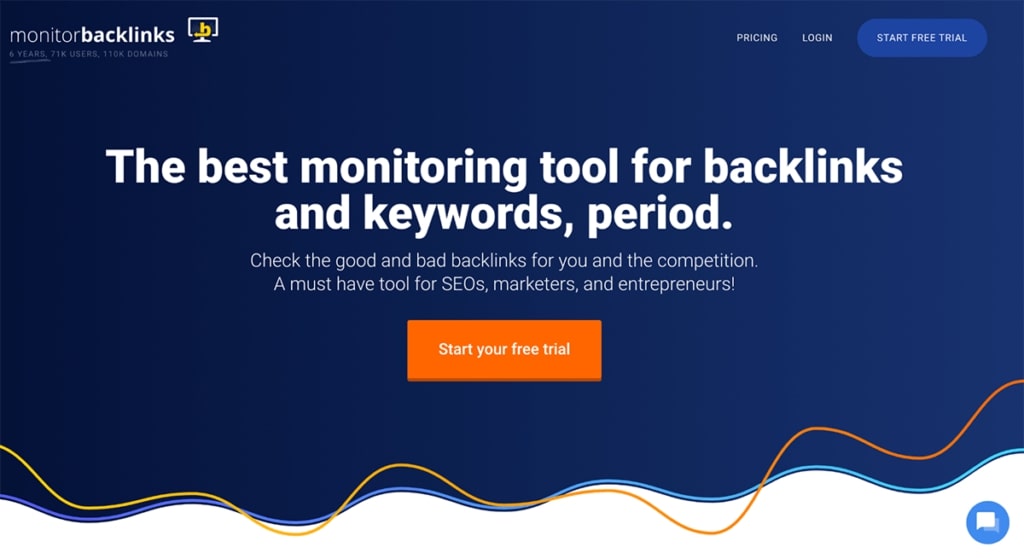 Pros
Unlike many other tools, Monitor Backlinks does not require uploading a list of keywords. Instead, the tool recommends tracked keywords right after linking a domain. It only took me a few minutes to set up the domain tracking and get the first results.
The backlinks report is clear and informative, especially for SEO beginners. On top of the report, you'll see the number of referring domains, how many backlinks are ignored by Google, and whether your website gains or loses backlinks.
You can also create a list of backlinks to disavow and send it to Google.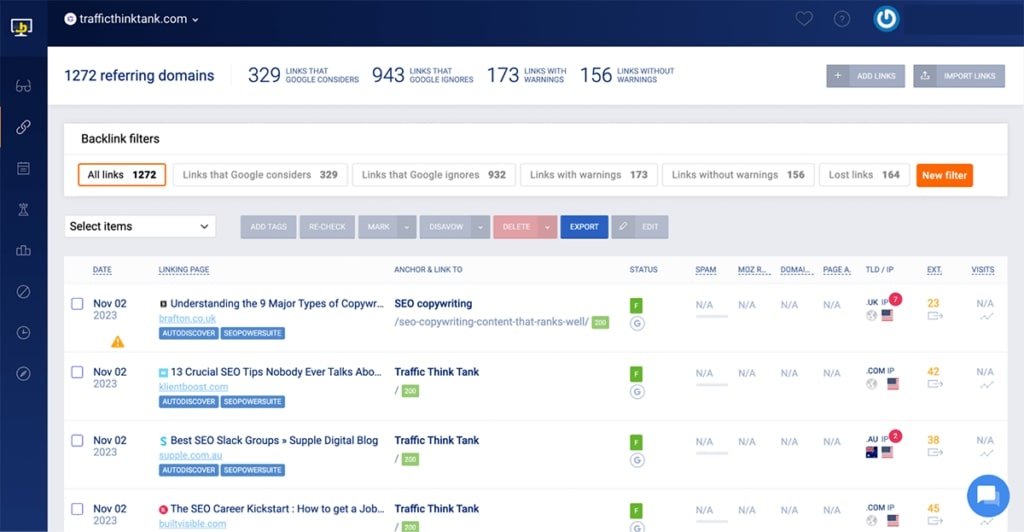 Cons
Monitor Backlinks is a niche product without many features. You can only find, track, and analyze your website backlinks and competitor link profiles. I mention it to be crystal clear on what you can do and achieve by using the tool.
There is one more thing worth mentioning – I couldn't find a dedicated report to track broken backlinks. In comparison, Ahrefs has reports for external and internal backlinks tracking.
Pricing
Monitor Backlinks is a paid tool with a 30-day free trial.
The cheapest pricing plan is $25 per month, which lets you track one domain, two competitors, 50 keywords, and 2,500 backlinks. I believe it's a generous offer suitable for bloggers and small website owners.
If you run an SEO agency or manage multiple client domains, there is a plan for professionals for $249 per month, which includes 10 monitored domains, 62,500 tracked backlinks, and 1,000 keywords.
Linkody
Linkody is a backlink monitoring and management tool designed for website owners, digital marketers, and SEO professionals. It primarily focuses on tracking backlinks, helping users monitor their backlink profiles, identifying new backlinks, and managing their link-building efforts.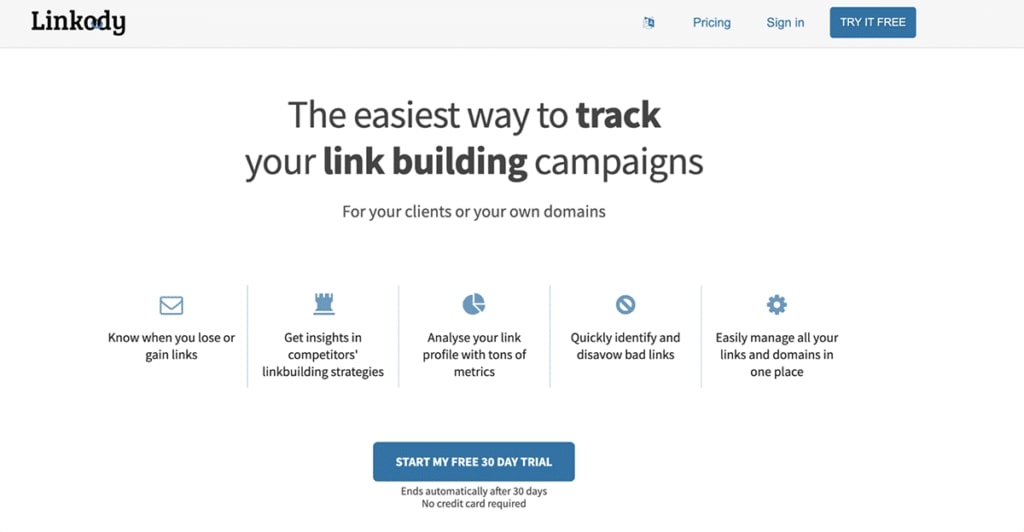 Pros
Linkody provides a 24/7 backlink monitoring solution and sends email alerts if your backlinks are removed or changed.
The spam score and domain authority metrics are provided by Moz. There are also Trust and Citation Flow metrics by Majestic, assessing the quality of backlinks and the backlink profile overall.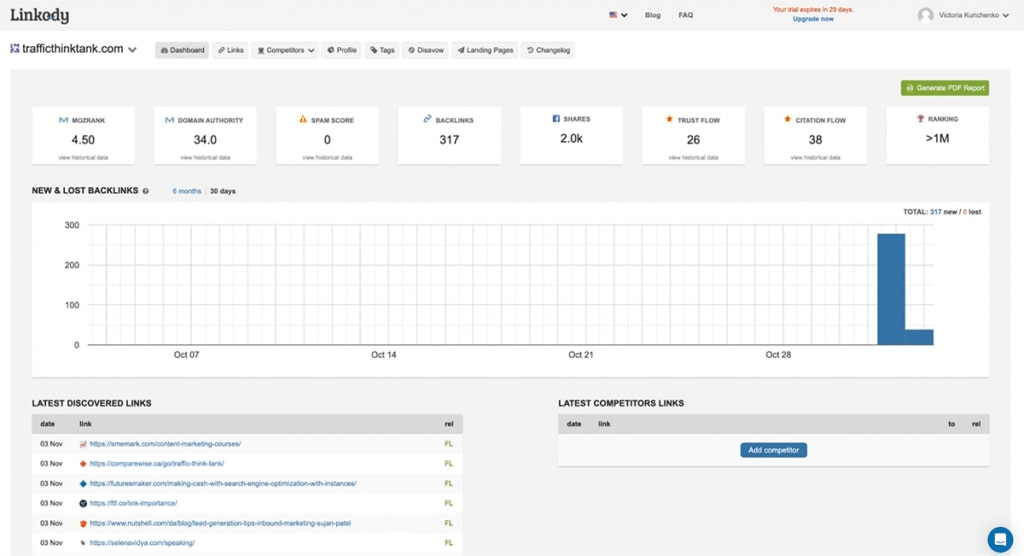 Cons
Like the previous tool, Linkody is a niche product without many features. Its main goal is to help you analyze your website's backlink profile and spy on competitor strategies. That's pretty much what the tool can offer.
There are no SERP updates, broken backlink data, or link intersect reports. Besides, you can't see the number of referring domains, only backlinks.
If you need more features for website tracking, I recommend checking all-in-one SEO tools.
Pricing
Linkody is an affordable backlink analysis tool with a 30-day free trial.
Its pricing policy is straightforward. The cheapest Webmasters pricing plan costs $14.90 and can be used for tracking two domains and 500 backlinks. If you need more capacity, the Agency XL plan costs only $153.90 for 100 domains and 50,000 monitored backlinks.
OpenLinkProfiler
OpenLinkProfiler is a free backlink analysis tool to check any website's backlink profile. All you need to do is create an account and insert your website's URL into the search bar.
Pros
If you don't use any other SEO tools, OpenLinkProfiler is a fast and easy way to check the backlinks of any website. Moreover, the tool does not set any limitations and is free to use.
You can check the number of referring domains and backlinks, broken backlinks, domain rank, and crawled pages. The generated reports are visually appealing, so you can use them for SEO reporting purposes, too.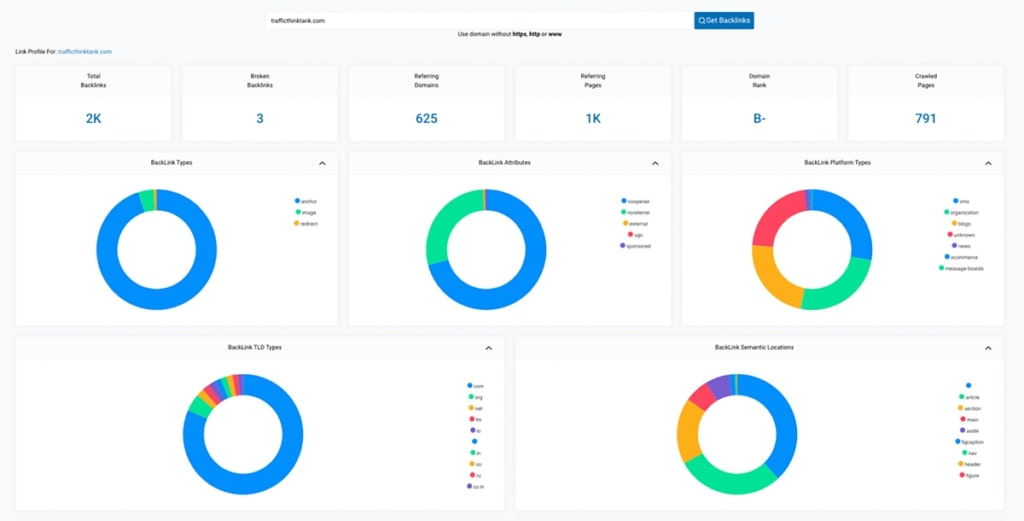 Cons
The metrics are not clickable in the domain overview report, so you won't be able to check broken backlinks if there are any.
Pricing
The tool is free to use.
It pretty much delivers on its promise, showing you the general backlink information about any website. It's not for professionals and SEO agencies since it lacks many features. However, it can be a suitable Ahrefs free alternative for bloggers and SEO beginners.
Wondering Which Tool Is Best For You?
We made it! I've reviewed the closest and most affordable Ahrefs alternatives available on the market.
The main message I wanted to share in this article is to choose a tool based on your business goals. This way, you'll pick a tool that aligns with your current goals and you won't overpay for features you won't use.
If you were to ask me what the best Ahrefs alternative is that offers the same, or even better, value?
Easy: Semrush.
Semrush has the most extensive keyword and backlink databases on the market. Therefore, Semrush's metrics are more accurate.