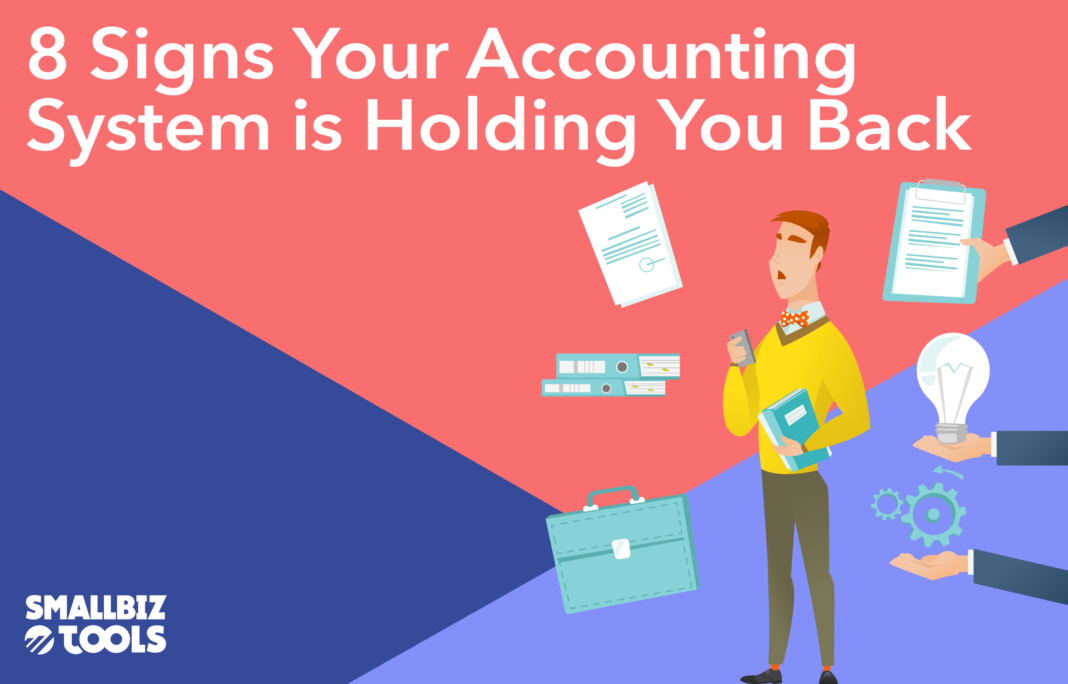 If your accounting system isn't optimized for scalability, there's a strong chance it's holding you back. While change may seem like a frustrating prospect, consider how much time and money you're wasting on an ineffective system. When your accounting software is limiting and you find yourself doing more work just to keep your finances straight, it's time for a change. 
Here are eight signs that your accounting system is holding you back.   
1. Manual Work
As you expand your business, the demands of your accounting system will increase. If you find yourself struggling to manage your accounts, or are doing more manual processing to complete key tasks, you've outgrown your software. All this extra work is both draining and a major cause of data errors.
2. You're Spread Too Thin
Having trouble consolidating all of your accounting data into one system? Having to use spreadsheets outside of your accounting software and then manually update data fields? Again, if your system can't consolidate your accounting details in one place, your workload will increase along with your frustrations. Even with diligent work, there's bound to be incorrect, duplicate, or outdated data in the mix.
3. Integration Issues
To improve your customers' experience or increase your business' capabilities, you'll need to incorporate more software tools into your management system. If your accounting system can't connect with other mission-critical apps, you'll be forced to manage finances in multiple locations. Again, your data will be inconsistent and you'll have to re-enter amounts just to make sure things are handled correctly.

Eliminate this hassle by upgrading to cloud-based accounting software that is connected to a business management platform such as Salesforce. CRMs like Salesforce let you manage all the software tools you need on a single platform. Connecting your applications on a shared platform lets you fully pilot your entire front-to-back office in one environment.  
4. Ineffective Reporting
As your organization develops, there will be more factors to analyze and additional expenses to track. As a result, you and your team will conduct more financial analyses to continually improve operations and remain on-track for goals. Financial reporting is essential because it lets you really gauge financial health and assess strategies for reducing costs and conserving revenue. You need this information to make the best business decisions possible.
Ask yourself if the reports you're currently running give you a full-circle view of your finances, or if details are lacking. Can you create custom reports to drill into specific accounts or analyze certain details? If not, you need accounting software with more advanced reporting features to track changing business dynamics effectively.      
5. Immoderate Upkeep
If you're experiencing constant glitches in your accounting software, consider whether you're wasting time and money just to get the system to work. Remember, the more dysfunctions you encounter, the more your system may be corrupted. This could lead to specialists continuously repairing or maintaining your system. It's better to graduate to a more trusted accounting system. 
6. Poor Automation
As your financial landscape expands, the value of your accounting system will be put to the test in how well automation can be deployed. If you can't automate your accounting processes effectively, financial management only grows more difficult. This drag only increases with your organization's growth. 
Automation streamlines billing, revenue recognition, and other vital processes help your business run smoothly. These functions also free you to focus more on the business and less on bookkeeping. Choose automation-focused accounting software to maximize efficiency.      
7. Excessive Restrictions
Flexibility is essential for your developing business. If you can't make your accounting system work to your unique specifications, it's not working for you. Due to the uniqueness of your business, you may need to configure and customize the core aspects of your accounting system. If the software is too rigid to allow you new functionality, it's important to upgrade to a flexible system that will. 
8. No Collaboration or Visibility
One way to reduce errors and ensure that your team is aware of the business' financial makeup is through a transparent accounting process. Collaborative accounting empowers your whole organization by increasing data visibility for all stakeholders. Teams can better visualize and understand the driving forces behind the finances. 
Being aware of the 'big picture' will help your team avoid missteps like poor resource allocation, overspending, and more. Keeping on top of things also helps your team achieve business milestones more efficiently by having clearer faster, data available. If your accounting system isn't collaborative, you're missing out on valuable opportunities to improve your financial management.