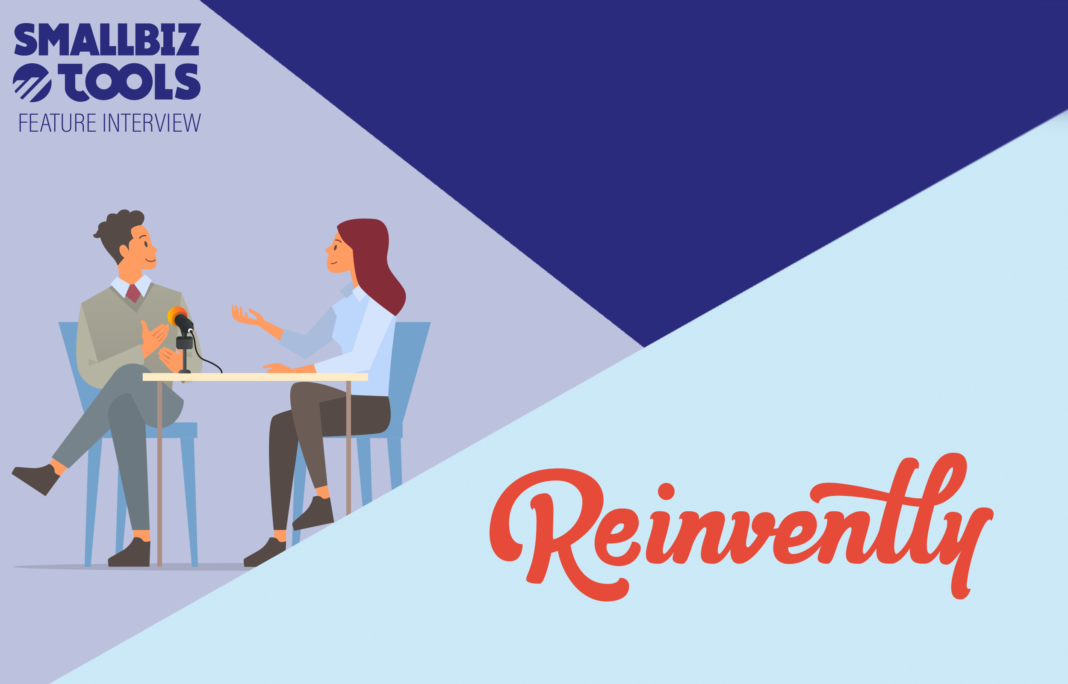 With the way the world is moving, businesses have since introduced mobile apps for their company. It makes sense when you think about it. Research shows that the average spends upwards of three hours on their phone per day. With this in mind, hundreds of businesses turn to mobile apps to better their connection with customers. 
But, it's not just enough to build a mobile app. Much like a business, you need to ensure customers get the best experience. This entails many things from the design, product development, and solid user experience. And, as any business owner knows, these things take time to master and properly implement.
As tedious as the process can be, several companies devote themselves to giving you the best end result. Enter Reinvently. This mobile project agency works with clients to build apps and programs in a variety of fields including health, finance, and fitness. 
We spoke with Reinvently's product marketing manager, Jabez Sherrington about the agency, how they're revolutionizing app design, and what makes them stand out from similar companies.
Branching Off On Their Own
Reinvently has actually been in development for a long time, even before smartphones were around. On paper, the company is a little under ten years old. "But in terms of the core team of management and the experts that we have, that's been going on before Android, before the iPhone was announced," Sherrington said. 
Currently, Reinvently runs independently. But, in the beginning, they were a mobile division of a larger tech company. "We still use them for certain things, like office resources, but we work independently. And that independence was garnered because we really wanted to focus on user experience."  
Due to the traffic of a bigger business, Reinvently couldn't focus on user experience or mobile experience. So, they separated amicably in order to devote more time to what they wanted.
Since then, they've become a well-loved agency. "We're not scared of using talent worldwide, even though we are based in America. I think that's what other agencies miss out on, like getting the best and brightest worldwide," he said. "We're not localized like this larger company was."
Sherrington added that Reinvently was created for a lot of different reasons. But primarily, it was to become a UX-focussed company. Ultimately, honing in on their current goals would've been harder as the mobile division of a larger company. 
A Transparent, Incremental Approach
Reinvently focusses on more than just building your typical mobile app. "We offer a variety of service packages and we don't just create apps. We do IOD prototyping all the way through to workshops where we come in for a few hours and help companies with problems."
That said, Sherrington knows that other agencies promise these fully designed products from the start. But, Reinvently tackles projects in increments. "We take as much time as the client needs to really analyze exactly what they want. We test if that's truly what they want and evaluate their existing product."
Though they are an app development studio, the catch-all term doesn't really encapsulate everything Reinvently offers. For example, sometimes clients want something outside of a mobile app, and Reinvently can fill their order. "Especially in health care, it can be more tablet focussed or we may have to develop an independent GUI," Sherrington said. "So, we tailor everything. We're called 'Reinvently' because we usually take ideas and rework them."
While a lot of things go into developing a successful program, Reinvently focusses on four key values: 
product approach

aesthetics and usability

speaking the customer's language

mutual growth
"Lots of companies sort of tiptoe around a lot of these buzzwords. But, we have these core values from our first meeting," Sherrington said. "We really embrace transparency. By having these four pillars, it's almost a challenge for a client as well. If a client sees what we do, they just check off which things interest them and then they get a reply from an agency. That's not how we want to operate. We really want to go through a discovery phase."
This discovery phase includes several key elements, such as opinionated design, how to make the app better, and learning everything about the app. 
Enlightened to User Experience
Sherrington said the reason why Reinvently is so in tune with UX is because of the company's staff. Combined, several years' of experience exist among the employees before user experience was even talked about. He believes the reason why so many companies miss out on it is that it's a hard thing to master. 
"If you don't have the years of experience we have, it's almost worse trying to focus on UX. Lots of people don't have the experience we have in how to run proper research groups, how to actually find the end-users, split them up into different archetypes, different personas. All of these things make it very daunting for companies to do user experience in a meaningful way." 
"When they attempt it and word of mouth spreads around, it only takes one company who's not very good at it to dismay everyone within that circle," he continued. "A lot of our customers had designers approach them, they've had experts approach them. They use 'user experience' almost like a buzzword whereas we use it as the core of our methodology."
Companies who attempt to master UX internally will only face a larger battle as time goes on. Sherrington believes that getting the level of necessary talent internally is almost impossible, especially as interfaces develop. "It's just going to get harder and harder and I think that's why even advanced tech companies sometimes don't promote it as much as do," he said.
Tackling Common Design Problems
As a development agency, they're no stranger to witnessing common design flaws. One of the larger ones that Sherrington sees is people hopping on things because they think it's a good idea. "You really need to focus on the user research, end uses, partial uses, different people who'll work the product, difference in on-demand product," he said. "It can spiral out of control and that's why people don't focus on those research groups. They don't actuate ideas, they don't make data-driven decisions." 
Sherrington added that even popular developer blogs delve into similar problems. Everyone acknowledges how difficult UX is, which is often why it's neglected. In fact, the core problem boils down to lack of proper research and data done in the beginning.
Companies also need to find a middle ground between being too set on the services they offer and being too flexible. "If you're too rigid, you're not going to be happy and the client's not going to be happy. But, if you're too relaxed, it won't be as successful as it could be," he said. 
Standing Out Among Other Agencies
By focussing on transparency and an incremental approach, Reinvently separates themselves from similar agencies. "Whether it's fixing products that got badly built to begin with through to really taking our time with a new client, it's really important for us to do that. It's the primary way we stand out," Sherrington said.
They also focus on a homogeneous approach to product development. Work isn't delegated among various departments, teams come together to work on a project together. According to Sherrington, a company couldn't really work this way unless they focus on the core values Reinvently does.
In the end, they stand out because they're transparent every step of the way and don't treat that as a buzzword. "We stand out as well because the product we make is beautiful," he concluded. "We really showcase our talent through our work and values whereas I think a lot of companies showcase themselves and try to get leads by describing themselves." 
Conclusion
The UI and UX elements in Reinvently's products is what earned them such high regards in publications like Forbes and Clutch. Business of Apps also named them one of the top app development companies of 2018. 
Reinvently zeroes in on what other agencies and companies tend to neglect. If you're looking to build a thorough experience in one program, this agency is worth contacting.