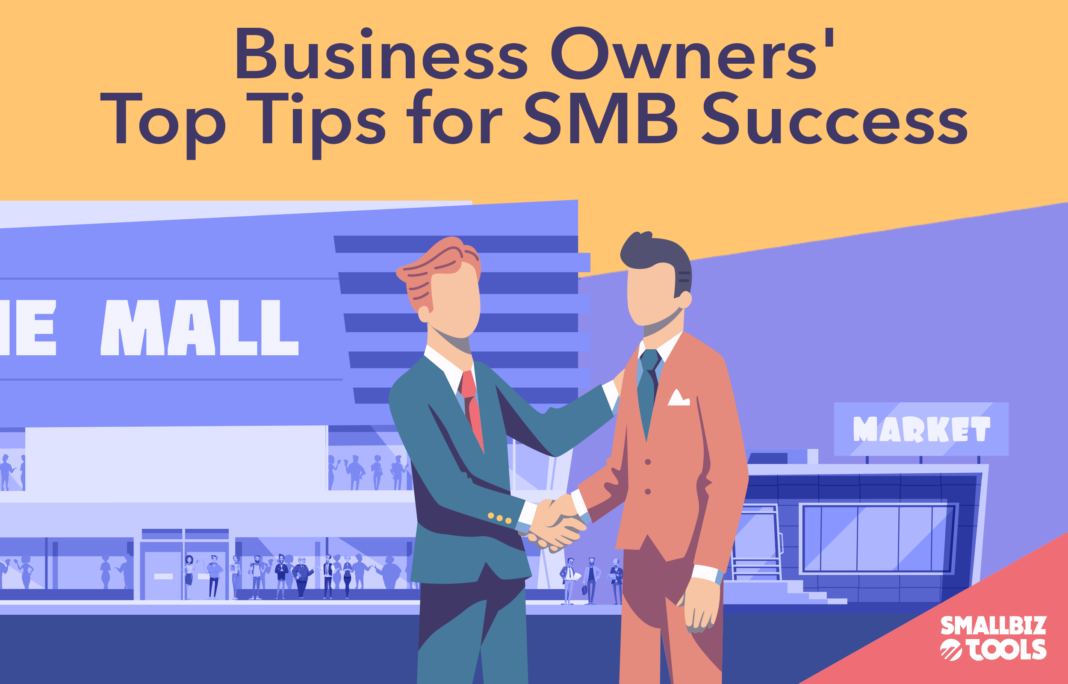 Even if your small business has been around for several years, it still faces heavy competition. Startups and entrepreneurs have just as hard a time ensuring their voices are heard and their product stands out in the crowd. 
So, what happens when you have a great idea for a business but dozens like it already exist? How do you compete with those who've already built a name for themselves? How likely is success when you're running around trying to manage everything else? 
The good news is that you can always turn to those who have their own success stories. Sure, plenty of competition exists, but there's a flip side to this dilemma. Existing businesses are places you can learn and get great advice from. 
That's precisely why we went to the professionals. These business owners share their top tips for success so you can guarantee your company climbs to the top.
10% Creativity, 90% Hard Work
In order to be a successful entrepreneur, you need to be fearless and willing to take chances. Yet, you must accompany this fearlessness with quick judgement so you can problem-solve on the fly. 
You should also always have a five-year goal. Whether it be to expand, go global, make more equity, etc., it should always be in the back of your mind to help drive any decisions you make. 
As an entrepreneur, you also need to have a positive impact with other people, whether that's with your customers or employees. That said, never pass on blame or accusation to your team. As an entrepreneur, you're responsible for your team and should take the fall for any wrongdoings and proactively work to solve these issues. 
Similarly, you need to manage your time and energy to produce your best possible product for customers. Remember to also foster a positive, inclusive workforce for your employees to thrive in. 
On the journey of entrepreneurship, you must stay awake. Don't get weary of the customers, employees, the products, etc. The company's reputation and the brand you grow will be the measurement of your hard work and time. The initial spark doesn't last very long, you have to replace it with drive. Entrepreneurship takes 10% creativity and 90% hard work. 
Lior Rachmany
CEO, Founder
Dumbo Moving and Storage
Read, Include Others, and Stay Grounded
Read! When you read a good nonfiction book, you're able to gain knowledge that likely took years of someone else's life to acquire. Talk about a good deal! Aim to read at least two new books each month (hopefully more). Make sure they revolve around different topics – you'd be surprised by what will inspire you! 
Spend time on the ground floor. By that, I mean take the time to chat with employees on the front lines. They're the ones meeting your customers and selling your products. Finding inefficiencies in your process is a lot easier when you're talking to the people who run those processes every day. 
Give yourself a morning routine. Wake up a little earlier and fit in some quiet time for meditation, exercise, journaling, and planning/prioritizing. If you have a few hours in the morning where you can center yourself and set your focus, the rest of your day will be significantly more productive (you'll feel better, too). 
Nikki Bisel
CEO, Founder
Seafoam Media
Manage Your Time Well
When starting a business, there's so much to do and figure out, which makes time your most valuable resource. Like many entrepreneurs, I worked long hours in the early days of BestSelf because I thought that's how I'd achieve success. I was busy, but not productive and too many late nights pushed me close to burnout. That all changed when I discovered how to work smarter, not harder. These productivity tips helped me grow my business, enjoy my life, and achieve big goals along the way. I'm sure they'll work for you too. 
First, invest 30 minutes of your weekend planning the week ahead and you'll boost your productivity significantly. List everything you want to get done, figure out deadlines and priorities, and estimate how long each task will take. Use this big-picture overview to inform your daily plans, stay on track, and ultimately win the week. 
Second, budget your time in the same way you budget money, and watch your minutes stretch further. You can do this when you get granular with your daily plan. Don't leave time to chance, instead break your day into 30-minute chunks and fill each slot leaving 'zero white space'. This isn't overwhelming if you plan everything you want to do – including all the fun stuff that can slip when business takes over. 
Success is inevitable with consistent daily action; keep moving in the right direction and you will cross the finish line. This is easier with the right habits because you'll implement on autopilot. Use a habit tracker to build good habits. Simply check off each day to build a winning streak and make a chain of success you don't want to break.
Cathryn Lavery
CEO, Co-Founder
BestSelf
Focus on Company Culture
When I look back in all that I've learned in running a business, the best advice I would give is to focus on company culture. Thoughtful planning and execution are required to build and maintain a great company culture. 
Don't ever skimp on the recruiting process. Hiring the right people based on cultural fit and skill are critical to success. I would much rather hire a hard-worker who's a cultural fit than a highly skilled person with no cultural fit. It boils down to being able to work well with others in a team environment. If you're unable to collaborate, the chance of innovation and new opportunities are diminished. Spend the time and money to recruit employees who will enhance your culture. 
Christoph Seitz
Co-Owner
CFR Rinkens
Keep Calm and Work Hard
Work hard and always work hard. Give it your all, all the time. It's hard work to be a business owner. Don't expect success, work for it. 
A positive attitude is contagious. Share your ideas and great attitude with your team, colleagues, partners, and vendors. Be the best, most energetic you that you can be. People want to be around those who are positive. Be that to others and watch your connections and opportunities grow! 
Be calm and think. Don't react too quickly. Take your time on decisions as there's no need to respond and address issues immediately. Sometimes a good night's sleep will give you significant perspective. Your response will be much more effective with a little time.
Deborah Sweeney
Owner
My Corporation
Be Innovative and Learn from Your Predecessors
Be the first. Look deeply at your respective industry and find a niche that you can carve out and evolve with. Many business owners fail because they fail to stand out. Being the first person to do something in your industry shows that you put time and effort into being creative. It also allows you to control the market space even more.
Listen to those that came before you. If you're privileged enough to have a conversation with someone you respect and admire in your industry, learn and gain information. Being in the entertainment industry myself, it's highly competitive. So, I would always make it my duty to connect with those that I knew had first-hand knowledge of how to navigate through the business world. That information was based entirely on one-word experience. You can never learn enough from those that have already been there.
Success is rented. Once you've gained that competitive edge, never get too comfortable. Being a leader in the world of business, you immediately become a target. Others will either try to duplicate or undermine you. These tactics can come at you at certain times or literally all at once. That's why it's crucial to plan ahead. Have product/services already in place so when ready to launch it out, you're good to go!
Joel NR Powell
President, CEO
NR Entertainment Inc 
Promote Yourself
The first thing is to get as much free publicity as possible. Most startups have a limited budget in the first year of operation, so leveraging free exposure can be crucial. This can be in the form of a press release, social media marketing, submitting guest post articles, etc. 
Secondly, use a business credit card promotion in the place of a bank loan wherever possible. I got a credit card offer with a cash bonus, a high credit limit, and 0% APR for almost one full year as my second business credit card. This helped me tremendously with cash flow during the pre-revenue stage. It also allowed my company to avoid making interest payments for small expenses. 
Lastly, if you're a solo entrepreneur, discuss company challenges with friends, family and other business owners whenever possible. Problem-solving is so much easier in a brainstorm session with other smart people than taken on alone. I've received great advice from people in my network that I've used to improve the UX of my site and my label design. 
Calloway Cook
Founder
Illuminate Labs
Find the Right Clients and Be Transparent
Finding the right clients is particularly important for smaller businesses because they can be a stable source of ongoing revenue as you grow. It takes a lot less time to manage them. On top of that, you're often putting out fires with less-than-ideal clients and small businesses can't spare the resources to do that on a regular basis. 
We've found that one of the best ways to attract ideal clients is by developing a strong brand identity that tells people who we are. If you can build a brand identity that boosts your reputation and embodies your values, like-minded companies and individuals will want to work with you. In fact, it should work both ways. Companies should also evaluate a prospective client's brand and values to make sure there are no red flags. Pre-filtering this way can increase your chances for a long-term successful relationship. 
The final thing is to be fully transparent with your prospects and clients about your services and how you do business. Companies want to work with clients who understand and appreciate what they do. Be upfront with your pricing, deliverables, support and solutions. If you lay it all out clearly, there will be no surprises. You'll also find it builds stronger and more profitable relationships, and that's something we all hope for. 
Carisa Miklusak
CEO
tilr 
Be Mindful of Content, Hires, and Marketing
I've learned a lot as I built my company. One of the most important things was who and when to hire. When it comes to staffing your business, you have to think about the tasks that you'll need to delegate. As an entrepreneur, it may be difficult to let go of the reigns. However, I stick to a very clear motto: if I'm not 100% the best person for the job, I hand it over to the individual who is. So, when hiring, this needs to be at the forefront of your mind. Look for innovative employees who aren't afraid to think outside of the box. These employees help your company to grow and grow right alongside it. 
Additionally, they don't say content is king for nothing. Create a blog section on your website and immediately post high-quality content that includes helpful tips for your customers. I've discovered that you have to give potential and existing customers a reason to visit your website. When you have well-written content on your blog that provides useful information, it can cause repeat visits. Additionally, this presents your company as an expert on the subject material, which gives potential customers an even bigger incentive to work with you. 
Finally, you have to think outside of the box when it comes to marketing. Build backlinks through guest posts, and respond to any queries requesting expert information, such as on HARO. Marketing doesn't have to be expensive if you use the right tricks. 
Andrea Loubier
CEO
Mailbird 
Make Yourself Available
Go the extra mile when it comes to customer service. 
As a small business owner, I answer emails in the evening and during the weekend to make sure I have a quick response time. 
You hear about so many people who shut off their phone and email at 5 p.m. That's not who I am and I work with other business owners. Being available and reliable is something I think other business owners should take into consideration. 
If you feel someone is taking advantage of you after business hours, let them know and that typically solves the problem. 
Jason Parks
President
The Media Captain
You Don't Need to Tackle Everything Alone
An important thing to remember is that not everything on your to-do list is a priority. Have clear, well-defined goals so you can differentiate between 'urgent' and 'important'. It seems like the entrepreneur's to-do list is neverending, but not everything has to be done. More importantly, not everything has to be done by you. 
That said, don't be afraid to ask for help. This can come in many forms. Enlist help on the home front, barter with business owners for products or services, hire help before you think you're ready, or take advantage of coaching so you aren't recreating the wheel. Limit your time as 'Chief of Everything'. 
Finally, your customers will buy what they want, not what you think they need. Make sure you're crystal clear on your ideal customer. Who are they? Where are they? What do they care deeply about? Clearly articulate how your product or service delivers an outcome they want. 
Leigh Bridges
Founder/Owner
The Creative Gameplan™️
Be Passionate and Always Learn Something New
If you have a passion for creating a business in something you love, you'll definitely succeed in the future. In today's market, it's not easy to start a business, and the first few years are always tough. You might have to go through unexpected expenses at the cost of no returns. But, if you managed to survive the first rounds, you're in the game. Never give up, no matter how hard times get. If you have a passion for something, then only you can do it right. 
You also need to know your audience, and what they're looking for. This is your first goal to connect with people who love to buy your products. Once you're aware of your niche audience, you'll find more ways to engage with them through different resources. 
Lastly, invest more time in learning new business strategies. There's always some sort of update in the business world, so keep discovering more and testing different strategies to see if they're working. Spend time with other professionals and see what strategies they use to grow their companies. 
Syed Ali Hasan
Digital Marketing Manager
Film Jackets
Build Your Reputation and Brand Awareness
As a website and graphic design agency, we've learnt a lot in our two years on how to succeed in a competitive industry. In our first six months, our network was everything. Past employers, colleagues, people we went to university with, even friends of friends played a role. These people were, or referred us to, our first customers. 
After that initial boost, we found that building brand awareness is incredibly important. In-person networking, combined with social media, helped us spread beyond our network. We've combined that with speaking at events to place ourselves as experts in our market. 
You'd expect the result to be local customers, but our customers spread across the world from the UK to Europe and as far away as Indonesia. It's amazing how connecting with one person can lead you to a whole new set of potential customers. 
Our motto is to always be helpful. We spend a lot of time going out of our way to write actionable blog posts, answer questions on social media, and connect people who can help each other out. In return, we're building a reputation as a business you can trust. That generates referral leads, which are much easier to convert than advertising or more traditional methods.
Jo Pickering
Director
Kabo Creative
Ensure Your Product is Top-Notch
When starting a small business, you likely won't have the same level of quality and sophistication as market leaders. Frankly, you're probably going to offer something sub-par. 
It's a catch-22. You need to grow and become profitable to refine your offering, invest in R&D, and so on. At the same time, if you admit, (or let slip) that you're not the best customer choice, how can you make sales? 
New businesses rely on sales and marketing. It's tempting to exaggerate the benefits and hide the flaws of a product or service that you want to sell. Salespeople with a subpar offering usually bend the truth or conceal weaknesses to make sales. This dishonesty can come back to bite you and ruin your reputation. 
To some extent, this 'polishing' is the very essence of sales and marketing. But, too many people get carried away. The problem here is that you won't believe in your product, or get satisfaction from what you sell or any targets that you hit. It'll also be harder to succeed. Customers will realize the deception and be more likely to cancel and less likely to give referrals. 
If faced with a situation where you're tempted to exaggerate or conceal, realize that what you're offering might not good enough yet, or even be worth selling. 
In this situation, you need to improve your product or service so that you're the best choice for the people that you're pitching. If you can't, look for a different product or industry where you have total confidence. The results are likely to come effortlessly and offer job satisfaction too. 
Jason Lavis
Managing Director
Out of the Box Innovations Ltd. 
Advertise Your Skills
My number one tip for success with your small business is to keep things simple by doubling down on the few things you're best at. This lets you do a lot more with fewer people and keeps your marketing efforts focused and effective. 
If you have a software company, try to choose a fairly focused product that solves a problem for an underserved niche. Focus on serving that market the best you can rather than expanding the product to serve everybody. Target your advertisements, your content marketing and so forth on that same niche audience. 
If you have a restaurant, make your menu smaller and offer only the top 20% of your best dishes from the old menu. This will avoid waste, reduce training costs for kitchen staff and let you focus on promoting those few dishes as something special. 
If you're a craftsman, think about specializing further than most do (if you're in a large enough market to do so). Don't advertise yourself as a plumber, advertise yourself as a plumber specialized in unblocking clogged drains. As a specialist, you can be much better than the generalists, with specialized knowledge and equipment you've invested in. 
Jói Sigurdsson
CEO, Founder
CrankWheel
Focus on Real Connections and Self-Care
I think it's a mistake to hide behind technology and CRM systems when prospecting. My advice is to disconnect from technology and focus on cultivating face-to-face relationships. Meeting for coffee or lunch can accomplish so much more than e-mail exchanges, social media posts, etc. Plus, it's a great way to get to know people better. 
I've found that building relationships is what drives my business and technology supports them once they're solidified. Technology helps advance the conversation but it'll never replace the human interaction that builds trust over time. I plan lunch meetings ~3 days a week and invite clients to events I think they might enjoy attending to spend time together. 
As an entrepreneur, you're always on. With social media and technology going 24/7, it can be tough at times to stay energized and focused. For me, I know when I feel my creative juices drying up, it's time to shake things up and take better care of myself. The key is to find ways to stay fresh and excited without having to plan a vacation. Earlier in my career, I considered it pampering, but now in my 50s, I realize it's maintenance! 
I think that respecting my time on the calendar and taking myself as seriously as I take my most important clients is the least I can do. If I'm not at my peak performance, I'm not useful to anyone else either. My advice is to give yourself permission to say no. It could mean sleeping in, getting a massage, taking a walk, or just turning off the phone and computer. Simple acts of letting myself relax and enjoy the moment are the best gifts I can give myself. 
Paige Arnof-Fenn
Founder & CEO
Mavens & Moguls
Be Unique for Your Business and Customers
The single largest differentiator between small businesses is how strong their customer service is. Think about it: how many times has someone gone out of their way to help you? My guess is that not many businesses have done so for you and that you've become a life-long customer at the ones that have. By making customer service your number one priority, you'll stand out in a competitive market. 
By the same token, every business can create little surprises that help your customers feel special. A local coffee shop near me does a fantastic job of this by sometimes including a free pastry with my drink for being a regular customer. This isn't something I expect as there's no reward program and I've never once asked for this. 
However, these small surprises help create a bond with the staff there and I wouldn't dream of going to a different shop. Look for similar opportunities within your small business to create an unexpected surprise for your loyal customers. 
Another easy way to differentiate yourself is to market your product as incredibly unique. For example, there are a lot of dog walkers out there and it is difficult to compete. However, let's say you market your business as a "morning dog walker for people who leave early for work. That marketing is unique and you might be the only business that is competing in the "morning dog walker" space.
Logan Allec
Founder
Money Done Right
Don't Get Caught Up in Competition
A lesson I wish I'd learned years ago is to stay in my lane and not worry about my competitors. It's easy to get caught up in comparison. However, that does nothing but cause doubt and insecurity. It took years to figure out that just because someone is in the same industry doesn't mean I'm not unique. Sure, we may offer the same service, but how we approach situations, our work styles and personalities are different and both have a place. 
There's room for all of us. Staying in my own lane has been instrumental to my growth as a person and leader. 
Trivina Barber
CEO, Founder
Priority VA
Learn the Law
Be aware of the legal implications of starting a business. Smaller and newer businesses are often more vulnerable to certain lawsuits than larger and more established companies. Many new business owners don't understand that. 
For example, a small business owner who doesn't have the help of an HR department may not know how to protect themselves against discrimination and wrongful termination lawsuits. To avoid these legal issues, refrain from asking questions, referencing, or discussing subjects like race, religion, and gender during interviews or meetings. If for some reason an employee feels they were treated differently based on these factors, they could have grounds to sue you.
Lance J. Robinson
Owner, Lead Attorney
The Law Office of Lance J. Robinson 
Invest in Good Web Design and VAs
Building an online presence is an important part of a small business' success. Although most would agree customers start their search online, fewer set out an actionable online marketing program from day one. Our company's biggest successes have come from connecting with clients via our website. In advance of opening for business, take the time to design a website and a marketing plan to drive traffic. Website design is affordable – for a few hundred dollars an experienced designer can get a professional-looking website up and running in a couple of weeks. 
A "game-changing" tip for growing business owners is hiring virtual assistants. When running a company with growth in mind, there isn't enough time to manage the workload on your own. Staffing full-time employees can be cost-prohibitive and several full-time staff can still be insufficient. There are talented virtual assistants across the United States (and internationally) you can hire for telephone services, client management, data analysis, calendaring, and web search at affordable rates compared to the traditional hiring process. During crunch times, you can supervise short-term virtual teams to get through temporary periods of heightened work. Hiring a virtual assistant is also simple. There are several websites that connect you directly with virtual assistants and make the process a breeze by handling payment, dispute resolution and providing live computer monitoring to supervise the team. 
Earl White
Co-Founder
House Heroes LLC