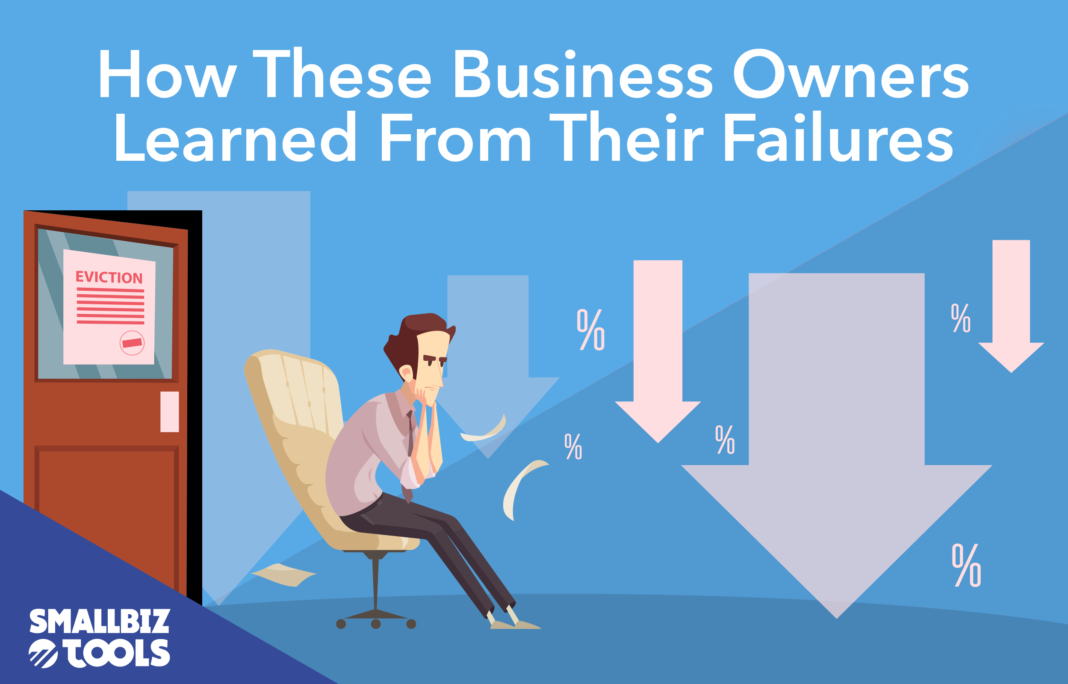 Running a successful business takes work, but a large part of climbing to the top is overcoming failure. A significant number of small businesses fail in their first year and even more tank in their fifth. 
According to the Bureau of Labor Statistics, health care and social assistance businesses are projected to succeed by 24% between 2014 and 2024. Construction companies are projected to expand by 13% whereas professional and business services may climb by 10%. However, manufacturing and utility businesses are both expected to decline by 5 and 7% respectively. Retail and finance may grow by up to 5 and 6% respectively in the next few years.
CB Insights collected information from 101 (recently updated to 311) failed startups. Their data revealed that nearly half of failed businesses did so because there was a lack of demand for their product. Fortune crunched the numbers and revealed that additional top reasons were lack of money, not having the right team, bested by competition, and poor marketing.
Though the reality seems scary, plenty of business owners learned from their biggest failures to better their company. We spoke with 24 business owners about their largest mistakes and how they overcame them.
Don't Get Complacent
A couple of years into my business, after all the hustling and with my prices stabilized, I got really complacent. I took my eyes off my business to look at other parts of my life and I left my business running in the background. I ended up earning almost exactly the same amount each year for three years, where before I was increasing by tens of thousands every year. 
Eventually, I found myself in the middle of what should have been my busiest booking season with an empty inbox and silent phone. No one approached me. Turns out I had dropped off the front page of Google and hadn't even noticed, my marketing wasn't up to date and I wasn't encouraging referrals.
It was the wake-up call I needed to start focusing on my business again. To stop just carrying out the day-to-day tasks like it was just a job and run it as a business that needs marketing, sales and growth plans. Within a couple of months, I turned things around and ended up having my most profitable year. But, it definitely cost me overall – probably tens of thousands in lost income.
Hannah Attewell
Success & Business Coach
Force of Nature Coach 
Seek Legal Advice 
My biggest mistake during our initial growth as a company was with our first employee who worked for us for several years. We trained her on everything having to do with running an eCommerce business and gave her supplier and customer information without a second thought. She had complete knowledge of confidential business practices as well as all of our advertising keyword information. Little did we know that one day she would go out on her own and start a competing online business! 
Moving forward, we always have all of our employees sign a non-compete/non-disclosure agreement to protect our business and prevent this from happening again. I would advise any new business owner to get legal advice about confidentiality and non-compete agreements before hiring anyone.
Kim Hawkins
President
EventsWholesale.com 
Invest in Document Backup
About a year and a half ago I learned a very valuable lesson in digital storage redundancy and, as it would turn out, animals in the office. 
For a long time, we didn't have commercial space for our office and my co-founder and I worked from a room in our home. We have two cats and one day one of them accidentally unplugged the 2 TB external hard drive with roughly 90% of our business on it. 
Years worth of marketing collateral, the manuscripts and print files for the books that our publishing company sells, HR records, author contracts – you name it – all corrupted and inaccessible. We sent the hard drive away to a recovery service and fortunately, they recovered 99% of the lost data. But, when we got it back all file names and directory locations had been changed. It took over a month to reorganize everything. 
Needless to say, I pay a premium now for an automatic cloud backup service. The cats are also no longer allowed in the office.
John Donnachie
Director and Cofounder
ClydeBank Media 
Hire Qualified People
Our biggest mistake was having someone else build our website. We didn't have a technical co-founder so we paid $125k for a shop-built website that was based on what they thought our customers wanted. It has since been rebuilt by a co-founder (after he went to software school) and the only thing that was kept was the video. $125k for a 1:30-second video….and no, it wasn't directed by James Cameron. This ended up being a blessing in disguise. 
After this blunder, one of our co-founders decided to attend software school to learn how to build our website himself. He is now our CTO. 
Gene Caballero
Co-Founder
GreenPal
Focus on the Right Things
My biggest mistake in business was spending forever setting everything up when I had a fundamentally flawed idea. Then I did the same thing again! 
Starting a business can take a lot of planning, preparation, and setting up. It's easy to get stuck in this early phase. 
I made the mistake of spending a lot of time on aspects such as company name, logo, incorporation, contracts, networking, etc., only to find out later that people didn't want what I was selling. At least, not at a healthy profit. 
Approach customers early and find a product or service they're happy to pay a reasonable price for. They won't care about the company slogan or whether you've protected your intellectual property. 
The lesson? Sales and marketing first, second and third. All the other things can get tackled once you have some traction. 
Jason Lavis
Managing Director
Out of the Box Innovations Ltd.
You Can't Do Everything
I wish I'd known sooner that I could, and should, delegate things I wasn't good at and that it would actually save me money in the long run! In fact, it normally ends up making me money. Don't try to do everything yourself. You can't. You'll fail. 
For example, I'm good at networking, meeting people and exchanging cards for follow-ups. I'm also pretty good at making the first outreach. But then I'm on to the next thing and if the other party doesn't respond, they disappear into the ether for me. 
By working with a virtual assistant, I can ensure that someone is following up and will continue to do so according to the contact strategy I've established. This happens until I either connect with the person or we close them out as an opportunity. Without this process, I'd almost certainly have a zero ROI on my time invested networking.
If you love what you do, recognize that you won't get to do that full time in your own business. I love coaching but need to spend the majority of my time running, marketing and selling my business in order to get to coach. 
Taking care of yourself is taking care of the business. You are the business and the brand! 
Elene Cafasso
Owner and MCC
Enerpace, Inc.
Expand at the Appropriate Time
I started my business in 2018 and tried to expand too quickly. I had early success in Dallas and tried to quickly expand to Austin in the hopes of growing my business larger. This turned out to be a mistake because it drained my resources and split my focus. 
I would recommend that local business owners focus on dominating their local market before expanding to other markets. I ended up leaving the Austin market and am now focusing on Dallas. 
Dawna Boone
Owner, Founder
Valet Maids 
Rely on More Than One Revenue Source
When I started my company, I worked on many small, low budget projects. It's hard keeping a dozen clients happy at a time. When one company had lots of work for me, I was happy to serve primarily one client. At a certain point, 90% of my income came from that company. Overnight, my contacts at the company were fired. 90% of my income evaporated overnight. 
It took a long time to recover from this mistake. I no longer rely too heavily on one company, one supplier, or one of anything. I always have a backup plan. If something goes wrong, I'm prepared for it and it no longer surprises me. It was a hard lesson to learn but an important one. 
Jacob Landis-Eigsti
Owner, Head of Marketing
Jacob LE Video Production 
Partner With Those You Know
One of my early failures was that I lacked the confidence in my own ability to grow a business. So, I partnered early with two people I didn't know very well and it was a disaster. I eventually had to buy them both out and it set me back about a year. 
Don't let your lack of confidence tempt you to partner with someone you don't know well. Not everyone has the same work ethic as you, so either partner with someone whose work ethic you positively know or believe that you can do this on your own. 
Danielle Kunkle Roberts
Founder
Boomer Benefits 
Don't Listen to Just Anyone
After serving in the U.S. Army, I decided to jump into one of the most challenging business models of all: digital marketing. 
Why is this so challenging? They don't teach you this stuff in school. 
There are no real guidelines on how online marketing works. Sure, Google provides massive amounts of resources, there's Youtube and a world of courses, blogs and all — but, the industry is constantly evolving. There's no such thing as "completing an SEO campaign." 
A ton of "companies" and "freelancers" out there "know SEO" because they watched Neil Patel on Youtube and signed up for his courses. They then sell you on their services (because remember, there's no real certification for professionals here), and you quickly realize they don't know what the hell they're doing. Or, in some cases, they don't do anything at all. 
Constantly staying updated with vital systems like SEMrush and Ahrefs and Google Analytics kept me in the game. Asking a probable hire to show me what they've accomplished online is the only way. Doing this because it's my passion means there's no other way. 
Chris Kirksey
President
Direction.com 
Offer Services in Your Niche
In the early days, I tried to cater to every market by offering services beyond our skillset. But after realizing this lead to our own problems, I scaled back, niched down, and only focused on our core competencies. 
In the beginning, I would also take on any client to grow the business. However, after I learned how ineffective that was, I put all new business inquiries through a rigorous process to ensure the company was the right fit for us.
Kristin Marquet
Founder & Creative Director
FemFounder.co 
Pay More For Better Employees
Pay more to hire a better-qualified candidate rather than moulding someone at a cheaper rate. 
When I first started my business, I felt I could take C and D players and turn them into A and B players. I tried to save every dollar I could as a small business owner so I figured this route was more economical. I felt with my passion, I'd be able to convince them to buy in 100% and they'd be willing to learn skills. 
Once my business became more established, I realized how much time and energy is wasted on trying to train someone who doesn't want to excel in a position and doesn't have the necessary skillset. 
When you hire someone great, you don't have to micromanage and you can spend your time more wisely, which is better for the business. They'll also excel in the position and drive more referrals based on their advanced skills. 
Pay more for better candidates. I learned the hard way but I learned when my company was still young. 
Jason Parks
President
The Media Captain
Don't Outsource to Unreliable People
I'm a full-time blogger, meaning I own a personal finance website that I monetize via affiliate marketing. 
The biggest mistake I made in my business was outsourcing my content production to an agency that provided very little oversight into what they were doing. I built my blog to the point where I thought it was best for me to outsource content so I could focus on bigger things, like developing new revenue streams and promoting my brand. 
I was wrong. 
As a blogger, you can never really divorce yourself from your content, and I paid the price for doing so. 
My readers started noticing a distinct change in the quality of the content on my site, and when I took a closer look at the agency's content, I wasn't impressed. The articles were neither ranking well from an SEO standpoint nor were they converting well from a monetization standpoint. It was at this point that I realized the mistake I made. 
I immediately fired the agency and went back to my old content model, which consisted of me working directly with experienced freelance writers that I trusted and being very much involved in the content production for my site. 
Logan Allec
Founder
Money Done Right 
Build Relationships and Focus on Your Health
I was introverted by nature. Talking to someone, particularly strangers, was always a big deal for me. I lost many business opportunities due to my small entrepreneurial network and poor social skills. 
With time, I learned that as an entrepreneur, you need to go out and socialize and meet with like-minded people. Getting to know the right people will inspire you in many ways and some can bring great opportunities. By opportunities, I mean client leads, joint ventures, business deals and referrals. You can't develop a sustainable business alone. If you want your business to thrive, you need to establish reliable connections.
Since the early days, I've realized the importance of networking in a growing business. I started to invest in relationships more. Powerful networks always brought powerful opportunities for me. 
During the early days of my business, I also suffered some health issues. The reason was that I was into my career and developing business, often spending 18 hours a day at work neglecting health and sleep. Later, it not only damaged my health, but I also faced sickness, stress, and decreased productivity. I realized that my most significant investment is my health. 
Jeremy Ong
Founder
HUSTLR
You Can Only Control So Much
I lost $30,000 in a single day running my first business, a festival and event production company. Torrential rain, thunderstorms, and lightning hit the day of our outdoor music festival. The event was supposed to attract 4,000 people that day and about 1,500 showed up instead. So, we lost out on a significant portion of ticket and concession sales. At the end of the festival, we tallied up our net profits and it was -$30,000. At that moment I thought I would die. I left a stable, 6-figure corporate job and jumped into entrepreneurship to "live the dream", and suddenly I was questioning everything. 
This is what I learned:
First, you can only control what you can control. The weather was out of our control, but we still learned dozens of lessons about running a better festival and mitigating risk. 
Second, it takes time for most businesses to become profitable. Before you take the leap, save up enough money to give yourself a long runway, such as one to two years of living expenses. 
Third, it's okay to take another job to fund your dream. I ended up walking dogs, working catering shifts, and doing a flu vaccine study to make money. My ego took a hit, but my dream was still intact. 
Hilary P Johnson
Founder and Entrepreneur Coach
Hatch Tribe 
Focus on Your Customers' Needs
When I first started my online business with my partner Alex, our big failure was trying to make the business all about us. We launched a website with the hope that we'd see fortune and fame just by posting random articles we created while drinking mimosas and sampling random recipes. We quickly learned no one reading our website cared about us and our misguided shenanigans. 
If we wanted to make money and build a real audience, we had to make our business about them. Their pain points. Their deepest desires. So, we went back to the drawing board, did more research, and got clear on our ideal audience. Then, we launched a new website in the health and wellness space and created a product for weight loss that resonated with our readers. 
Since that epic failure, we created more products and developed a second website teaching entrepreneurs how to launch their websites the right way. We don't want others to make the same mistakes we did. 
Lauren McManus
Professional Blogger
Create and Go 
You Don't Need Bad Customers
When I first started my PR agency, things moved quickly. I literally learned every step as I went along. I signed the first-ever second client and was extremely excited. So excited that not only did I miss the red flags but also didn't include key points into his service contract. I let the excitement of people actually wanting to give me money cloud my vision of what I personally wanted from the long term. 
This client was nothing like my first. We negotiated on the prices of my services, one thing I never should've done. But, I didn't understand the worth of what I offered at that time. Then there was the helicoptering of everything I did and shortly came the late payments. I was being taken advantage of and felt extremely used. On top of that, I had nothing in the contract to protect myself. 
No one wants to be the bad guy but I had to stand up for myself. So, I called the client and ran through how my services would run from then on out. I also explained that I wouldn't start working on the next month's projects until the invoice had been paid in full. He would also need to sign a new contract that included all of the new information. 
Let's just say he really didn't like that much and decided not to resign, which was a huge weight off of my shoulders. Now, not only are my client contracts airtight, but I don't work with anyone who starts off negotiating the price of my service value. 
Krysta Monet
CEO/Founder
Nine + North Co.
Put a Solid Plan Together
Starting my business, I was slow to start keeping track of my systems and processes. My standards were inconsistent and I started every new project from scratch, going back to previous jobs to try to remember what I had done that last time. 
I began outlining my processes, creating templates and utilizing automation in certain areas. I saw an increase in productivity and time management and could finally see progress and growth in my business. It also gave me back time to invest in elevating my brand experience and developing my offerings to better serve my clients. 
Building out your SOPs, automated workflows and templates takes time and a lot of work. You should constantly review and refine the process as your business develops and strengthens. But, I genuinely believe my reluctance to do so at the beginning was what held my business back from faster growth in the early phase.
Eainne McDonald
Founder, Creative Director
Studio Stratos
Have Confidence in Your Products
In the early stages of my business, I got clients by cutting my prices to the bare minimum. However, I found that the continual negotiation of my prices resulted in decreased confidence. I let go of boundaries and people-pleasing instead of stepping into my position as a leader. 
My "aha" moment came when one of my branding and marketing projects resulted in massive scope creep and a seemingly never-ending timeline, which kept me from taking on additional clients. At the end of the project, I not only lost out on money, but I was also left questioning my self-worth. 
I learned that in entrepreneurship, it's perfectly okay to set boundaries with your clients, so both of you can have a better brand experience. It's also essential for business owners to know that not every client should be their client! Your ideal client will resonate with the true brand you present and pay you according to that value. Lesson learned! 
My situation and other failures are stepping stones to entrepreneurial success … as long as you look for the lesson. Fail forward! 
Dr. Renée A. Walker
CEO, Founder
reneewalker.me/
Prepare For the Future
On returning home from Tokyo, I checked my voicemail to learn three of our largest clients were filing bankruptcy. All of a sudden I was $1,000,000 in the hole. I was shattered. From that point forward, I shifted my mindset on how to protect the future. 
The business did pull out of the hole, but along the way and a few businesses later I learned these lessons: 
Before you get into a business, figure out how you will get out of that business. Hardly anyone thinks about an exit strategy when they get into a business. 

Work out how much is enough for you to make and set your clear sights to make an exit. Never fall in love with an asset. 

Cash is not king, cash flow is king. Manage the money you've made. We often worry about making money and spend almost no time managing the money or the business we have. 

You don't make money from clients you don't trust or respect, no matter who they are or how big the project. 

Be confident, not arrogant. Confident leaders lead through values, vision and vulnerability. Arrogant leaders lead through fear, blame and ego. 
Troy Hazard
Serial Entrepreneur
The Entrepreneurs' Organization

Make Sure People Want Your Product
My biggest failure as a small business owner was that I didn't develop a product that my audience actually wanted. I spent thousands of dollars and over two years developing what I considered a brilliant product that would fill a gap in the market. Unfortunately, my audience disagreed. The project completely failed, and we never sold a single unit. 
This was my first attempt at innovation as an entrepreneur and I learned a lot from the experience. I learned that it's crucial to survey your potential customers before starting the development process. You have to be as sure as possible that there's an addressable market and a high demand for your product. 
Potential customer market research is something that I always do now. I make sure that I know my customer, what they really need and will be prepared to pay for. 
I learned that you must identify the pain points that the customer experiences with their current solution. Then develop a product that solves those pain points. In my first product development, all I focused on was creating a lower-cost product. That was a huge mistake. 
Russell Barbour
Owner
UnconventionalProsperity
Refrain From Thoughtless Advertising
A mistake I've repeated several times in different businesses is plunging money into advertising without adequate thought and without looking closely at the return on investment. There are lots of statistics on how much companies waste on marketing and advertising. But, it's still tempting to have a "punt" on an advertising method, whether it's online or offline. This is especially true in the early days of a new business when you're keen to do something to move things off the starting line. 
Nowadays I'm a lot more cautious. There's plenty you can do to promote a business using effort rather than money, especially online and using social media. It now takes a lot to convince me to invest in paid adverts unless I'm completely convinced they'll pay off.
Ben Taylor
Founder
HomeWorkingClub
Let Go of Bad Employees
Early on, I hired people I believed could "grow into" a role. This rarely worked. These days I only hire people with real experience required for the role. 
I didn't want to hurt another's feelings, rather than speaking directly when someone wasn't meeting expectations, I would speak indirectly or use euphemisms. This never led to the results we needed. These days I speak plainly about expectations and performance. 
Again, to avoid hurting feelings, I didn't move in a timely manner even when it was clear that an employee wasn't going to work out. When the fit isn't there, these days I change the circumstances far more quickly.
Underachievers drag down the performance of the whole team. Building a business is tough enough already. Honestly, assess people and build a stronger team. The future you will be grateful. 
Michael Ward
CEO and Founder
Net-Results Marketing Automation
Know the Importance of Taxes
I didn't know the importance of paying self-employment and got a huge surprise at the beginning of the next year. I didn't pay my quarterly taxes on time I was hit with a huge tax bill I wasn't prepared for. 
After paying off my bill I sought knowledge on how to properly set up estimated quarterly taxes. I learned the proper amount to take out for each quarter and how to pay both my federal and state taxes online. 
After learning from my past mistake I hired a financial CPA who helped me file my taxes the following year. At the end of that year, I didn't owe anything and I wasn't hit with another huge bill. 
Latasha Peterson
Founder
Arts and Budgets, LLC