Here's the thing…
There are a million and one different landing page softwares. Instapage, Leadpages, Unbounce, ClickFunnels, Shortstack, GetResponse, Wishpond, and the list goes on and on and on. It's dizzying, especially because they basically all look the same! How the hell are you supposed to know which software to work with???
What Makes a Great Landing Page Tool
When you start looking for a landing page tool, there are many things you will find all the companies provide.
First and foremost, they will all offer a landing page builder platform. Obvious, right?
Most of these builders are pretty much the same. You could start a free trial and test different ones, but that'd be a big waste of your time. That's why you need to consider some other features to make the final decision.
Another important feature your chosen tool should have is a reliable lead magnet delivery system. That way, once someone signs up, they will get your offer immediately to their emails.
Finally, you should be able to acquire leads not only through a landing page, but also by using pop-ups and opt-in boxes you can add anywhere on your site.
This is what an opt-in form within an article looks like.
Finding the Right Landing Page Software
While there's no magic bullet, successful landing pages share many of the same features and characteristics. Fortunately, you don't have to create a landing page from scratch. Besides reviewing those of your competitors, there is a ton of landing page software available that offer a range of winning templates at reasonable prices.
Purchasing landing page software requires a plan for integrating and implementing it with your existing CRM platform, so you can capitalize on your marketing efforts to date. Before you start searching for possible vendors, take some time to assess your needs, objectives, strengths and weaknesses. Ask yourself these critical questions:
What resources (personnel, time, finances) are you willing to commit?
Who will be using the software? (marketing, web administrator, business owner, sales team)
How will the software support my goals? (ie, higher traffic, higher conversion)
What specific landing pages do I need to focus on?
Who is my market segment?
Can my existing CRM tools be integrated with the landing page software?
Does the vendor offer reliable, accessible support when critical issues arise?
The Best Landing Page Tool: Leadpages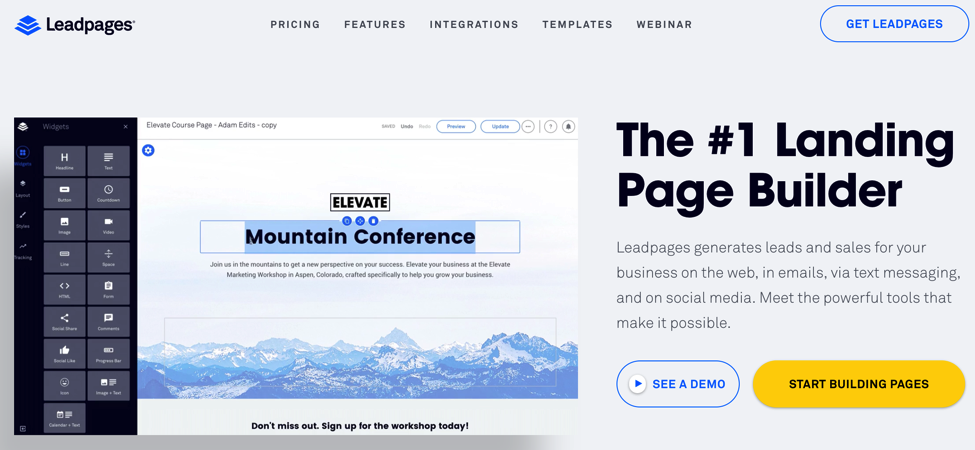 Taking all of the features I described before, the best landing page tool is LeadPages.
LeadPages offers landing page creation with the use of mobile-friendly templates, both free and premium. They offer over 90 drag-and-drop templates and over 100 standard ones.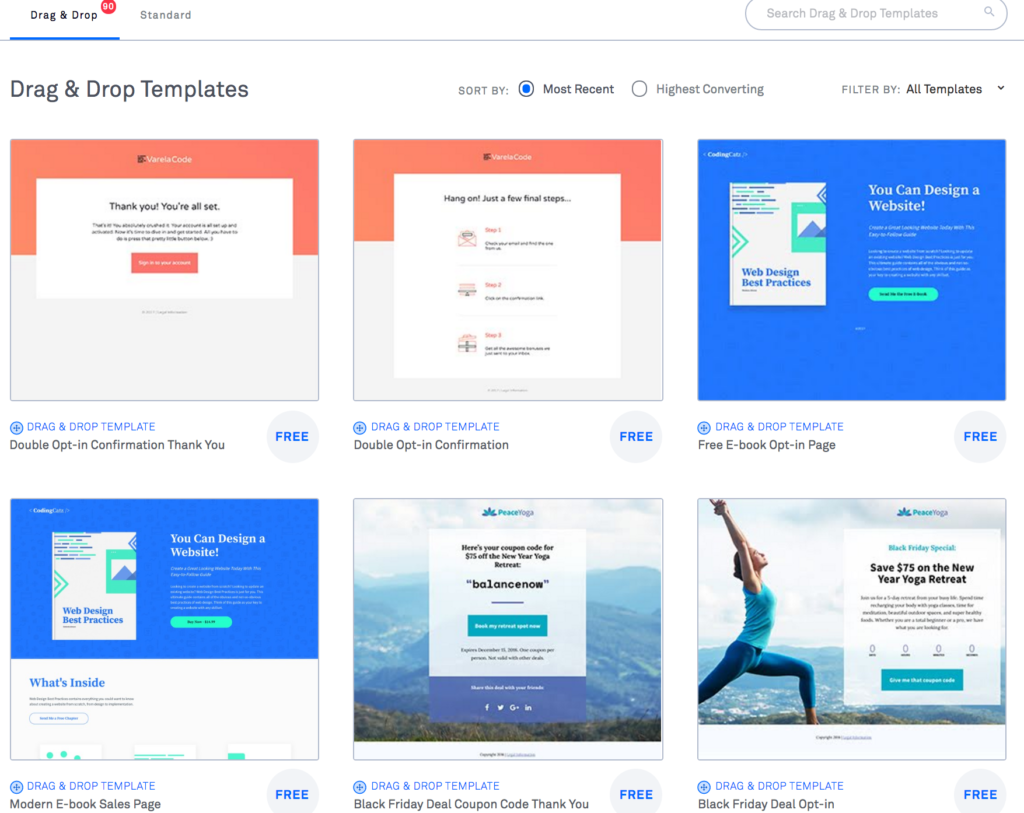 These are some of the landing pages available to use on Leadpages.
Each template allows you to add titles, opt-in forms, call-to-action buttons, and any kind of customization that can help you make your visitors convert into leads.
What makes Leadpages stand out from its competitors, however, are two of their best features: LeadDigits and LeadBoxes.
LeadDigits allows you to drive leads using SMS text messaging. This is how it works: you select a phone number your leads will send texts to and a unique code they'll text to you as well. This unique code is chosen by you. Then, you create a short message that your leads will receive when they text the code to the number asking for their email address. Once you receive the message with their email, you can add them to your email list like you normally would.
LeadBoxes allow you to add a banner inside your website or article, and when one of your visitors clicks on it, a two-step opt-in form pops up in which they can add their name, email, and even phone number to your form. From there, you can integrate your Leadpages account to your CRM, email marketing provider, and your preferred analytics tool.
Leadpages also offers integrations with all the leading sales, email and analytics companies, including Hubspot, Mailchimp, and Salesforce, among others.
Pricing
Leadpages have three tiers:
Standard: Starts at $17 on a two-year contract, and goes all the way up to $37 for a monthly subscription. This plan features only the most basic features.
Pro: From $42 bi-annually to $79 monthly, and includes slightly more advanced features, like A/B testing and Leaddigits.
Advanced: $159 per month on a two-year contract, and $199 per month on a one-year contract. It includes all the most advanced features, including their advanced integrations and 1-on-1 telephone support.
Some Other Landing Page Software That Might be Of Interest…
---
Omniconvert
Strategic use of marketing data will make or break your landing page. Award-winning SaaS Omniconvert combines three basic CRO tools to optimize your conversion rate: AB testing, web personalization, and online surveys. Wordstream and Forbes are among their 4000+ users, users love its accessible interface, and its suite of powerful, integrated tools. Omniconvert is a web-based solution, deployable through the Cloud and offers both online and 24/7 live support. Monthly rates start as low as $38, but there's a 30-day free trial that requires no credit card, as well as a 70 per cent discount for NGO's.
---
Wishpond
Wishpond features easy to build, mobile friendly landing pages, and over 50 templates. At a monthly fee ranging from $49 – $129, users can sign up for a short term or annual subscription. Wishpond is entirely web-based, and fully supported with both online and 24/7 live customer service. A 14-day free demo trial is also available.
---
Infusionsoft
Highly popular among marketers, Infusionsoft focuses on automated marketing solutions for small businesses. Founded in 2001, their software is web-based, fully supported, and has received glowing reviews from small business owners since its inception. With all its powerful tools and features at your disposal, you'll want to dedicate committed personnel if you want to take advantage of all it has to offer. Monthly prices begin at $199, but there's a free demo trial as well.
---
Pardot
If you're already familiar with Salesforce and its popular CRM tools, Pardot, an automation marketing tool and landing page generator, is a natural fit. Created by Salesforce, Pardot integrates natively with almost any CRM to support your sales and marketing initiatives, while maximizing your existing leads. The software is web-based and can also be deployed as a SaaS or via Cloud. Some HTML knowledge is helpful and it isn't quite as flexible but users find it moderately easy to use and very helpful for business to business marketing. Monthly price ranges from $1000 – $3000.