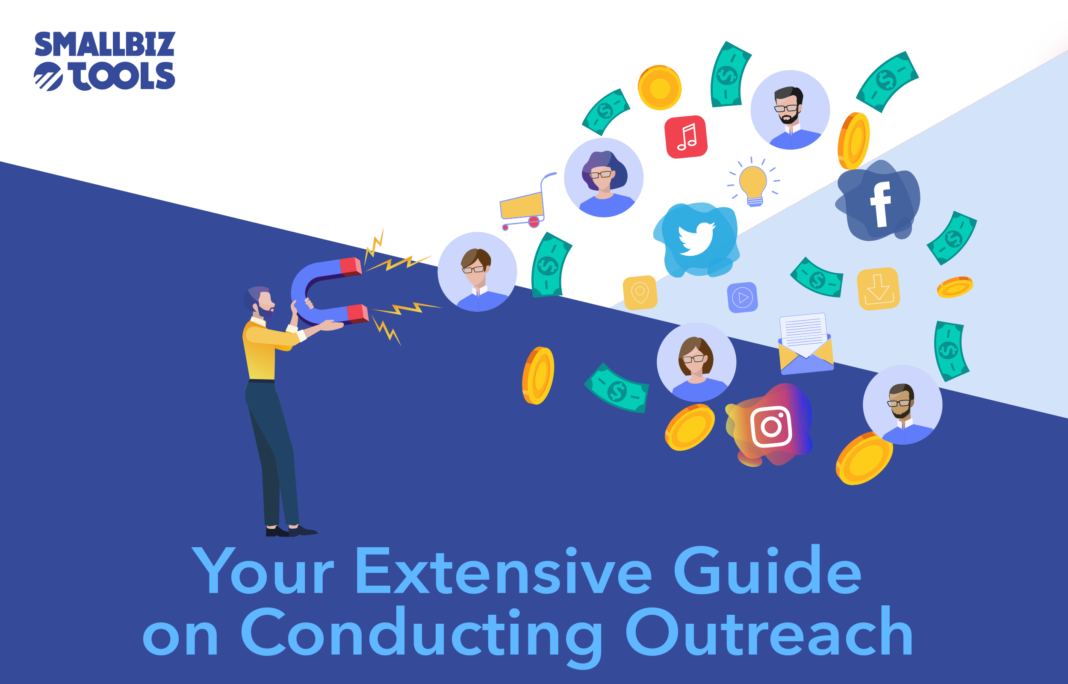 It's no surprise that content marketing converts people. Of course, that's only if you have the expertise or the team to come up with valuable, interesting content for your audience. 
However, I'm sure most of you already know that content isn't everything. At one point or another, every marketer realizes that they need an outreach strategy as well. You need to rank higher in search engines and bring more organic traffic to your pages in order to bring results.
But, can you do outreach without losing your mind? Can you be successful without investing every spare second of the day? The answer to these questions lies in this article, where I'll teach you how to do outreach in the best way possible.
Why Does Outreach Matter?
Outreach is the first step of influencer marketing. If you want success, other people have to talk about your company. By that, I'm referring to people who matter in your industry. Think respected professionals in your field or influential people in your targeted audience. Your primary goal is to get them talking about you and your brand. In the end, this leads to them promoting you on their websites or wherever they have an online presence.
Influencers' content can reach audiences that are hard to connect with otherwise and, sometimes, impossible to reach by yourself. Yes, you can invest in targeted ads but you don't know how much of your audience use ad blockers. 
You need to reach your audience and influencer marketing gets you there easier and at lower costs.
What is Influencer Marketing?
Influencer marketing is a hybrid combining traditional strategies, such as celebrity endorsement or even the word-of-mouth marketing strategy, with modern concepts of content marketing. Influencer marketing can, therefore, take many forms from blog articles to social media posts. 
Not only can this help you reach a larger audience, but you can also find influencers in every industry, allowing you to connect to niche audiences as well.
According to a study conducted by Linqia, businesses spend anywhere between 10k and 100k on influencer marketing. However, 54 percent of marketers invest over 25k on influencer marketing campaigns. This information proves the popularity of this strategy. Think about it: professionals rarely spend such big budgets on unsuccessful or superfluous strategies. 
Additionally, Instagram sponsored posts shared by influencers generated about 1 billion total likes in 2017 alone. Since then, the platform has grown exponentially, so we can expect even more engagement in 2019. 
Moreover, additional studies show that influencer marketing returns as much as $6.50 for every dollar spent.
Now that we've covered the basics, the question remains. Can you do outreach without losing your mind? The short answer is yes, you absolutely can. Keep in mind that it won't be easy. But, if you want to approach outreach the right way, you need three things: 
a strategy

the right tools

a community
Create Your Own Strategy
In order to reach out to influencers and convince them to work with you, you need to design a personalized strategy. It should be one that works for you, your industry, and your style as well. 
Start With a Routine
The first thing you need to do is get used to your strategy. Familiarity with something implies the existence of a routine.
Many business owners think they can multitask in a short period of time, but not many people manage to do it in the long run. If you want efficiency, you need a good working routine; schedule time for each main task and do them according to the plan.
Additionally, people are creatures of habit. Routines help us focus when we have to complete a lot of tasks in a limited amount of time. There are several large benefits to a working routine such as they provide structure, build good habits, and increase efficiency.
That said, great results aren't achieved overnight. Focus on your daily tasks and expect results as you finish each one. Outreach and working with influencers is a long-term process that requires patience. As time passes, you'll see that the path is never straight. There are always things you can improve.
Follow Up With Good Research
This is a crucial step to maximize your chances of success. Preparedness and good research save you a lot of time. You'll also make the most out of your influencer marketing strategy, so long as you do it the right way.
Identify the top bloggers and social media influencers in your industry with thorough research. Proper research guides you to the people who really matter for your outreach campaign. You'll figure out who you need to approach and how to make contact in order to be successful. Research also helps you sift through the contacts who aren't necessarily relevant or even reachable.
That said, good contacts for your outreach are usually easy to spot since they'll have portfolios. They're also usually active on social media with an engaged following. If you want success, here are some simple things to accomplish:
Look for detailed information. Who are the influencers working with? What do they share? What's their success rate?

How extensive are their contact details? Do they put enough effort into marketing themselves? It's important to know you're working with someone who knows what they're doing.

Contact them, one by one. Personalize every message but don't ask them for favors right away. Build a relationship before expecting something in return.
Consider Hiring an Evangelist
It can cost you more than initially planned but hiring an evangelist can be a good idea if everybody knows and trusts them in your industry. A lot of companies hire brand evangelists to spread the word about their new products, their events, sales, etc., which helps you immensely. 
Use Tools to Optimize Your Work
Hard work and good communication skills can get you far. But there are a lot of useful tools to increase efficiency and help you complete tasks in less time. 
This one is my go-to apps when it comes to market analysis. It also helps find trendy topics for my niche and the influencers that discuss them. Influencer marketing is great as a content amplification strategy and Buzzsumo performs the initial research you need at the beginning.
Buzzsumo features:
Content discovery, research, and planning.

Buzzsumo lets you to filter the content available on the internet and find trending topics in your industry. You can find content based on the number of social media shares and backlinks as well.

Brand monitoring

. You can create alerts and stay informed on the most popular topics of the day. Alerts are available for brands, competitors, keywords, authors, domains, and backlinks.

Influencer marketing

. This can help you search and find influencers from your niche. Influencers come with their own fan base and audience. Consequently, they can spread the word about your brand, thus reaching more people than content marketing or paid advertising would.
HARO's a community-based online service aimed at helping journalists find sources for their upcoming stories. The platform features more than 800k users registered as sources and a huge community of 55k bloggers and journalists.
You can connect with influencers and popular publications to have your content featured by media outlets that otherwise would've been impossible or costly to work with.
A lot of marketers use HARO and the community page is dedicated to some of their most successful stories. The best thing about this tool is that there's a free plan available if you want to try the service first.
This is yet another great solution for influencer research and outreach. Buzzstream can help you manage your outreach campaigns, build relationships with influencers and expedite your work through automation.
Buzzstream's features:
Research. Find contacts, contact information, browse prospects lists and analyze metrics.

Create personalized templates for emails and outreach in a professional, efficient manner.

Manage your projects from Buzzstream's main interface and work together in teams of collaborators.

Get full reports on your campaigns' performances. Analyze the collected data and make the best decisions for your campaign, learn from mistakes and from your success stories as well.

Engage in reputable link building activities. You can contact people who mentioned your brand or people who write about similar topics and

ask them to link back to you

.
This is a marketing search engine and SEO backlink checker. It's great for entrepreneurs, marketers and SEO specialists. It allows you to analyze your website's performance based on backlinks, linking domains and referring IPs. The information is grouped into two main categories: fresh data and historical data. With this, you can observe your performance over time and fix issues as you go.
You can also analyze:
the types of links you receive

if links are follow or nofollow 

if links are direct or indirect

whether links come from homepages, deep links, anchor texts, etc.
Majestic is one of the best tools available today for in-depth analyses. If you haven't used it already, I suggest starting with the Lite Plan and scale as you go further. If you choose the Pro Plan, you can use the Clique Hunter tool to analyze your competitors' success and build an SEO strategy by copying their backlinks.
Most of you know the platform and use it to some extent. Though, a premium LinkedIn account allows more than just connecting with friends, competitors, or leads. 
LinkedIn Premium features:
InMail

. This is by far the most useful tool for outreach and contacting influencers and professionals. You can purchase InMails even if you don't have a premium account but they'll cost more.

More search results

. The basic plan allows you to get a maximum of 100 results when you search on LinkedIn. With a premium account, the list includes a minimum of 300 search results. 

Premium search filter

. You can filter your searches based on seniority, interests, company size or Fortune 500 (get results for people working for or leading big companies).

Expanded profile views.

When people are outside your network, with a basic plan you will only see a summary of their account. LinkedIn Premium allows you to see detailed information such as job descriptions, skills, educational background, recommendations, full name, etc.
A big part of outreach is contacting people via email. MailShake is designed exactly for this tricky part of your outreach process. It easily integrates with Gmail and features a suite of predefined templates for communication. 
Templates include outreach for guest posts, link building, lead generation, and PR. Of course, you can design your own templates and reuse them whenever you need to. You get access to some reports as well, as you can choose to track clicks and opens for each email you send.
A Spam Test Tool
These tools help ensure your emails don't end up in the spam folder. A lot of outreach emails are lost to the spam folder without you even knowing. 
To check the location of your email, you need to verify your mail server to make sure they're delivered straight to the inbox. You can use tools such as Glock Apps or Mail Tester. They're easy to use and affordable.
Involve Communities
Digital marketing is nothing without the communities that gather around a brand, topic, product or idea. What about joining a community of peers and do the outreach inside that community?
B2B Facebook Groups 
Search for groups relevant to your niche and outreach to your peers. With this, you can exchange valuable information and engage in reciprocal marketing. Reciprocal marketing allows entrepreneurs and marketers to promote each other's products or services based on several conditions such as quality, audience match and a good balance of give and take.
So, how to find the groups that make sense to you? Well, it's quite easy. Just go the search bar on Facebook and type in the keywords of your choice. Then, go to "Groups" and join the most popular right away.
Their services are ideal for communication based on communities, teams, project or whatever you consider relevant for your outreach.
Slack is essentially an app that facilitates teamwork and communication between members of a specific team or group. In fact, communication here happens in channels. For every topic or project, you create a channel and discuss with all the people involved directly.
Common Outreach Struggles
Those who work hard at whatever they do struggle with common problems. There are two main struggles a marketer has to deal with:
Not producing content fast enough

Not reaching the right people
Fortunately, there are easy ways to deal with these issues. We've already discussed the most important aspects of it and the best tools to make the most out of your outreach campaigns.
Content creation is the hardest part but it's also manageable if you organize yourself and schedule ahead. Outreach research also helps by giving you topic ideas based on keywords, providing the trendy articles, and figuring out popular posts shared by influencers in your niche.
Regarding the second issue, there's no ultimate solution. In time, you'll discover that although you'll reach out to a lot of influencers, not all will help you. Some may also seem fit for your campaign but prove otherwise. Blogger outreach is mostly trial and error.
Blogger Outreach Failure
Along the way, you'll deal with a lot of difficulties and sometimes failures. In order to avoid failures, you need to know typical mistakes and try to avoid them as much as possible:
You're Using the Same Templates for Different Tasks
We've already discussed services like MailShake. They're very helpful, but only up to a point. You can't use the same template for all your outreach emails. You need to adapt to specific individuals, niches, and topics.
There's No Personalization
Emails convert better when you personalize your message and address each influencer individually. Show them a little consideration and address them as human beings, not as targets for a marketing campaign. 
You're Being Too Pushy
Nobody likes entitled people and a pushy attitude won't get you too far. Treat people the way you'd want them to treat you if the tables were turned. How would you like them to approach you for a favor? 
Conclusion
Influencer marketing is an effective strategy brand to use but it's also one that takes time to master. I tried to pinpoint some of the best strategies you can use for your own marketing campaigns in order to automate your work and improve efficiency.
What other tools and strategy did you use recently for influencer marketing?