LAST UPDATED ON July 5, 2023
10 BEST Help Scout Alternatives To Try in 2023
Help Desk software is one of the core components of a modern customer support strategy – the ability to turn first-time buyers into repeat customers.
Many companies spend tons of money to bring new customers into the fold. But acquiring a new customer can cost five times more than retaining an existing customer. In fact, increasing customer retention rates by 5% increases profits by 25% to 95%, according to research done by Bain & Company.
Help desk software is how a company interacts with its customers. It also houses a lot of performance data to better understand things like how your team is performing and the reasons customers are contacting you in the first place. 
With its role being so central to retaining customers, it's worth spending the time to get your selection right. One option you may have seen in your search is Help Scout. Help Scout is a popular help desk tool that offers strong functionality for small- to medium-sized businesses. 
Though Help Scout is a good fit for many teams, there are certain use cases that would benefit from a different tool. In this article we discuss when Help Scout is the right choice for your team and offer 10 Help Scout alternatives to consider when Help Scout isn't the right option. 
Help Scout might be right for you if…
For 11 years, Help Scout has been creating software for customer support professionals. It started out as a shared inbox tool but has since grown into an entire customer service software platform with solutions for live, self-service, and proactive customer communication.
I am not a huge fan of watching video demos and trying to make a decision if I should purchase the platform, I like to get my hands dirty and test the software,  so I ended up using TestBox's interactive demo software to test Helpscout or Intercom out for free.
But I know you're just reading this article and might not have time to test anything, so here is a quick video demo of Help Scout.  (if you want to actually test drive :
There are three scenarios where Help Scout excels:
1. You're a customer oriented team
If you spend even just a few minutes on Help Scout's site, it's very clear they're on a mission to help others deliver a best-in-class customer experience. As mentioned above, they have tools covering reactive, proactive, self-service, and live customer support. 
If you're in need of some support inspiration, their blog has tons of useful tips and best practices to keep your team in tip-top shape.
2. You don't have tons of time for setup and team onboarding
Whether it's a piece of IKEA furniture or a fun new toy, seeing the words "assembly required" can quickly take the wind out of anyone's sails. When we buy something new, we want to use it right away. 
Help Scout's simple setup means you can be up and running in about an hour. They also have weekly product classes and access to their support team 24/6.  
3. You want a tool that can grow with you
Though Help Scout is easy to use and simple to set up, it's still a very robust tool. For example, their shared inbox is useful for basic support, but it can be made even more beneficial using workflows. That type of flexibility means Help Scout is able to fit needs for the long haul. 
Pros:
Quick set up

Scalable features 

Access to a variety of customer support tools
Cons:
Top 10 Help Scout Alternatives You Must Try in 2023
Though Help Scout covers a lot of different customer communication use cases, there are some support scenarios where it's not the best tool for the job. Naturally, there is some feature overlap with the tools below, but each does have a certain use case it serves best. 
HubSpot is best Help Scout alternative when support isn't your primary use case.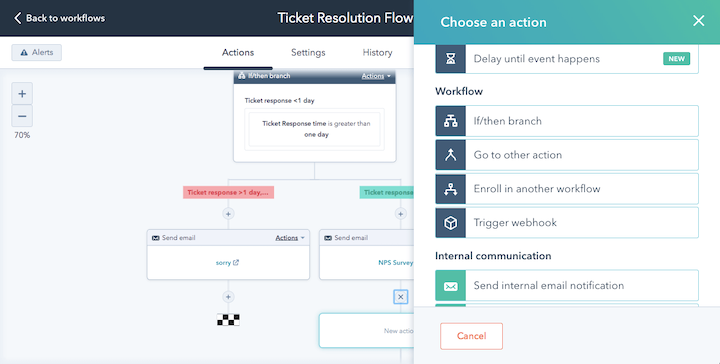 Help Scout is first and foremost a helpdesk software tool. Teams like sales, marketing, and product may be able to greatly benefit from Help Scout, but supporting those teams and their unique goals isn't its core competency.
If what you're really after is a marketing tool, CRM, or something similar and you just need very light customer support capabilities, then Help Scout may not be what you're searching for. However, a tool like HubSpot could be exactly what you need.
Hubspot CRM gives you access to a wealth of sales tools to close more deals and manage your customer pipeline effectively. You can also create email sequences to engage prospects further. If customers have questions, there's live chat capability to get them the answers they need quickly.
Pros:
Free suite of CMS content management tools for marketers and developers
Multi-channel coverage including email, phone, and chat
Automation to help reduce manual work
Seamless integration with HubSpot CRM
Cons:
Somewhat expensive
Some core features like customer portals are still in Beta testing
Pricing:
Free plan is available with limited functionality.
Starter plan starts at $45/month and includes two agents. Additional agents can be added for $23/month.
Professional plan – is $450/month and includes five agents. Additional agents are $90/month.
Enterprise plan – is $1200/month and includes 10 users. Additional users can be added for $120/month.
KnowledgeOwl is best Help Scout alternative if you only need a knowledge base.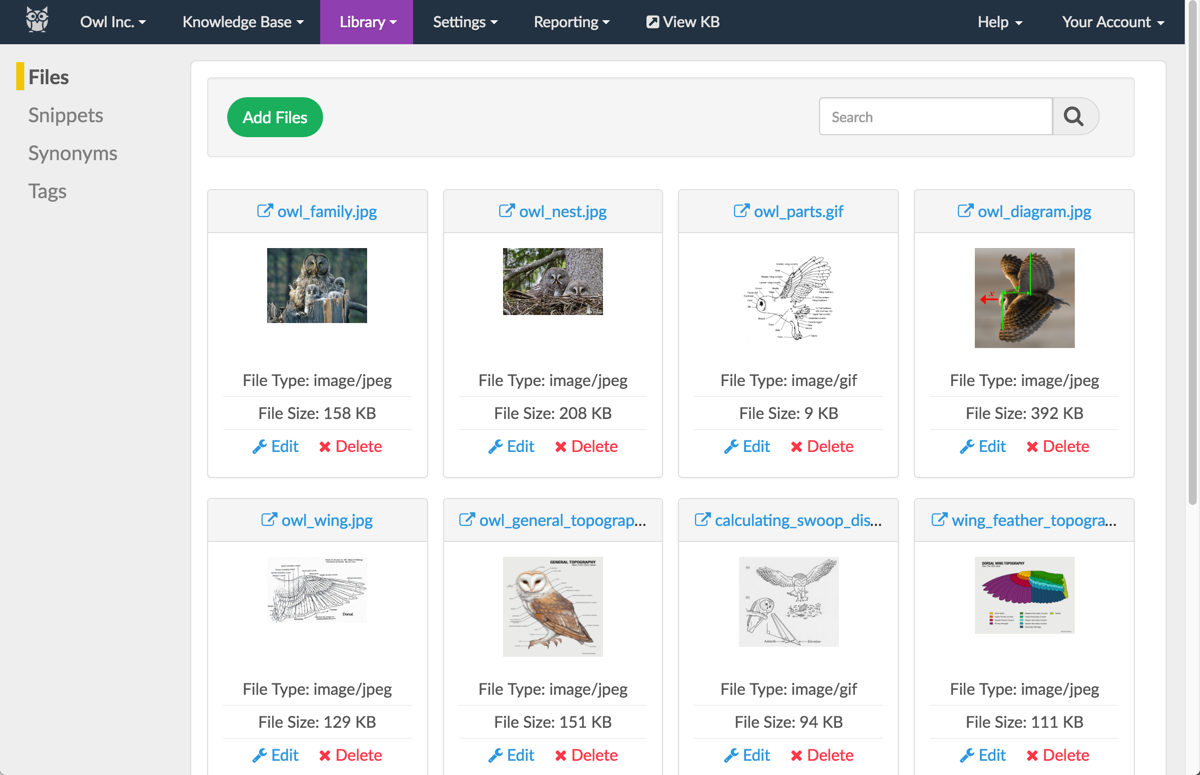 Building out a self-service tool like a knowledge base empowers customers to find answers on their own, which can be quicker than reaching out to support in some cases, creating a better overall customer experience.
With KnowledgeOwl you're able to create specific reader groups to make sure content is as relevant as possible for certain viewers. You also get access to advanced analytics and article ratings to better understand the areas where your content excels and where you have room to improve.
Pros:
Advanced analytics to understand what content is working and areas you can improve

Simple set-up, pre built templates, and no-code-required customization

Bulk edit capabilities to save your team time
Cons:
Expensive 

No additional support tools
Pricing:
30 day free trial on all plans.
Flex plan:  $79/month for one author and one knowledge base. Additional authors and knowledge bases can be added for $20/month and $40/month respectively.
Business plan: Starts at $299/month
Enterprise plan: Starts at $999/month.
Portal is best Help Scout alternative if you need a customer portal.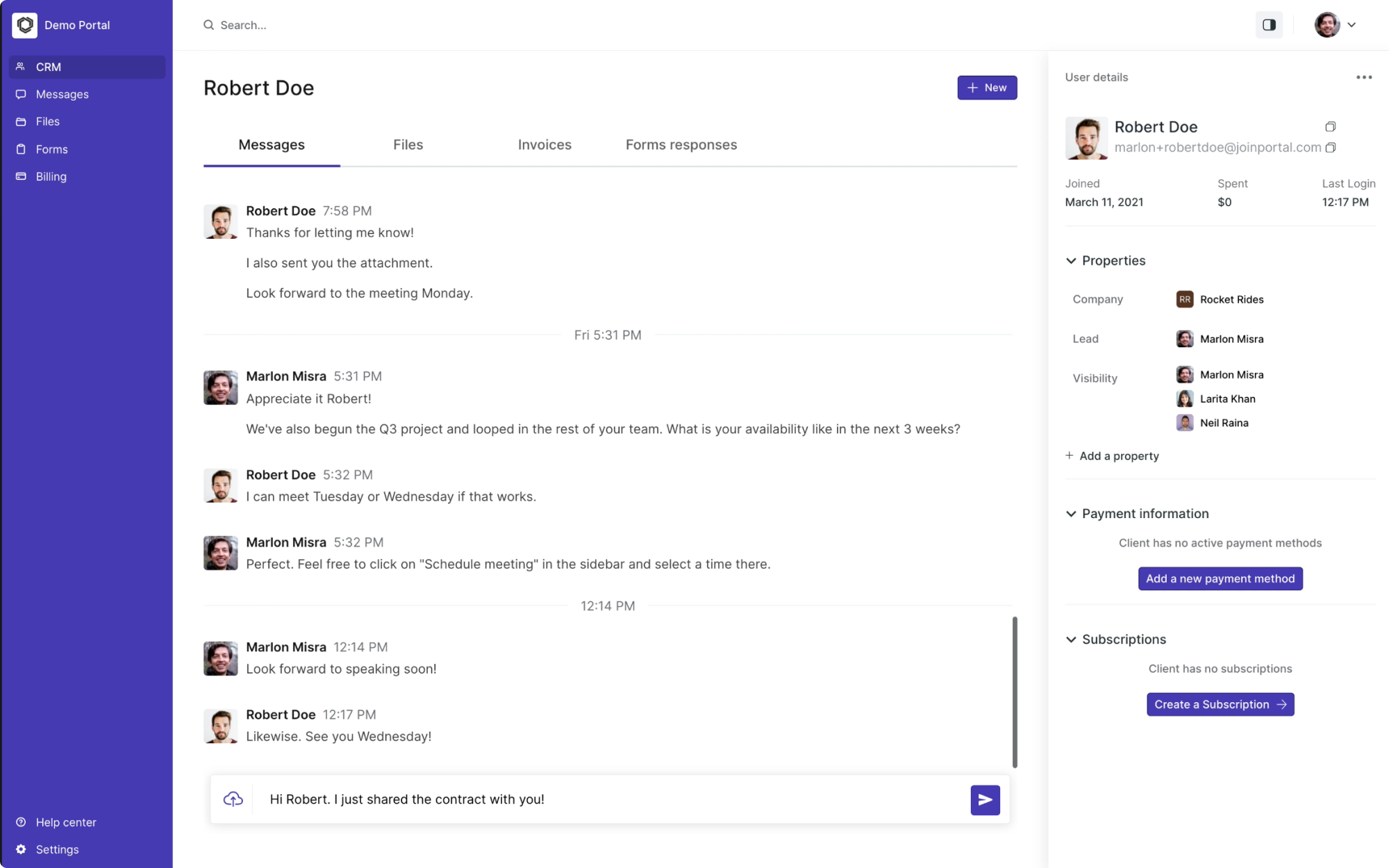 Depending on the type of support you offer or the clients you work with, it's possible you may need a customer portal through which to serve them. If you're not familiar, a customer portal is a secure digital space clients log in to to access support services.
Generally speaking, customer portals are accessed through a website or app and are usually offered to provide an additional layer of security, as well as for customer reference. With Portal, you're able to create dedicated space for multiple customers. They can submit questions, view self-service content, upload files, and even pay invoices through their own individual customer portal.
Pros:
Streamlined data collection through built-in forms 

The ability to create invoices and subscriptions inside the product 

Extensions to connect with other tools in your tech stack
Cons:
Base plans have user limits

Set up may be complicated based on your needs
Pricing:
Starting at $49/internal user per month for their Standard plan and $79/internal user per month for their Professional plan. They also have an Enterprise plan, but you need to contact them directly for pricing.
ChatBot is best Help Scout alternative if you need a chatbot.
Most of us working in support have seen the rise of the chatbot over the past few years. Though chatbots may still have a way to go to reach their full potential, they can be a useful part of an overall support strategy. 
ChatBot is a no-code chatbot builder. With their drag and drop interface you simply build out the conversation flow for different chat scenarios. If you want to get started quickly, they have a bunch of prebuilt templates you can use. They also have resources like their ChatBot academy to learn the ins and outs of the tool to get the most value possible. 
Pros:
Prebuilt templates to get started quickly  

Advanced analytics to make informed decisions

Access to Chatbot academy to improve your build skills
Cons:
Limited support capabilities 

Can get expensive if you need multiple bots
Pricing:
Chatbot has a 14 day free trial to test their product out.
They have three base plans – Starter, Team, and Business – which are priced at $42/month, $126/month, and $424/month respectively.
If you need some additional features, they also offer an Enterprise plan, but you have to contact Chatbot directly for pricing. 
Front is best Help Scout alternative if you need to respond from a personal email address.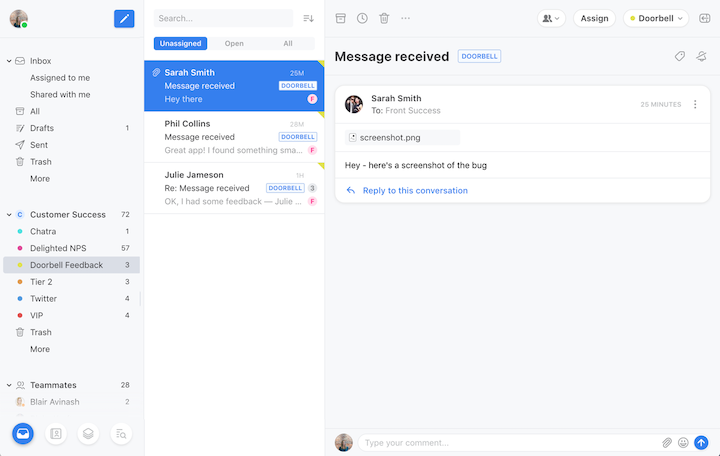 Most companies use a single email address as the main contact point for support requests. Having a single point of contact removes guesswork for customers and allows a company to respond as a unified whole, both of which can help improve the overall customer experience.
That said, in some cases, using a group email address isn't the most pragmatic. Front is a help desk tool that lets agents respond from personal email addresses. They have collaboration tools, like internal notes, and ticket assignment capabilities. They also offer some productivity tools like basic automations to reduce manual work and reporting to better understand team performance.
Pros:
The ability to use a personal email address

One-click meeting scheduling  

CRM integrations for additional customer context
Cons:
Some basic features like reporting are limited to higher-cost plans

Base plans have user limits
Pricing:
Starting at $19/person month for their Starter plan.
They also have two additional plans – Prime and Enterprise – which are $49/month per person and $99/month per person, respectively.
Freshdesk is best Help Scout alternative if you're looking for a free tool.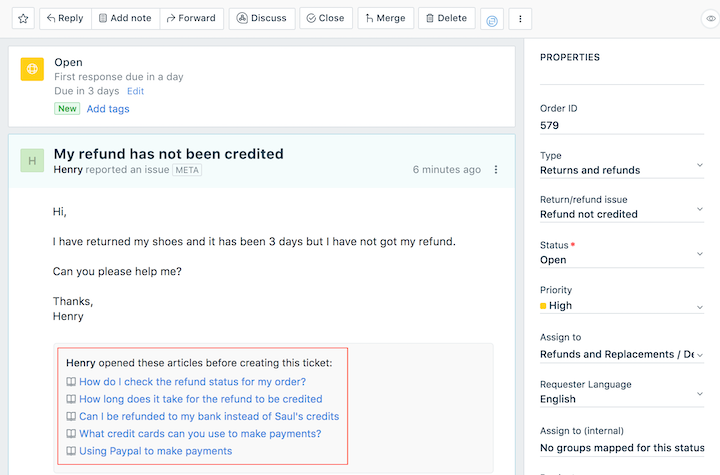 When you're just starting out and you aren't totally sure what your needs are, a free tool can sound very enticing. Switching tools down the road can be very resource intensive, but if you don't think a customer support solution will be a true need in the relatively near future (6-12 months), then a free option might be just fine.
The unfortunate truth is that often, "free" ends up being synonymous with "limited." Free tools are often just meant as a gateway into a product and not meant to be a means to an end. In some ways Freshdesk's free version fits that bill, but it does have some great functionality.
With their free plan you're able to respond to email and social requests from a shared inbox. You can create business rules to automatically sort incoming requests and even get some deeper insights like average response time through the included ticket trend report.
Pros:
Free plan available

Included call minutes (on some paid plans)

Advanced support features like AI available
Cons:
Complicated set up 

Limited scalability (on free plan)
If you're looking for a solution similar to Freshdesk but cheaper and less complicated take a look at this Freshdesk alternatives article.
Pricing:
Free plan available.
Freshdesk has two main plan types – Support Desk, and Omnichannel.
Support Desk plans are more basic and focus on email as the primary communication channel. They range from $15/agent per month up to $79/agent per month.
Omnichannel plans include channel coverage for email, social, chat, and phone. Omnichannel plans range from $29/agent per month to $99/agent per month.
Zendesk is best Help Scout alternative for enterprise-sized teams.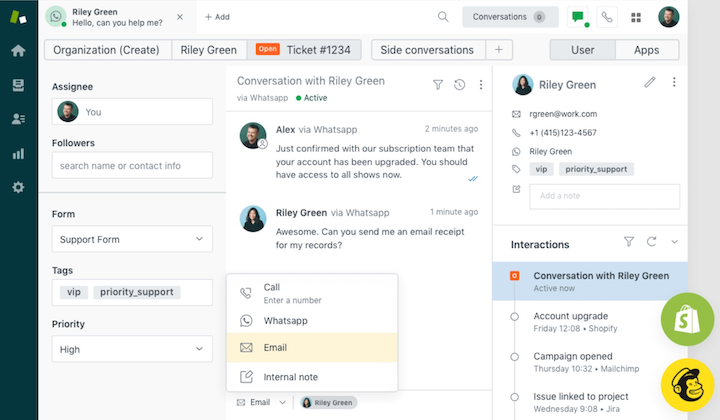 Just as smaller businesses have unique needs, so do larger ones. Being able to get more granular with reports or setting up things like SLAs are just a couple of things that may get more important as a team grows. 
Some tools are better at meeting those needs than others. One of the best known in the space is Zendesk. With Zendesk you get access to all the standard features you expect like a shared inbox, live chat, and a knowledge base builder. 
Zendesk also offers more advanced enterprise features like custom team roles and permissions, the ability to build out multiple help centers, and even the capacity to create custom agent workspaces to streamline work. However, those features are only offered on one of their highest-cost plans. So, if you don't have a large budget, it could be out of reach.
Pros:
Access to advanced support tools (on certain plans)

Customizable agent workspaces 

Advanced analytics for better understand team performance
Cons:
Expensive

Long set up time
Pricing:
Similar to Freshdesk, Zendesk also has two primary plan types: Foundational and Suite.
Foundational plans focus mainly on email and social as support channels and range in price from $19/agent per month to $99/agent per month.
Their Suite plans include channel support for email, social, chat, and phone. Those plans start at $49/agent per month and go up to $215/agent per month.
Hiver is best Help Scout alternative for teams new to customer support.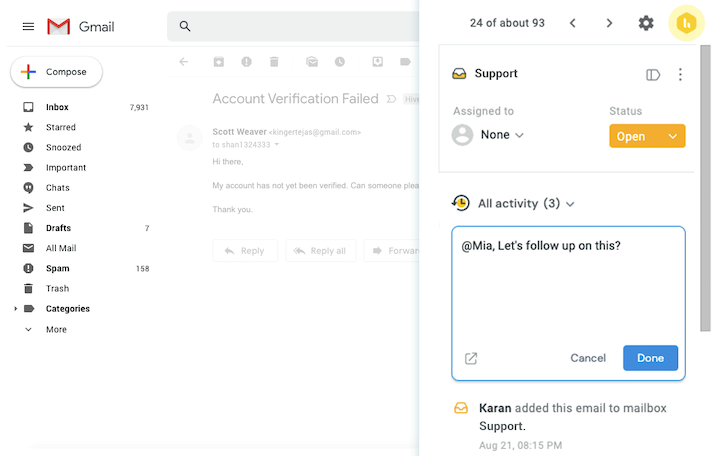 When starting out with customer service, it's common for companies to lean on tools they already have in their toolbox. It makes sense: For those early in the journey, being resourceful is as much a survival technique as it is pragmatism.
Through that mindset, many teams end up doing things like using their standard email accounts to administer support. If you're a team of one or two, it can work. However, anything past that, and the wheels start to come off. There's a simple reason for that: Tools like Gmail simply weren't built to do customer support.
That said, with a tool like Hiver, you're able to turn your Gmail email account into a lite help desk. Hiver is basically a Gmail extension that lets you do things like assign customer conversations to different users, add internal notes, and utilize productivity tools like saved replies. They even recently added a live chat feature for real-time support needs.
Pros:
Quick set up 

Ticket assignment capabilities

Cost-effective
Cons:
Limited support functionality

Not a long-term solution for many
Pricing:
Starting at $15/user month for their Lite plan. Their Pro plan is $39/agent per month and their Elite plan is $59/agent per month.
Gorgias is best Help Scout alternative for ecommerce.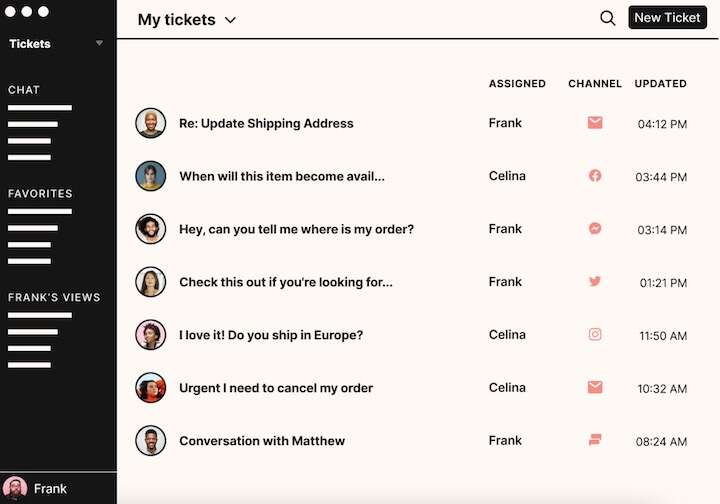 Most of the tools on this list are focused on certain types of support or on team size, but not necessarily on a specific industry. Though the role of customer support may vary some depending on the industry you're in, the job and tools needed to do it well are fairly consistent. But there are a few exceptions, ecommerce being one of them. 
There are currently a couple different e-commerce-focused help desks on the market, but we think Gorgias is top of the list. They offer all the standard help desk features you'd expect like a shared inbox, live chat capabilities, a knowledge base builder, and analytics. They also have productivity and collaboration features to save your team time and energy. 
Gorgias' true differentiator is their e-commerce platform integrations. Through their Shopify, BigCommerce, and Magento integrations you're able to update orders and process refunds directly from Gorgias without ever opening another app, which can save your team lots of time and hassle. That said, one thing to note is that Gorgias does charge by ticket volume, so there could be some cost variance month to month. 
Pros:
Direct integrations with multiple e commerce platforms

Automations to reduce manual work 

Knowledge base builder included
Cons:
Variable cost due to volume pricing

Higher initial cost
Pricing:
Starting at $50/month for their Basic plan, which includes 300 tickets per month, with an additional $40 charged per 100 tickets after.
Their Pro plan is $300/month and includes 2000 tickets, with an additional $36 charged per 100 tickets after.
Their Advanced plan is $750/month and includes 5000 tickets, with an additional $36 charged per 100 tickets after.
They also offer an Enterprise plan, but have to be contacted directly for pricing.
ServiceNow is best Help Scout alternative for IT-focused teams.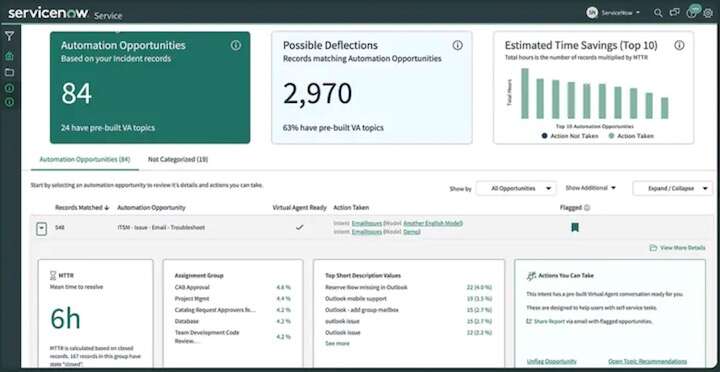 Similar to team size, the type of support you offer can also shift needs. One type of support that generally requires some specialized tools is IT support. Though there are a few options in that realm, we think ServiceNow is one of the best. 
ServiceNow is a tool that helps teams manage all aspects of IT support. They have a shared inbox tool, where agents can see incoming requests. The layout is similar to a Kanban board, and agents are able to update the status of an issue directly within the task. 
As a fix or resolution progresses, they can continually update the ticket to increase transparency and allow for others to collaborate on the issue. There are also a number of other tools, like a self-service portal. If you're looking for an IT solution, ServiceNow is a great option.
Pros:
Customer portals 

Easy task management through kanban style boards

Integrations to connect to other business tools
Cons:
Primarily meant for internal support

Not the most user friendly for non-technical people
Pricing:
The websites asks for you to contact ServiceNow directly for pricing.
Making the best choice for your team
In order to do any job well, you need the right tools. Every team will have different wants and needs, so once you have a solid grasp on what those are, try out a few options and talk with other stakeholders.
Once you've done all your due diligence, compare each tool side by side to see what will truly work best for you and your team. Be curious, and stay open to different options. If you do, we're sure you'll find the right tool for your team.