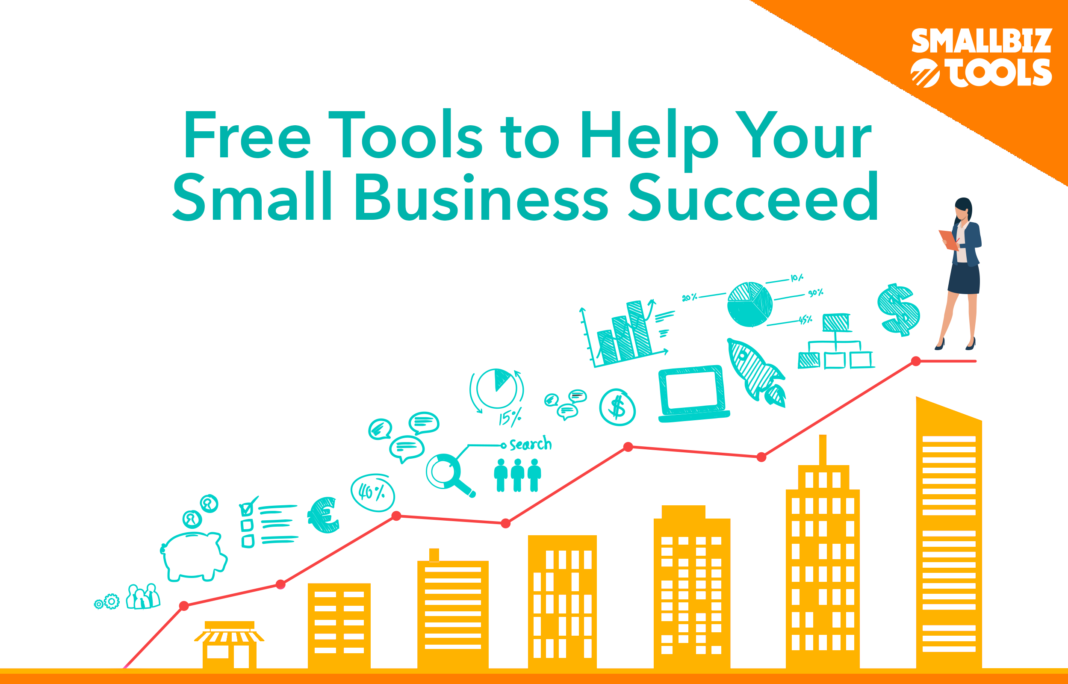 No matter whether you run your small business online or have a brick-and-mortar store, it's important to expand its influence on the Internet. In the past, businesses with a solid online presence stayed ahead of competitors. Today, if you can't boost your project's popularity online, consider it nonexistent for most prospects. 
On the contrary, a strong digital presence attracts new prospective customers and stays in touch with the current ones. A strong presence results in increased sales and enhanced client-facing marketing. This article will revise the five best tools for small businesses to expand their influence on the Internet. It'll also help you understand how to better grow your business.
Free Tools for Your Small Business
Google My Business
Google My Business is a platform that shows your company profile on Google and lets people find it through Google search or Maps. When creating a profile, you can indicate the business hours, price list, share photos and even provide a virtual tour. 
Features and Benefits
Website building: create an original website for your company, add text, images, and design themes. 

Regular updates: keep the information up to date, present the pictures of your products, and implement a review function so people can start a conversation. 

Keep clients engaged: post the latest news or specials offers on your Business Profile.

Analysis of clients' interaction with your business: learn how they found your profile, where they come from, and what photos attract them the most. 
If you've decided to create an account on GMB, it's easy to get started. Once you create and verify your account, be sure to fill out your GMB listing with information and media. Consider things like attractive cover and profile photos and videos. You can also install the GMB app on your phone to update the profile, posts, and monitor search results.   
Price
Google My Business is free. However, it's mandatory to have individual interactions with your customers in order to continue using the platform. Otherwise, GMB doesn't allow for 100% online performance. 
Weblium
This is an AI website builder that lets you create a clean and efficient website with the latest technologies. Embedded Artificial Intelligence provides automatic customization of your website's design while applying changes. You can also change the design in one click if you get bored with it. 
Features & Benefits
Adaptive design: it lets the website adapt to all kinds of screens, including mobile, desktop, tablet, etc.

Prepared blocks and exquisite templates: they make the process of building a website easier and faster. 

SEO friendliness: the website is more visible to the search engines, appearing at the top of search results. 

Professional support: you can contact a web designer to make sure your website performs well or contact the site development. 
Price
You can create a website with the constructor (you only pay for a domain name and hosting services) for free. Alternatively, you can get a custom-made website for $49.
Social Networks
Social networks are also great, free business tools for digital marketing. You can enhance the visibility of your brand online and reach a wider audience with social media. But, how do you choose the right channel from so many options? We've reviewed many different platforms and picked the most popular ones for you. Let's see them in detail:
Canva
Canva is a graphic design tool with access to lots of photos, fonts, graphics and vectors. You can create a beautiful design for your business website with Canva's feature set:
drag-n-drop editor

photo straightener, cropper, enhancer, and other tools for photos

a graph creator that includes templates created by designer, custom styles, charts, and multiple templates

designs for printing
Facebook
Facebook is a social networking service that has a perfect tool for social media advertising. Among other things, Facebook provides page insights that allow business owners to monitor their page's performance. Additionally, if you want to add content to your page from your mobile device, look into the Pages Manager app.
Facebook also offers:
promoted posts, a helpful tool for small business with a limited budget 

the places tool, which ensures adding a location to posts and photos with a GPS system
Instagram
Instagram is a social networking platform that's great for boosting your project online. Leveraging Instagram gives you an opportunity to reach more prospective customers, keep in contact with existing ones, and sell products and services. These features will help strengthen the digital presence of your brand:
a business account with features unavailable to regular accounts

a native analytics tool that helps track the results of individual posts, ads or stories 

product tags to provide your clients with an exclusive shopping experience

synchronization with Facebook
SnapChat
Snapchat is a multimedia messaging app rather than a social network. However, since it reaches over 300 million active users per month, it's considered one of the fastest-growing marketing tools. Snapchat features:
Snapchat Insights to understand your target audience

Snapcode to share your Snapchat content on the other social networks

Snapchat Analytics to track your account performance and increase ROI

sponsored lens and filters to improve your brand awareness and increase engagement
Free Online Business Listings
Since many consumers search for local businesses through search engines, it's important to have your business listed on popular platforms. That said, as a small business, you may find a few free business platforms. Don't worry, though, they'll still guarantee that your brand is visible to potential customers. 
With the plethora of free websites for your business, it's easy to get confused with choosing one that fits your needs. However, we recommend advertising your small business on as many free platforms as possible. Placing your brand on various sources allows search engines to display your profile more often. This will increase profile coverage and lead to increased traffic.
Foursquare
Foursquare is a social media platform that lets you add details about your business and let people find it on the web. This platform has great audience coverage — 50 million people use Foursquare nowadays.
Features & Benefits
venue tips with information about places, products, and services

synchronization with Twitter and Facebook 

venue stats dashboard collects clients' data and tracks their interactions with your profile

check-in statistics of all users 
Foursquare can suit marketers who want to turn their efforts into real-world visits as well as explorers who want to locate the best things to eat, see, and do. 
Capterra
Capterra is an online peer review site that helps business owners find software solutions. It provides them with ratings, comparison, reviews, and a complete database of software listings. 
Features & Benefits
over 700 categories from AB testing to zoo software.

free user guide how to start with the platform

nearly a million verified reviews

PPC advertising program for software vendors
Capterra makes sense for business owners who want to locate software solutions for almost anything. Consequently, software development companies can advertise their products, attracting as many clients as possible.  
Bing Places for Business
Bing is a Microsoft search engine that has a place for listing your business. It's known as Bing Places for Business, where you can add unlimited business locations, videos, and photos.
Features & Benefits
display business listings in local search results

ability to update business listings to provide up-to-date information

association with coupons and discounts to improve your business

ability to verify the ownership of the listing to protect it from non-authorized changes 
Regardless of your business type or how large it is, Bing is a great tool for your business listing.  
CrunchBase
CrunchBase is a platform where you can find information about all kinds of companies on a global scale. 
Features & Benefits
discover potential clients

Crunchbase for apps lets you access company details and integrate them into the custom platform

ability to monitor the latest industry trends

Crunchbase Pro has extended features like advanced search, custom lists, personalized alerts, and CSV exports
Apart from the comprehensive data on companies, investors, and VCs, CrunchBase enables your startup to gain better SEO, increased impact on the investors and brand awareness. What's more, all this is completely free!
Angie's List
Angie's List is a free small business help tool that lets you list your project online, add information about it, and encourage people to submit feedback.  
Features & Benefits
crowd-sourced reviews that provide more credible data

full control of your business profile 

Angie's List Web Badge advertises your listing and creates reports 

message center communicates with consumers and monitors job requests
Angie's List is great for businesses that offer home, auto, or health care services. Keep in mind that it has quite a limited functionality for lawyers, restaurants, schools, airlines, etc. 
Online Communities
In short, online communities are groups of people who share common interests and discuss them with each other. Creating online communities for consumers is done to explore, share knowledge, and interact with them in order to grow your business and improve its influence on the Internet. 
They also include the following benefits: 
built-in audiences 

added value for your prospects and current consumers

increased customer retention leading to ROI

product promotion for brands

access to an array of useful information for the community
Online communities are great if you want to enhance brand awareness, increase engagement or attract relevant traffic to your business. An added bonus is that most online communities are free of charge.
Quora
Many Q&A platforms including Quora have a great benefit: they let you remain noticeable. Since they are visible to search engines, building an online community with these sources boosts your business' SEO. On top of the mentioned benefits, Quora also encourages communication, improves online presence and lets you conduct market research.
Facebook
Leveraging Facebook groups let you promote content, enhance brand awareness and increase engagement. You'll typically need to follow a few simple guidelines like asking questions, encouraging users to comment on your posts and post when users are the most active. However, you can achieve organic growth in the popularity of your business.  
Twitter
Twitter is a platform with over 300 million active users that brings lots of value to small businesses. It lets you reach a wider audience and interact with existing consumers more effectively. 
Slack
Slack is an application for team collaboration. After presenting user groups back in 2015, Slack became a tool for establishing online communities. Today, it can be used as an instrument for targeted audience outreach. Additionally, the platform enables direct messaging, allowing you to build a connection with the target group and gain clients' loyalty. 
Wrapping Up
Promoting your small business online isn't as expensive as you might think. Things are easier now that you have a list of free tools to improve your business' influence on the Internet. We hope we've provided you with useful information and improved your confidence in your marketing strategy. 
When growing your business, remember that growth takes time, effort, and endurance. So keep that in mind when you create profiles on various platforms. Don't limit yourself with a few of them; the more you use, the stronger your online coverage becomes.