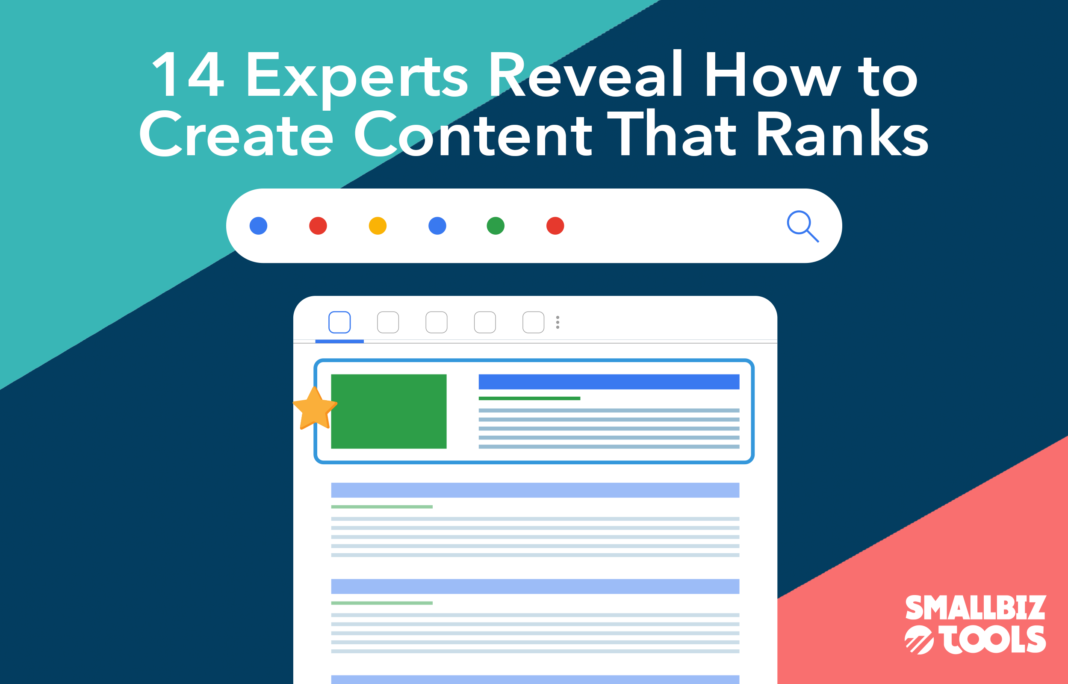 So, you're thinking of starting a business. Or maybe you've already started one. It's exciting to start from scratch and build something from the ground up. But, there are also plenty of responsibilities chained to your ankle. Between worrying about financing, social media, content marketing, sales, lead generation and productivity, there's hardly any time left for much else. 
Among the tasks waiting for completion is creating content that ranks. Regardless of what your business is, if you're planning to start a blog on your company website, you'll need great content. And it can't only be well-written and relatable, it needs to show up on Google, too. 
Right there's the key to ranking content, and really the whole point of it all. For those unfamiliar with the practice, content rank refers to where your content appears on search engine results pages (SERPs). Content that's visible on Google's first page will obviously garner more attention than content on its ninth. 
A lot goes into ensuring your content ranks well. You need excellent, relatable content that delves into areas of a topic otherwise left unexplored. Keywords need to be implemented, backlinks are required, and a responsive website never hurt anyone either. The reality is you could spend all day researching ranking content, but it takes time to master. Not to mention, all of this is just one task on your radar.
However, as daunting as a new business is, thousands of successful leaders started where you did. They were probably just as afraid as you, but now they're some of the top in their field. Through years of experience and hard work, they figured out how to break through the mold and rise above the competition. That's precisely why we thought they would make great candidates in breaking down how to create content that ranks. 
1. Answer Your Audience's Questions
Businesses might believe that pushing out as much content as possible is what's best for your website's SEO performance. While you do want a lot of content, it's important that the content is also on-brand, relevant to your industry, and attracts the right users to your site. You know your audience best, so what questions do they have that your service/product can answer? 
Create content that answers those questions, even the most niche questions so that your website can rank as the answer on the search engine results page. It's much easier to rank for search queries relating to "how long should I wear my running shoes before they need to be replaced?" over queries like "best running shoes". 
Morgan Hennessey
Search Analyst
Electric Enjin
2. Zero in on Specific Topics for Pages
Create high-quality content that is directly relevant to the specific topic that is the focus of your page. Keep the content of each page comprehensive and narrowly focused on that specific topic. Everything on that post or page – the texts, headings, images, charts, etc. – must be relevant to the subject matter. 
While your website as a whole might focus on a general subject, keep each page focused on only a narrow subset. For example, if your website is about cars, create specific content pages for different types of cars or models and provide comprehensive, detailed information about that model only. There must be a narrow focus for each page to get that page to rank. 
The idea to keep in mind is that individual web pages or posts rank for specific topics and get returned in web searches. An entire website doesn't get returned in a web search.
Bryan Osima
CEO
Uvietech Software Solutions Inc.
3. Understand Search Intent
When you target a specific keyword, you have to understand the searcher's intent. For example, if they search budget calculator, they want to find a working calculator that can calculate their budget. You can't expect a post on budgeting with no calculator to rank well. Google prefers pages that cater to their customers' needs and have a great user experience. 
Another way to rank is to put videos in your posts. This makes the visitor stay on the post longer, so Google thinks that they're really into your content. Put links to relevant posts on your page as well, so the user stays on your site. The goal is to have them stay as long as possible to get the top ranks for Google. 
Becky Beach
Digital Marketer and Blogger
mombeach.com
4. Target Low Competition
It's very difficult for small businesses or early startups to rank on broad topics. To bring in organic traffic, publish content either on longer-tail (very specific) problems your target audience is researching, or target hyper-local topics if you're a location-based business. The competition will be much lower on long-tail searches, and the user will be more likely to convert if you're meeting specific needs. 
To get started with brainstorming, try searching for common problems/questions from your industry in Google and pay attention to People Also Ask boxes, as those can be insightful into user intent. 
Create comprehensive content answering those specific queries, and keep monitoring traffic in Google Search Console. Organic search can take a few weeks to a few months to grow on fresh websites, so don't give up easily.
Roman Kim
SEO Manager
fitrated.com
5. Stand Out Among Competitors
Creating content that ranks on Google has changed a lot over the past decade. Search engines have become more sophisticated and more difficult to manipulate. 
There are, however, several approaches that remain extremely helpful in this process. These include: 
1) Focusing on search intent – By looking at the results currently ranking on page one for your keywords you can quickly find out what type of content is performing best. Are all of the articles reviews? Are they best of/list-style posts? Are they tutorials? 
Making sure you find the right framework for your content is the best place to focus once you've chosen your keywords. 
2) Create controversy – By going against the grain and zagging while everyone else zigs, you differentiate your content from the hundreds of similar articles that already exist. This can help you generate more attention and backlinks rather than singing from the same hymn sheet as your competitors. 
These two ideas can greatly increase your chances of performing well in the SERPs and should be considered as you produce each new piece of content.
David Alexander
Designer, Developer & Digital Marketer
Mazepress
6. Find Quality Backlinks
Google's algorithm has gotten more complex over the years and many factors influence how well a page may rank. However, the consensus among SEOs remains that backlinks are still the most important thing for getting a web page to rank faster. 
You definitely want to create great content and optimize it around the search terms you want to rank for. But first, you need to find out the type of content other sites already link to in your niche. Otherwise, your great piece of content may never receive backlinks. Once you've determined the type of content that other sites like to link to, you need to create that kind of content. 
Finally, you need to contact the sites that already linked to that kind of content and let them know about yours. 
Dave Hermansen
CEO
Store Coach
7. Research, Research, Research
Once you have your target keyword, Google it and spend some real time going through the results. Keep tabs of trends you see in those search results in terms of format, medium, subtopics, and length. Pay attention to the autocomplete suggestions, the "people also search for" SERP features, and even the search results on other platforms like Pinterest and YouTube. You'll typically find that many of the results offer similar content types and talking points, but no one result gets everything right. That is, until you show them how it's done. 
Joe Goldstein
Director of SEO & Operations
Contractor Calls
8. Expertise, Authority, Trust (EAT)
With recent updates, Google has turned up the dial on prioritizing sites, authors, and brands that make sure they're not just talking the talk but walking the walk. Google has referred to what they're measuring and looking for in quality sites as E-A-T (Expertise, Authority and Trust). 
If you're hoping to create content that ranks, it's vitally important that you make sure you're not playing catch-up when it comes to improving and displaying your EAT. As a very basic overview, EAT means being well-reviewed, not just on Google, but on relevant third party sites as well. It means ensuring that your site has and displays the credentials it needs to operate legitimately as well as an authority. While it's not exactly light reading, Google's quality rater's guidelines overview in detail what elements might hold your content back, or give it a boost in search results. 
Max Pond
SEO Consultant
HashtagJeff
9. Engage With Your Audience
One way to create content that ranks is to start your content with an interesting or funny story/anecdote that draws the reader in. Then continue that content and make it answer the user's initial question perfectly. This will shoot your page ranking and overall rankings up, because when people spend more time on and engage with your site when they visit, search engines see that as a sign that users like your site. So, they boost your overall rankings. When people visit a site and quickly hit the back button, search engines penalize your site. Making a site that's interesting and keeps users' attention is, interestingly enough, a very powerful SEO secret that not many people know about. 
Stacy Caprio
Founder
Accelerated Growth Marketing
10. Apply Different Strategies
Firstly, focus on creating informational content related to your client's biggest pains. Go to Quora or any other forum or community where your audience is available online. Provide detailed answers to the questions they have in your own articles. 
You should also write in-depth content pieces as long-form articles (1200+ words). They rank much higher in Google. This will help you establish your site as an authority on a particular subject and help you rank better. 
Keep in mind that not all content should be long-form content. Create pillar content to ensure every blog post is of high quality from an SEO perspective. A Pillar Content Strategy consists of a series of snippet posts (numerous and shorter) and pillar posts (fewer, longer and well-researched) on a topic that is trending and relevant to your blog. Then use an internal link structure with snippet posts linking to pillar posts. 
Snippet posts are very effective in getting the attention of the search engines. Pillar posts are there to engage the audience and improve your site's rankings. 
Hamna Amjad
Content Marketing Executive
Gigworker
11. Provide Quality Content
Provide quality content, and readers – and higher search engine rankings – will follow; content is king, and this is what Google is looking for from their top-ranking search results. If your content is relevant, readable and holds authority, it provides value for your readers, which will be reflected in your eventual ranking. 
Artificially optimized content written wholly or mainly for SEO that involves keyword stuffing, repetition, content spinning and so on hasn't worked for years. It's not about to undergo a renaissance any time soon! 
Viewing the big picture and planning for your long-term success is essential. This means that to improve your ranking, you need to think less about what will impress Google and other search engines, and more about what will impress your prospects and readers. 
Your website also needs to cover all of the usual bases too: being properly coded, mobile-friendly and so on, otherwise it will be penalized. But just achieving these basics alone simply isn't enough. Pages with low bounce rates, content that is widely shared and cited by others, and content that achieves good quality, organic backlinks will all help your work rank well. 
The only way to achieve any of these things is to create impressive content and meet the expectations of your real-life human visitors, not search engine bots. 
Polly Kay
Senior Digital Marketing Manager
English Blinds
12. Google's Answer Box
When it comes to SEO, the most effective strategy will always be creating relevant, high-quality content that answers your customer's questions. However, there are some things we can do to boost our chances of ranking well. 
Google reserves the best click-through rates for those who have secured an answer box (when Google displays an answer to the question at the top of the search results page, without the user even having to click through to the page). To increase your chances of ranking in Position 0, identify queries that don't yet have an answer box by searching in an incognito window. Then, create content that answers these questions. Optimize your content by adding "How to" in your page title, URL and H1, and structure your answer as a numbered or bullet-point list on the page. This clear list structure allows Google Bots to understand that your page has a specific answer to a question, and increases your chances of securing the top position. 
Michelle Levine
SEO Manager
Vistaprint
13. Avoid Black Hat SEO Practices
SEO is no longer built on generic link building and spammy authority-boosting tactics. It now focuses on quality content and mobile-friendly pages recognized by search engines. Additionally, link building through comments sections, guest posts, and other manipulative forms will lose effectiveness as Google continues to reward organic links that drive referral traffic while penalizing spammy links. It's all about getting smarter and more legitimate as SEO continues to become more and more white hat while marginalizing black hat tactics. For example, it's okay to be keyword focused, what you want to stay away from is using keywords for the sake of it. 
Here's a list of things to avoid that are considered black hat according to Google: Buying links, creating domains and subdomains with duplicate content, hidden text links, doorway pages, and content automation. All of these are bad because they're unnatural, and you're just trying to boost your ranking. 
Most importantly, the last thing you want is to get caught and blacklisted by Google. So do yourself a favor and avoid black hat SEO practices. 
Nate Masterson
CMO
Maple Holistics
14. Turn to the Experts
Expert quotes deepen the authority and broaden the reach of your content. This creates a great opportunity to engage your customers and partners who probably already want more chances to share their thought leadership. Their quotes will signal authority to search engines. You can also get your content to index faster if you coordinate on a social and email push with those you quote. Not to mention, this opens the door to getting backlinks from your customers and partners. 
Patrick Doolin
Content Marketing Manager
Socio Labs
mmm