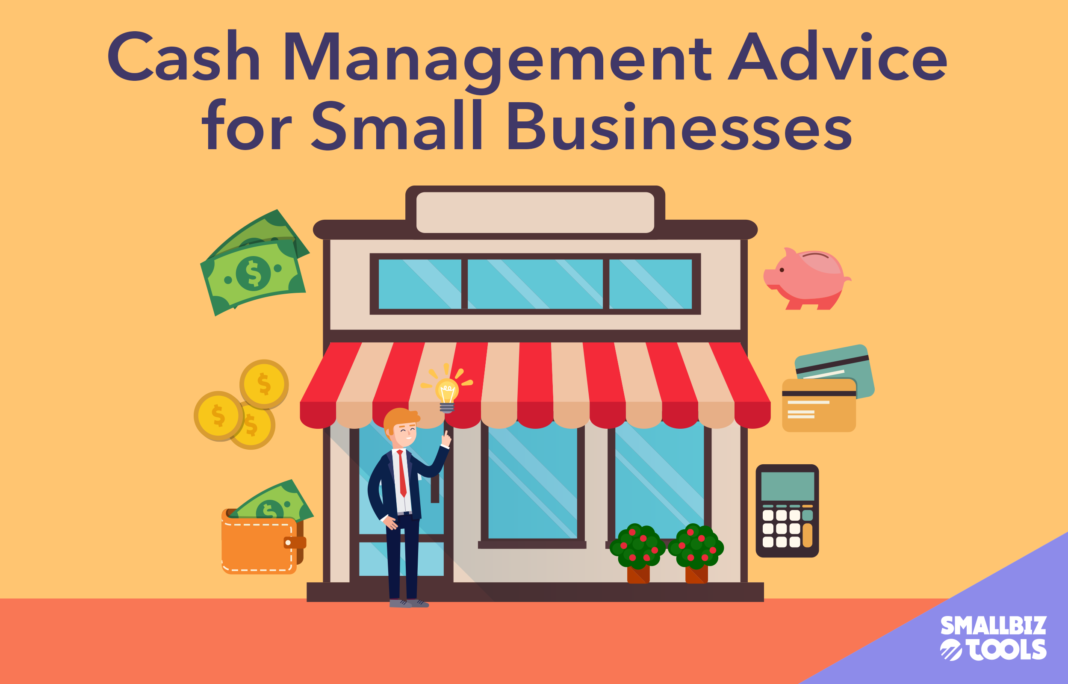 When you start a new company, regardless of the market, you need a good cash management strategy. It's easy for businesses to fail a few years into their venture when owners can't manage the influx of money. 
Naturally, a lot of elements go into a solid strategy, such as ensuring customers pay on time, being realistic about future goals, and maintaining a cash budget. Without focusing on these elements, business owners can't expect much in terms of revenue or success.
It's much harder for small businesses and startups to manage cash when they're just starting out. When you throw in that many small businesses only bring in about $10,000 a year, the task seems all the more worrisome.
There's a light at the end of the tunnel, however. Successful business owners everywhere know tips and tricks for small business cash management. We gathered some of the best advice they had to offer so that your company can keep its head above water.
Avoid Large Purchases With No Payout
Something you should definitely avoid as a small business owner is making big business purchases without knowing how the money will be recovered. 
Before you purchase an expensive asset such as equipment or new staff, know exactly how much value you need to generate from that expense in order to pay it back. You should also have a solid plan for exactly how you'll make it happen. 
For example, if you purchase a piece of technology to automate your business processes, you should know how much money this increase in efficiency could generate. Also, you'll want to know how much business you need to fulfill this. 
If these figures are unclear, either develop a more concrete plan or reconsider your purchase. 
Roger Wood
Business Development Director
GSM Finance 
The Three-Month Rule
One successful strategy for us is the "Three Month Rule." 
Here's how it works: at any given time, you should have enough cash in the bank to cover three months of expenses. This buffer is helpful in the case of broken business models or cash flows going to zero. With this money, you can still pay for labour and tools for an entire quarter while you find a new, more successful business model. The three-month buffer also gives you time to lower your overhead if needed. 
Tasia Duske
CEO
The Great Guac Off
Manage Your Accounts Receivable
Unfortunately, most managers don't attempt to manage accounts receivable with more than a passing thought until there's a problem with cash or a question arises regarding the validity of the recorded balances. You need a sustained effort in place to manage A/R at all times. 
The plan should include: 
Billing promptly and as often as possible. 

Collecting all payments as and when due. 

Eliminating all barriers to payment at the outset. 

Providing all documentation necessary to facilitate payment at the beginning of the process. 

Aggressively following up on overdue invoices. 

Not working on only the old accounts. (If you focus only on the older accounts, you ensure that you'll always have older accounts. Working the more current accounts allows you to collect them before they become old.) 

Staying on top of the situation. 
Dr. Cozette M. White
Founder, CEO
My Financial Home Enterprises 
Prepare Your Cash Flow Forecast
The most important financial planning tool for a startup is a cash flow forecast. As Richard Branson said, never take your eyes off the cash flow because it's the lifeblood of business. Businesses fail from lack of cash, not lack of profits. 
Your forecast doesn't have to be complicated or fancy. It can be a projection of cash inflows and outflows each week for the next few weeks or each month for the next few months. Then, change your forecast of key cash receipts or large cash outflows to see if that causes cash to fall dangerously low.
Cash flow management is all about timing. It's about making sure you'll have cash available when you need it by receiving cash receipts sooner or pushing payments out later. Giving yourself more time to plan for potential times of low cash means giving yourself more options to avoid a cash crunch. 
Robert Stephens
Founder
CFO Perspective
Don't Put Off Budget Reviews
Unless you know the numbers, you don't really know your small business. Sticking to a budget is a key part of the numbers process. Here are four tips that'll help you stick to your small business budget:
First, when preparing your budget for the coming year, consider your strategy and goals. Set your spending levels based on the required resources you'll need to accomplish your goals.
Second, just because it's in the budget doesn't mean you have to spend it. 
Third, managing a budget isn't a once-a-year exercise. If you wait for the end of the year or quarter to look at budget details, you'll lose the opportunity to change course and make improvements. Expense management should include a monthly review detailing actual results versus budget results.
Lastly, if you've never managed a budget before, don't assume you can get away with learning on the fly. Learning from your budget mistakes is inefficient and can have a negative impact on the business. Take the time up front to review the underlying reasoning, goals, spreadsheet layout, and each line item in the budget. Look for someone in your organization who knows the financial setup of your business and can walk you through the details.
Robert Morlot
Managing Partner
Clearwater Business Advisers
Monitor Spending and Don't Mix Accounts
Mismanaging cash flow is a common challenge among small businesses. As we know poor cash management can lead to a number of business problems. To keep business on track, efficient cash flow management is required. Here are a few tricks that you can use to manage your small business cash flow accurately:
Never forget the deadline. 

Regularly monitor your spending. 

Don't mix your business and personal accounts. 

Stay updated about your accounts receivable. 

Make a proper budget.

Improve the way you manage inventory in your small business.
Eliza Davies
Business Development Manager
Cogneesol
Create a Budget Variance Report
I can't recommend a Budget Variance (or Budget vs. Actual) Report enough! 
First, the business needs to create a chart of accounts. I recommend breaking this down as much as possible, so that you're not just dumping all your expenses into one account. For instance, don't just have "market", but "organic web marketing," "paid marketing," "advertising," etc. 
Once you establish your chart of accounts, use that to create a budget. How much income do you expect per revenue stream? What are your expected expenses? Since you're breaking down all your expenses into separate accounts, it's easier to create a budget in such a piecemeal fashion. 
Then, once you have some actual, coded expenses, you can run the Budget Variance report to see how far off your budget was and look for inconsistencies from there. It's like a superpower income statement. 
Andrew Legrand
Founder, Attorney
Spera Law Group, LLC 
Be Conservative With Your Estimates
To be on the safe side, it's a good idea to add 10-20% onto your projections of monthly costs. 
Your goal is to make sure more money is coming in than going out. That means you need to be prepared in case an unexpected cost arises, such as equipment breakdowns, changes in taxes, or training new employees. You should have an emergency fund so you can weather the storm when unforeseen circumstances come up. 
Michael Coleman
VP of Sales and Marketing
Medical Marijuana Inc. 
Regulate Your Spending
The way to proper business budgeting is through regulating your spending. We've found that controlling our expenses allows us to withdraw money to live our life. You can even break that down further using You Need A Budget to create separate sub-accounts for your different kinds of operating expenses. We travel quite a bit, so that's a non-negotiable. 
Leaving us with a generous owner's compensation is an objective all small business owners should strive for. After you set aside money for taxes and profit, your expenses (even variable ones) become fixed, which helps with future projections. 
Standardizing when you pay invoices helps as well. Streamlining the process helps you have a global understanding of cash flow in your business. These methods are tried and tested and should help you manage your business' money better. 
Alex Nerney and Lauren McManus
Professional Bloggers
Create and Go 
Budget With Simple Math
Profit is like water, you can survive for a while. Cash is like oxygen, you can't survive without. You never want to be low on cash. Know your fixed costs, payroll, and accounts payable. We advise our clients to keep enough cash on hand to cover 60 days of these expenses or up to your billing cycle if longer. 
In terms of how to budget, the difficulty varies. For fixed costs like rent, budgeting is easy. For variable costs, it's trickier. But, there are two ways to tackle it:
Take your top variable expense lines. 

Add them up, line by line, for each quarter. If they're similar, then it's safe to add them up for the year and divide by 12. 

If they vary, then calculate the % you spend for each quarter (e.g. sum Q1/year). Then, use those percentages x total year to get weighted spending. 
Brian Cairns
Founder
ProStrategix Consulting
Plan for Potential Downturns
One thing startup owners should expect is a downturn, even if there's no reason to suspect one is on the horizon. Having a nice chunk of cash to get the business off the ground is great, but you also need to prepare to sustain the business if things go south. You're best prepared for this by cutting costs before you have to. 
You can also network with other business owners who've been doing it longer. Even if they aren't in the same specific field as you, they may have similar expenses. Pick their brains and possibly learn ways to minimize or eliminate expenses. 
Chane Steiner
CEO
Crediful 
Manage Expense Leaks
Almost half of all businesses fail within the first four years due to poor cash flow management, making it essential to identify and plug any expense leaks. 
Expense leaks are small, but regular expenses that siphon cash away add up. Things like unused subscriptions, buying snacks while filling up a company vehicle, or inaccurate expense report submissions can sink a business. 
Sometimes, employees also submit receipts twice because they can't remember if they turned them in. Or, they let receipts pile up and submit them all at once, meaning an end-of-quarter cash management surprise. Then, if a poor quality employee gets replaced by someone meticulous, the move throws off budgets. 
These leaks add up. Fortunately, there are solutions to control leaks and keep the cash flowing. From apps that let employees upload receipts to the cloud to corporate card programs, small businesses that leverage expense solutions can run an agile operation while saving time, money, and energy.
Farhan Ahmad
CEO, Founder
Bento for Business