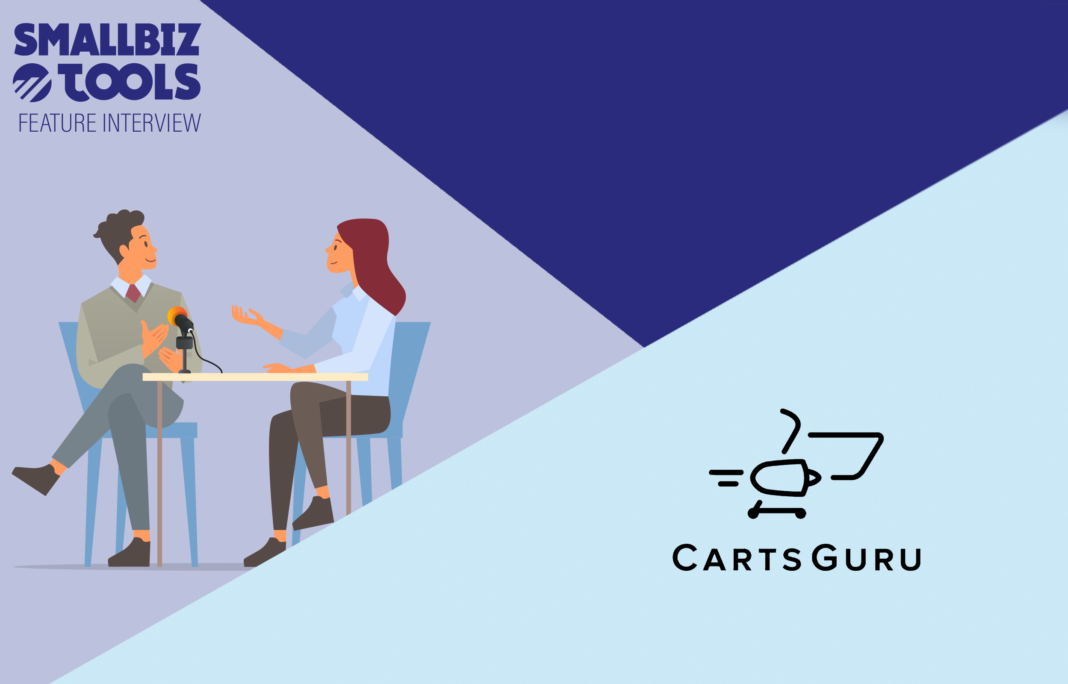 Our publication reviews only the best products for our community. As a result of this, we're affiliate partners with several organizations. Affiliate links are included in this post. (Updated August 19, 2019.)
Abandoned carts can seriously hurt an eCommerce business. Potential customers fade away without you having the proper chance to coerce them into buying. 
Losing customers, especially when you're just starting out, is disastrous. The good news is that cart recovery solutions are right at your fingertips. We spoke with Baptiste Nicolas of Carts Guru to talk more about the software and why it's important for SMBs to have it. 
Built for eCommerce 
Co-founders David Laloum and Maxime Pruvost created Carts Guru with the eCommerce industry in mind. Before its conception in 2016, the pair worked together in a similar business. Their startup focused on providing sales and performance software for people to manage eCommerce customer relationships. "Experience showed that a lot of e-merchants were struggling with abandoned carts. This is how Carts Guru started." 
After nearly three years of helping eCommerce merchants (and raving reviews across the board), Nicolas believes that Carts Guru has accomplished their goals. "This is why we want to go even further with our new product," he said.
That said, Nicolas added that it's not a matter of how proud Carts Guru is of their product, but rather how happy their customers are with using it. "Based on feedback, our most valuable features are the multichannel approach to retargeting, mixed with in-depth segmentation that enables customers to engage with qualitative leads," he said. "To expand your customer database, another great feature that we offer is opt-in widgets. These allow e-merchants to collect consent from unidentified visitors, engage them and convert them."
These features make Carts Guru stand out from its competition. Through multi-channel and in-depth segmentation criteria, real-time analytics on retargeting performance and multi-channel customer support allow them to offer what others can't. 
Why SMBs Need Cart Recovery Solutions
Businesses that don't use cart recovery software will undoubtedly have a harder time making sales.  "When you don't use retargeting software, you're unable to engage visitors that have already shown interest in the past," Nicolas said. "This results in not only a loss of leads but also a loss of money. In order to recover abandoned carts, you need to use retargeting software to increase your revenue as well as establish a good relationship with your customers."
"Nowadays, online cart abandonment rate is between 50% and 70%. Out of these abandoned carts, Carts Guru converts an average of 20% of them," Nicolas added. "E-merchants' biggest struggle with retargeting has always been the email open rate, which is around 25%. Based on this data, Carts Guru ensures that its product enables customers to use multichannel strategies." Multichannel strategies help business owners improve their email open rate as well as ensure that retargeting messages are delivered through various channels. Channels can include anything from Facebook messages to email to SMS messages. "With Carts Guru, you can get an average of 34% open rate in emails, 98% for text messages, and 80% for Facebook Messenger. This way, customers can engage and finalize the purchase," he said.
Additional Features Carts Guru Offers 
Carts Guru brings more to the table than these standout features. One of the key features it offers is to retarget through Facebook advertisements. If someone left your site without making a purchase, the software retargets this lead with an ad directed at them. 
With 70% of abandoned carts left unidentified, Carts Guru also allows its users to reel in lost leads with widgets. You can customize them entirely to suit your needs and attract your target audience. Everything is at your disposal, including:
Multiple templates

Personalized messages

Multi-channel opt-ins
Another great feature is the ability to recognize returning customers who left before purchasing. You can pinpoint vital information about potential customers such as:
Their name and

location

An email address

When they last visited your site

When you last contacted them
Business owners can also easily keep track of customers' coupons. You can monitor the name of your coupon, the discount it offers, and automatically renew codes. 
Naturally, Carts Guru also seamlessly integrates with eCommerce platforms such as Shopify, Magento and WooCommerce. The great news is that the starter pack begins for free.
If you've noticed a drop in customers or an increasing rate of abandoned carts, it might be time to look into the proper software. With the right cart recovery software, you can target straying customers and bring them back where they belong: in your store.