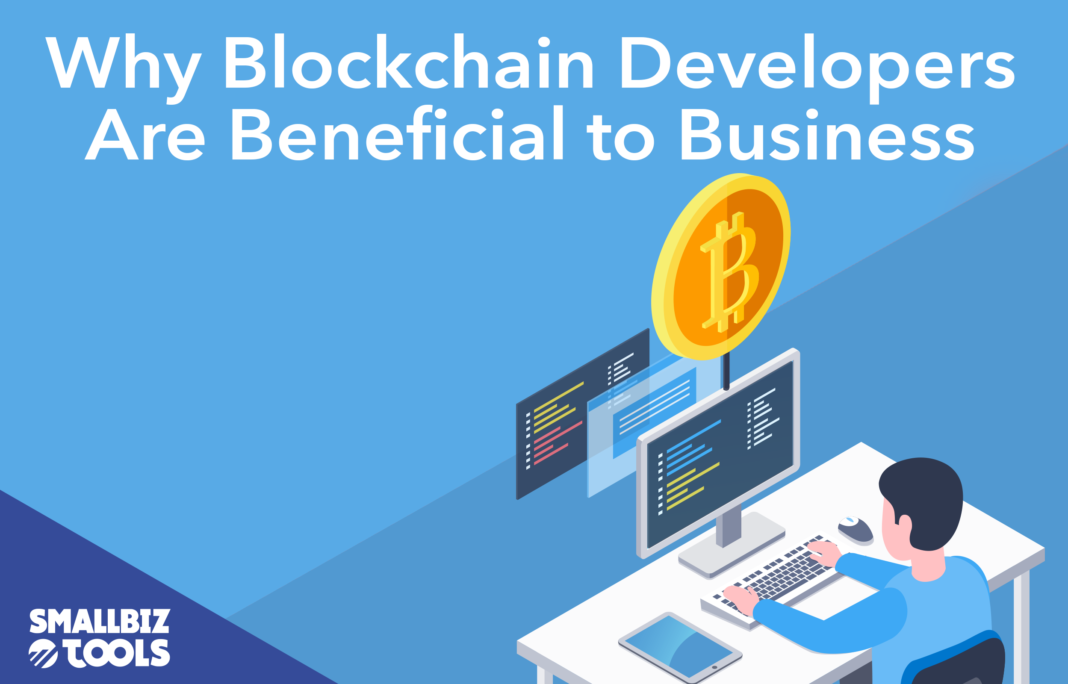 If you're still surviving in 2019, you've at least heard of or interacted with blockchain. This emerging technology has totally overhauled financial services, global supply chains, healthcare, and government. Innovators in almost every industry explore avenues for deploying blockchain to disrupt and transform the traditional way of doing business. In fact, many already see significant benefits, including increased efficiency, enhanced security, greater transparency, speed of transactions, and improved traceability.
In this article, I'm going to discuss how to hire a blockchain developer and why they can help your company.
What Exactly is Blockchain?
Simply put, blockchain is a digital ledger that records arranged facts in a data block/s. Consequently, these data blocks are then merged via cryptographic validation to create an unbroken linkage.
As of 2019, the global blockchain solutions spending has continued to increase and is expected to hit the 20 B mark by 2024. Companies in every industry are looking for ways to leverage these perceived benefits and others are launching personalized versions of cryptocurrency and blockchain. 
In our company, we've used blockchain to create multiple data parties that anonymously operate to secure this shared data. As a result, all the data that calls for third-party interaction is safe. 
What is a Blockchain Developer?
A blockchain developer handles the development and optimization of blockchain protocols, crafts their architecture, and develops web apps and smart contracts. Generally, there are two types of blockchain developers:
Core blockchain developers

Blockchain software developers
Core blockchain developers mainly deal with developing the blockchain architecture, design protocols, consensus, and other related blockchain development technologies. On the other hand, blockchain developers, utilize the architecture and protocols built by core developers to create decentralized apps running on blockchain technology.
Benefits of a Blockchain Developer on Your Team
Creating a Digital Identity
An emerging trend is businesses on the lookout for single centralized identity systems. These decentralized digital identity systems are particularly important in storing sensitive information, such as employee's credentials. That's also where blockchain developers come in.
The centralized nature of blockchain allows the developer to create a secure system where information can only be shared with trusted parties. Another good thing with such a system is the fact that individual entities in the systems can't tamper with user data.
In our organization, this model has helped improve data accessibility and privacy. As a result, we've saved a lot in terms of monitoring and identity management.
Improved Transparency
Being in the business of software development, our organization deals with multiple clients globally. As a result, we have to deal with multiple transaction histories, which can be hard to keep track of. Given the distributed nature of blockchain technology, our developers have created a system where all the workers share the same documentation instead of individual copies.
The good thing with this shared documentation is that updates can only be made through consensus, meaning everyone must consent to it. In fact, a single transaction record alteration calls for the alteration of all the other subsequent records. This means we're able to have accurate, consistent and transparent data.
Understanding Smart Contracts Extensively
In almost every organization (ours included), blockchain developers deal with smart contracts. They possess vast knowledge of smart contracts and all the other necessary expertise to complement the efforts of the entire team.
With that, you prevent any delays in project delivery, which can be costly or damaging to the reputation. This is especially true if you're running a blockchain development company.
Helping User Experience Design
A blockchain developer's job entails more than just coding. They also provide businesses with the best possible solutions to solve their challenges. And in today's competition, if you don't have the best solution for your customers, your competitors will. For instance, if you're looking to improve the user design of your system, a blockchain developer will not only ensure that it satisfies users' preferences but also meets all the blockchain technology thresholds.
Vast Experience 
Finding the right blockchain developer is a big challenge for companies and sometimes almost impossible. This is because individuals working in this ecosystem are often real geeks who pledge allegiance to certain online communities like Github.  In these groups, their work is featured on multiple blockchain-oriented online communities, which enhances their skills and experience.
But, by working with individuals who have "in-the-trenches experience", you not only benefit from their skills but also get to familiarize yourself with current industry trends.
Reduced Development Budget
One thing I've come to learn from several blockchain developers is that they aren't in it for the money. Mainly, it's because they're too busy to try to improve blockchain technology. While this is good, it does present a number of challenges to organizations looking to recruit them.
So, yes! You can find the right blockchain developer but you'll have to toil in locating them considering they tend to neglect job postings and Linkedin opportunities. With that said, you won't have the problem of going way above your budget given that most developers are well-off and idealistic. Plus, with the growth of outsourcing, you shouldn't have a problem with hiring a remote blockchain developer.
Saving Project Delivery Time
Blockchain is a fast-paced industry where everything needs to be built quickly, including development. Otherwise, there's a high probability of your competitors outpacing you and deploying their product earlier than you. 
In this regard, having a blockchain development team at hand helps you meet your project's deadlines by delivering it in a timely manner. Once your project is up and running, they'll also help you with educational information to keep customers attached to your business. Besides, they'll give you both technical and advisory opinions in the event you want to scale up your product.
Blockchain Trends to Expect in 2019
Blockchain as a Service 
As indicated earlier, most enterprises have taken it upon themselves to create personalized blockchain solutions. However, creating and managing such a system is financially and labour-intensive. That's where Blockchain as a Service (BaaS) comes in handy. 
Businesses will start using BaaS to access cloud-based solutions when building, hosting and deploying personalized blockchain applications and smart contracts.
Migration from Crypto Assets to Digital Assets
In the 2009 global financial meltdown, many people and businesses lost their investments. With economists predicting a possible global economic slowdown later this year, many investors are on the lookout for an alternative asset class. In 2019, expect to see more security tokens emerge. You may even see the tokenization of blue-chip assets that lacked liquidity in the past.
Final Thoughts
Having a team of blockchain developers on board is important for any business looking to stay ahead of the curve. Sure, most companies only hire bitcoin developers for purposes of augmenting their teams. However, they're a critical part of creating distributed solutions that cut across all business processes.
With that said, the key to hiring a great blockchain developer is their expertise in blockchain developer technology. You can do this by probing into their portfolio of finished projects and, if possible, a minimum viable project to test their knowledge.