We had the luxury is interviewing one of the founders of Elucify recently, Mihir Deo. Elucify is a new and free tool for sales people, startup founders, those in PR and marketing. The gist: Elucify is a crowdsourced network of contact information. Let's say you're in PR and looking to feature someone from the Facebook team – simply sign up for free, look up Facebook and you're presented with a massive database of contacts that you can hit-up.
What is Elucify?
Elucify is a free and crowdsourced database of business contact information. Once signed up, sales reps can get access to over 100,000 company profiles and business contact emails at those companies completely for free.
Finding the contact information of sales prospects was a process filled with problems because lead providers are really expensive and they don't always have the best data. Our service is completely free and we built this for salespeople and business development folks who want a quick, easy, and free way to reach out to their prospects without having to pay lots of money or spend hours manually guessing emails on Linkedin.
When did you launch?
Elucify was a part of YCombinator in Winter of 2016 and we launched a public beta on Product Hunt. That launch was immensely successful as we reached #1 that day with over 1300 upvotes on our product.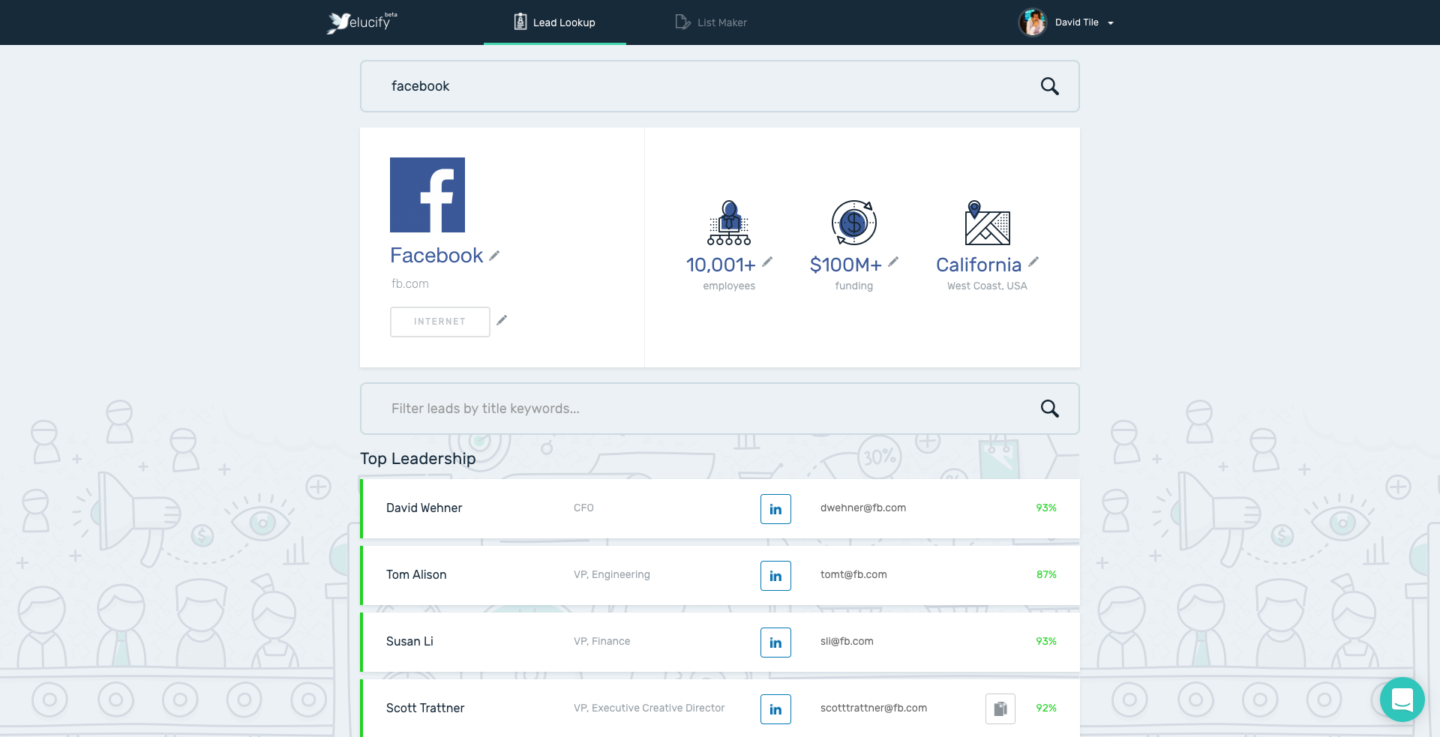 Who uses the platform?
Anyone can use Elucify as a tool that is always at their disposal to quickly look up the emails of top leadership and others at thousands of companies, so we've got a wide variety of people who are using Elucify just because they need a free tool to get business emails. 
The main users of Elucify are mostly those who are in sales roles at their companies. Typically, these salespeople are selling to many different organizations in different companies, though our early users primarily sold to marketing, sales, IT, Finance, and operations folks. Our users are in companies like Oracle, SAP and Dropbox, but also tons of users in small startups such as Clover, Neptune.io and People.ai. There are a quite a few early startups within Y Combinator who have their founders and early sales reps using Elucify as a completely free tool to do enterprise sales.
Who uses the platform MOST successfully?
Salespeople and business development folks use Elucify the most successfully. Their entire day revolves around emailing and contacting people, so our power users are definitely those who are grinding all day long at trying to drive revenue for their companies.