Hands down, Shopify is the premier eCommerce platform on the net. Plain and simple. If you want an online store, you need to be using Shopify. The service literally powers millions of online businesses. New stores pop up every single day that will eventually go on to $50k monthly or more.


But is it not as simple as if you build it, they will come. You need to build it right. You need to build it with your customer in mind, to be conversion oriented and trustworthy. And of course: you need to have the right people visiting the store on a regular basis.
What we'd like to do with this article is break down 6 Successful Shopify Store Examples that we love. The old saying goes: to be the best, look at what the best are doing and copy it. It may sound bad, but it's been done since humans have been doing business. So let's take a look at six Shopify store examples that are doing it right. These stores vary widely and represent many different segments of our society, but they all have one thing in common. They have used Shopify to create a beautiful online storefront that is second to none, so we listed them here as representing the best Shopify store examples.
6 Shopify Store Examples
---
Tattly is a store that specializes in temporary tattoo designs: perfect for the person who wants something different, but maybe not forever.
The design of the shop is artistic, catering to its target buyer of teens and the 20-something age group. While temporary tattoos have normally been the fodder of children, Tattly makes them cool / approachable for an older crowd.
The goal of this store is to make adults and children happy with temporary body art. There is actually very little copy on their site, even on the blog, because their images give the total picture.
I would buy from this store because it is a fun concept with hundreds of options, including a subscription. It is the perfect gift idea. Showcasing their very best collections on a rotating banner, you instantly get that "I want that" feeling. As well, the shipping worldwide means that you don't have to check the shipping page to see if you can actually buy this product. Reducing a step as important as this right from the front page means better conversions.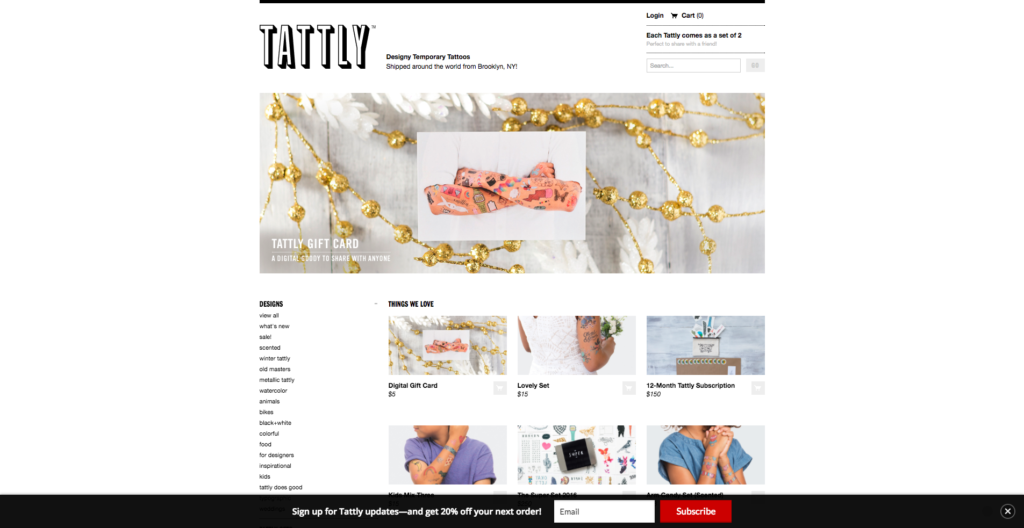 ---
FlatSpot is a store that sells clothing to appeal to the skateboard culture. It is a sort of anti-culture meets conservative culture through the magic of e-commerce.
This could be seen as a clothing store for men, but they tout themselves as an online destination for men's fashion. With unique clothing for the skateboarding set, it is easy to see this isn't The Gap.
The block design of the website makes it very easy to see exactly where you want to go.
Their blog incorporates style idea, which makes it very simple for a potential buyer to see how an outfit can be put together and give them that look they desire. What's even more kick-ass is that you can click right from that blog post to purchase everything shown.
There is very little copy on this site, because again, the images speak louder than the words. But the copy that is there is to the point and effective in letting the buyer know exactly what they are getting.
This store stands out mainly because of the uniqueness of their product and their ability to portray an attitude or lifestyle with their brand.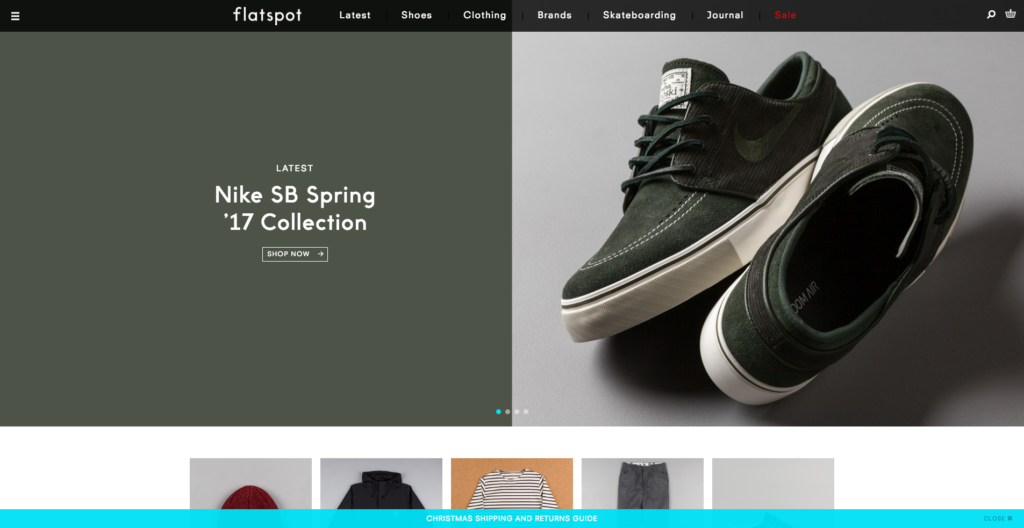 ---
Death Wish Coffee brands itself as the coffee to "awaken your inner rebel". They are a Shopify store example of taking the every day and making it a must have.
Coffee lovers won't want to miss this store, which touts itself as the world's strongest coffee. What's great about this store is that it plays on its "strength", not just with its name "Death Wish", but also with all elements of its website, showcasing photos of those strong enough to handle this coffee.
The design of the site is very cohesive, employing a dark background, photos of beautiful women drinking the coffee, accessories that would match this "strong" image (i.e., a pipe, horror books, black nails, etc.). Every aspect of the site is carefully selected to portray this type of an image.
The content of the site isn't truly persuasive, but just leads you to believe that if you are this "type of person", this is the coffee for you. They give solid examples of how veterans, fitness buffs, NASCAR enthusiasts (pretty much everyone) can benefit from their coffee and it totally works.
This store mainly stands out because you want to find out exactly why this coffee is such a death wish (everyone likes to live a little on the edge).
The rewards portion of the site is an added bonus, because everyone loves to be rewarded for what they buy, especially an essential item like coffee. They also keep their cohesive "death wish" image going with their rewards program, showing that isn't cutesy at all.
---
PipCorn has taken a simple old-school snack food, combined it with the popular organic movement and created the hip product of organic popcorn in a bag that can be sent and enjoyed anywhere.
Popcorn is such a huge trend right now, but in order to corner this market, you need to deliver a lifestyle. With awesome urban imagery, Pipcorn makes it not just healthy to eat popcorn, it makes it cool.
While popcorn is incredibly simple, Pipcorn's site lists all of the benefits of eating their Pipcorn, and how it is different from the regular Orville Redenbacher (even though it may truly not be). This site makes you want to spend that extra money to find out why it is so special.
The design of the site is very bold, but trendy and they definitely find a way to make popcorn look artistic.
The content on their blog is consumer-added from Instagram, displaying the varying ways that people have enjoyed their Pipcorn, along with gorgeous imagery.
This store stands out because it is such a micro-niche (mini popcorn in unique flavours) and it seems to target adults who want a healthy snack.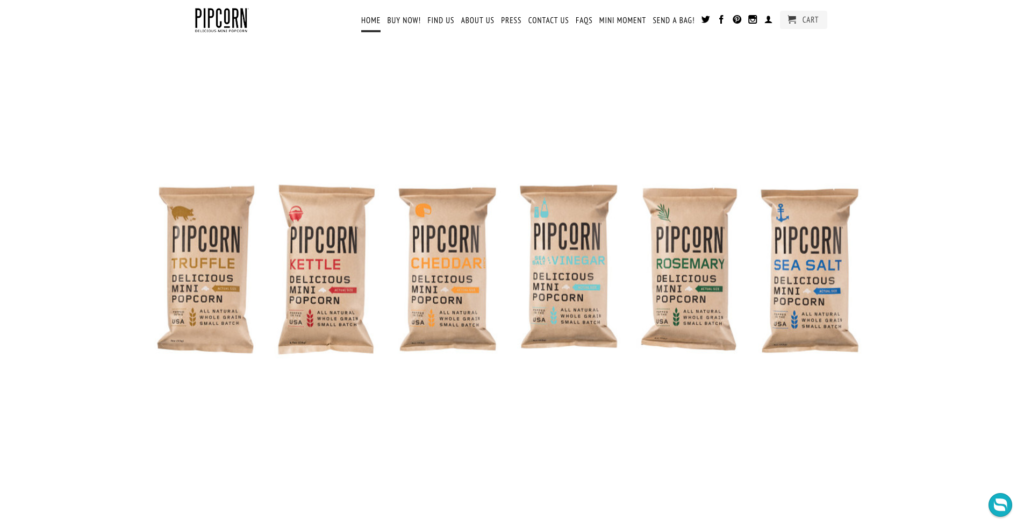 ---
Poo Pourri has cleverly taken a reference to a not-so-pleasant smell to sell a very pleasant one. They are a wonderful Shopify store example that shows creativity, specificity, and individuality are the keys to selling to your audience.
What's completely unique about this store is that although it is an air freshener, they've taken something no one likes to talk about (poop) and made it their brand's appeal. They've riffed on the fact that "it just isn't lady-like" and made it exactly that.
The greatest appeal of this store is that because everyone goes, but no one ever wants anyone to know about it, this product appeals to everyone.
The content on the site is witty, using a number of charming euphemisms, with cohesion to the site that completely works. Examples include their "other shit" section, "stink-free guarantee" "Join the potty" and the "Let's talk crap" section.
The store stands out because even though this is truly only any air freshener, they make you believe you've never seen anything like this before so you want to buy it (and lots of it), especially as gifts for others who will also see you as witty and unique.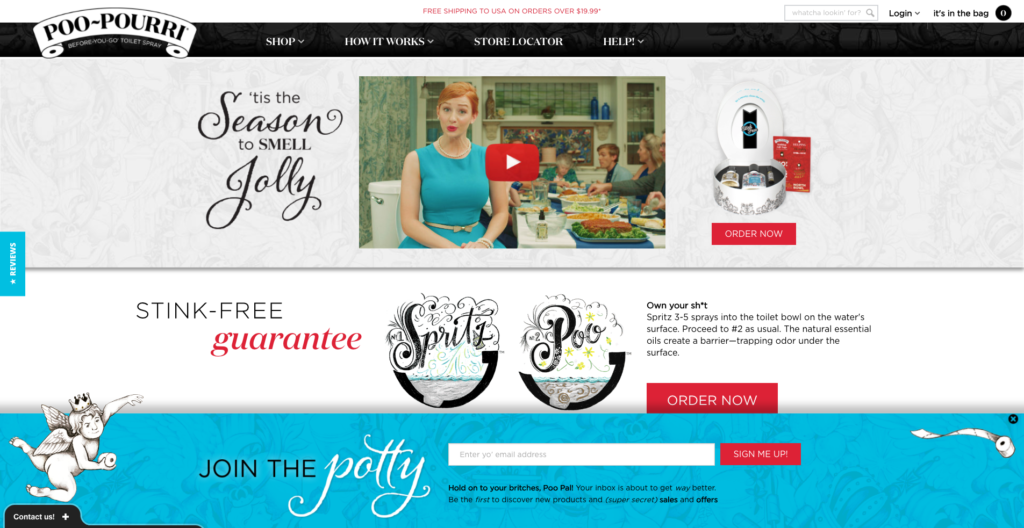 ---
Twelve Saturdays, is one that has paired the unlikely mates of college football and women's fashion to create a seasonally focused shopping experience for a growing segment of the population…women who watch and enjoy college football.
An interesting idea, this shop sells clothing to wear to football games. Sure, you don't need specific outfits for watching a game, but if you can look your best (as a woman), while cheering on your favourite college football team, why not shop there?
The imagery on this site makes you feel like by buying these clothes, you'll have camaraderie and a bond with all of your fellow college football ladies. You'll not only look amazing in unique dresses and tops, your girlfriends will be right there with you.
The design of the site is flashy, but the best feature is the shop by school feature, where you can buy clothing and accessories in your team's colours and logos. While you are just buying a blue dress, knowing that you are supporting your team wearing that blue dress makes you want to buy it that much more.
The content on the site is centred on the consumer being the ultimate cheerleader for their team. They feature each team's fight song on their individual page, revving up the consumer just enough to get them in that buying mood.
The store stands out because it isn't just a clothing store for women, it is a unique niche of women who support college football (which could be many of the young women in the U.S.).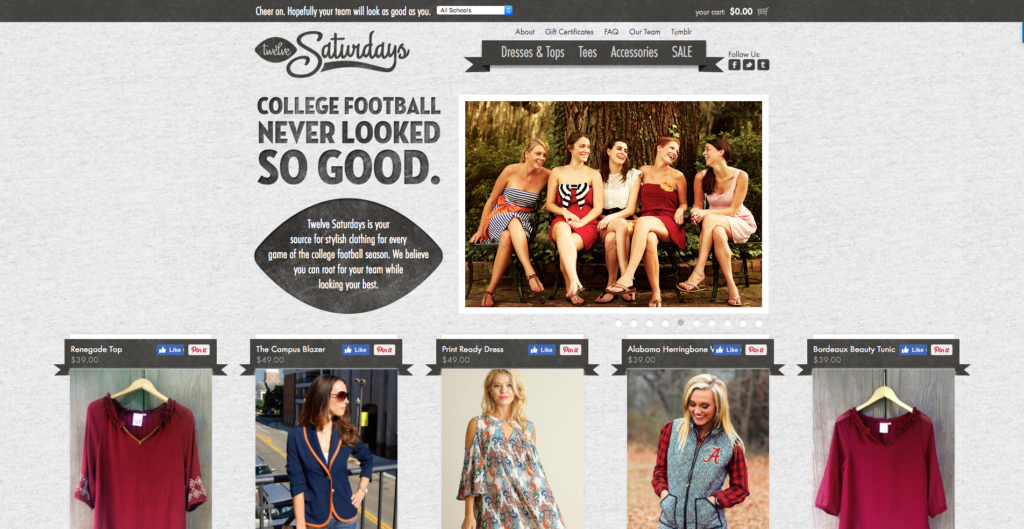 ---
Stick to what you're passionate about and let Shopify help you create a beautiful online storefront to perfectly present your passion to the audience it is meant to reach. Become the next best Shopify store.