Pagespeed is a massive indicator of SEO success. Large files, high resolution images, incorrect source code, are just a few of the components that can impact the performance of your site. Businesses operating an ecommerce platform, in particular, will want to make sure they are using the most current best practises when it comes to their site performance.
A pagespeed tool is a software application, usually web-based, that analyzes how responsive your web pages are in real time. Pages that load quickly, while featuring an appealing layout, tend to keep visitors longer, which indicates to search engines that your website is a popular online destination.
Pages that are poorly laid out, rife with dead links, or that simply take longer than 2 seconds to load drive customers away. Google considers this a bad experience, and if it happens often enough your visibility on search results will sink drastically.
Experienced website administrators and SEO professionals routinely audit websites for pagespeed to ensure that their clients stay at the top of search results, but even if you're not entirely SEO proficient, you can still perform a test of your website to determine what aspects might need fixing right away.
Here are the pagespeed tools you NEED to crush SEO.
Description: This application from Google analyzes and optimizes your web pages for efficiency, as per the most up to date SEO standards and practises. PageSpeed uses a ranking system that rates the efficiency of each page across diverse platforms (mobile, desktop, tablet) from 0 – 100. A score of 85 is considered optimal. PageSpeed Insights recommendations are designed to improve your search engine ranking and your website's overall performance.
Cost: Free
Trial Period: N/A
Description: Webmasters will appreciate the detailed analysis provided by the Website Speed Test tool, an application designed by Pagescoring.com. Domain resolving speed, download time, redirection time, domain look-up time, and many other components of site performance are quickly analyzed and displayed separately, so you can decide how best to optimize your site's performance. Simply type the URL address in the website field and click 'start test' to initiate a test, then scroll down for the results:
Cost: Free
Trial Period: N/A
Description: You'll find actionable recommendations for optimizing your pages. Page load times, size, number of requests and many other components are assessed and displayed with color-coded graphics to help you identify the sore spots in your site performance.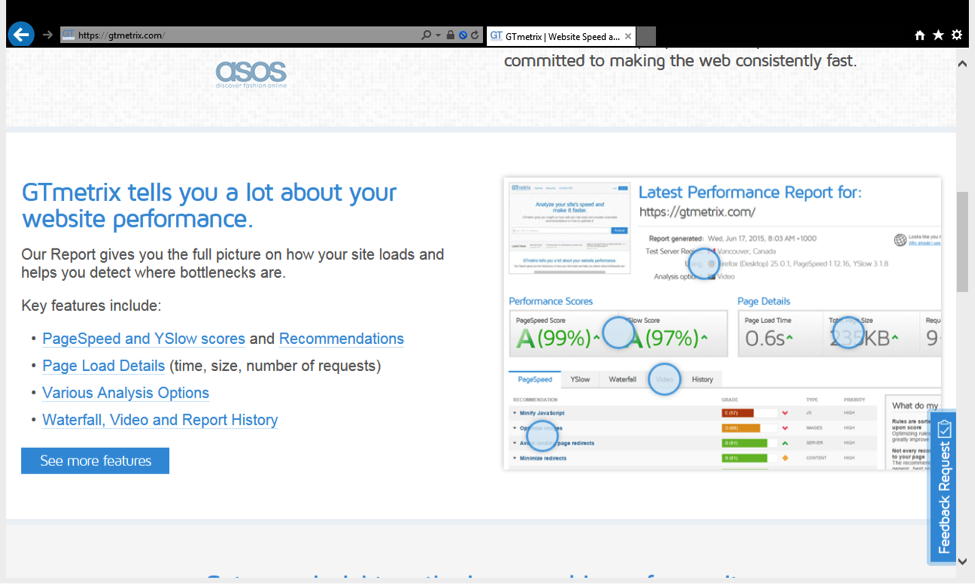 Cost: Free
Trial Period: N/A
Description: Comprehensive and powerful, Pingdom.com offers a web-based tool that thoroughly analyzes full page speed. Type in the URL you want to examine and the report tool generates a list of the various components and their performance. The graphic displays make it easy to interpret the data and each page speed component is measured separately to provide a more granular look at your site so you can isolate troublesome issues such as response codes, page size, server requests, accessibility, routing and downtime. Results can be filtered to help you identify trends as well as gaps in your data, so you can be more strategic about traffic distribution.
Cost: Free
Trial Period: N/A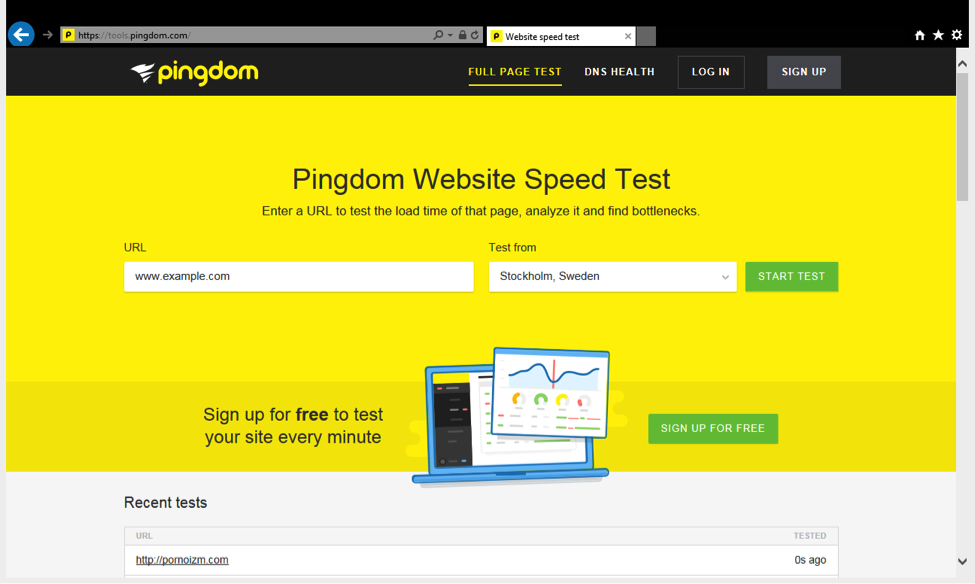 Description: If you operate an ecommerce site with many orders coming in from multiple sources, Pingdom's Page Speed Monitoring is an automated solution that monitors each one separately. The automated reports are emailed to you monthly, allowing you to capture at a glance the efficiency of your transaction process, your conversion and overall marketing effectiveness. You'll be able to identify which content types are best for SEO purposes, and which ones are more popular with users. Tutorials are also available on their site to help guide you through the reports.
Cost: Monthly fee ranges from $14.95 to $494USD (and up) for their Enterprise package
Trial Period: 14-Day for new users.